Whenever I get geared up for a ski tour or trail run in an area my pup can't go, I see the heartbreak in her eyes. How dare I go somewhere fun without her? Truthfully, I don't really want to leave her behind because her wild spirit makes me enjoy being outside more than I would on my own.
When it comes to hiking and backpacking, I always want to take my dog with me.
There are a few key things to consider for hiking or backpacking with dogs, including which dog hiking gear will help ensure a fun and memorable experience for you and your pup.
All The Dog Hiking Gear Your Pup Needs For Trekking and Backpacking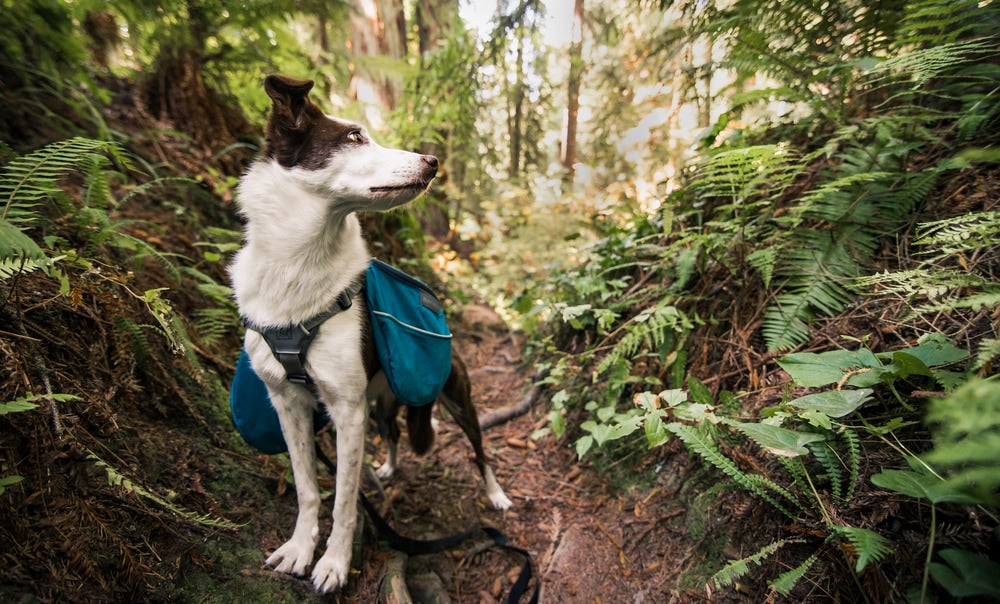 You know how much gear you need for spending a few days in the backcountry. Your dog needs some wilderness gear of their own, too. Thankfully, a few of these items overlap, and with a dog pack, your pup will be able to carry most of their hiking gear on their own.
Dog Hiking Gear for the Trail
While dogs have historically lived and roamed outside unsupervised for hundreds of thousands of years, they, like us, have adapted to creature comforts. Many can withstand harsher environments, but protecting them in whatever ways we can with proper dog hiking gear will create a better and safer experience overall.
Booties: Booties help keep paws warm or cool in extreme weather and protect sensitive paw pads from sharp or grainy surfaces of sandstone or scree. They also help keep snow from balling up between paw pads.
Dog Pack: With a dog pack, you won't need to worry about carrying bags of dog poo or additional water in your own pack. Some dog-specific packs are equipped with dual storage compartments to pack extra water, treats, or a dog-specific first-aid kit.
Waist Belt Leash: These leashes help free up your hands so you can walk with trekking poles. They also allow more freedom of movement as you navigate tricky terrain or stream crossings.
Collapsible Water Bowl: It's possible to train your dog to drink water straight from a water bottle, but if you don't have time for that, a collapsible water bowl folds down to a height of less than an inch and weighs only ounces so your pup can stay hydrated.
Dog Gear for the Campsite
Backpacking with your dog means you'll be hiking and camping in the backcountry together. When camping with your dog, there are a few additional steps to consider to respect other campers and to make your life easier as you prepare food and set up for the night. In addition, it's also important to think about all the ways you create comfort for yourself at camp and then extend those to your pup.
Collapsible Food Bowl: For overnight trips, Fido will expend more calories than on a typical day, so consider the amount of food you're providing to account for energy loss. A collapsible food bowl will take up little space and be easy to use.
Tether Line For Roaming: Most dogs aren't done when the day is but can't be trusted to wander into the woods. A tether line gives them the freedom to roam —just not too far.
Collar or Minimalist Harness for Tether Line: You won't want to tie your pup up to the tether line using their hiking pack, so consider adding a collar or minimalist harness to your setup so she can be comfortable while roaming about the campsite.
Down Jacket or Fleece for Cold Nights: Alpine temps drop quickly. For dogs with one coat, that can spell trouble. Packing an extra down jacket or fleece will keep your furry friend warm while you're heating up around the campfire and throughout the night.
Dog Gear For Cleanup and Leave No Trace
Does a dog poop in the woods? Yes. Do you need to clean it up? Yes.
It may be tempting to just let that little present lie because it's two feet off the trail and the chances of somebody stepping in it are probably pretty low. But dog poop does more than just stick to shoes. It can also harm delicate environments by introducing bacteria that doesn't naturally exist. And, well, it's nasty looking.
Dealing with dog waste is a little different than dealing with human waste in the backcountry. Since dog poop contains some dangerous pathogens like Giardia and Salmonella, it's not a good idea to bury it.
Collect your dog's poop with a doggie bag (preferably a biodegradable option) and tie it off. Dispose of the poop bag in a garbage can if one is available, or take it with you. If you're backpacking, you'll want a designated compartment in your pack or in your dog's to store the smelly stuff.
Additional Dog Hiking Gear for a Great Wilderness Trip
For the sake of your pet's comfort while you're hiking or backpacking, consider adding a few of these essentials to make the entire journey more fun for Fido — and for you.
Nail Clippers: These are for your dog's comfort, but also so you don't end up with nail-shaped holes in the bottom of your tent. They can also be multipurpose for first-aid scenarios.
Dog First-Aid Kit: Keeping your dog safe doesn't have to be stressful if you're prepared. A first aid kit for pets can look like any other first aid kit, but with a few pet-specific essentials snuck in. You can buy a complete kit online, or put together a DIY pet first aid kit at home.
Light For Collar: If your dog is a wanderer, a light attachment for their collar is a must. When it's dark and you're calling and calling, a blinking light will make them easy to find.
Bandana or Cooling Neckpiece: For hotter days on the trail, a bandana adds quick, cool respite after a dunk in a nearby stream or with a dash of water from the water bottle.
Considerations For Taking Your Dog Into The Backcountry
Always do your research first. Check all local advisories and find information on the location where you plan to backpack. Some areas are completely off-limits to dogs and you don't want to upset other respectful trail users.
Read up on animal activity in the area where you plan to hike and camp. Stay aware of larger mammals who might see your dog as prey or a threat. That said, dogs can be great for keeping critters and creatures away in the night; I once camped with a pup who stood guard outside the tent all night, barking intermittently to warn would-be intruders.
Working Up to an Extended Trek
Start with a few shorter hikes to get their endurance up and get them familiar with long dirt trails and foreign mountain environments. Your shorter hikes will also be a great opportunity to test out your dog hiking gear; make sure it all fits them properly, seems comfortable, and works for you, too.
Once your pup is romping around on longer trail days, up the mileage week by week, similar to how you'd train for a longer backpacking trip. Once you're both ready, hit the trails!
Popular Articles: