"Every time I navigate across the hardened water, it's an adventure," Joe Flynn, 31, of Apple Valley, Minnesota shared with The Dyrt. He has grown up ice fishing in Minnesota. Back then, he used a jiggle stick—a fishing pole without a reel, where the line simply wraps around two pegs. Anglers "jiggle" the line to attract fish to their bait; once a fish bites, they drop the rod and pull the line in by hand.
"I can remember fishing on a warm winter day, sitting outside on a bucket, focused on that cheap jiggle stick. The fishing wasn't serious, but it was a fun excuse to get out of the house on the weekend," Joe described.
Ice fishing in Minnesota has become an increasingly accessible winter sport. If you're visiting Minnesota—the Land of 10,000 Lakes, as it's known—ice fishing is a unique activity to try, whether you're a seasoned angler, or headed out for the first time. Between the natural beauty of winter, and the meditative quality of sitting by a line, it's clear why ice fishing in Minnesota is such a popular winter pastime.
7 Lakes Where You Can Find the Best Ice Fishing in Minnesota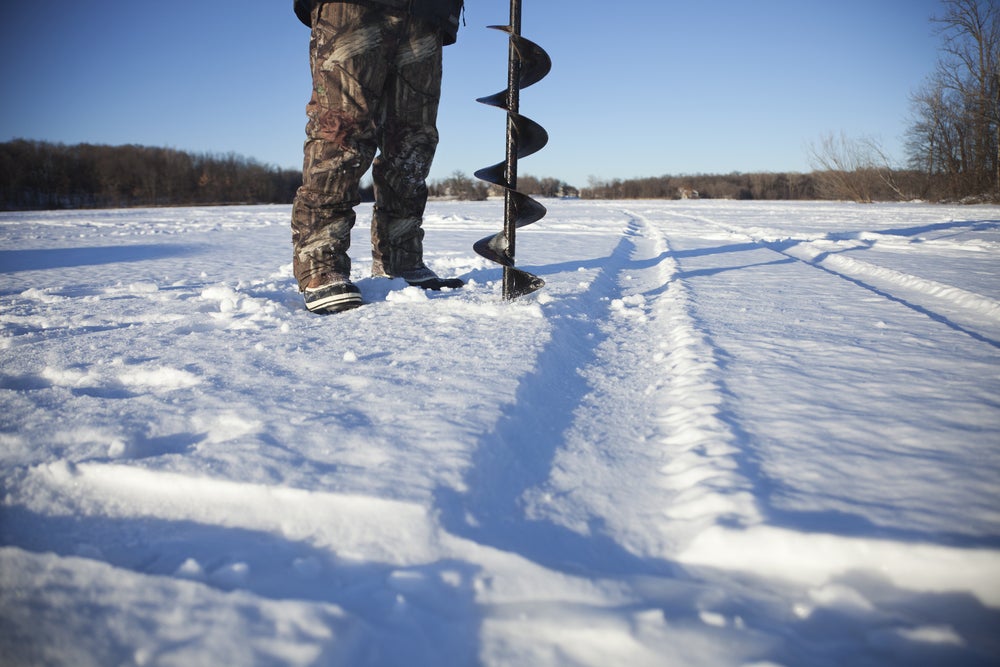 It was Joe's friend, Travis White, who re-introduced him to ice fishing when the two of them attended northern Minnesota's Bemidji State University—the town of Bemidji has over 400 lakes within a 25-mile radius. Today, he still drives up north on the weekends during the early season because the lakes freeze over faster there.
Joe sets up shop where the thickness, consistency, and snow-depth of the ice look best. When the season first starts, he walks onto the ice pulling a sled of gear, but once ice conditions are reliable, he grabs his truck and tows his 5,500-pound wheelhouse out. As the season progresses, and ice conditions improve farther south, Joe starts fishing closer to the Minneapolis–Saint Paul metro area. That gives him a chance to take family members out to fish without needing to travel too far.
Overall, Joe has been impressed with how ice fishing in Minnesota has changed over the last five years.
"New high-end fish houses with RV amenities can make ice fishing fun for anyone, even if you're not catching anything," Joe explained. "Minnesota resorts are geared toward helping people find fish, from first-timers to experts. With Minnesota's volume of lakes, you can choose a popular crowded lake, or if you look hard enough, you can find your own."
If you're a pro looking for your next new spot to try, or just curious about trying it out, these seven lakes are perfect for anyone ice fishing in Minnesota.
1. Lake of the Woods in Lake of the Woods, MN – and partially Canada!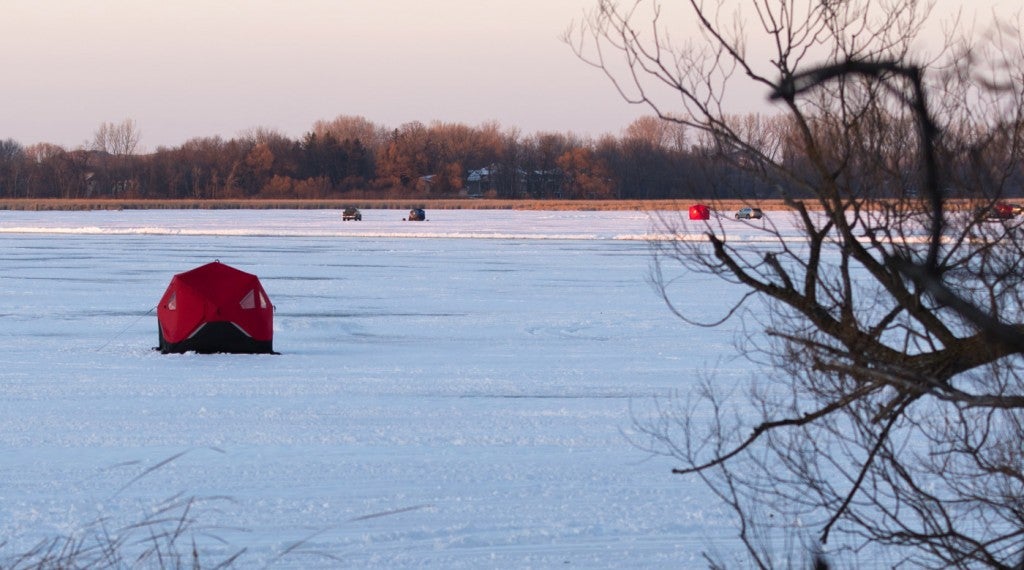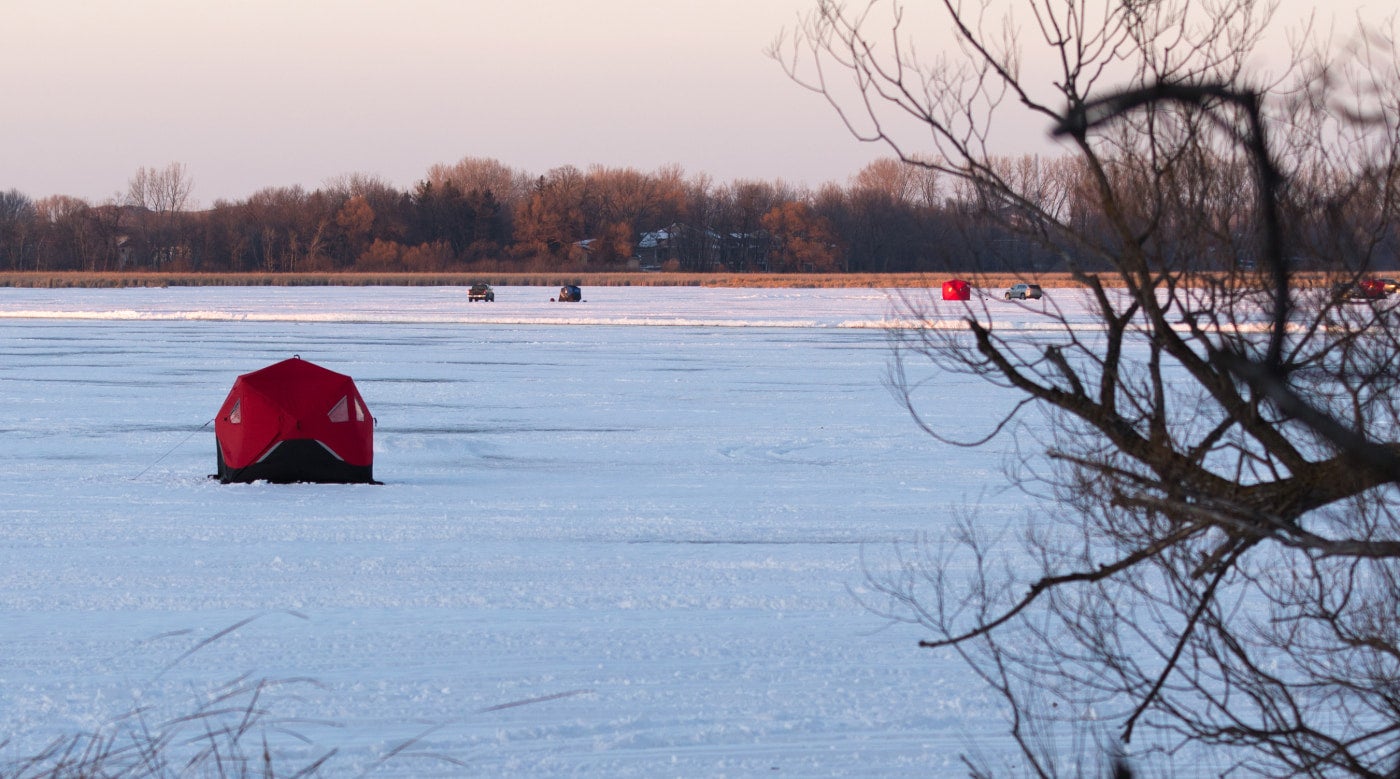 Lake of the Woods is the self-acclaimed "Walleye Capital of the World" and, after the five Great Lakes, it is the sixth largest freshwater lake at least partially located in the United States. This lake is one of the most popular for ice fishing in Minnesota. At the height of the season, you can expect to see between 1,500 and 3,000 fish houses set up near the fishing hot spots. With that popularity comes ample services and amenities, including over 50 resorts, sleeper services, and hotels in the area, as well as plowed roads that allow easy access across the ice.
Tent campers can find more rustic spots in Zippel Bay State Park on the lake's southern end. RVers can go to the nearby Angler's Campground to find electricity and other hookups.
2. Lake Winnibigoshish in Chippewa National Forest
Lovingly referred to as Lake Winnie, Lake Winnibigoshish is located in Chippewa National Forest in north central Minnesota. In 1957, angler Art Lyons caught a 54-pound, 56-inch muskie from this lake, setting the official state record for a kept catch of that species. The lake covers over 88 square miles, and is a go-to spot for catching jumbo perch when ice fishing in Minnesota. It is just a half-hour away from Grand Rapids.
Rest your head in the family-friendly Onegume Campground right next to the lake.
3. Gull Lake in Cass & Crow Wing Counties
Every January, Gull Lake hosts the Brainerd Jaycees $150,000 Ice Fishing Extravaganza. This event started in 1991, and is now the largest charitable ice fishing event in the world. It is held on the lake's Hole-in-the-Day Bay, and attracts well over 10,000 anglers from around the world for an exciting day of Minnesota ice fishing. Gull Lake is the largest lake in the Brainerd Lakes region of Minnesota, covering around 9,400 acres, and ranging between 80 and 15 feet in depth. It's best known for walleye and northern pike, but anglers can also find bass, trout, perch, and muskie.
If you're planning on a long-term stay, try the upscale Gull & Love Lake Campground for easy marina access and lots of lakeside lounging.
4. Lake Harriet in Minneapolis, MN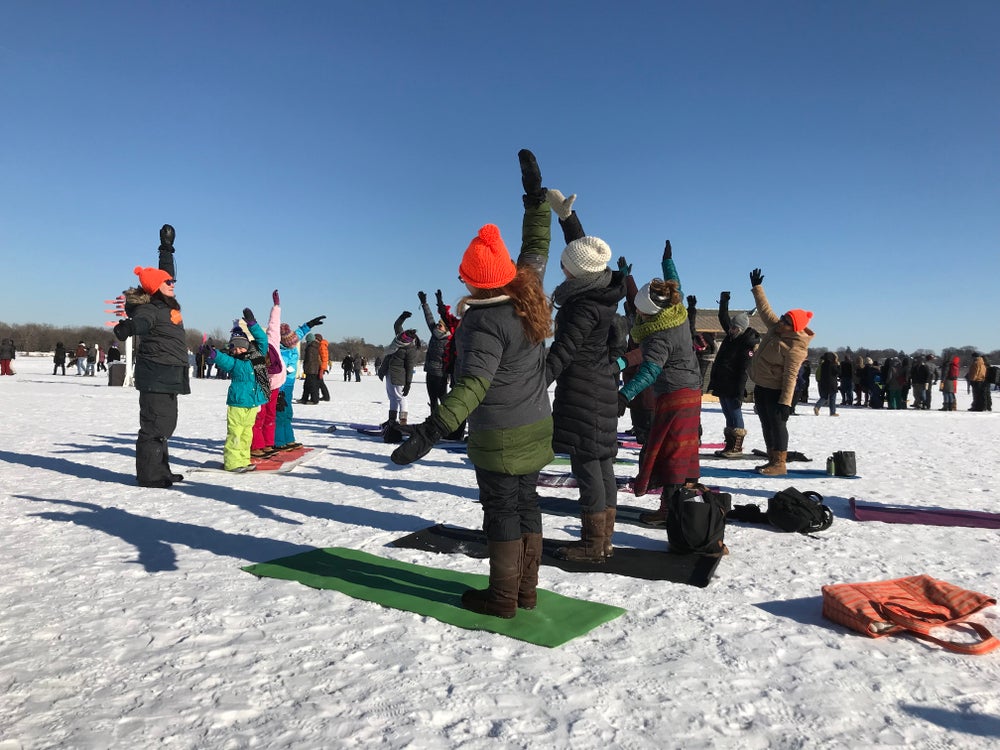 Lake Harriet is another urban lake suitable for Minnesota ice fishing, but is located on the Minneapolis side of the Twin Cities region. The Minnesota Department of Natural Resources stocks the lake with walleye each year, but the lake is best known for high numbers of crappies. Overall, Lake Harriet stays fairly quiet in the winter, but attractions like yoga on the lake have drawn more eyes on this spot in recent years. It is close to other small urban lakes, so if one looks too busy and you're longing for some solitude, you'll have additional options nearby.
Take a drive over to the Minneapolis Southwest KOA to catch some z's and reminisce on your day of urban ice fishing in Minnesota.
5. Upper Red Lake in Beltrami County
Red Lake covers 288,800 acres, making it the largest of all inland lakes entirely located in Minnesota. It is separated into upper and lower basins. The entirety of the lower basin, and around 60% of the upper basin, fall under the jurisdiction of the Red Lake Band of the Chippewa Indians. Around 48,000 acres of the upper basin are open to non-tribal sportfishing. Overharvesting of walleye in the late 1990s led to a collapse of the fishery on this lake. However, a cooperative effort between the Red Lake Band and the State of Minnesota, which included adding 90,000,000 walleye fry back to the lake over a six-year period, has led to a dramatic comeback. The lake is now known for easy ice fishing in Minnesota from several access points along State Highway 72.
Take a look at Big Bog State Recreation Area, which is close to the lake and offers RV sites, as well as cabins.
6. Lake Phalen in Saint Paul, MN
If you're looking for location closer to an urban center to go ice fishing in Minnesota, try Lake Phalen. While urban settings typically conjure up crowded imagery, that's not always the case when it comes to ice fishing, as many anglers will travel to the state's more northern lakes. It's possible that, while visiting Lake Phalen, you might just find yourself in your own quiet oasis a mere 30-minute drive from the Minneapolis–Saint Paul metro area. Anglers can find walleye, tiger muskies, northern pike, largemouth bass, crappies, and sunfish in this Twin Cities lake.
About a 20-minute drive away, you'll find Lake Elmo County Park Preserve with a campground that offers a little bit of everything.
7. Mille Lacs Lake in Mille Lacs, Aitkin, and Crow Wing Counties
Meaning "thousand lakes" in French, Mille Lacs Lake is the second-largest lake located entirely within the state, covering over 132,000 acres across three counties. It is relatively shallow, having a maximum depth of 42 feet. Just about 100 miles north of the Twin Cities, this is a very popular lake for ice fishing in Minnesota. Anglers here can find walleye, rock bass, jumbo perch, and tullibee, among other diverse fish species. The local businesses in the area cater to ice fishers, making this an easy choice for beginners looking for help getting started.
The surrounding Mille Lacs Kathio State Park is a gorgeous camping option offering cabins and group sites.
---
Related Campgrounds:
Popular Articles: