When most people think of Nevada, they imagine a flat expanse of hot desert and neon casinos. From where I'm sitting in the Big Smoky Valley, that couldn't be further from the truth. It's a cool summer evening in the high desert, and I'm immersed in a steaming pool at the Spencer Hot Springs, gazing out at the verdant Toiyabe Mountains.
There is no vehicle traffic, no electricity. Everyone who is here has packed in everything they need, and when they leave, they will pack out everything they came with. We chat and laugh, all of us strangers with nothing to do but soak in one of the finest hot springs in Nevada and talk. Soon there will be only starlight and the sound of burros braying in the distance. It's heaven.
Travel to Tranquility at These Ten Hot Springs in Nevada
Nevada is by definition a remote place. The state with the most public land in the United States has more ghost towns than inhabited towns and is home to boundless wilderness. Most of the camping here is dispersed, and the majority of the state's 300 plus hot springs are unmapped and located in places so remote they feel as if they're on another planet entirely.
With that in mind, if you'd like to explore hot springs in Nevada, planning in advance is key. That means having an actual map, knowing how to change a tire and having enough supplies to last you for a few days in the backcountry. While the challenge of accessing hot springs in the Silver State can be great, the rewards are even greater.
How to Pack and Prep for Your Nevada Hot Springs Trip
First, get a map — most smartphone navigation services can lose signal or provide inadequate information. Or you can use navigation apps with offline capabilities and downloadable maps.
Next, load up the car with gallons of water and plenty of food (on that point, in many cases, you're going to need a vehicle with high clearance and four-wheel drive, as well as a spare tire).
You should also pack water shoes and hiking boots, a towel and a headlamp. One other handy tool to have is a food thermometer or infrared thermometer. Temperatures in hot springs can fluctuate, and it's much safer to find out how hot a pool of water is with a thermometer than by jumping in. Perhaps most importantly, bring a trash bag. This is for packing out your own trash and for any other trash you might encounter.
Before you head out, check the weather. Most Nevada hot springs are located down dirt roads, which can be impassible when wet. Avoid traveling if there's a chance of rain. Keep the season in mind, too. Summers in Nevada can be dangerously hot and winters can be bitter cold. All of this will be affected by the elevation you're traveling to. Lastly, be aware that you might see some nudity out there. Hot spring dress code is generally clothing optional.
The Importance of Leave No Trace at Nevada Hot Springs
Keeping our natural wonders pristine doesn't take effort, just a little knowledge beforehand. Here are some tips on how to best take care of these lands.
Feel free to bring your favorite brew with you and knock back a cold one while soaking, just make sure it's in a can. Never bring glass bottles in or around the hot springs.
If you bring food, don't share it with curious burros or other animals, no matter how cute they may seem — with that, always pack out your garbage along with any existing trash you might encounter.
Respect the fragile environment surrounding undeveloped hot springs by staying on roads. Tire tracks on a wet playa can remain for years, and it's easy to negatively impact an entire ecosystem with one careless turn.
If you're interested in bringing your dog or another pet companion, just keep them on a leash, outside of the water.
Give other campers the same space by pitching your tent away from the hot springs. This is not only a courtesy to your fellow soakers (and a good way to avoid being kept up late at night if a particular pool has a party vibe), but an important way to preserve the natural world around you.
8 Steamy Springs in Nevada with Camping Nearby
1. Spencer Hot Springs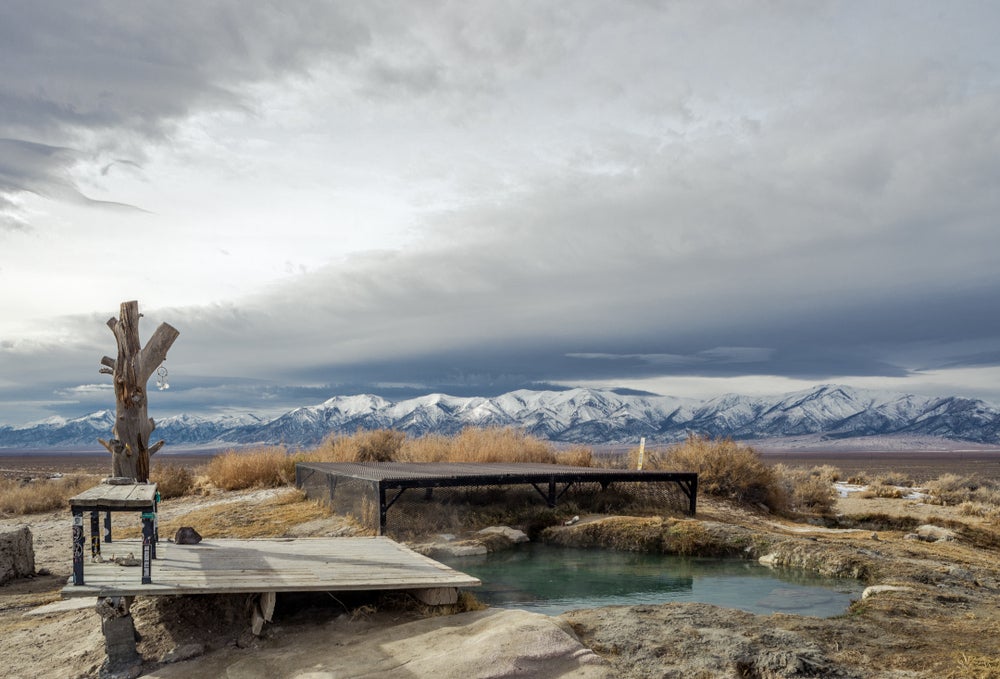 Spencer Hot Springs just might be the perfect Nevada hot springs destination. Nestled within the surprisingly lush Big Smoky Valley, these hot springs are accessible via a dirt road that is passable in any vehicle. The three pools here are nicely spread out, and each one offers sweeping views of the mountains. Located near Austin, Nevada, just moments from Highway 50—aka the loneliest road in America—the Spencer Hot Springs pair a sense of isolation with accessibility. Two of the tubs here are well-maintained metal and a third is more rustic.
Camp Nearby: Hickson Petroglyph Recreation Area
If you're looking for more of an established campground, head 20 minutes north to the Hickson Petroglyphs Recreation Area, where you'll find free camping with fire rings and bathrooms, but not much else. As well, ample free makeshift campsites surround the hot springs. Give your neighbors plenty of space, avoid camping too close to the hot springs, and keep your eyes—and an ears—out for wild burros.
2. Kyle Hot Spring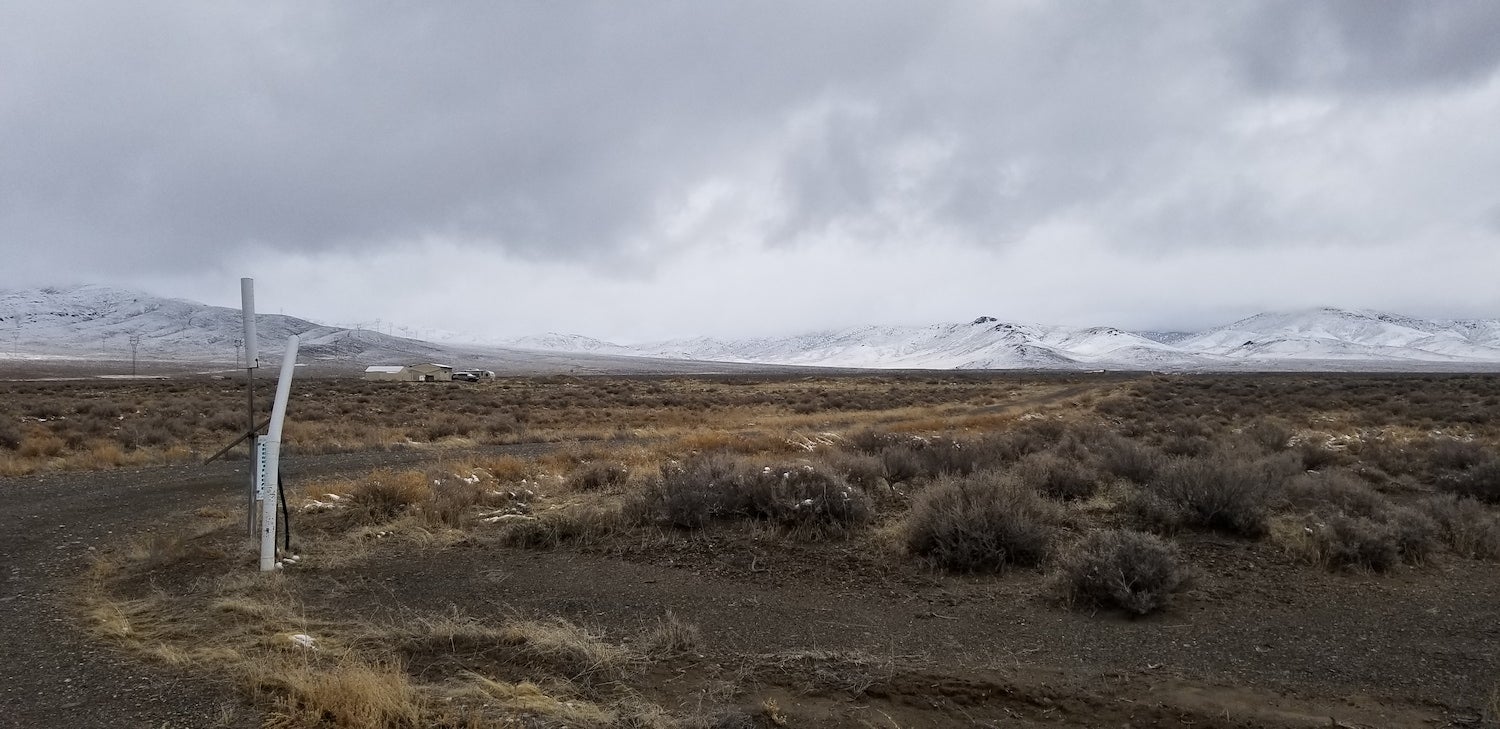 If you're traveling through Winnemucca and you're in search of a good soak, you'll find it just 30 miles off of I-80 at Kyle Hot Springs near Mill City. Don't expect the stunning beauty of Trego Hot Springs or the well-developed nature of Spencer Hot Springs. Similar to Alkali Hot Springs, these are quite rustic, but they'll do in a pinch. Two large plastic tubs are available for your soaking pleasure here, featuring views of the desolate valley. They aren't frequently maintained, but the water temperature is pleasant, and dispersed camping is available nearby.
3. Virgin Valley Warm Springs
Your first glimpse of Virgin Valley Warm Spring might look like a mirage. The sparkling pool on the Nevada side of the Nevada/Oregon border near the Hart Mountain National Antelope Refuge looks like a long-forgotten resort—but it's so much better. The single pool here, which stretches for 35 feet and is held at a temperature of approximately 90 degrees is ideal on a cool autumn day.
Camp Nearby: Virgin Valley Campground
Best of all is the campground which rings the hot springs. This year-round campground has free first-come, first-served sites, plus pit toilets, potable water and picnic tables. Be aware that these hot springs, like just about every site on this list are remote and susceptible to extreme weather, so be prepared for cold nights and warm days.
4. Gold Strike Hot Springs
Located just outside of Las Vegas, the Gold Strike Hot Springs are tailor-made for adventurous travelers. From Las Vegas, head towards the Hoover Dam. Park in the lot off of exit 2 just after the Hoover Dam Lodge on I-93, and be prepared for a true expedition. This trail, which is closed from mid-May through the end of September due to extreme heat, takes you on a journey through a canyon that includes rappelling via fixed ropes and scrambling. The reward is a smattering of individual pools and steamy waterfalls.
Camp Nearby: Willow Beach Campground
When you're finished with this hike, grab a campsite at Willow Beach Campground. This beachside campground located on the Arizona side of the Colorado River offers access to a marina where you can rent kayaks and paddle towards the Hoover Dam.
5. Soldier Meadows Hot Springs
At the northern tip of the Black Rock Desert near Gerlach, you'll find the Soldier Meadows Hot Springs. True to its name, this hot springs complex is situated in a vegetated area with views of the distant mountains. There are six pools total, as well as a nearby stream that allows you to cool off.
Camp Nearby: Soldier Meadows Dispersed Camping
You can spend the night in your choice of dispersed camping spot, or if you're lucky you can nab the Bureau of Land Management cabin, an old clapboard building which offers a welcome respite from the desert wind.
6. Trego Hot Springs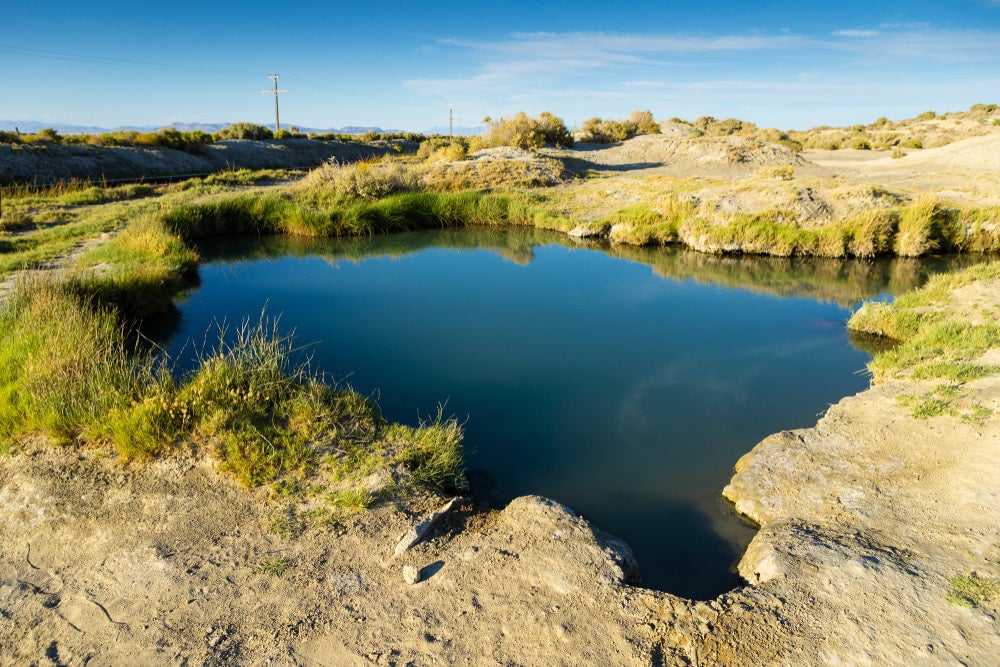 Another Black Rock Desert hot spring option is the insanely photogenic Trego Hot Springs. This wide, aquamarine pool is popular with the Burning Man crowd thanks to its proximity to the playa and its ample space for soaking, swimming and socializing. In other words, if your favorite part of seeking out hot springs in Nevada is mingling with like-minded folks, you'll love Trego Hot Springs. Like the Soldier Meadows Hot Springs, the Trego Hot Springs are located near Gerlach. The dirt road that takes you to them is passable, but check current conditions before traveling.
7. Fish Lake Valley Hot Spring
The snow-capped Eastern Sierra mountains seem to get all of the glory in California, but the underrated White Mountains on the other side of the Owens Valley are equally beautiful. Get an eyeful of them at the Fish Lake Valley Hot Spring near Dyer, Nevada. These developed and well-maintained hot springs in the dramatic and isolated Fish Lake Valley are a dream after climbing 14,246 White Mountain Peak. Spread out in a three-foot deep concrete pool or take a dip in one of two nearby swimming holes, where you're likely to spot goldfish darting alongside you.
8. Ruby Valley Hot Springs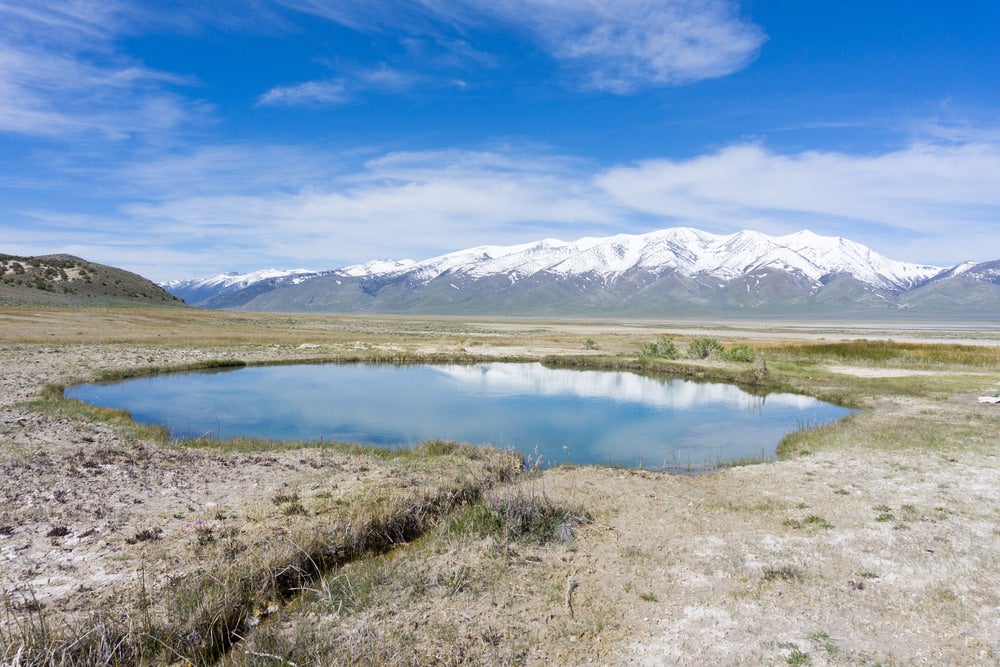 Travel a little over an hour south of Elko off of I-80, and you'll find yourself at the Ruby Valley Hot Springs, a series of hot springs crowned by a deep, teal-colored pool that holds steady at just a few degrees above body temperature. This main pool is almost 30 feet deep, but you will find various smaller pools if you crave a more intimate experience. Most pools hover around 100 degrees, but several are too hot to safely enter. This is a marshy area, so be aware that water-shoes—or boots that you don't mind getting muddy—are a must when exploring. Camping is free and dispersed. Pitch your tent away from the springs both for etiquette and to avoid mud.
---
Related Articles:
Related Campgrounds:
Popular Articles: