The windswept landscape of the badlands in New Mexico's Bisti/De-Na-Zin Wilderness Area are an ancient and desolate desert environment. The elements have worked for eons to develop and shape the rocks into mysterious foreign shapes. Dinosaurs once walked old growth forests in these New Mexican lands, leaving fossilized evidence in their wake. Visiting them provides you a chance to step into these otherworldly qualities.
A Guide to the Bizarre Landscape of the Bisti Badlands in New Mexico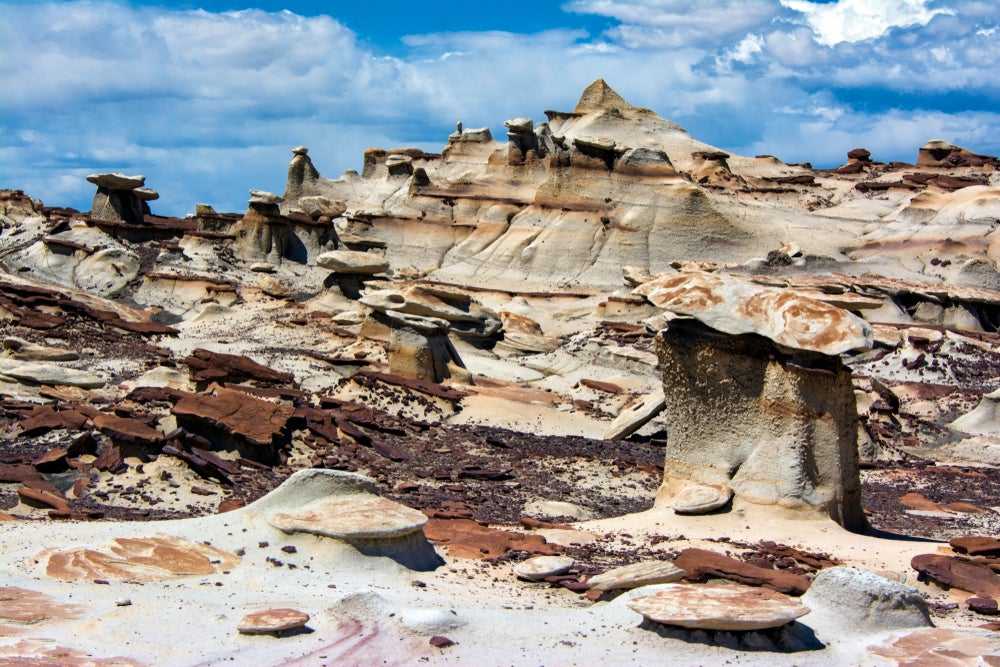 The Bisti/De-Na-Zin Wilderness area covers 45,000 acres of badlands, situated just south of Farmington, New Mexico. The area is a combination of two different prehistoric landscapes.
Bisti (pronounced bis-tie) is a Navajo word meaning "a large area of shale hills." It was once the prehistoric coastal swamp of an inland sea. At that time the landscape was lush and home to a very diverse group of flora and fauna. The 4,000 acre Bisti badlands area once included forests, small reptiles, dinosaurs and early mammals. The vast desert's rocks and formations are the only modern record of this wet, diverse environment.
De-Na-Zin comes from a Navajo word meaning "Standing Crane". And is a reference to the multitude of hoodoos, pillars and various rock formations that occupy the area. Petroglyphs of cranes have been found south of the wilderness and the area is on the Trails of the Ancients Byway.
Humans have lived in the area for more than 10,000 years, and many examples of ruins and other culturally important sites dot the region. Much of this land is sacred and significant to the Navajo and other tribes. Legends and religious stories surround creation of the formations and meaning for the humans who later occupied the area. Many of these stories are still culturally significant among the numerous tribes that draw ancestry from the ancient ones who once lived here.
Preparing for Your Trip to the Bisti Badlands
Different formations can be seen depending on whether you enter from the north or the south. A couple of day trips from a campground are the best way to see the various formations. The closest large town is Farmington which is about 40 miles north, and has a multitude of services.
Be aware there are absolutely no services within the wilderness area. This means no facilities and more importantly, no water. With no shade and high temperatures in the summer, hikers must be very careful not to get into a dangerous situation. Park rangers also caution visitors to watch the weather carefully as it can change very quickly. Thunderstorms can subject hikers to lightning and flash floods. In wet conditions roads and trails become impassable. As this is a remote park, trails are primitive and are sometimes not marked.
Visitors are not allowed to take any rocks, fossils or material of any kind from the park. Campfires and all types of motorized vehicles are prohibited, and you must obtain a permit to film or photograph the area for commercial purposes.
Experience the Alien Landscape of the Bisti Badlands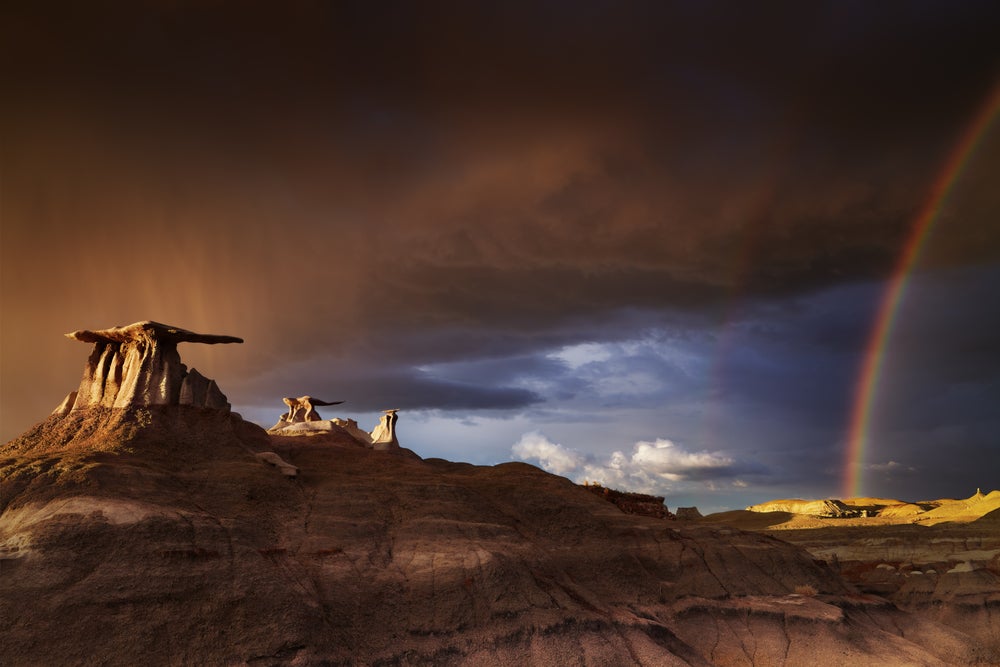 Movie makers, photographers and other visual artists frequent the park to try to capture these New Mexico badlands, but the visual impact can't be conveyed without personally standing among these prehistoric formations. The formations dotting the park include the Bisti Wings, the Brown Hoodoos, Vanilla Hoodoos, Conversing Hoodoos, Manta Ray Wing, the Alien Egg Hatchery and innumerable areas of petrified logs. Photos of these formations are a once-in-a-lifetime opportunity. This area is also a fabulous location for nighttime Milky Way photography.
A word of warning: Because the landscape is so otherworldly, it can be easy to get turned around and hikers can quickly become lost. Be sure to take a reliable GPS with you, as phone service is virtually nonexistent. Hydration is extremely important as well in this high desert environment, and campers should note that many of the formation attractions involve a 2-4 mile hike from the main parking area off Highway 371.
Wildlife in this desolate landscape include everything from large eagles and hawks to spiders and scorpions. Desert wildlife everywhere is very susceptible to human presence and can be even more fragile in such a remote area, so visitors are advised to leave all wildlife undisturbed. This is especially true of the large raptors such as eagles whose nesting areas are federally protected. Keep your distance and enjoy these wonderful creatures from afar when you get the chance to see them. For this reason, is essential for visitors to pack in and pack out anything they need or use.
Search for the T-Rex's Cousin, The Bisti Beast
New Mexico's Bisti badlands were also once home to an early relative of Tyrannosaurus Rex. A fossilized skeleton was discovered in 1997, and after excavation, was dubbed the Bisti Beast (Bistahieversor sealey).
The Bisti Beast stood about 30 feet tall so was a slightly smaller version of the later, T-Rex. It lived around 74 million years ago and to date has only been found in New Mexico.
However, the Bisti Beast is not the only specimen discovered within the Bisti. Researchers have uncovered numerous other fossils including the duck-billed dinosaur Parasaurolophus, a Pentaceratops, a large sauropod named Alamosaurus, as well as a numerous prehistoric turtles, fish, crocodiles, and other species.
Where to Camp in the Bisti Badlands
Camping in these New Mexico badlands might just be the best way to see them. Setting up and staying overnight allows you to plan out multiple days to see everything there is in this wild expanse.
1. Dispersed BLM Camping
Free camping across the wilderness area is allowed since the region is managed by the BLM, but won't come with amenities or services. For specific rules on BLM camping areas in the badlands of New Mexico, the BLM offers basic advice online. As with any form of dispersed camping, follow all Leave No Trace rules.
This is a BLM managed campground located about 15 miles south of Bloomfield, NM. Views around this campground are phenomenal according to visitors, including a sight of the titular Angel Peak. Covered picnic tables and clean bathrooms are top features, while the surrounding area offers hiking and other activities. This is a great location if you are going to day trip around the Bisti/De-Na-Zin Wilderness area and Aztec Ruins National Monument.
"All campgrounds have picnic tables, some have covered picnic tables with fire rings. There are very well maintained trails that offer spectacular sights from all direction. There is vault toilets that are very clean, but no electricity, trash or water. So trash in, trash out." –The Dyrt camper Susan H.
This campground in Bloomfield, NM offers camping for both tent campers and RVers. It is a well-manicured park with large trees, a pool and even a dog park. Visitors have noted the park has excellent Wi-Fi and cordial service from a family-owned business.
Gallo Campground is located within Chaco Culture National Historical Park, in the center of these New Mexico badlands. The campground offers camping in a rugged environment, surrounded by petroglyphs, a cliff dwelling, inscriptions and a high desert landscape. Despite the sparse natural environment, this campground offers amenities like running water and flushing toilets, as well as spacious tent sites.
"Chaco Canyon is my favorite camping spot. The campground is hard to reach down a pot holed dirt road, good for small RV's and car camping and once you arrive, it's hard to leave. There is no water or electric at the camp sites, as is true with most western national parks. The thousands of rooms of ruin are still a mystery to archeologists who continue to study the Oueblo people who lived here." –The Dyrt camper Judi R.
---
Related Articles:
---
Related Campgrounds:
Popular Articles: