This article on the best navigation apps for hikers is brought to you by Liquid IV. Liquid IV's electrolyte powder hydrates 2-3 times faster than water alone. Don't forget to pack some for your next backpacking trip!
---
Ever wondered when technology would reach the backcountry? The good news: it already has. There are a plethora of apps and hiking companions that offer navigation and guidance without the need to be connected to wifi. With pre-downloadable maps and an array of new features, these apps are some of our favorites when it comes to finding your way through the wilderness.
The Best Navigation Apps for Hikers & Backpackers
For years, directionally-challenged backpackers have had to rely on old-school maps and compasses to make their way to the wilderness. Luckily for those that are prone to mis-reading their own coordinates, these apps have made it that much easier to find your way back to the trail. Whether you're looking for that lake you should've hit by now, or you're just double checking your trajectory, these apps are must-haves for your next backcountry adventure.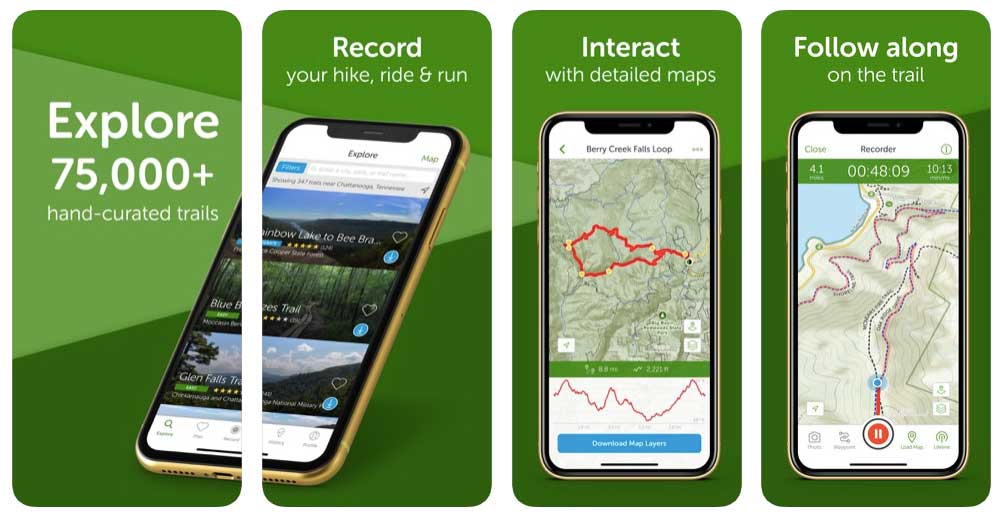 Perhaps the most well-known of the best navigation apps on the market, AllTrails offers its massive database to users so that they never get lost on the trail again. With over 50,000 trails between the U.S. and Canada, AllTrails is the gold standard when it comes to honest, updated information on hiking trails short and long. Users can create their own trails and save or share them with others, and the advanced version of the app (available for purchase) gives users the ability to download and save trail information and maps for use during their trips.
Available on iOS and Android (free or $29.99 / year).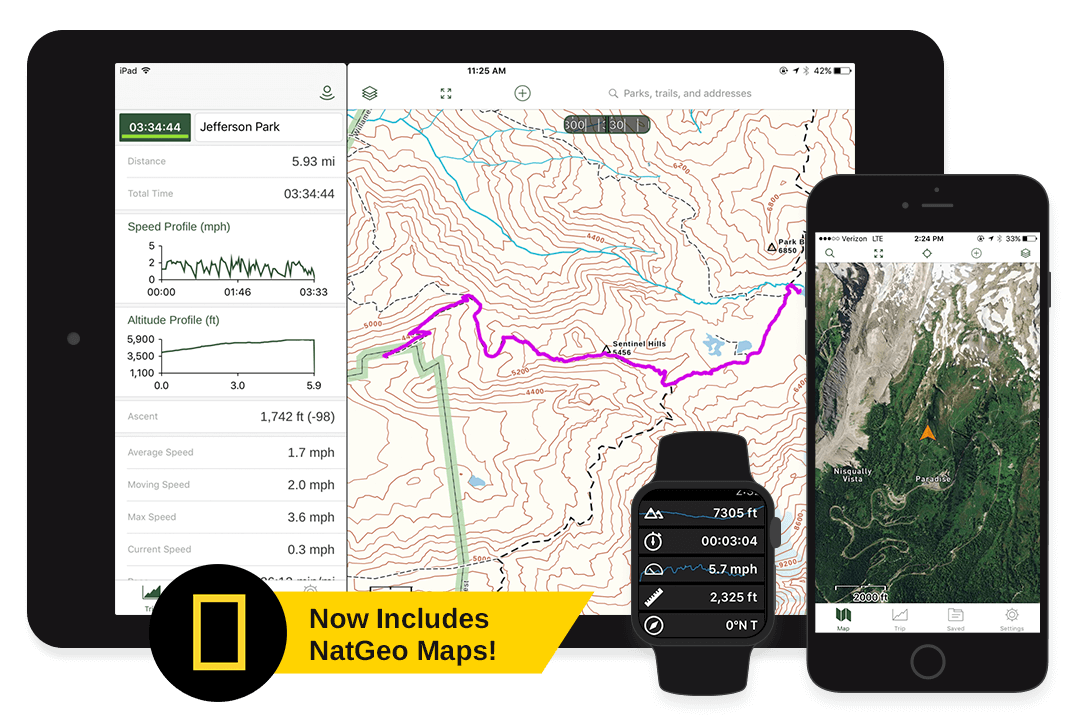 With a Gaia GPS membership, this app offers downloadable maps and the ability to record your adventures so you never take a wrong turn again. Gaia GPS is already used by thousands of guides and avid hikers all over the world, and their recently released hiking app offers maps complete contour lines and hill shading. Although $19.99 might seem like a lot for a navigation tool, the year-long subscription offers features and improvements that make it one of the best navigation apps on the market for casual hikers and backcountry explorers alike.
Available on iPhone or Android ($19.99 per year).
This app from REI is a living database that offers over 35,000 trails to the eager hiker or backpacker looking to hit the dirt as soon as possible. Each hike profile includes a detailed map, data, and key waypoints so you can know exactly what to look for and when. In addition to its pre-hike features, the app is equipped with on-trail navigation so that you never lose your way on a hike, no matter how long or short your adventure is. The app is updated regularly with trail conditions and driving directions as well, so that you can know exactly how to get to your next favorite backcountry destination.
Available on iPhone or Android (free).
This remarkable app makes it easy to tell where you are by providing instant recognition of any peak in your immediate vicinity. Simply hold your phone up to the expanse in front of you, and watch PeakVisor work its magic as it perfectly labels all the peaks around you! The app itself uses your phone's camera, location, and a 3D mountain panorama to accurately fill you in on your exact alpine location. In addition to its identification feature, this app offers a 3D compass and altimeter that makes PeakVisor a must have when it comes to the best navigation apps on the market.
Available on iOS and Android ($5.99).
The ultimate digital tool for map-challenged hikers, Maps 3D Pro has quickly established itself as one of the best navigation apps on the market. It offers 3D mapping so that you can successfully visualize your endpoint without being caught off guard. The technology within the app brings contour lines and hard-to-picture hills and peaks to life so that you know exactly what to expect around the bend. Users of Maps 3D Pro have the option to save and share popular hiking routes as well as download maps to be accessible for offline navigation.
Available on iOS ($3.99 or $13.99).
One of the most innovative apps on the market, Spyglass utilizes augmented reality technology to make it one of the best navigation apps available to users today. The technology allows users to track exactly where they are using their surroundings as well as the data from their device.
The impeccably designed interface includes a compass, a map overlay, a gyrocompass, speedometer, altimeter, a sextant, inclinometer, and an angular calculator, all of which can be used to tell exactly where you are at any given moment. Ever wanted to navigate by the stars? Spyglass is here to help you do that!
Available on iOS and Android ($7.99).
ViewRanger is easily one of the best navigation apps simply for its advanced GPS system that serves as the platform of the app. This hiking and route navigation app is as close to a heavy-duty satellite GPS device as you'll get, and it's been used by search and rescue teams all around the world to navigate and find tough-to-reach spots in the outdoors.
Basic users can use it as both a hiking tracker and outdoor navigator, with the option to download maps for use offline. ViewRanger is used worldwide, making it a premium database of hiking routes in nearly every corner of the world.
Available on iOS and Android (free).
Recent improvements to MapMyHike GPS have officially established it as an asset whether you're deep in the backcountry or going out for a simple afternoon jaunt. The app allows users to track their location and hike progress, with the ability to track peripheral data such as speed, distance, and even nutritional information like calories burned and your food intake.
The app enjoys a fairly large community of users that can share and save popular hikes as well as connect via the app to complete challenging hikes together.
Available on iOS and Android (free – offers in-app purchases).
Although not technically a hiking navigation app, Google Maps has proven itself to be one of the best navigation apps in the world — and one of the most ubiquitous. It's mapping system and ability to search without internet connection make it an easy choice for hikers and backcountry enthusiasts needing a searchable database at the click of a button.
With route planning features and the ability to access 360-degree panoramic views of important landmarks, Google Maps should be a staple amongst your hiking and backpacking navigation app collection.
Available on iOS and Android (free).
This unique app is part outdoors journal, part premium navigation app. Its features allow users to share hikes and adventures online with friends and family, all the while using the app to also navigate and track their progress against live maps. With live status tracking, hikers can see exactly where they are on the map as well as key data including altitude, speed, and distance traveled. Ramblr's downloadable maps make it optimal for WiFi-free travel as well, so you can ensure you're keeping tabs on your trek without making a wrong turn.
Available on iOS and Android (free).
---
This article was brought to you by Liquid IV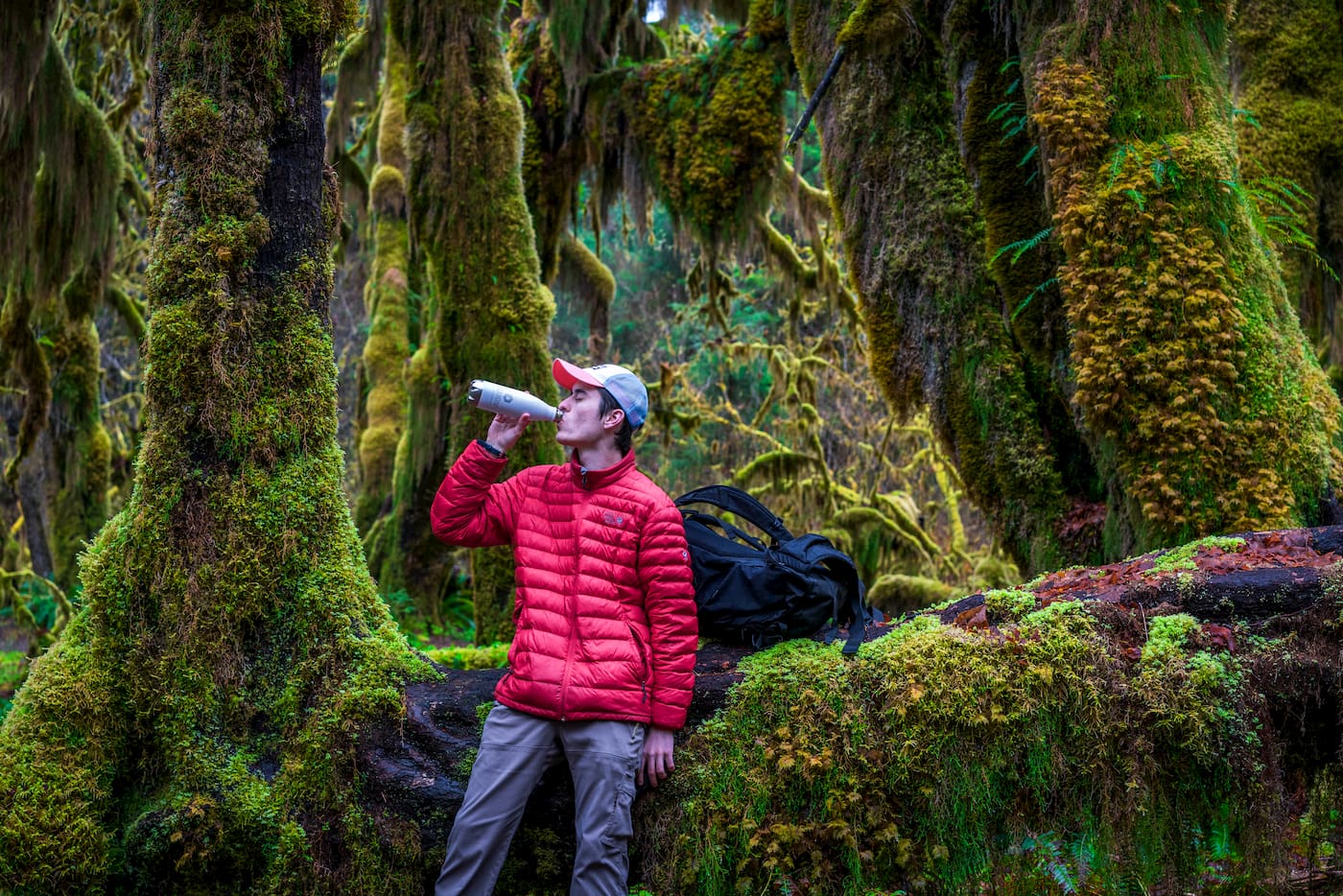 Liquid IV's blog is full of hydration wisdom, from info on dehydration causes to the age-old question: what are electrolytes? Get a head start on your hydration patterns today!
---
Related Campgrounds:
Popular Articles: