Don't be surprised if you're greeted with "Wilkommen" more than "Welcome" when you visit Helen, Georgia. From the architecture to the restaurants, Helen is a near perfect mimicry of a Bavarian Village—truly a distinct place in north Georgia. With the beautiful setting of the southern Blue Ridge Mountains and the proximity to the Appalachian Trail, visiting this "dorf" is best experienced by setting up camp nearby. Camping in Helen, GA is both abundant and some of the best in the region.
Experience an International Vibe With Helen, GA Camping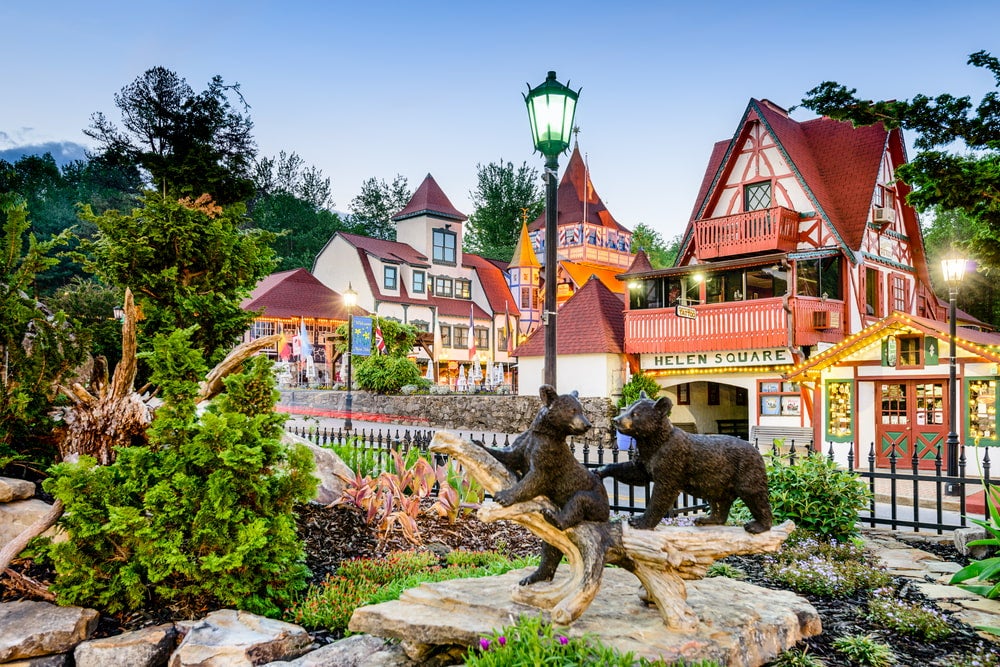 Helen was no accident. After World War II, the former logging town made the decision to transform itself, vying for the attention of people driving into Georgia's northern mountains. Thus, to the delight of many campers, Helen strapped on some lederhosen and reinvented itself.
Take in the gable-filled skyline from the many charming cottages and restaurants, the fishermen catching trout in the Chattahoochee River, and possibly the best Bratwurst in the entire southern U.S. Then, head in any given direction and you'll find yourself in some of Georgia's most memorable camping spots.
Helen's makeover worked, around three million people stop to visit the two-square mile town annually. There are only about 350 permanent residents, meaning Helen has captured the attention of numerous campers and hikers looking for beautiful nature and a small-town experience like no other.
The Best Camping Around Helen, GA
The Alpine Village of Helen, Ga is in a prime location for gorgeous Georgia camping. Pick a direction from Helen and shortly you'll end up camping at mountain overlooks or in a Unicoi barrel, or somewhere astounding in between.
Yonah Mountain is ideal for Helen, GA camping, due to the fact that the Yonah Trailhead is only six miles from the Bavarian town. The trailhead will take you to the mountain peak for unforgettable views of the surrounding Georgia landscape.
The primitive campsites on Yonah Mountain are sparse and begin about three miles up the trail. These are true backcountry campsites with no amenities, so it's imperative that you pack all food, shelter, water, and extra clothing layers for the colder mountain elevation. Campsites are also located near overlook ridges.
However, a campsite and RV resort is also available at the foot of the mountain. The Yonah Mountain campsite offers 30 or 50 amp sites, full water and sewer hook up, pull through sites for RVs, fire rings, and tent-only sites. Seasonal activities like the Fall Festival and Easter Egg Hunt are also hosted by the campground.
"I visited this area while on a day off from staffing a sleep away camp in the area. We spent the day doing sport climbing on some of the many amazing rocks in the park and then trekked up to the viewpoint to get a beautiful look at the nearby area."  —The Dyrt camper Asher K.
Smithgall Woods is a haven for catch-and-release fishing. Many anglers choose this Helen, Ga camping spot and Duke's Creek, which runs through the mountain area, for their trout sport fishing.
This campsites offers six cabins on 5,664 acres of land. For fishermen who have booked a cabin, daily trout fishing is permitted. However, for those who are only at the park for a day trip, fishing is allowed only on Wednesdays, Saturdays, and Sundays. A pioneer campground is also available for groups, but reservations must be made in advance.
"These grounds are nice and the fishing is even better!"  —The Dyrt camper Judy B.
Unicoi State Park is more than 1,000 acres of natural outdoors recreation. It offers some of the closest Helen, GA camping being only a four-minute drive north. Part of Unicoi's attractiveness to north Georgia is its incorporation of outdoor activities into the camping areas. Zip lining is offered through the mountain treetops next to the Unicoi Lodge. The archery and air gun range creates a space for static target practice. Fly Fishing introduction courses teach campers how to cast a beautiful arc.
The activities are immersive, but there's no beating the natural beauty around Unicoi. The hike to Anna Ruby Falls is suitable for the whole family because the path is paved, perfect for strollers. Despite the ease of the trek, the payoff is still grand in the form of a rare double waterfall.
Campers can stay at one-of-a-kind barrel cabins, or at one of the 82 campsites that range from walk-in to group sites. Fifty-one RV sites come equipped with water, sewer, and electric hook ups. Pets are welcome on all grounds, bust must be leashed at all times.
"Barrel cabins afforded a very scenic & relaxing way to enjoy the park's amenities as well as the surrounding area's. Loved all the trails, gorgeous views, & friendly staff." –The Dyrt camper K C.
Raven Cliffs Falls is another spectacular waterfall that calls north Georgia home. According to the Chattahoochee-Oconee National Forest Service, the hike is a shaded 3.3 miles one way to see the falls.
It's no wonder why Raven Cliffs Falls is one of the most popular natural formations in all of Georgia. One of the drops flows through a fissure in a granite outcrop, appearing as though the water is slicing through mountainside.
The primitive camping is first-come, first-serve. But if you find a spot, you can spend the night next to Dodd's Creek or closer to the waterfalls. As with any primitive campsite, make sure to pack thoroughly for all food, water, shelter, clothing, and toiletry needs.
"I've been to many Georgia campgrounds … this is by far my favorite!"  —The Dyrt camper Krysten B.
Low Gap is one of the lesser-known Helen, GA camping locations, located only five miles away. The 13 campsites are truly dispersed among forest and creek for an immersive and secluded camping experience.
A lantern post, grill, and picnic table are located at every site. Some of the sites contain food lockers for bears, and a hand-pump well for drinking water, as well as a chemical toilet are also on site.
Each campsite is first-come, first-serve, and Low Gap is only open seasonally, usually from late March to late October, but check the USDA Forest Service for the most accurate opening and closing dates.
"Low Gap was one of the best and largest camps on the AT that I had seen. Now, to this point, I've only seen about 50 other miles of trail and campsites, but in that 50, I'd say this was one of the best. It was truly a "camp". It had almost everything that you needed, including a shelter and water, and was right on the AT." —The Dyrt camper Amy G.
Things to Do in Helen, GA
Camping around Helen means you're close to the best spots. Just a few minutes away you might find yourself hiking to the top of Yonah Mountain, tubing down the Chattahoochee River, or witnessing the geographical peculiarity of Raven Cliff Falls.
But while you're in the quaint village, there's plenty to discover in this curious town.
Take a River Float Trip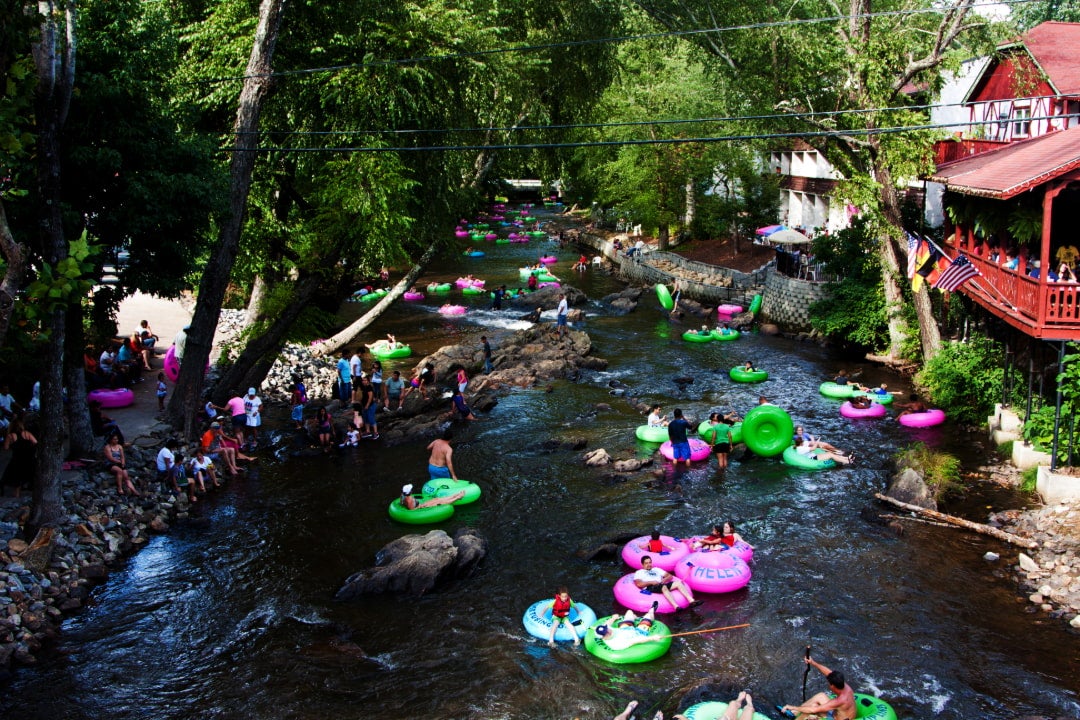 Sometimes referred to as "shootin' the hooch," the Chattahoochee River has become an essential part of Southern summer activity in Georgia. The river rushes right through Helen, and in the summer months it's usually carrying and cooling down inner tubers. The whole float trip can take up to four hours, and Cool River Tubing offers bus rides to and from the drop off locations. It's one of the more leisurely ways to take in Helen's European aesthetic.
Eat Bratwurst & Drink up at Oktoberfest
What kind of German town would Helen be if it didn't pay proper respects to Oktoberfest? Every year the Helen Festhalle fills with the sounds of live accordions, cowbells, and Alphorns as people gather at extended tables to eat and drink in traditional German fashion. The Troll Tavern & Restaurant serves up German Fare, sandwiches, and soups, among other casual dishes. When in Helen, you'd be wise to order some kind of wurst dish.
Kids are welcome to celebrate Oktoberfest and even have their own dance floor. The event usually runs from September through October and is free on Sundays.
Participate in the Hog Pen Hill Climb
Unfortunately, this event has nothing to do with swine. But, the Hog Pen Hill Climb is notable as one of the toughest races in the Southeast U.S. This punishing uphill race has a reputation for being one of the toughest in the U.S., with its total ascent of 1,939 breathless feet. Participants come from all over to compete in the 18k race that finishes across Hogpen Gap on the Appalachian Trail. There's also a 5k race loop around Unicoi Lake, referred to as the Piglet Race. Runners take off every year in January and raised proceeds go toward the Northeast Georgia Habitat for Humanity.
---
Related Campgrounds:
Popular Articles: