Rafting down the Colorado River as it weaves through the Grand Canyon is a thrilling way to experience one of the Natural Seven Wonders of the World. You'll be camping under the stars, escaping the typical Grand Canyon crowds, and riding the element that shaped this striking landscape.
But you'll need to either join a tour group or obtain non-commercial Grand Canyon river permits in order to access the Grand Canyon via the Colorado River.
Rafting the Grand Canyon River Permits
There are two ways to explore the Grand Canyon via the Colorado River. You can join a commercial tour or navigate the Colorado River on your own. If you go on a commercial tour with an approved tour operator, you do not need to apply for Grand Canyon River Permits as it will be included with your tour.
Experienced rafters may choose to lead their own trip down the Colorado River. If that is you, you'll need to apply for a noncommercial permit. These permits are reserved for visitors who are aptly skilled to navigate through technical rapids.
The National Park Service uses a weighted lottery system to assign river permits. Applications open in February for the following year. Lottery winners are announced at the end of February, and there are follow-up rounds to fill in any cancelled trips throughout the year.
Applying for Grand Canyon River Permits
First, you will need to create a profile and submit your application through the lottery website. All trip leaders and potential alternate trip leaders must have an account. You will want to apply with at least one potential trip leader. If a trip leader wins the lottery, but can't attend the trip, the trip will be cancelled for everyone.
Applicants must be at least 18 years old and cannot be a part of another noncommercial or commercial trip for the year. Every trip must have a qualified boat operator present for the entire trip. This can be someone who has commanded a boat through the Colorado River before, or rapids of similar difficulties.
If you do not get your Grand Canyon River Permits on the first round, you will need to apply to the subsequent lotteries. You can find out about lottery openings by subscribing to email notifications or through the Grand Canyon River Permits website.
How Are Applicants Chosen?
Since the permits are granted through a weighted lottery system, each application is scored on a few key factors.
More points are granted to applicants who have never been on a trip through the Colorado River, or those who have only done it long ago. You will also earn more points if you have been on the waitlist for the old permit system, which ended in 2006. These points only apply to the applicant (trip leader) or potential trip leaders. However, if a trip leader has been a passenger on a recent trip, this will be considered in the application as well.
After the points are awarded, the Grand Canyon National Park services chooses from the pool of applicants randomly. The more points, the better the odds.
Info and Fees for Grand Canyon River Permits
The lottery application costs $25 per launch year.
If you are granted a permit through the lottery system, you must immediately pay a non-refundable deposit of $400 for standard size trips or $200 for small size trips.
The total cost is $100 per person plus the $25 application fee. All fees are due 90 days before your trip.
Your initial $25 application fee also covers the lotteries throughout the year.
You can add additional participants to your trip up to 14 days before your launch. This will cost $100 per person, plus a late fee of $100 per person.
Fees are non-refundable and you cannot change, defer, or trade your trip launch dates once you've been awarded a permit.
Colorado River Tour Companies (No Permit Required)
If you don't have the technical skills to navigate the Colorado River on your own, check out one of these tour companies that offer multi-day rafting trips through the Grand Canyon.
Camping on the Colorado River in the Grand Canyon
Almost all camping done along the Colorado River in the Grand Canyon is "backcountry," meaning you're just going to pitch your tents on the side of the river. Most tour groups will provide camping supplies, including portable toilets from camp to camp.
Those who aren't using a guide will need to apply for a backcountry camping permit if you're camping anywhere outside of the established campgrounds.
Bright Angel Campground, Indian Garden, and Cottonwood Campground are considered backcountry campsites, although they do provide some facilities. You will need a permit to access these sites.
Mather Campground is located on the South Rim and North Rim Campground is located on the north; sites at these two can be made online or by calling 1-877-444-6777.
Bright Angel Campground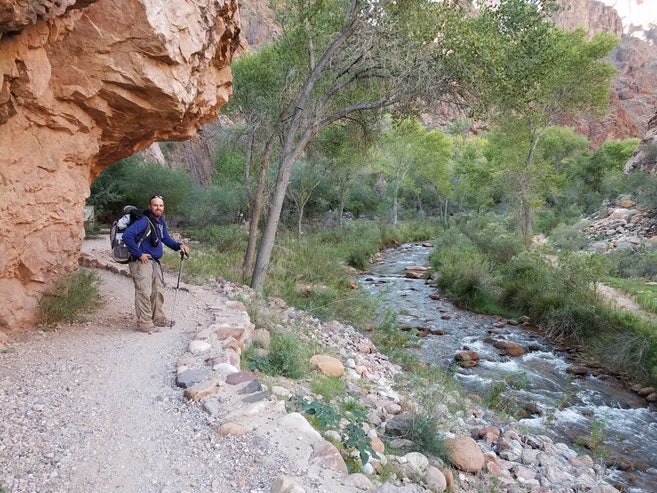 "Hiked the GC with 7 of my girls and stayed one night at Bright Angel. I wish we would have stayed longer! Between the ice cold creek to soak your feet in, the canteen for snacks and beverages, and the actual toilets – this Campground made our trip!" — The Dyrt camper Bethany A. 
"Major complaints being the camp sites were only about a foot apart, and other Campground users were VERY rude with their noise and super bright white headlamps at all hours of the night." — The Dyrt camper Lara R. Camp Here
Indian Garden Campground
"This was our first stop on our way from Rim to Rim. There were picnic tables and neat hangers to hold your backpack so the pesty squirrels couldn't get into them. The views are amazing, and we set up a tent although it would be great for hammocks. There is also a little ampitheater area where they have a big thermometer in case you're curious about the temps! Fill up your water here before you continue!" — The Dyrt camper Leah W.  Camp Here
Cottonwood Campground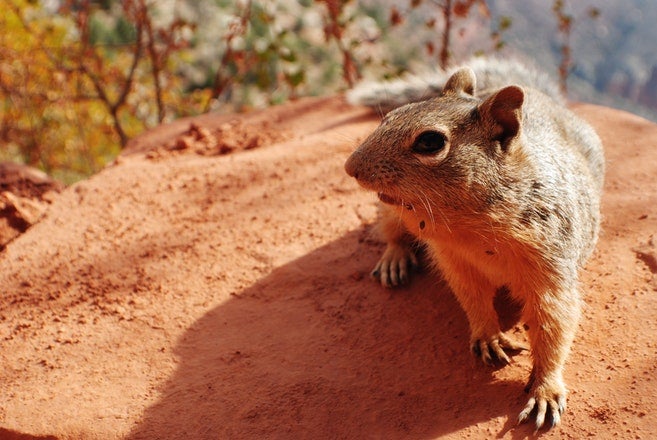 "Our calves were tired and we were ready to set up camp and relax. We chose site #4 next to the creek mostly because it was very secluded and we might need some alone time in the tent later… LOL These sites also had a picnic table, metal storage box for food and toiletries and a pole for hanging backpacks." — The Dyrt camper Christy C.  Camp Here
---
Are you visiting the Grand Canyon? Find even more campsites on The Dyrt!
Popular Articles: