This article is brought to you by Wenzel, whose chest waders are 100% windproof and waterproof—the perfect item for your next Illinois fishing adventure.
---
There are plenty of things to love about Illinois. The Land of Lincoln is not only the birthplace of the most famous American president, but is also home to one of the most historic baseball teams in the world (go, Cubs!).
For the outdoor enthusiast seeking a reprieve from the skyscrapers and giant bean, the Prairie State also offers many opportunities to indulge in midwestern wilderness.
Fishing in Illinois can be one of the best ways to experience this popular state's array of outdoor terrain, and as one of the best states in the midwest to fish, the potential spoils of your wet line adventures can be quite large.
10 Picturesque Lakes Where You Can Go Fishing In Illinois
Illinois is full of natural lakes that are brimming with bass, catfish, bluegill, walleye, and a variety of other species. With easy access to water all around the state, fishing in Illinois is a prime way to experience the diverse range of terrain and scenery the state has to offer. With over 2,300 square miles of water, there's guaranteed to be a spot that's perfect for anglers of all levels and ages.
For those eager to get their fish on, we've identified the best places for fishing in Illinois, and a couple of easy places to stay nearby.
1. Rend Lake, near Benton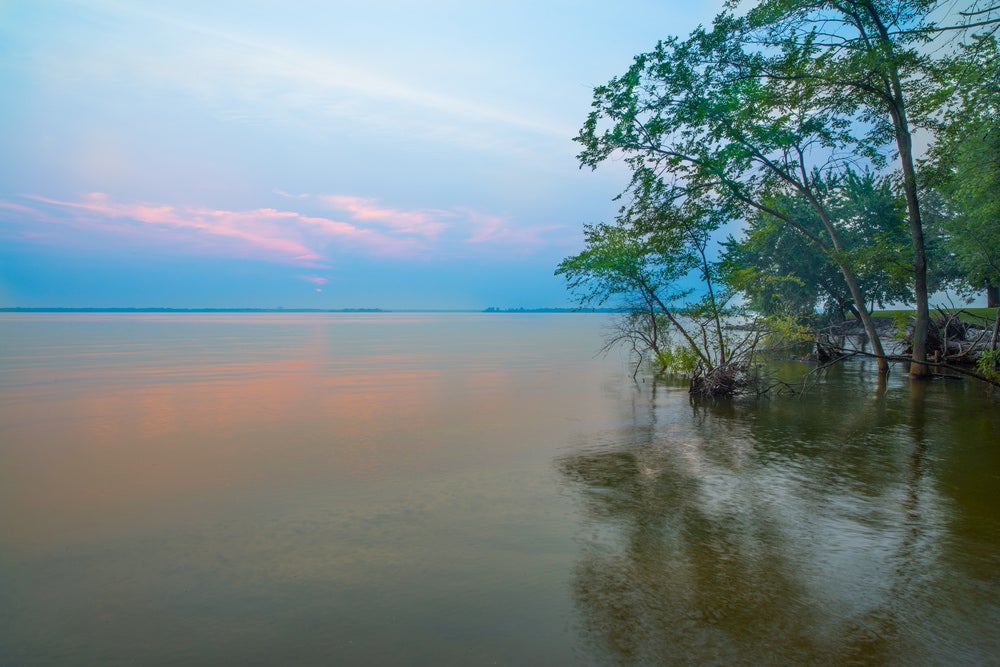 At 13 miles long and 3 miles wide, Rend Lake plenty big enough to host a wide variety of visitors, from boating enthusiasts to inner tubers to fishermen craving some catfish, sunfish, and largemouth bass. The lake itself has three branches, each of which provides its own unique shoreline and haven to wildlife and visitors alike. The lake also includes Wayne Fitzgerrell State Park, 75% of which is shoreline.
Camping near Rend Lake
Wayne Fitzgerrell State Park offers 17 primitive tent sites that are perfect for anglers seeking an up-close fishing experience. For car-campers, the state park offers 243 developed campsites, complete with electrical hookups and bathroom and shower facilities. Campsites are reservable on a first-come, first-served basis.
"The campground offers a wide variety of sites from RV to primitive. For a tent camper, spots were level and nice. The facilities are clean and well maintained. The camp is close to the lake and offers several places to throw your pole in. There is a short hiking trail that will take you to the resort. All in all a nice place to stay." –The Dyrt Camper Chad K.
2. Pierce Lake, near Loves Park
Located in northern Illinois, Pierce Lake is a popular destination for vacationers and city-dwellers seeking refuge from the city limits in the warmer months. Open year-round, this 162 acre lake (about .25 square miles) is a small yet fishy spot located a mere 20 minutes from Rockford and just two hours from Chicago.
At just over 11 feet deep, the lake is a great place for beginning anglers to test out their fishing skills, and catfish, largemouth bass, walleye, and even muskie can all be caught from the lake's waters. There are no recreational water sports and no motor boats allowed on this lake, which makes it perfect for families or kayakers hoping to fish while they paddle. Dedicated anglers and boaters should note that this lake has encountered populations of zebra mussels in the past, so all parties should take the appropriate measures after fishing in the lake.
Camping near Pierce Lake
Pierce Lake is located in Rock Cut State Park, which offers close over 260 campsites, 200 of which include electrical hookups. With of 3,000 acres of land, Rock Cut State Park is an excellent choice for anglers seeking the full outdoor experience. Sites can be reserved between May 1 and October 31, and are available on a walk-in basis throughout the offseason. The park is open year-round, making Pierce Lake a viable ice fishing destination for campers willing to brave the cold.
"We always make our first trip of the year to Rock Cut State Park. For us it's close to home, shopping and an RV dealership so it's perfect to "shake out" the camper and we can easily get anything we forgot or get stuff to repair anything that's not working. The park is very good sized with nice camping sites, pet friendly, loads of trails to hike and bike and a lake for quiet water sports, no motor boats allowed." –The Dyrt Camper Lisa H.
3. Lake Michigan, near Chicago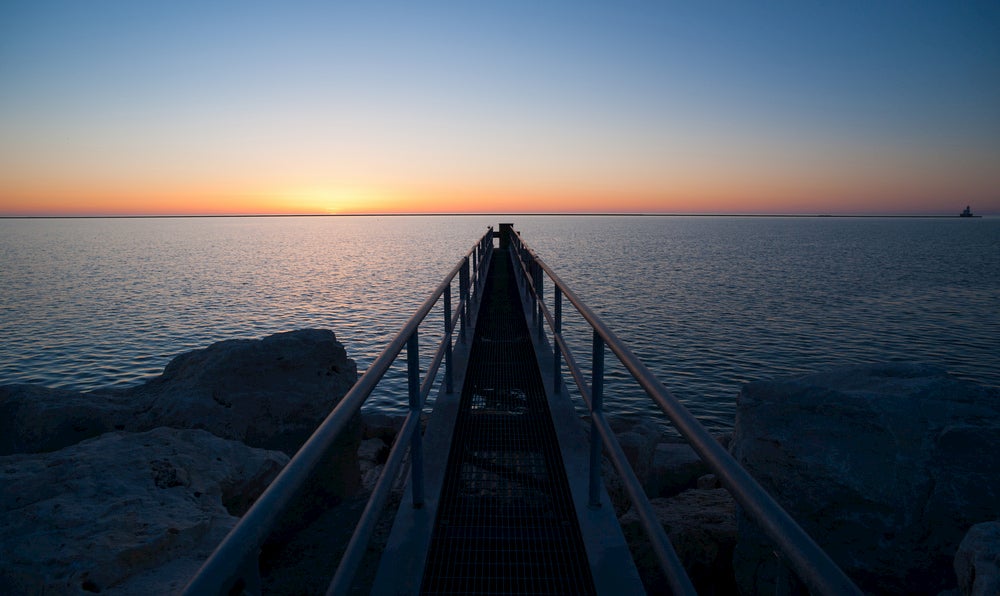 By far the largest water for fishing in Illinois, Lake Michigan offers the amenities and comfort of an ocean coastline in the midwest. As the sixth largest lake in the world, the opportunities for fishing on this massive body of water are nearly abundant, and anglers can expect to encounter hundreds of types of fish depending on the season and type of trip.
Fishing within city limits or just outside of Chicago, anglers can catch lake trout, brown trout, coho salmon, king salmon, and steelhead, all of significant size and weight. Of all the fishing in Illinois, Lake Michigan offers the greatest variety of seasonal fishing and guided experiences.
Camping near Lake Michigan
Illinois Beach State Park runs 6.5 miles along the shore of Lake Michigan just south of the Wisconsin border. With miles of trails and a sprawling natural forest, this area is the perfect way to escape the city limits in favor of more natural terrain. The campground at Illinois Beach State Park offers 241 campsites with electricity and full restrooms and shower facilities. Reservations are available up to 6 months in advance.
"We had a phenomenal time at Illinois State Park camping facilities! Space was clean, nature was alive, and the neighbors so friendly! Thank you to the folks that work there for helping us find firewood too. Will be back soon!" –The Dyrt Camper Rachel N.
4. Lake of Egypt, near Marion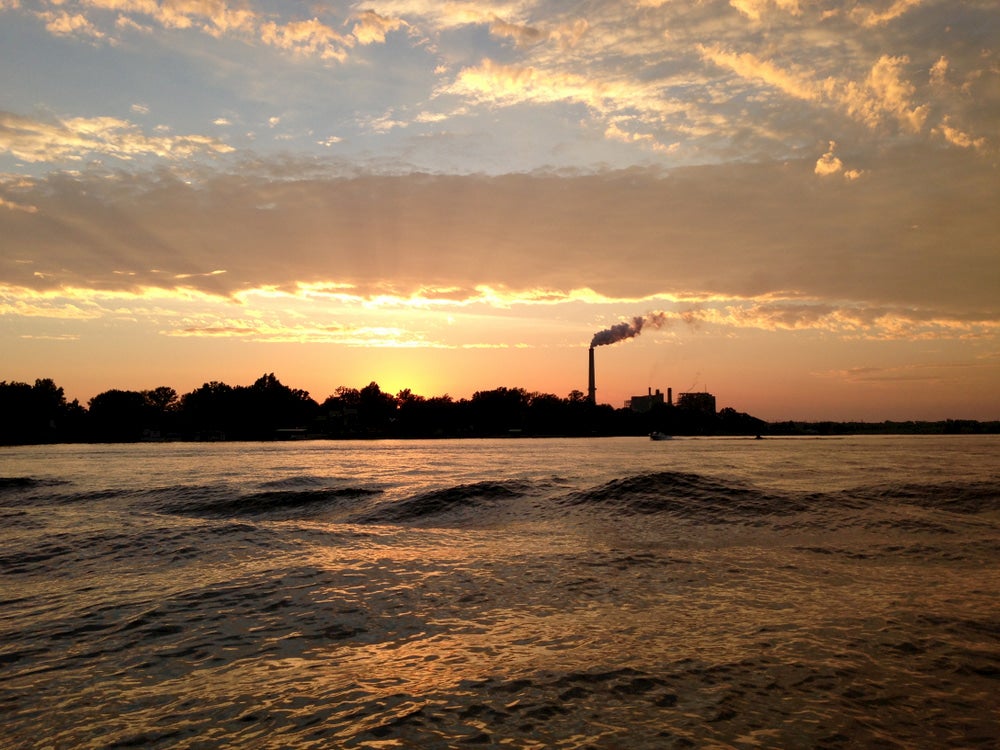 Located at the very southern tip of the state, Lake of Egypt is a large, sprawling body of water that offers more of the best crappie and bass fishing in Illinois. Due to its size and variety of bays, fingers, and nooks, the Lake of Egypt provides substantial opportunities to fish for both beginners and advanced anglers. For those interested in the winter fishing in Illinois, Lake of Egypt is a prime location for crappie fishing when the weather is cooler.
Camping near Lake of Egypt
Buck Ridge campground features around 30 sites, some of which offer direct views and access to the lake. All campgrounds are available on a first-come, first-served basis, and each of the sites are equipped with tent pads, picnic tables, and grill tops. While there are few developed trails in the region, the Lake of Egypt does allow boats, with a boat launch stationed very near the campground at Hickory Point.
5. Clinton Lake, near Clinton
Clinton Lake is a long, thin 7.5 square mile lake in southern Illinois that offers excellent fishing conditions year-round. While largemouth bass and crappie make up the main populations, striped bass, walleye, catfish, and white bass may also be caught throughout the year.
Clinton Lake is a popular destination for anglers seeking one of the many nooks and crannies the lake has to offer, and with an average depth of just 15 feet, the fish are never too far away. With unrestricted boat fishing and recreational water sports permitted on the lake, it is a popular destination for residents of the Prairie State throughout the warmer months. Due to the lake's popularity, the state has put in place limits of the number of fish anglers are allowed to keep. Limits change occasionally based on season or annual population counts, and updated fishing limits can be found here.
Camping near Clinton Lake
The Clinton Lake State Recreation Area offers a campground that includes over 300 campsites, the vast majority (around 275) include full hook-ups. Sites are reservable online year-round, and are available between 6 months and 3 days prior to the trip start date.
"This was the perfect spot for a family get away. We went swimming, and fishing every day off the boat. There is also a beach available to swim at if you don't have a boat. It was $2 a person to go to the beach. The facilities are well maintained, and we had no issues with bugs the entire trip. (We stayed 4 nights). There is a small store and a concession stand that acts as an indoor/outdoor restaurant. The shower house is serviced several times a day, and always had plenty of hot water for our showers. My family goes every Memorial and Labor Day weekend to this campground as we have found it to be one of the best around." –The Dyrt Camper Jamie T.
6. Lake Shelbyville, between Shelbyville and Allenville
At just over 11,000 acres Lake Shelbyville is a reservoir that offers some of the best fishing in Illinois. Being a long lake with several smaller "coves," Lake Shelbyville has been called by Bassmaster one of the best bass fishing lakes in the state of Illinois,and the lake hosts large populations of yellow bass and white bass, with decently-sized developing populations of smallmouth, largemouth, and striped bass. In addition to the large numbers of bass, anglers can expect to encounter carp, muskie, walleye, crappie, and bluegill.
Camping near Lake Shelbyville
Camping near Lake Shelbyville is as easy as the fishing, with several campgrounds spotted along the reservoirs' shores. Bo Wood campground offers 150 campsites as well as a boat ramp, a bait shop, and a plethora of picnic areas suitable for families and larger groups.
"Great campground, big but didn't feel "big." Excellent place to ride bikes; didn't venture on lake but it was beautiful. Bo Wood is on [the] north end of [the] lake and is the quiet side." –The Dyrt Camper B P.
7. Devil's Kitchen, near Marion
Of all the water in Illinois available to eager anglers, Devil's Kitchen is one of the clearest and the deepest of that lakes in Illinois, and plays host to a flourishing population of rainbow trout and largemouth bass. Sunfish, perch, and bluegill may also be caught from the lake, and a ten horsepower motor limit ensures the lakes stays clear and calm year-round. Given the size, depth, and quality of the lake water, Devil's Kitchen is a popular location for bass fishing tournaments, with 6 tournaments being held on the water in 2018.
Camping Near Devil's Kitchen
Camping near Devil's Kitchen Lake is limited, although given the lake's proximity to Little Grassy Lake (profiled below), there are a number of sites available for anglers willing to take a short drive to one of the eight boat docks on Devil's Kitchen Lake.
8. Little Grassy Lake, near Carbondale
Little Grassy Lake is another lake in the southern part of the state that offers some of the top-tier bass, sunfish, and bluegill fishing in Illinois. At 1000 acres, the lake is plenty big enough to offer guests a variety of spots to fish, whether it be from the shoreline or in the middle of one of the lake's many long fingers. With restrictions against recreational watersports and a 10 horsepower motor limit, the bulk of the lake is open to anglers without the hazard of other high speed boats. Little Grassy Lake, like Devil's Kitchen, is a hub for bass tournament fishing in Illinois, as it hosted 15 tournaments during 2018.
Camping Near Little Grassy Lake
Camping near Little Grassy Lake is a popular option in the summer months, when visitors to the Crab Orchard National Wildlife Refuge flock to the area for access to fishing waters, hiking trails, and other outdoor activities. Little Grassy Lake campground offers 35 tent sites, 14 full hook-up RV sites, and 54 sites with just water and electric, along with boat rentals, guides for local outdoor attractions, and a general store on site. Reservations are accepted year-round, and can be made over the phone via the Little Grassy Lake campground website.
"This campground is family friendly and right on the lake. We were lucky to come on a cooler weekend and get a more private campsite. You can rent kayaks and canoes for cheap at the marina, it's close to Giant City, and it is everything I love about Southern IL." –The Dyrt Camper Shelby B.
9. Lake Springfield, near Springfield
One of the more urban lakes on the list, Lake Springfield is located just southeast of the city of Springfield, IL, and offers a decent-sized lake (4,260 acres or 6.6 square miles) in a relatively populated location. Like much of the fishing in Illinois, anglers can expect a hefty population of bluegill, catfish, and largemouth bass, along with sporadic catches of crappie and white bass. The lake offers unrestricted boat fishing year-round, and was home to 91 tournaments in 2018.
Camping Near Lake Springfield
The Springfield KOA is located just a few minutes drive from Lake Springfield, and offers a highly developed campground for RVers and car campers alike. With a pool, mini golf, and wifi onsite, this campground is an excellent summer destination for families and anglers alike.
10. Crab Orchard Lake, between Carbondale and Marion
At nearly 11 square miles, Crab Orchard Lake is the crown jewel of the Crab Orchard National Wildlife Refuge, offering visitors a vast selection of fishing territory and nearly a dozen boat ramps for easy watercraft access. When it comes to fishing in Illinois, particularly the southern portion, Crab Orchard's populations of catfish, bluegill, crappie, and white bass are unparalleled by other lakes in the area. Anglers should note that, while large and perfect for bass fishing in one of the lake's many small coves, the lake is open to recreational water sports in the summer, meaning this area sees a bit more traffic than its nearby smaller companions (Devils Kitchen and Little Grassy).
Camping Near Crab Orchard Lake
Crab Orchard Campground offers 70 sites with electrical hookups as well as recently upgraded water pumps, grill panels, and sewer hookups. With sites right on the shores of Crab Orchard Lake, this campground is a perfect option for anglers seeking to hit all three lakes in the region without much hassle.
"What a nice find in southern Illinois just outside of Marion. Very big roomy and grassy sites. Some right on the lake shore. This is a national conservation area so our national park passes are accepted meaning only $10 a night for electric and water. Full hookups $12.50. (Double the fee if you do not have a pass.) Boat ramps available. Very friendly and accommodating management." —The Dyrt Camper Greg M.
---
This article was brought to you by Wenzel

Pick up a screen house from Wenzel today, and turn fishing in Illinois into a lakeside vacation.
---
Related Campgrounds:
Popular Articles: