This article is brought to you by Outdoor Element, an outdoor survival gear brand that helps adventure enthusiasts stay safe while doing all of their favorite outdoor activities. They've combined a knife with a firestarter and that flint multi tool carabiner is a great way to get a campfire going without the hassle.
---
Campers love a good fire. It brings us together to reminisce, identify constellations, and stay warm. It also provides us with the most basic modes of cooking and baking. And I know some people hate it, but I try to maintain that campfire smell once I'm back in civilization for as long as possible.
But starting a campfire isn't always easy or convenient, that's why I'm so stoked about the Firebiner from Outdoor Element. This lightweight all-in-one tool crams in multiple features (like an all-weather firestarter!), making it both useful and necessary at home and on the trail.
The Firebiner is a convenient wire-gate carabiner with hang slots for keys or tinder, screwdriver tip, knife, and firestarter. While all these features are impressive, the two that stand out are the knife and firestarter.
Two Essentials Covered: Knife With a Firestarter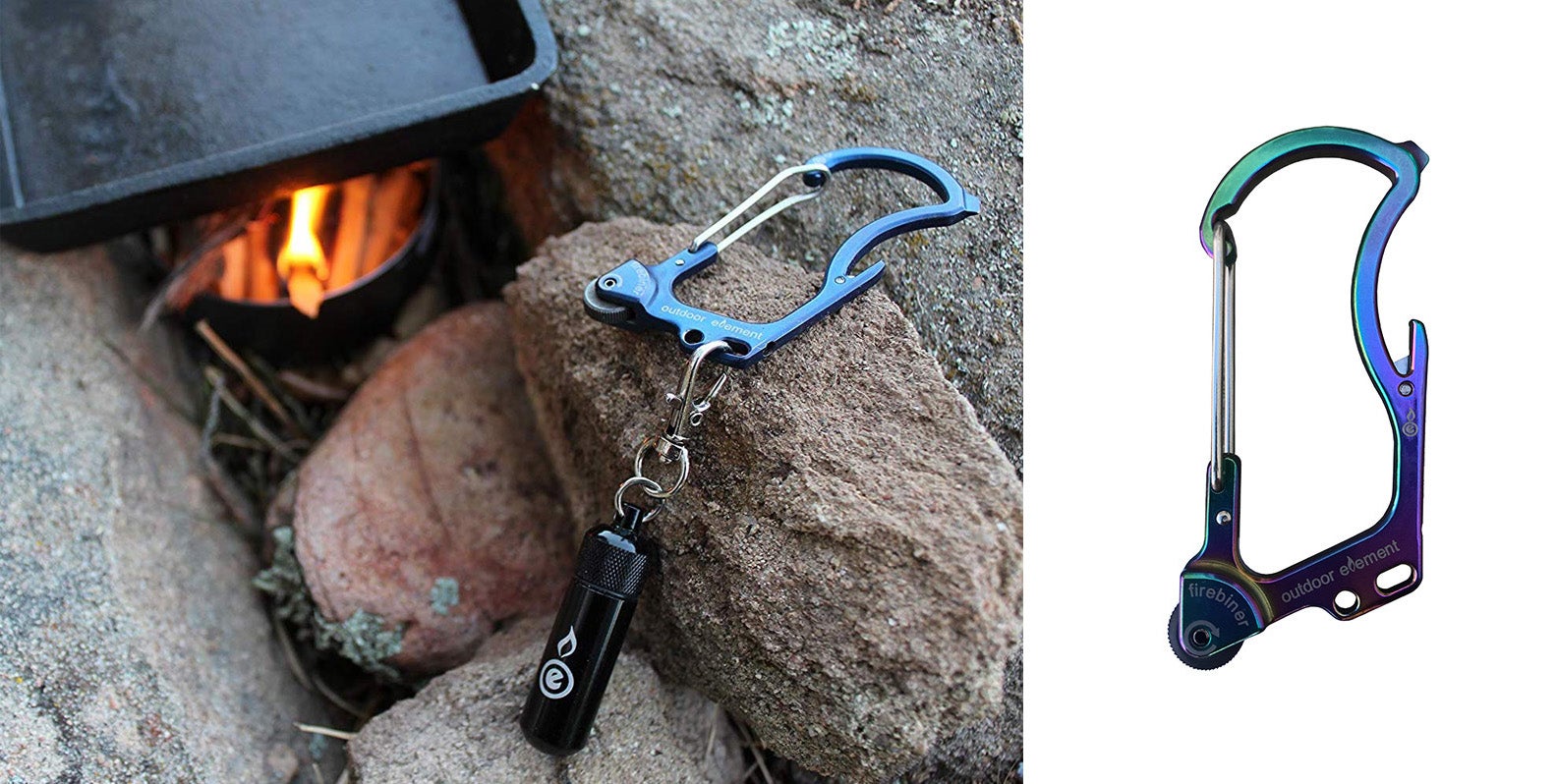 How many times have you wished you had a sharper knife while you're out in no-man's land? Wish no more. The knife on the Firebiner won't slice your bacon into bits or chop up veggies for dinner, but it's handy for cutting fishing line, cord, or starting the tear on a piece of duct tape.
Then there's the EverSpark™ wheel below the wire gate. With a flick of your fingers, the wheel springs into action with a flurry of sparks, ready to start your campfire or cookstove in all kinds of weather conditions. Outdoor Element also sells replaceable ferro rods, so the life of your Firebiner doesn't die as soon as the sparks stop lighting.

Come on, a knife with a firestarter? It's pretty dang cool. And like the guy in the Shamwow commercials, there's more! On the upper side of the Firebiner, you will find a screwdriver tip for on-trail repairs, bike maintenance, or prying open a can of tuna — and the notch above the knife slot doubles as a bottle opener!
Outdoor Element sells two accessory kits for attaching tinder to the loopholes at the bottom of the carabiner: the Packrat or the Wombat Whistle, which—you guessed it—doubles as a whistle. Both additional options come with a screwdriver tool that tightens or loosens the ferro rod within your Firebiner in case you need to replace it on the trail.
For only $14.95, we think the Firebiner is a steal, considering the sheer functionality of having a knife with a firestarter and how often you're bound to use it at home or in the wild.
---
This article was brought to you by Outdoor Element

Their multi-use carabiner with a knife and a firestarter helps get your campfire crackling. 
Popular Articles: