This article is brought to you by Banner & Oak, a company with deep expertise in headwear. Their trucker hats are the perfect addition to your next camping trip in Connecticut. 
---
For many New Englanders, the nature of Connecticut is often overlooked in comparison to the more rugged landscapes of Maine and Vermont. Despite the state's smaller size and crowded urban areas,  Connecticut is full of natural beauty from its dense forests to its shimmering coastlines.  Check out our favorite campgrounds in CT from beach spots on the coast to the rolling hills of the Berkshires region.
The Top Campgrounds in Connecticut, According to The Dyrt Campers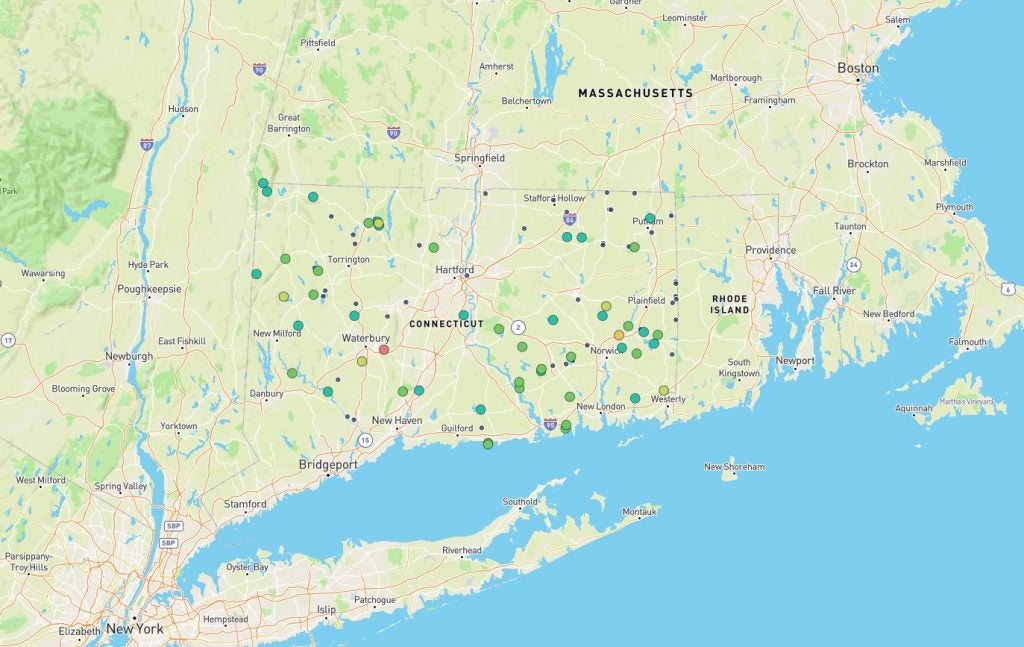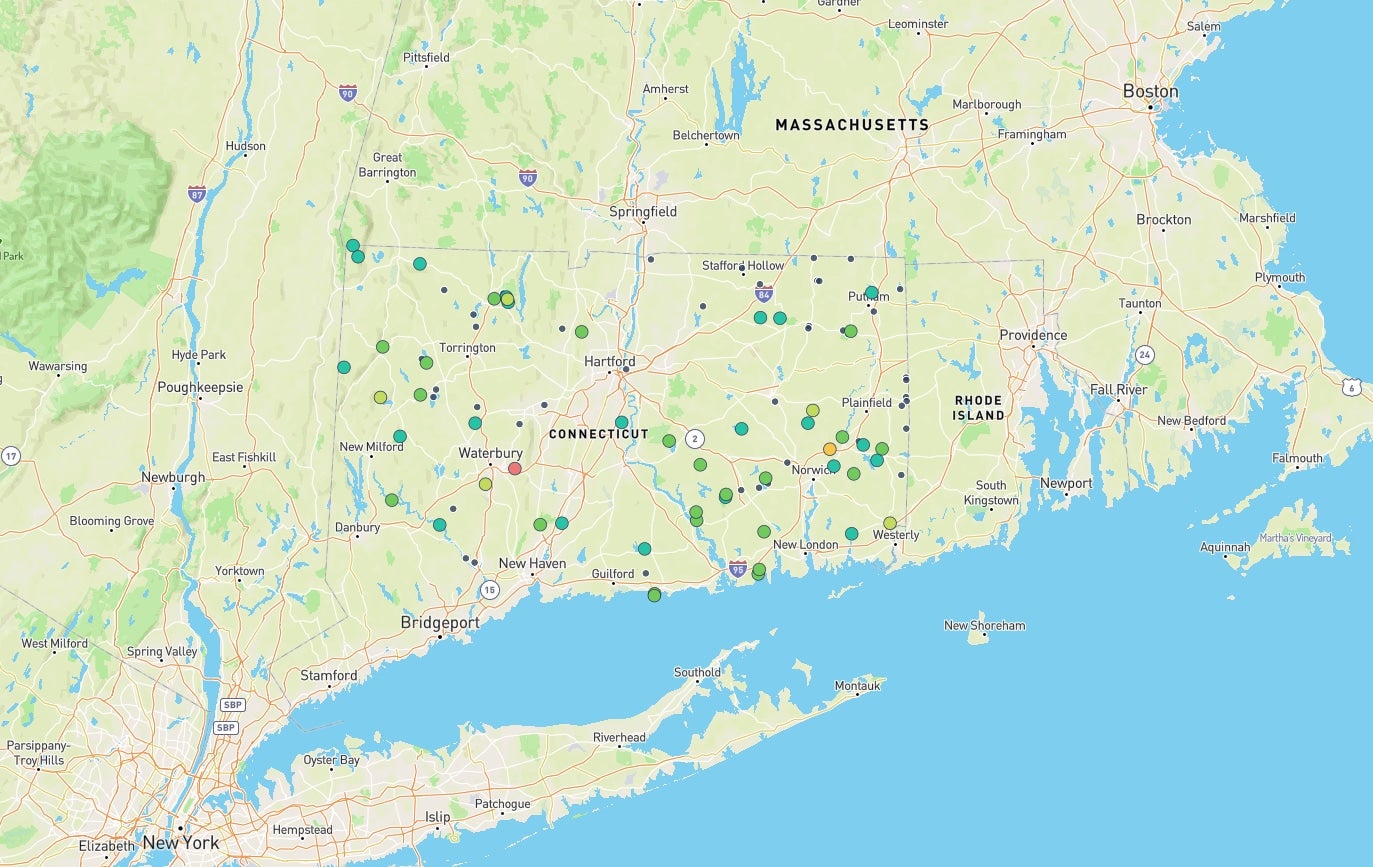 While Connecticut is small, campgrounds in CT can vary a lot depending on their location. The Nutmeg State's terrain is classic New England: a mixture of rolling hills, forested valleys, scattered ponds and rocky beaches, all ideal for camping in CT. The Central River Valley—running north to south in the middle of the state—has state parks and other camping options along the Connecticut River. The Northwest Hills are considered the Berkshire Region and are home to a leg the Appalachian Trail.
Connecticut's "Quiet Corner" in the northeast features many privately-owned campgrounds, farms, antique stores and two of the country's oldest agricultural fairs; Woodstock and Brooklyn. The Southeastern Mystic region extends from the coast inland. Here campers will find ocean swimming, fishing, and boating as well as hiking and biking trails.
See New England's Hidden Beauty from these Campgrounds in CT
Nestled in the state's more placid northeast corner near Massachusetts and Rhode Island, West Thompson Lake Campground is an excellent choice for those seeking campgrounds in CT with peace and quiet. This family-owned campsite on the shores of West Thompson Lake offers great opportunities for boating, paddling, and kayaking. Hundreds of bluebirds and cedar waxwing birds can be seen while paddling the river. Don't come with your cooler though, as fishing in the park is all catch and release.
This campground has 22 campsites in all; half of which provide campers with water and electric hookups.
West Thompson Lake has a variety of amenities including clean showers and bathrooms on site, a basketball court, a amphitheater, and a playground. Many hiking trails are also accessible from the park. One of its best-known amenities though, is the 18-hole free disc golf course on the shores of West Thompson Lake.
"This part of CT is very rural and quiet, but there is a large grocery store less than 2 miles away for anything you need. And there's Riverside Pizza less than a mile away, I highly recommend it!" —The Dyrt camper Cynthia K. Camp Here
---
Prepare for your next adventure by downloading maps. The Dyrt PRO lets you download maps and campgrounds without cell service. "My alternative to using pro would be to drive back out to cell service".
---
Originally inhabited by the Pootatuck Indians, the area now known as Kettletown State Park played a key part in Connecticut's early days. Visitors still find occasional arrowheads on the property, something not common at campgrounds in Connecticut.
Hike the trails of the early colonists, and take a dip in the the popular swimming hole in the warm months, all just 20 miles from New Haven. The campground has 56 sites, some of which include hookups. Kettletown also rents out a few basic cabins/shelters without kitchens or bathrooms.
"I love Kettletown, it's a favorite that is very close to home. It's a small camp ground and it's absolutely beautiful. The bathrooms are always kept clean and stocked and there are a ton of watering spots." —The Dyrt camper Taylor C. Camp Here
---
Prepare for your next adventure by downloading maps. The Dyrt PRO lets you download maps and campgrounds without cell service. "My alternative to using pro would be to drive back out to cell service".
---
A group- and pet-friendly campground, Water's Edge Family Campground is located in Connecticut's eastern rural spread. They offer community spaces like the "safari field" with its shared pavilion and fire pits and the dog park for canine guests.
The campground is centered around the Mathiew Pond, offering kayaking and fishing to campers. However, if you're looking to take a dip, look for the campground's private pool. Campers may also kayak and fish on the lake. The park offers amenties like free wifi and a stocked camp store.
The campground is open from mid-April to mid-October, a common season for most campgrounds in Connecticut. Seasonal campers make up most of the park, but weekend visitors are always welcome. Although close together, many of the sites are enclosed by beautiful tall trees which make them feel more secluded and uncrowded.
"Most of the campground has seasonal campers, but we never felt like we didn't belong, which is my criticism of other campground like this. There is a little lake for fishing, kayaking and swimming if you like. The camp store is adequately supplied and they had just enough actives for the kids to be engaged. We will be back!" —The Dyrt camper Erin M. Camp Here
---
Camp beside the highest point in Connecticut at the luxurious Lone Oak Campground. This camp resort is equipped with two large swimming pools a whirlpool, a playground, and theme weekends offering different family-friendly activities and events throughout the season.
Nearby hiking trails provide access to climbable waterfalls or Bear Mountain.
The campsites are well-maintained, even late in the season. There are a variety of sites to chose from, and the campground is open to both tent campers and RVs.
A less rugged option, Lone Oak is the perfect campground in CT for those with kids who want to be able to experience nature while keeping the young ones entertained.
"I have gone to lone oak campsites for 32 years. We have gone as a family since I was a fetus. Tons of waterfalls in the area and the highest point in Connecticut. Stars can be seen well and tons of kind and friendly campers." —The Dyrt camper Ashley A. Camp Here
---
Black Rock State Park, set in the Western Highlands of Connecticut, is filled with wonderful hiking trails, great swimming, scenic CT camping, and a whole lot of Native American legend.
The name Black Rock comes from the early settlers mining graphite lead in the region. The resident tribes of the area included the Mohegan, Paugussett and Tunxis peoples. The park was given to the state of Connecticut in 1926 by Black Rock Forest, Inc., a citizen's conservation and woodland preservation group.
The campgrounds have 78 sites available, all of them clean and spacious. Campers can choose between open field sites and wooded, more private ones. The best, most secluded sites are the ones in the back, right ring.
The hiking trails take you through the dense and scenic Mattatuck State Forest. Popular sites nearby include Leather Man Cave, Whitestone Cliffs, Tory's Den, and Buttermilk Falls are all worth a visit.
"Very rewarding visit. Rangers and other campers were very friendly.  Lot of good hiking trails with a scenic view and waterfall to discover. Beach was nice, just a bit crowded. Definitely can't wait to go again this year!" —The Dyrt camper Tanya B. Camp Here
---
Offering access to the Blue Trail across Cobble Mountain with views of both the Catskill and Taconic Mountains, Macedonia Brook State Park is a great fall foliage destination.  Macedonia Brook is the perfect campground in CT for avid hikers looking to summit a few mountains.
Macedonia Brook is within walking distance of the charming village of Kent making it easy to stock up on suppplies or go out for a morning coffee.
"Delighted to find this facility on our return trip from Maine to NC. We camped next to the brook and one couldn't have had a much better experience! Had supper in nearby Kent which is a fantastic small village." —The Dyrt camper Ford S. Camp Here
---
Surrounded by lakes that dot the northwest corridor of Connecticut, White Pines Campsites is, like many campgrounds in CT, a perfect blend of luxury and roughing it.
White Pines, a privately-owned campground, is family and pet friendly. White Pines Campsites has 209 sites to choose from for tents and RVs, they also rent cabins with kitchenettes.
The grounds have a large pool, an arcade, family recreation areas, and a volleyball court. Campers can rent equipment at the recreation center including kayaks, ping pong tables, all variety of sports balls, board games,  and sets for badminton, whiffle ball, and croquet.
"I was there with my two sons on a cold, rainy weekend very early in the season – not many other campers. The sites are good size and seemed well laid out. The folks in the office/store were incredibly friendly and helpful. Looking forward to going back later in the season." —The Dyrt camper Bryan S. Camp Here
---
Rocky Neck State Park, located on Connecticut's Golden Coast, has a sandy beach, varied hiking and mountain biking trails, and salt marshes. Walk through an underground railroad tunnel to access the beach or take the road to the beach overlook for ocean views and crabbing for Blueshells.
Rocky Neck State Park is a great spot for summer camping in CT and offers 160 campsites including some along the coastline of Long Island Sound, so you can fall asleep to waves crashing.
"We had to walk under the railroad tracks through a tunnel to get to the beach. Interesting but still a nice feature and probably the main attraction here. The bath rooms were clean and up to date. Good for a night on our way to Rhode Island." —The Dyrt camper Christy C. Camp Here
---
This article is brought to you by Banner & Oak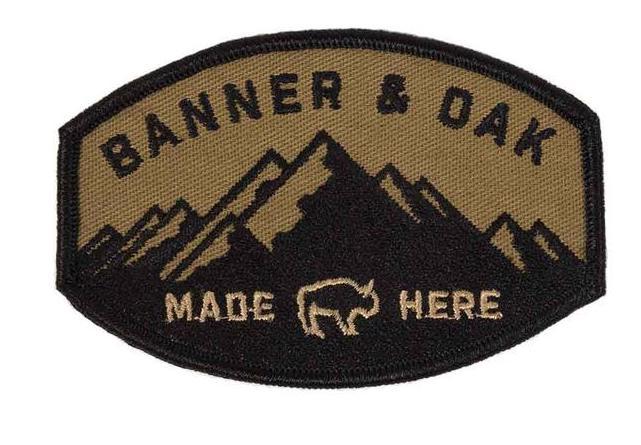 Their snapback trucker hats are the perfect addition to your next Connecticut camping trip.
---
Related Articles:
---
Related Campgrounds:
Popular Articles: