When it opened in 1936, Fairy Stone State Park was the largest park in Virginia at 4,741 acres. The ghost town of Fayerdale lay submerged under the newly created 168-acre Fairy Stone Lake, a testament to a fading era of mining and moonshine in Virginia's Appalachia. The Civilian Conservation Corps worked through the Great Depression to build up the park's trails, buildings and infrastructure.
The result was a beautiful state park, tucked into the southwestern corner of the state that contains the history of the old mountains of Virginia. Campers, hikers, bikers, paddlers and amateur geologists of all ages will find some kind of treasure within the boundaries.
Fairy Stone State Park is Littered with Staurolite Crystals
The fabled fairy stones that give the park its name are actually Staurolite crystals. Composed of silica, iron and aluminum, these unique formations crystalize at 60 or 90 degrees, forming the iconic cross shape.
The stones' role in the history of this area is a colorful blend of Christian and Pagan mythology. Held as a talisman against evil, sickness and witchcraft for hundreds of years, the fairy stones were believed to be the tears of fairies who wept on learning of the crucifixion of Christ. The town of Fayerdale got its name from "fay" or fairy, and the stones were collected and valued all through its colorful history as a mining town and moonshine hotspot.
The shapes of the crosses can vary, from the more common St. Andrews X to the rectangular Roman and the most sought-after square Maltese cross.
A short hike along a dirt trail leads to the area where these tiny geological phenomena are most concentrated. There is a small gas station right near the trailhead on VA-57, and Fairy Stone State Park provides an information brochure about the stones as well. Make sure to bring water and use a lot of bug spray.
Hunting for fairy stones is a practice in patience and attention to detail. Most stones are no more than half-an-inch to three-quarters-of-an-inch long, and they blend in perfectly with the surrounding dirt and pebbles.

In the wooded hunting grounds, no digging tools are allowed. Searching techniques can vary.
If your back is young enough, you can browse on the go while bending over to get a closer view. Others prefer setting up on the ground near a tree root knot and sifting the dirt with their hands. Visitors are allowed to keep any fairy stones they find.
More Activities to Explore in Fairy Stone State Park
Once you find your fairy stones, or even if you aren't interested in hunting, there are many other activities in the park for outdoors lovers to explore
Fish, Boat & Swim on Fairy Stone Lake
The 168-acre Fairy Stone Lake has excellent fishing opportunities. Cast for largemouth bass in the deep water above the sunken old town, or angle for crappie in the shallower waters. The pond is also stocked with rainbow trout, and the junior fisherfolk can have a good day landing sunfish and bluegill.
There is a lovely swimming beach along the shore with sand and a shallow entry area. One of the park's playgrounds is even built in the water near the swimming beach. During the summer, the park rents out a variety of watercraft by the hour, including kayaks and paddle boards. The lake is quiet and still, which makes it an excellent place to learn how to stand-up paddleboard.
Nearly 10 Miles of Hiking, Biking & Riding Trails
Exploring Fairy Stone State park is most popularly done through hiking—you just might have to watch out for people down on the ground along the trails hunting for stones.
Being one of Virginia's largest state parks, you have plenty of room to hike around peaceful lakeside paths or up more strenuous trails. Hike to several historical sites on the Iron Mine Trail (1.05 mi) or along Whiskey Run (1.49 mi). You can also take in the view of Fairy Stone Lake and the surrounding valley from Stuart's Knob (.99 mi).
On the other side of the park, several mixed-use trails for bikers and equestrians exist. Take Horse Camp for a ride around the edge of the park, or extend the ride with Little Mountain Falls Trail for a total of five miles.
Other Attractions near Fairy Stone State Park
Philpott Lake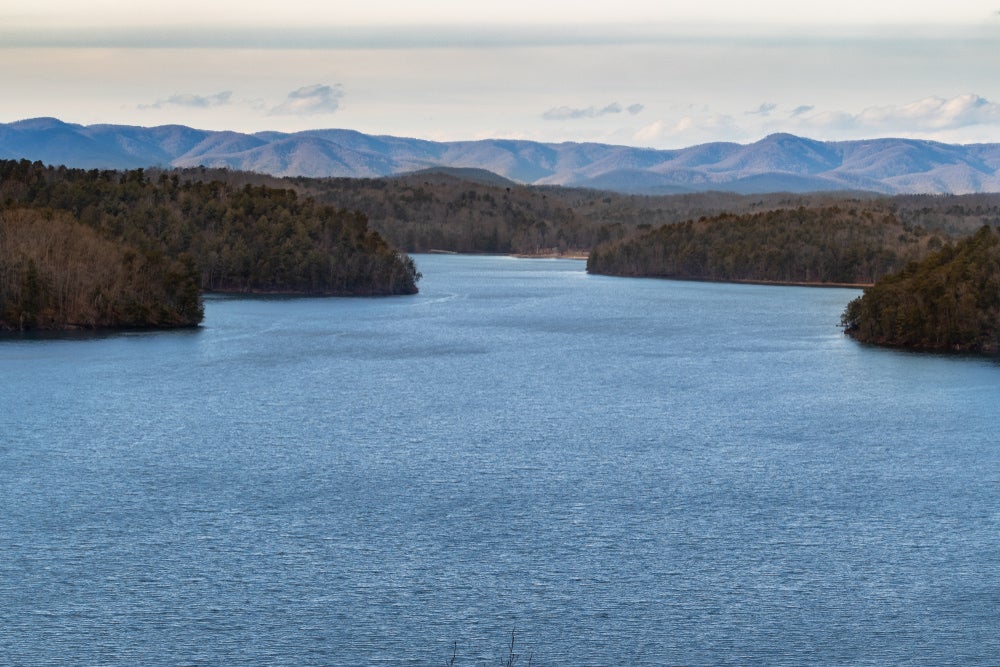 Attached to Fairy Stone Lake by a beautiful cascading falls dam, Philpott Lake offers an astounding 3,000 acres of water recreation. With 100 miles of shoreline and nine boat launches, Philpott Lake allows for wake-making watercraft. Eight campgrounds and many day-use and picnic areas allow families and fisherman to find a great way to spend their day.
Blue Ridge Parkway
Fairy Stone State Park is just thirty minutes away from the scenic Blue Ridge Parkway. Traversing hundreds of peaks along the southern and western edge of Virginia's Blue Ridge Mountains, Blue Ridge Parkway is an incredible drive any time of year. Of course, during the fall color display, the drive becomes a must-do bucket list for every leaf-peeper in the state.
Mountain Biking around Stuart, Virginia
According to SingleTrack.com, there are 18 excellent quality mountain biking single-track trails within an hour's drive of Fairy Stone State Park. This area has recently come into its own for mountain biking, and while summer heat and humidity can be a bit oppressive, early and late season rides through this area are spectacular.
Camping Opportunities in Fairy Stone State Park
Looking for a cushy lodge to rest your head? A rustic cabin among the trees? A simple spot to pitch your tent? Fairy Stone State Park has all of those — and then some.
Campground
The Fairy Stone State Park Campground has a variety of RV and tent camping options. Most sites (designated yellow) have an RV hook-up as well as a sandy tent pad. Green sites only provide a parking space for RVs. There is also a group camping site, which only allows tents.
For each night stay in either campground or cabin, a swimming pass is provided to all occupants.
Fairy Stone Lodge
Fairy Stone Lodge is a great getaway opportunity for large groups or families. With an occupancy of 16, modern amenities like a gas fireplace and climate-controlled heat and cooling, and a full kitchen with range and refrigerator, the lodge is a great way to experience the park with minimal effort.
Cabins
Similar to the lodge but with a capacity of no more than six, the cabins are another great stay-and-play option for visiting Fairy Stone State Park. Be sure to carefully research the size and number of beds in each cabin, as options vary. During the busy summer season, a week-long minimum stay is required for reservations made more than three months out, but that drops to two nights if the cabin is still available a month away.
Yurts/Camping Cabins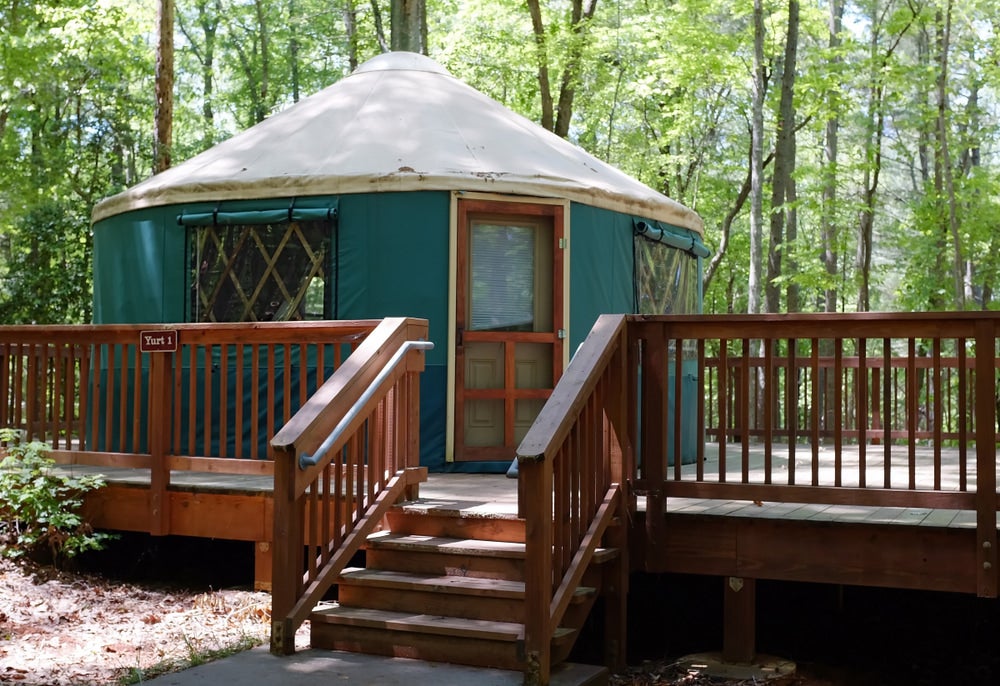 For a cheaper option that's a little closer roughing it, Fairy Stone State Park has both yurts and camping cabins/bunkhouses. Bring your own cookware and sleeping bags and be prepared to share the bath house.
Equestrian Campgrounds
Horse people rejoice! Fairy Stone State Park has a beautiful equestrian group campground and multi-use trails for horseback riding. With electrical hook-ups and no tent sites, this campground is designed to facilitate groups with large trailers and multiple horses.
It is removed from the main activity area by about 1.5 miles, but several trails can be accessed directly from the group site. Pit toilets only, but campers have access to the bathhouse at the main campground from 6 a.m. to 10 p.m. Reserve this campground early.
---
Related Campground:
Popular Articles: