Imagine a lake so clear, the sun creeps over its placid water in a perfectly mirrored reflection. A thin layer of fog dances on the water, reflecting the orange hues of the rising sun. It's just you, the stillness of nature, and your hot cup of joe. This is your reality at Fish Creek Campground.
The surrounding Glacier National Park has a lot to offer—just ask one of the 3.3 million people who visited the park last year. Their world-class campgrounds are only the beginning, and Fish Creek is one of the best. Visitors can camp in nature while enjoying the splendors of modern convenience.
Fish Creek Campground Offers the Best of Glacier National Park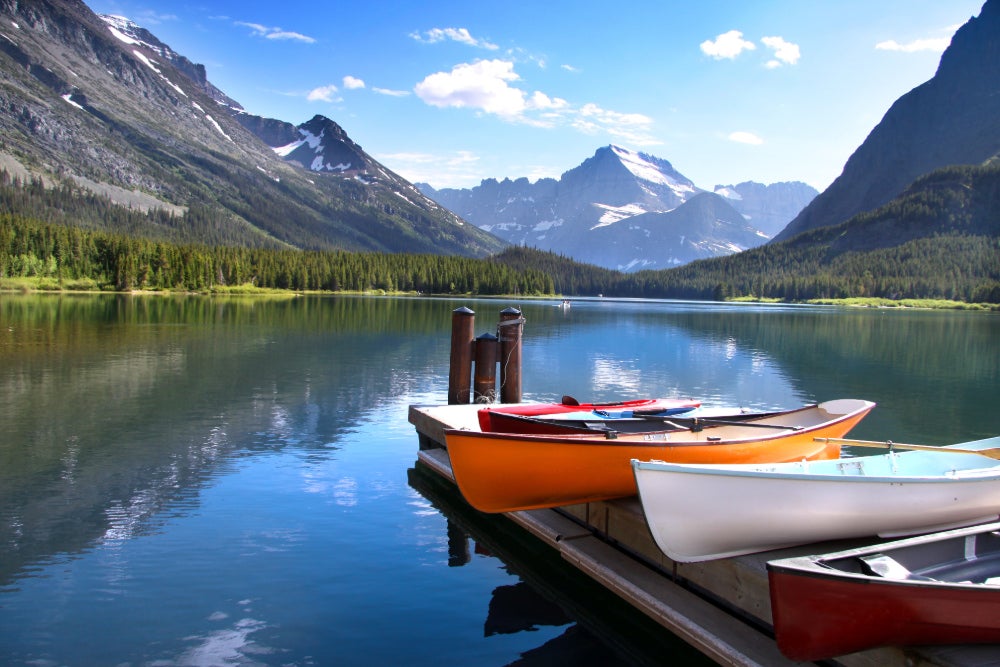 Fish Creek Campground is the second largest campground in Glacier—just behind the nearby Apgar campground. It's a convenient 2.5 miles from Apgar Village. Loops C and D offer beautiful views of Lake McDonald. Loop B provides campers with the soothing sounds of Fish Creek.
The campground is open from the beginning of June to mid-or-late August, making reservations Fish Creek Campground is a popular spot. It's sizable, with 178 campsites, 18 of which accommodate RVs up to 35 feet. Campers also appreciate the ability to make reservations up to six months in advance.
For $23/night campers have access to plenty of amenities. Campsites have a picnic table, tent pad, and fire ring. The campground comes with flush toilets, sinks, drinking water, bear-proof lockers, showers (in loop A), and nightly programs at the amphitheater.
"We stayed here on our honeymoon and I would come back in a heartbeat. There is no electricity or water hook up so it's important to keep that in mind. However, this is by far my favorite campground. You are located next to lots of little hikes as well as the riding stables." —The Dyrt camper Sarah P.
5 Camping Tips for Glacier National Park's Fish Creek Campground
These five tips will make your stay at Fish Creek Campground a memorable one.
1. Crowds are Nearly Unavoidable
Fish Creek Campground can fill up in the summer months, so it may benefit you to make a reservation ahead of time. Especially if you want a prime campsite, like a site with lake views (in loop C or D), or a site above Fish Creek (in loop B). Fortunately, you can plan ahead and make reservations online.
Campsites that don't get reserved become available on a first-come, first-serve basis. So there's still a chance of snagging a site if you show up early. Your chances are better if you arrive after check-out, at 11:00 am.
2. Great Hiking is Steps Away From Fish Creek Campground
Fish Creek Campground is a great location for hikers looking to conquer some of Glacier's best hiking trails.
The Rocky Point Trail is a leisurely 1-mile stroll along the shores of scenic Lake McDonald. The hike offers great views of Mounts Brown and Edwards. Be wary on your hike, however, as most of the trail passes through the remnants of the 2003 Robert Fire.
The Johns Lake Trail is an easy 2-mile loop around the lake. The trail is equestrian friendly. The lake is dotted with water lilies and backed by two picturesque mountain peaks. The trail also passes McDonald Falls.
The Avalanche Lake Trail is a moderate 5-mile hike to a glacial lake. Several waterfalls plunge into the lake from the mountains behind. If you continue, you'll reach the head of the lake.
The Apgar Lookout Trail is a challenging 7-mile trek up Apgar Mountain to a fire tower. A backdrop of mountain peaks accompanies the expansive views of Lake McDonald below.
3. Glacier National Park Weather Can Be Unpredictable, and Wet
The Continental Divide splits Glacier, which results in diverse environments across the park. The east and west side experience different weather patterns. The west side of the park, where you'll find Fish Creek Campground, is more moderate but with higher summer temperatures.
There is more precipitation and less wind, resulting in more rain throughout the year. You may not have to deal with harsh, cold temps but you should prepare for the possibility of camping in the rain. The wet climate is the reason the Fish Creek area is surrounded by a cedar-hemlock forest—a rare treat to camp within in the U.S.
You can prepare by packing rain-appropriate apparel, a rainfly for your tent, and a tarp. Come with a keen eye for the right campsite (a flat ground, under a tree).
4. Bears Frequent the Area
According to the National Park Service, there are around 300 grizzly and 600 black bears living in Glacier. Fish Creek campers can be "bear-aware" by following some basic rules:
Store all food, beverages, and garbage in bear-proof containers or vehicles. Fish Creek Campground provides bear lockers. It's also a good idea to store cosmetics, lotions, toothpaste, and other fragrant products.
Keep your campsite clean. Don't leave trash or food out, keep your fire pit clean, wash cooking equipment, and dump your water at the dump station.
Never bring food into your tent (not even small snacks).
5. The Nearby Apgar Village Has Plenty to Offer
Apgar Village, a short 2.5 miles from Fish Creek Campground, is home away from home. Most of the amenities you need are in the village.
You can find necessities at the West Glacier Mercantile. They sell groceries, prepared food, and camping or fishing gear. Eddie's Cafe & Gifts also supplies groceries and food.
If you're looking for a gift, Cedar Tree Gift Shop, Montana House, and West Glacier T-Shirt Shop have you covered.
For those looking to hit the water in a more involved way, the Glacier Raft Company, a full-service outdoor retailer, offers rafting and fishing trips around the area.
Popular Articles: