At The Dyrt, we share camping tips from our community of campers and campgrounds. With so many campers staying home, we continue to share this info so you can plan future camping trips across the U.S.
---
Spend some time around Appalachian Trail hikers in Virginia and it doesn't take long for the words "Devils Backbone Brewery" to come up. That's because this brewery and campground location has become a popular stopover on the Appalachian Trail. Located just 5 miles from Reid's Gap, a crossing point of the Appalachian Trail, many hikers choose to leave the trail for a few days of good food, beer, and fun at Devils Backbone.
But you don't have to be a hard-core thru-hiker to enjoy all that Devils Backbone has to offer. Whether you come solely to grab a beer and bite after a hike in nearby Shenandoah National Park or decide to set up camp and stay awhile, Devils Backbone Brewery offers the trifecta of a great day outdoors: stunning wilderness, craft brews, and delicious pub food.
Camp Where You Drink at Devils Backbone Brewery
The Devils Backbone Basecamp Brewpub and Meadow—which contains a campground, brewpub, an on-site distillery/brewery, and multiple restaurants—is "92-acres of beer and food-centric natural wonderland." Located just five miles from the Appalachian Trail and the Blue Ridge Parkway, the Devils Backbone brewery and campground makes a great home base from exploring all of the hiking, biking and fishing opportunities that the Blue Ridge Mountains offer.
The campground has 71 campsites including 25 full-hookup RV sites, 22 standard non-electric RV sites, and 24 primitive tent camping sites.
Amenities include a bathhouse that's open 24/7, campsites with fire rings, and, of course, the access to all of the food, drink and fun at the surrounding Devils Backbone Brewery.
The forested, pet-friendly campground is open year-round. Generators are allowed at the campground but must not exceed 60 decibels at 50 feet. Generators cannot be used between 8pm and 8am.
Quiet time is between 10pm and 9am. Check-in time is 3pm and checkout time is 11am. Campers should check in at the brewery building.
Find Forested Fun Nearby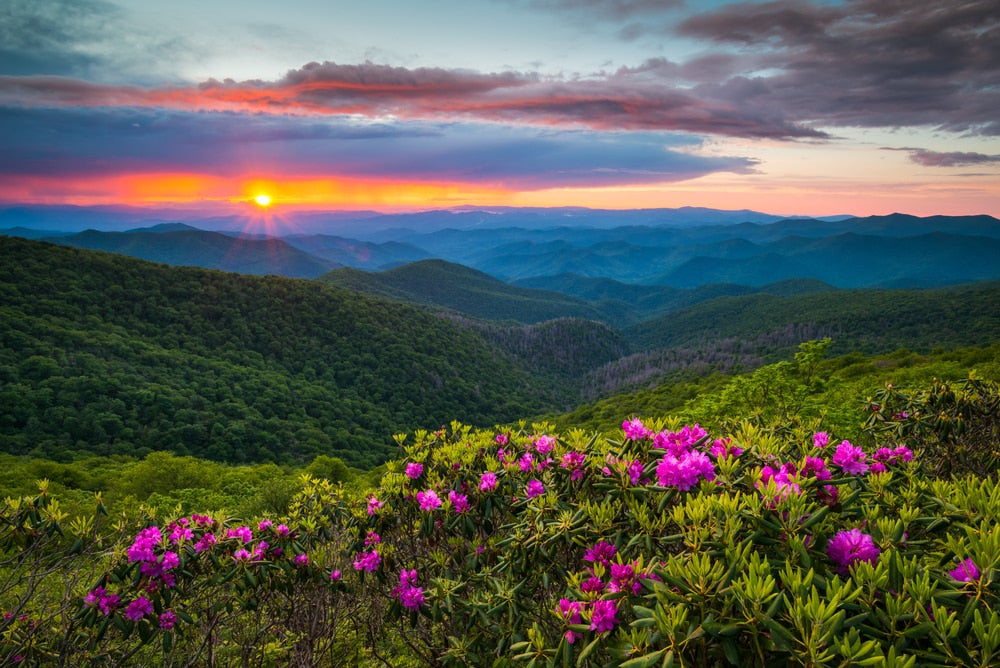 Located in right at the edge of the George Washington and Jefferson National Forests in the Blue Ridge Mountains, just five miles from the Appalachian Trail, there's no shortage of outdoor opportunities just a short drive away from Devils Backbone Brewery .
A few hiking trails located close the Devils Backbone brewery and campground—aside from the well-tread Appalachian Trail—include Humpback Rock, Spy Rock and Crabtree Falls.
The nearby George Washington National Forest is a huge swath of land connected to the Jefferson National Forest. Together, this public land stretches along 1.8 million acres of the Appalachian Mountains of Virginia and into Kentucky and West Virginia. The hiking opportunities are too numerous to list, but this website provides a great overview.
The northern entrance to Shenandoah National Park with all of its recreational opportunities is less than an hour and a half away.
The campground is located along Nelson 151, also known as Virginia's brewery and distillery hub. Bold Rock Hard Cider, Wild Wolf Brewing Company, Wood Ridge Farm Brewery and Brewing Tree Beer Company are all within a 10-mile drive of the campground.
Not Just A Campground: What to Know Before You Go
Devils Backbone is so much more than a brewpub—it's more like a compound of great beer, spirits, food and good vibes. Here are all of the fun establishments on the grounds of the Devils Backbone Basecamp Brewpub and Meadows:
The Basecamp Brewpub
The brewpub has a full service dining room. In the winter, guests can cozy up to the wood-burning fireplace and in the warmer months take advantage of outdoor patio dining. Much of the food served at the brewpub is grown on-site. The brewpub has a full bar including beer from Devils Backbone Brewery and craft cocktails made with the brand's spirits distilled on-site.
The Summit
The Summit is a small building on the grounds of the Basecamp Brewpub that serves up made-to-order fresh breakfast and local craft coffee. It's a great place to fuel up before a long day on the trails.
The Outdoor Bar
The Outdoor Bar is, as you may have guessed, an outdoor bar with 20 taps that serves up all of the most beloved Devils Backbone brewery beer as well as limited releases. And for those of us who like to switch it up, rest easy knowing that this bar also serves up wine and crisp cider.
The Shanty
Located just to the right of the Devils Backbone Stage is The Shanty, a cozy outpost offering a great selection of fine spirits with a focus on whisky, rare Devils Backbone beers, and cigars.
The Oak Grill
Open seasonally during the warmer months of March-November—and just a quick walk from the campsite—the Oak Grill serves quick bites made over an oak-wood fire, canned Devils Backbone beer and house-made lemonade.
The Distillery Lounge
The newest addition to the pack is Devils Backbone Distilling Co. The distillery makes rum, fine brandy and gin. Inside of the distillery, the lounge serves cocktails and Devils Backbone brewery beers. The covered patio makes a great place to kick back and enjoy your drink.
---
Related Campgrounds:
Popular Articles: