Fat bikes don't look like other bikes. At first glance, they appear heavy, unwieldy, and a little too chunky. It's easy to wonder who could ever enjoy riding something that cumbersome. Yet somehow, their curves have seduced thousands of die-hard biking fans to get off the beaten path. Way off. If you're interested in discovering just what makes them so appealing, you're in luck. Winter is fat biking season, and we've got your starter pack right here.
Winter Fat Biking is the New Way to Play in the Snow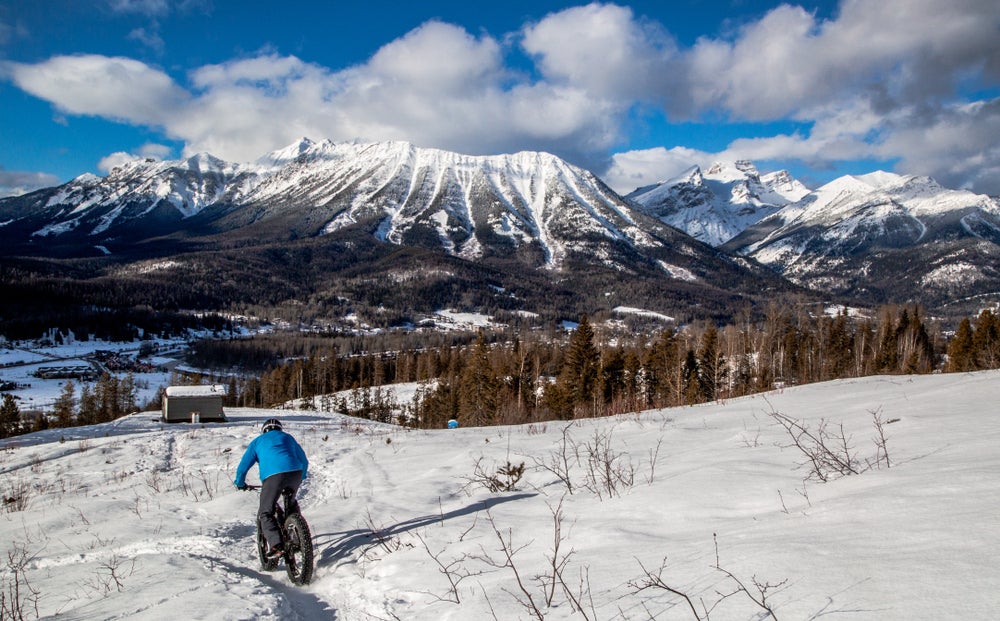 Winter fat biking has wide appeal. There are no special skills or training required, besides knowing how to ride a bike. It is a fun, welcoming activity, inviting anyone from serious bikepackers to general outdoors lovers to stay active in the winter months. Here's what to know to get started.
The Story of Winter Fat Biking
The origin of this unique sport involves innovation and exploration around everything it means to ride a bike. In the late eighties, mountain biking had taken hold and developers were trying to build components that could slay rougher terrain at higher and higher speeds. But some riders wanted to reach out into even more rugged areas, off-trail and off-season. Bike fanatics began experimenting with ways to ride softer snow or sand while maintaining traction and control.
For example in Alaska, riders wanted access to the state's mountainous terrain during winter. This lead to the state's first Iditabike challenge in 1987. This extreme race followed the same course as the famous dog race for 200 miles. At the time of its inaugural run, many riders had to carry their bikes for a significant portion of the time, as they were without bikes that were truly equipped.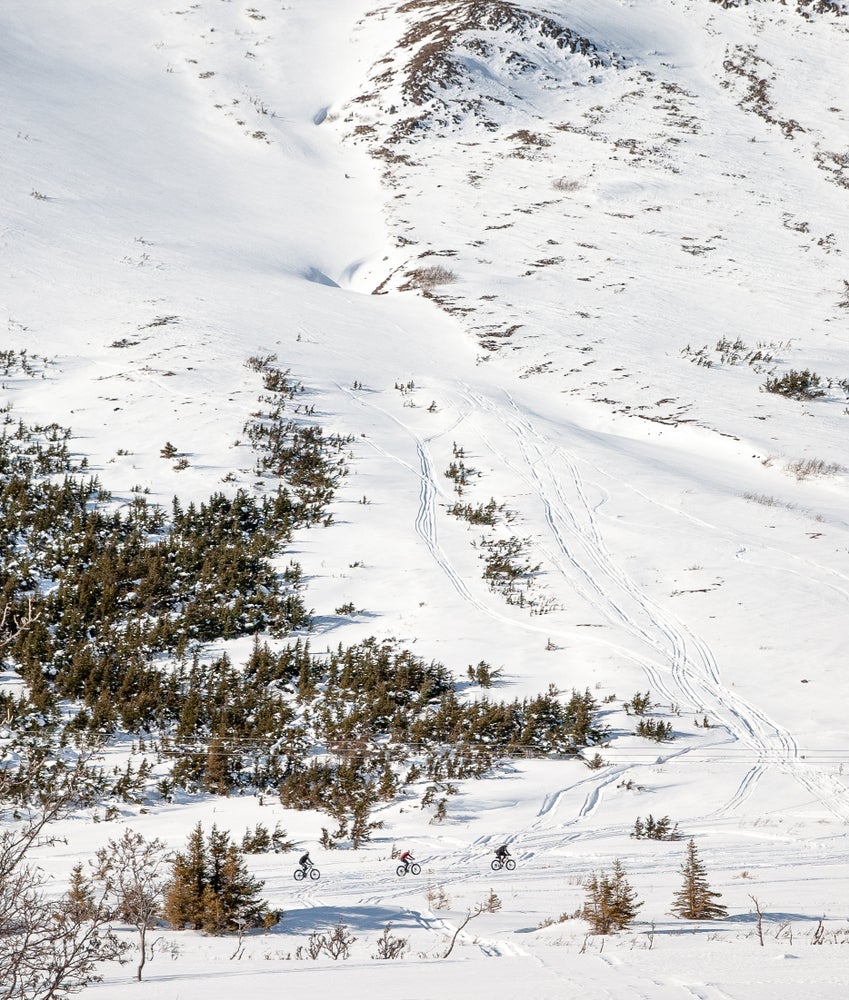 As these interests progressed into the 90s, the first approaches to fat bikes came about, involving pinning two or even three rims together, thereby widening the tread. This method was fraught with problems and was also limited to the elite mechanics who had the know-how to cobble them together.

Simultaneously, bike builders in the American Southwest began widening the rims and tires instead of attaching multiple rims. Their goal was to tear up the soft sand of arroyos and dunes in places like New Mexico. This was the incipient of modern fat biking, and throughout the late 1990s, mechanics were working in garages around the country to create their own wider rims and 'fat' tires, each one re-inventing the wheel on his own, so to speak.
The biggest, cohesive leap forward for fat biking came in 2005, when the famous Surly Pugsley hit the market. Its 65 mm rim and 3.7 in tire width were the answer to both snow and sand, making sand and winter fat biking easier than ever. It was mass-manufactured and quickly became available in bike stores all over the U.S. With this industry standardization, winter fat biking became accessible to more than just the elite, and the Pugsley is affectionately recognized as the gateway drug to this modern obsession.
What Makes a Fat Bike Today?
The idea behind the modern iteration of these early models is similar to 4×4 tires and snow tires. Lower pressure and a slightly softer material grips slippery surfaces in all conditions. Width spreads out the weight.
It would be easy to look at these bikes and assume that their weight would prevent most normal people from being able to control, let alone lift them. But with more and more carbon fiber components and lightweight metals, the average fat bike today weighs in at around 35 lbs. Yet with a full-carbon frame (and associated cost), that weight can be dropped to a feather-light 12 lbs!
While their original intention was so, fat bikes are not just for winter. With modern construction and frame weight, most are able to climb and zip downhill in nearly every season.
How to Get Started With Winter Fat Biking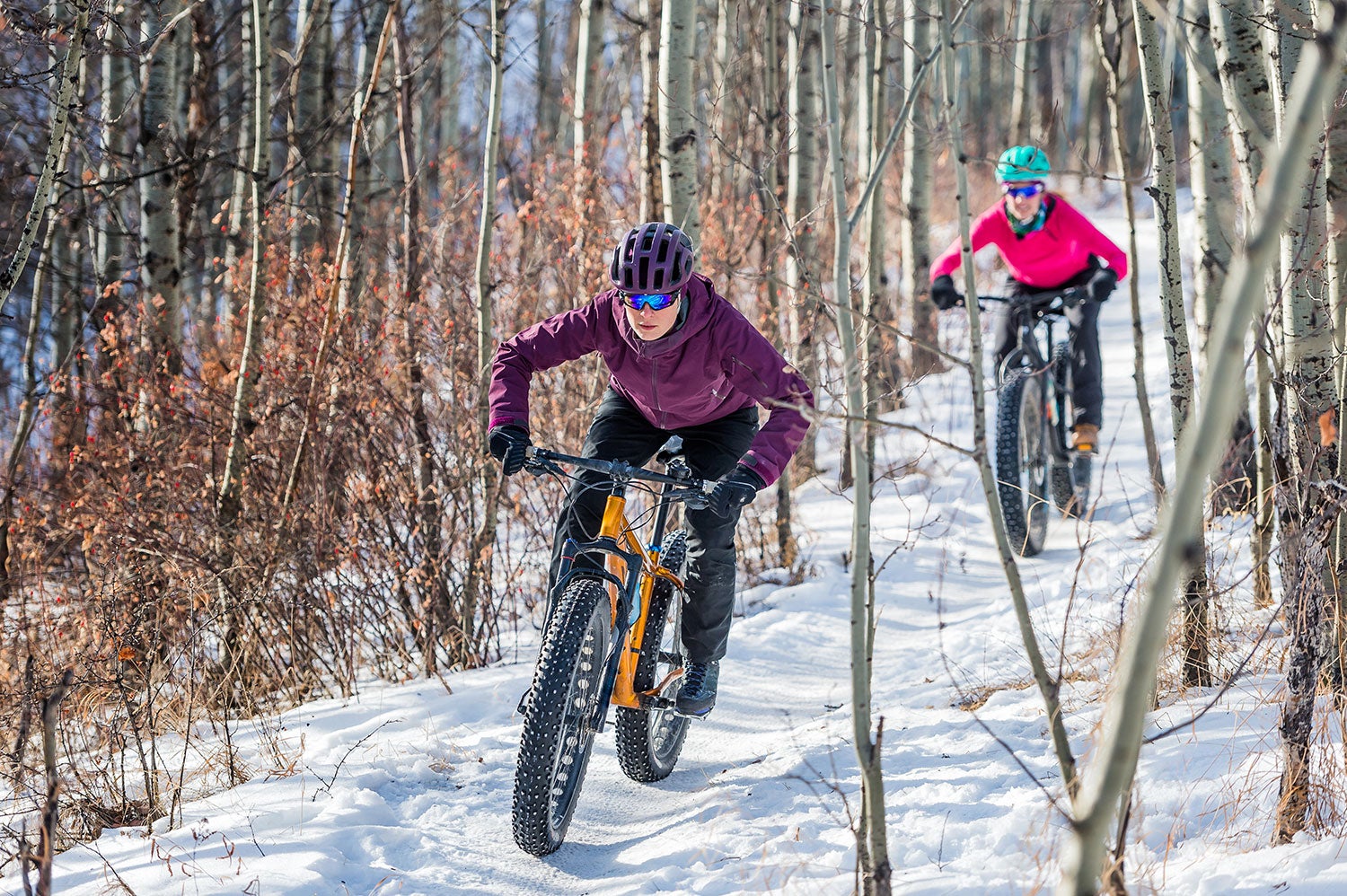 Winter fat biking is a great sport for people with a wide range of fitness levels and experience. The best way to get started is to find a community, which is fortunately pretty easy to do these days.
Many towns throughout the Midwest and the Rocky Mountains—places where snow stays put for a while—are wooing the fat bike community with events and special trails. Races and cross-country rides are becoming more and more common. If you aren't sure where to start, search for tours, events, or meetups in your area.
The mid-west is really leading the charge in winter-fat biking events. The Hugh Jass Race Series in Wisconsin and Illinois offer several opportunities every month to gather with winter fat biking fans. For Rocky Mountain representation, those interested can find events, races, and rentals throughout Colorado. Park City, Utah also offers a wealth of fat biking resources.
Even if you're not interested in racing, most of these events will have a demo option, where companies provide free opportunities to try out their equipment. You can take the bike out for a spin to see if you like it before you buy.
How to Shop for a Fat Bike
Nearly every bike store with mountain bikes carries fat bike models. Talk to the store tech about your riding ability and goals to find the right size frame and components. There is a lot of information to process, and most of the people working at a bike shop will offer insider information on what you need.
You'll have to make choices about rim and tire width, frame rigidity/suspension, frame material, gearing, and brakes, but if you're a beginner, it might be best to make friends with your local bike shop tech. Local shops can also introduce you to your local fat biking scene. Most of these groups are very welcoming to new fat bikers.
Go Beyond the Bike with Essential Fat Biking Gear
Gear up for a ride just like you would for a day skiing or snowboarding. You'll need some combination of the following fat biking gear, depending on how cold and wet the conditions:
Breathable base layer
Warm mid layer
Water-proof outer layer
Chamois (for extra cushion if you're riding a long distance)
Base layer bottoms
Snow pants
Neck gaiter
Wool socks
Gloves
Helmet (always!)
Start with a breathable base layer, then add warmth according to temperature. Be ready to warm up quickly with the high-level cardio involved in winter fat biking. Check that your snow pants are flexible enough for pedaling and comfortable in a sitting position.
The biggest difference in apparel between fat biking and other snow sports is the thick gloves needed to ride in the cold air. Often attached to the handle-bars, 'pogies' allow riders to steer effectively and stay warm. You might want to borrow or rent a pair when you're just getting started, but they will be worth the investment once you go out a few times.
---
Related Articles:
Popular Articles: