The Chequamegon-Nicolet National Forest is made up of two forests, separated by about 150 miles of farms, houses and urban areas, but all managed as one national forest. This means Wisconsinites have not just one camping hotspot, but two. Campers who make it to either the western or eastern portion of the forest can choose their own adventure in each, both offering a multitude of camping and outdoor recreation options for RV campers, backpackers, family tent campers, avid hikers and bikers, or solitude seekers.
The massive 1.5 million-acre protected wilderness is ripe for exploring, any way you approach it.
The Camper's Guide to The Chequamegon-Nicolet National Forest
Throughout the forests, you can experience the variety of terrain and wildlife habitats that camping in Wisconsin has to offer. Hikes through groves of maples, oaks, and aspens are often ripe with bushes of wild berries and mushrooms, leading to a more-likely-than-not chance to see the common white-tailed deer, foxes, and countless bird species for the birdwatcher in all of us. Needless to say, this is a massive ecosystem for you to explore. So be safe and smart, and read on to find the best things to do and places to stay in these two forests.
6 Reasons to Plan a Chequamegon-Nicolet National Forest Camping Trip
Before strapping up your hiking boots or packing the car, be sure to prepare your reference resources. Check on the Forest Service's website for maps of regional hiking trails, alerts and notices, and check The Dyrt for campground reservations and availability.
With the two forests and so much land to explore, it's hard to know where to start. Here's six ways to begin your adventures in the Chequamegon-Nicolet National Forest.
1. Witness Natural History at Cathedral Pines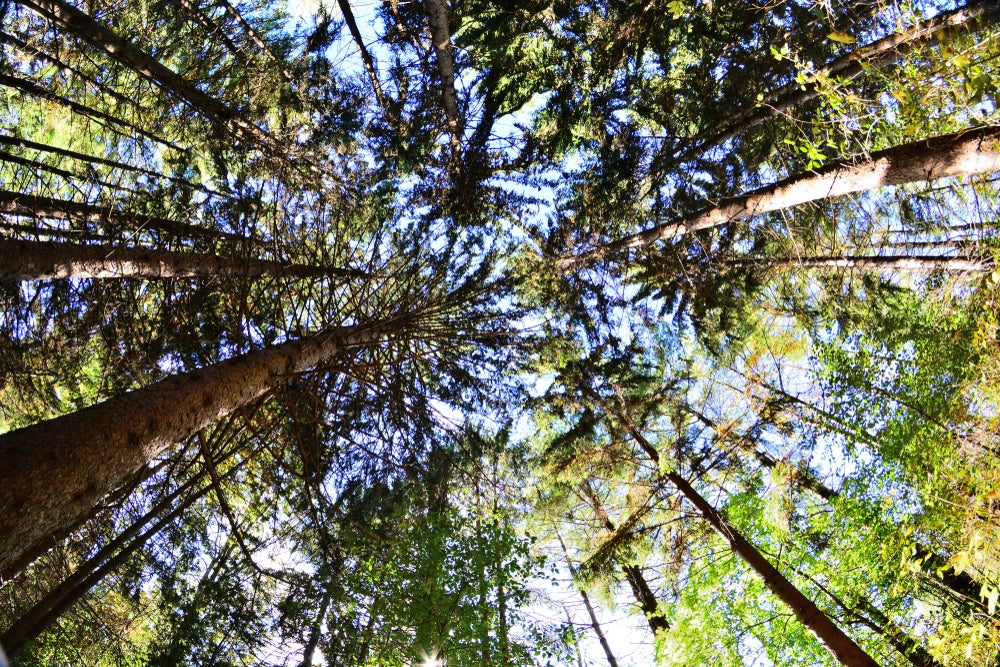 Thankfully for us, the lumberjacks in the 1900s skipped this 40-acre grove of white pine, red pine, and hemlock. Now called Cathedral Pines, you can visit this old-growth forest in the Chequamegon-Nicolet National Forest's Lakewood-Laona Ranger District. This is one of the few remaining collections of towering pine and hemlock in Wisconsin, with Forest Service arborists estimating that the conifers there today began growing around 1735. There's a hiking trail accessed from a small parking lot in the ranger district, and an interpretive sign with more information.

2. Hike the North Country Trail
East from County Highway D, south of Grand View, one of the best views in the Chequamegon-Nicolet National Forest lies at the end of an amazing ten-mile hike. Roller coaster over a series of 200-foot moraines to reach the Marengo River Valley. Then, take a jaunt south to the 1,350 foot Juniper Rock. Here, you'll have a view of the hardwood-hemlock forest below. Beyond this portion, there's more than 200 miles of the massive North Country Trail in northern Wisconsin to explore via hiking, snowshoeing, and cross-country skiing.
3. Go Berry Picking in the Moquah Barrens Wildlife Area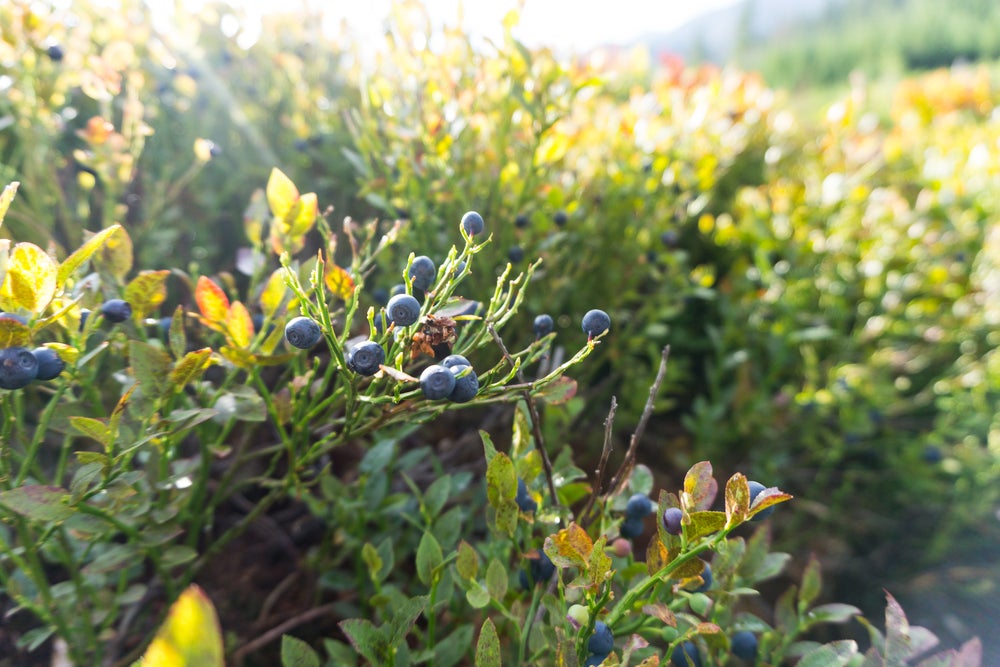 If you plan a hike near the Moquah Wildlife Area in the Iron River ranger district, you'll find an amazing area for picking wild blueberries. The sandy soil and wetland areas are excellent for blueberries and wildflowers. The best time for blueberry picking is June, while the wildflowers bloom mostly in August.
4. Find Solitude in Headwaters Wilderness
Covering a remote land area outside the Eagle River, the 18,000-acre Headwaters Wilderness is one of the best places to find solitude. Full of muskeg flats and surrounded by hardwood-topped ridges, casual hikers tend to stay off the area's few hiking trails, offering those willing to trek out a chance at wilderness isolation. You can start on the half-mile Scott-Shelp Lake Trail, then go off-trail northeast towards the ridgelines. Here you'll find true wilderness, tailor-made for backpackers. Portions of this wilderness contain some of the largest and oldest trees in Chequamegon-Nicolet National Forest.
5. Hit the Snowy Trails on Fat Tire Bikes or Snowshoes
The Chequamegon Area Mountain Bike Association trail system has 28 trails that cover 300 miles. The trails don't just attract your average mountain bikers, however. In the snowy winters, The Namakagon Trail becomes a local favorite for fat tire biking and snowshoeing, winding through pines and deep ravines. You can find the trail near the town of Cable, off forest road 209.
6. Fish along the South Branch Oconto Barrier Free Fishing Trail
With the headwaters of the Mississippi River, Lake Superior and Lake Michigan watersheds all within its boundaries, the Chequamegon-Nicolet National Forest serves as a crucial area for some of the most important waterways in the country. It also means that the region has some of the best fishing you'll find in the north country. Take, for example, the South Branch Oconto Barrier Free Fishing Trail. The quarter mile fishing trail parallels the South Branch of the Oconto River in the Lakewood-Laona Ranger District, and allows fishing from flat spots along the shoreline, or cantilever decks that allow you to be out over the water. You'll find brook and brown trout, and even the official fish of Wisconsin, the "Muskellunge."
Where to Camp in the Chequamegon-Nicolet National Forest
The Chequamegon-Nicolet National Forest is divided into different camping districts, and each have several campgrounds. Plus, just outside of the national forests are nice state parks as well. With an abundance of options, it's important to do some research. We've collected some of the top reviewed campgrounds in the area to make finding your perfect campground in the Chequamegon-Nicolet National Forest easier.
On the other end of the spectrum, Franklin Lake camping in the Chequamegon-Nicolet National Forest is one of the more popular choices of designated campgrounds. Located around the 881-acre Franklin Lake, there are 77 sites offered. RV, tents, and trailers are welcome. The lake offers excellent swimming, boating, and fishing. There are also hiking and mountain biking trails, including the Anvil Lake National Trail and the Nicolet North trail. The Franklin Lake area also has structures throughout the campground remaining from the Civilian Conservation Corps. You can find the Franklin Lake Recreation area off highway 70 east of Eagle River, in the Nicolet Forest section.
"I've camped at Franklin Lake many times now. It is a gorgeous campground that is literally in the middle of nowhere, and I love it. Loons are always on the lake. The water is crystal clear. The beach is great, but if you have a site on the lake you can walk in and swim right there!" —The Dyrt camper Selah S.
Located on the Namekagon River and Lake, this family-friendly campground begs for a visit from kayakers and canoers looking for wide, still waters. You also have access to mountain bike trails and the North Country Hiking trails. Throw in a rod and reel for fishing, and you have yourself a full weekend. It's an outdoor recreation paradise for the advanced enthusiasts, or even young families. You'll find 34 sites that all can accommodate RVs between 35-45 feet. There's a boat ramp, fishing pier, swimming beach, and picnic area. You can find the campground near the town of Glidden, on Forest Road 209.
"Love staying here. Sites are nice and secluded. In the national forest so lots of places to find wood. Very close to the boat launch. Lots of wildlife." —The Dyrt camper Melissa W.
Perch Lake Campground in the Chequamegon-Nicolet National Forest is small, secluded, yet easy to find. It's right off highway 70 near the town of Florence. The sites themselves are basic with fire pits and picnic tables, and there are only five sites, so it usually remains quiet. You can also find a canoe launch nearby. The sites are walk-in only.
"Even though it is close to the highway, the place is extremely secluded and quiet. This campground is connected to the lauterman lake campground via biking/Hiking trails. The Perch-Lauterman trail cuts through the highway to create a shortcut to the campgrounds." —The Dyrt camper Nagendra T.
Just outside the Chequamegon-Nicolet National Forest near the town of Mellen, you can camp at Copper Falls State Park and hike to three different waterfalls. You can trek to the root beer-colored Bad River cascading over Copper Falls and Brownstone Falls. Or go into the craggy basalt canyons to find Red Granite Falls, located at the park's southern border. Copper Falls State Park has 24 sites with electrical hookups, while four are more secluded walk in sites. There is also a rustic, wheelchair accessible cabin.
"Great park! North Country Trail passes thru! Waterfalls and trails that are amazing. Never had a problem getting a site, even in summer. Small towns around with stores, supplies, etc." —The Dyrt camper Buck R.
This is another fantastic, small and quiet campground nestled in the Chequamegon-Nicolet National Forest. The pike fishing is excellent on Bear Lake, and the nearby Peshtigo and Rat rivers are good for trout fishing. You can also boat and swim on the lake, but only electric motors are allowed, which keeps it quieter. Hiking and biking can be found on the nearby Rat River trail.
There are 27 sites, and most can accommodate RV campers and trailers 30 feet and longer. For tent campers, there are designated walk-in sites on a beautiful peninsula sticking out into the lake.
"We have been camping here twice this year & absolutely love it! Rustic with no electric hook-ups. There is a pump for drinking water. The sites are large & private with a few waterfront sites. Vault toilets are available. The lake has a swimming area & beautiful sandy beach & is perfect for fishing, swimming and kayaking. Laona is just a short drive for gas, and food." —The Dyrt camper Lisa R.
6. Wilderness Area Camping in Chequamegon-Nicolet National Forest
While it might be more geared for the backcountry campers among us, you can camp throughout the national forest outside of designated campgrounds by simply following the wilderness regulations and rules for leave no trace camping. With such a massive area to explore and camp, it's important to keep in mind some basics. Like most national forests, you need to camp over 100 feet from water. Specifically for the Chequamegon-Nicolet National Forest, you also need to camp over 100 feet from the North Country Scenic trail. A good rule of thumb is to make sure you're over 100 feet from any water, trail, recreation area, or designated campground.
Here's a tip from a local backpacker. From FR 116, half a mile east of Richter Lake, take the Ice Age trail 18 miles north through meadow and marsh. Here you'll find a hemlock grove on the South of the Yellow River. The trees are spaced well apart, and the forest floor is soft with pine duff.
For more information and regulations on wilderness camping, be sure to visit the Chequamegon-Nicolet National Forest, or speak to a ranger.
---
Related Campgrounds
Popular Articles: