Sometimes the best way to get away from the bustle of the San Francisco Bay Area is to camp right in the middle of it. Literally: Angel Island is the largest natural island in the Bay. It's surrounded by the glittering skyscrapers of San Francisco, the crowded hills of Oakland and Berkeley, and of course, the waters of the San Francisco Bay. But the island itself, now a California state park, is a little sanctuary of nature, covered in grasses and trees. For its abundant amenities and proximity to urban centers, Angel Island camping is a good introduction to backpacking for beginners and families.
How to Plan an Angel Island Camping Trip in the San Francisco Bay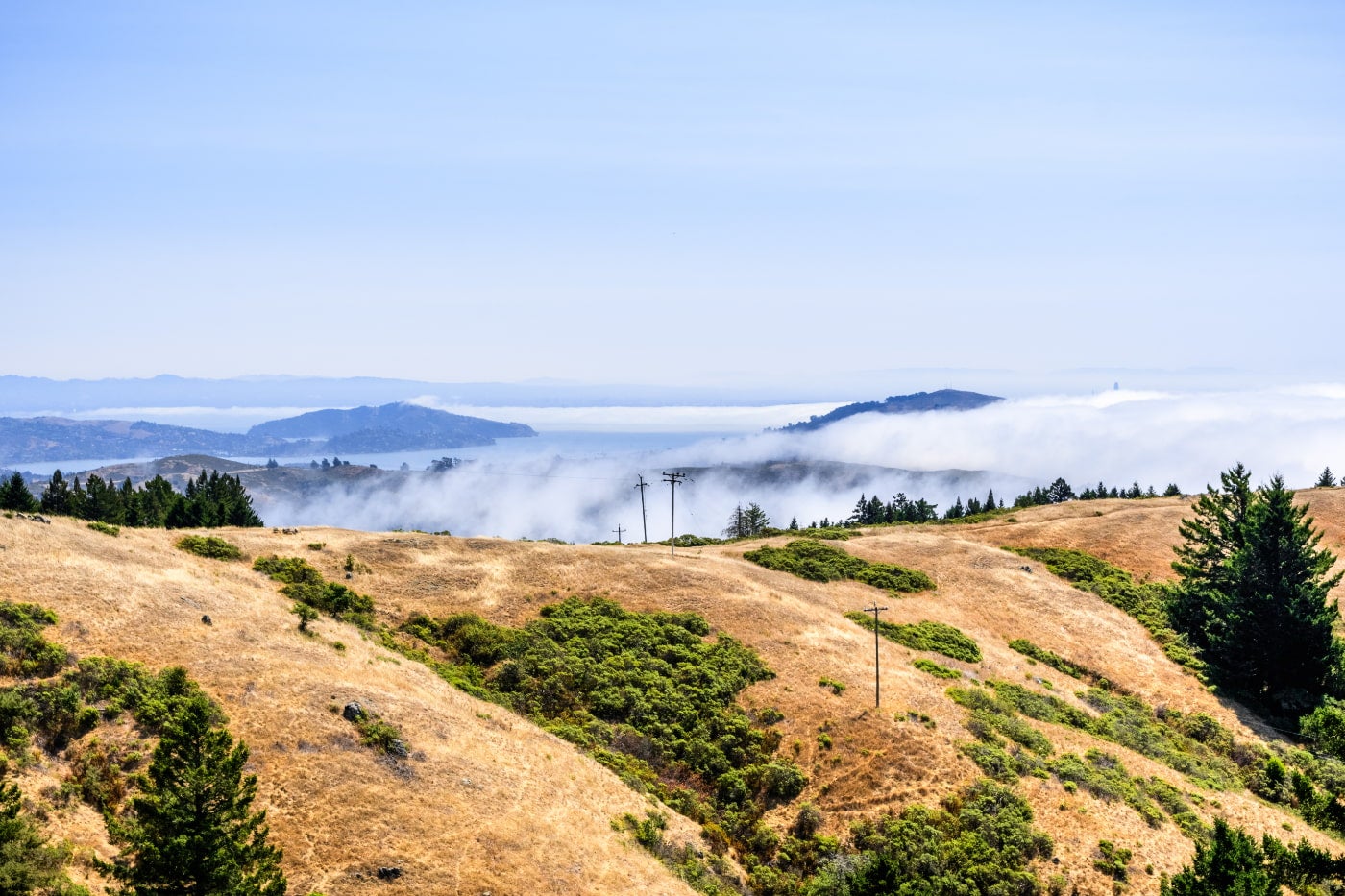 Staying the night is nearly like staying after-hours at a museum: Once you're on the island and the last ferry leaves in the afternoon, full of tourists, trail runners, bikers, hikers and school groups, you'll have the place to yourself, and will see everything in a new way. Angel Island camping is sure to provide you with an inside-out perspective on the Bay Area.
Snag a Much Sought-After Permit
Camping on Angel Island State Park is wildly popular, so much so that snagging a spot is the main obstacle to making your trip happen. There are only ten sites on the island. Permits often run out as soon as they are made available. If you know you want to try to camp at Angel Island this summer, start looking now, six months in advance.
To up your chances of getting a permit, consider camping in the middle of the week. If you're a Bay Area local, you might even be able to make it in to work for part of the next day.
Ride Across the Bay to Reach Angel Island
Angel Island is accessible by private boat or ferry. From San Francisco, check out the daily service on the Blue and Gold ferry. It also runs from Alameda and Oakland during the peak season. From Tiburon, you can catch a ride on the Angel Island ferry. The service goes down to weekend-only during the off-season. Check the schedules online, as the departure and arrival times may change.
To lower costs, consider taking Muni or BART to the ferry to avoid parking fees. From the ferry landing on the island, you'll have to do a short hike of up to an hour to your campsite. The hike can include paved roads, trails and steep stairs. You could even take a rental bike to some of the campsites, but you have to get it back to the rental store by 10 am the next day.
Pack Smart (and don't forget food)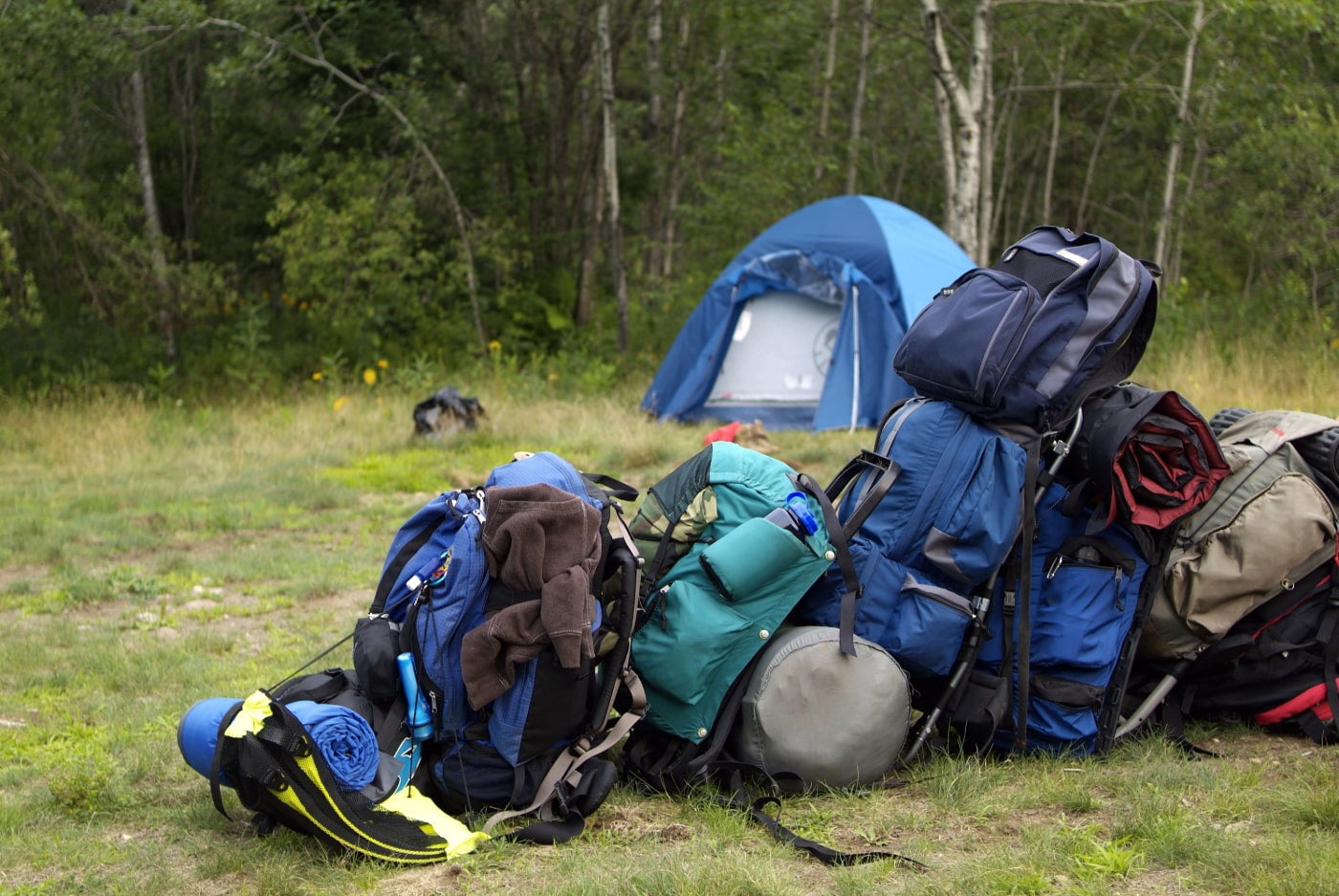 You'll have to be prepared to carry your equipment up to two miles, so the ideal gear list will look like something between a backpacking trip and a camping trip. If you want to go the lightweight route, you can pack a couple basic ingredients and  and some inspiration for yummy camp meals. Some gear, like a good backpack to carry your tent and sleeping gear, are essential and shouldn't be left behind. You can, though, bring along a few creature comforts if they're not too heavy. For example, it's possible to roll a cooler to your site. Some campers even decide to lug a wagon full of games, food and heavy blankets. All sites have water and a pit toilet, but you'll want to bring a camp stove or charcoal as there are no wood fires are allowed while camping on Angel Island island. Also, make sure you have stakes for your tent because it can get windy!
As far as packing for food, bring dinner and breakfast with you as you'll be the only one there. During the day, however, the Angel Island Cafe offers delicious meals, including the house specialty sandwich, The Way Down South, a barbecue pork sandwich. Also, consider Hog Island oysters, a Bay Area treat!
Set up Camp Across Angel Island
Each site can accommodate up to eight people for a maximum seven-day stay. The sites are spread out among the four main camping areas on the island—the East Bay, Ridge, Sunset and Kayak camping areas. The East Bay sites (#1, #2 and #3) are generally protected from the wind, more private and offer great views on—you guessed it—the East Bay. Ridge sites (#4, #5 and #6) have views of San Francisco, and are a bit more exposed to the wind. Still, this is the favorite spot for The Dyrt camper Marion D. because of the views on the Golden Gate Bridge and Alcatraz Island. "I would definitely suggest this as an Angel Island camping spot, many locals tried to show me the best view of the city (Coit Tower, Golden Gate Bridge and Marin Headlands) but in my opinion the best view is to camp out and see the view at night and in the early morning!" There's an open-air bunker near these sites that can be fun to explore.
At the third area, Sunrise sites (#7, #8 and #9) can be combined into a big group site for 24 people. And finally, the kayak site on the western side of the island is right on the beach. That makes it ideal for those who want to kayak to their campsite. Kayak campers must remove their kayaks from the beach from sunset to 8 a.m., per state park regulations.
Expect Wild Weather (and Neighbors)
Angel Island camping comes with some quirks. You can't come with pets, but you'll have the island's main inhabitants: Raccoons. They can get pretty bold and pesky, so be prepared to protect your food. Campers have had to use sticks and stones to keep the animals away. You'll want to bring layers because the wind and the fog—thanks, Karl—can get pretty chilly. And you'll want to get up for those early morning views.
Get to Know the Area's History
Angel Island has had a long history with residents of the San Francisco Bay Area. Some two thousand years ago, Coast Miwok Indians began setting up camps here to fish and hunt deer, sea otter, seals and sea lions. White settlers used the island for cattle ranching, then built forts during the Civil War to protect against a potential Confederate raid. In 1890, U.S. authorities built a quarantine station there for Asian passengers out of fear of the bubonic plague. From 1910 to 1940, Angel Island became an immigration station, becoming known as the "Ellis Island of the West." After World War II, citizens of the Bay Area petitioned for the island to be used for a state park, and in 1962, the island was turned over to the State of California for park purposes—with the single exception of the Coast Guard station on Point Blunt, which continues in active operation to this day.
See the Island's Best Sights
Because of all this history, there are lots of landmarks to visit during the day while camping on Angel Island. The U.S. Immigration Station facility is just over a mile walk from the ferry dock at Ayala Cove. You can also take tours of Fort McDowell and Camp Reynolds, former army stations and barracks. There's an hour-long open-air tram tour, but making reservations online beforehand is recommended. For campers looking for a quick reminder of the mainland, check out the Angel Island Café's schedule to see if you can see some live music when you're there!
Lace up for Angel Island's Best Hikes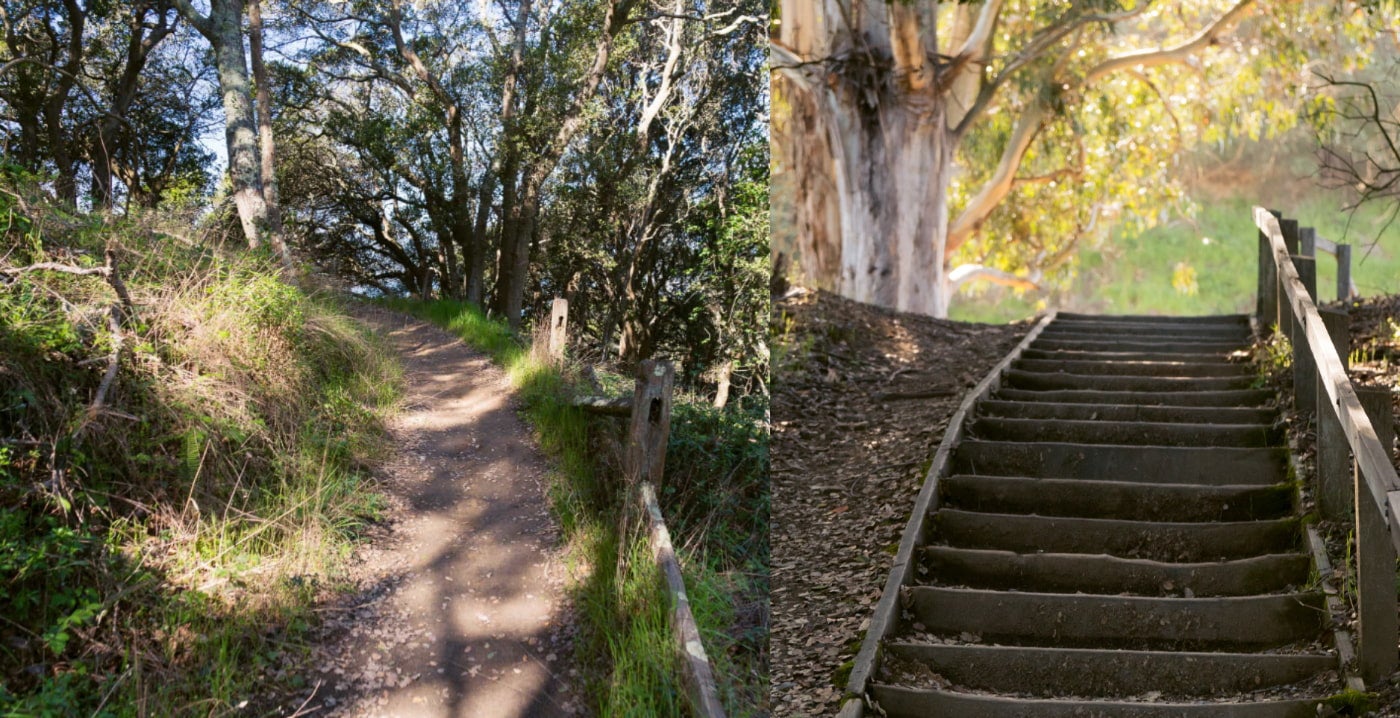 There's an abundance of hiking on Angel Island, and because it's small, you can do it all in one day. The perimeter trail takes you all the way around on around five miles of paved road.  There, you can check out the peak of the island, called Mt. Livermore, at 788 feet tall, for 365 degree views. It's a bit more of a strenuous hike, because it's a steep climb. From there, you can take the North Ridge trail to Point Campbell or the Sunset trail to the west side.
For those looking for a teaser, there's a Google Street View tour of the loop around the island.
Treat your Inner Ecologist
Campers can discover native plants all around the island, including oak, bay, and madrone trees, sagebrush, chamise, manzanita, toyon, elderberry, and coyote brush, according to the Angel Island Conservancy. The military introduced others, like the ever-present Eucalyptus, Monterey pine, Douglas fir, Monterey cypress. During the spring, there are lots of wildflowers. Other than the pesky raccoons you'll want to protect your food from, keep your eyes out for a small group of deer. Pelicans and blue herons feed right off the island. Salmon, striped bass and other fish travel from inland to the Bay through Raccoon Straits.
But Can We Swim?
With no lifeguards and strong currents in Racoon Strait between Tiburon and Angel Island, swimming is not recommended. The daily tides also create hazardous conditions, also meaning the water can be rough at the beaches, especially Perle's Beach, which is more exposed to wind and weather. The beaches at Quarry Point and Ayala Cove are both sandy and protected from the afternoon breezes. Sunbathers, in particular, will enjoy Quarry Beach!
---
Related Campgrounds:
Popular Articles: