Look no further for some of the best camping in Big Bend National Park, plus tips to enjoy your stay from The Dyrt Ranger team the Switchback Kids.
---
Most Popular Campgrounds in Big Bend National Park
Almost the size of Rhode Island, Big Bend National Park is a testament to just how big Texas really is. When you're passing through Big Bend's 1253 sq miles, you'll be awe-inspired by this vast land of incredible topographic variety. With 1,200 plant species and at least 450 species of birds that inhabit the park, Big Bend supports a remarkable diversity of life. It also offers endless opportunities for backcountry adventure, and some of the best camping in Texas.
Here are four campgrounds in Big Bend that will allow a lifetime of discovery.
1. Tierra Del Sol Basecamp, TX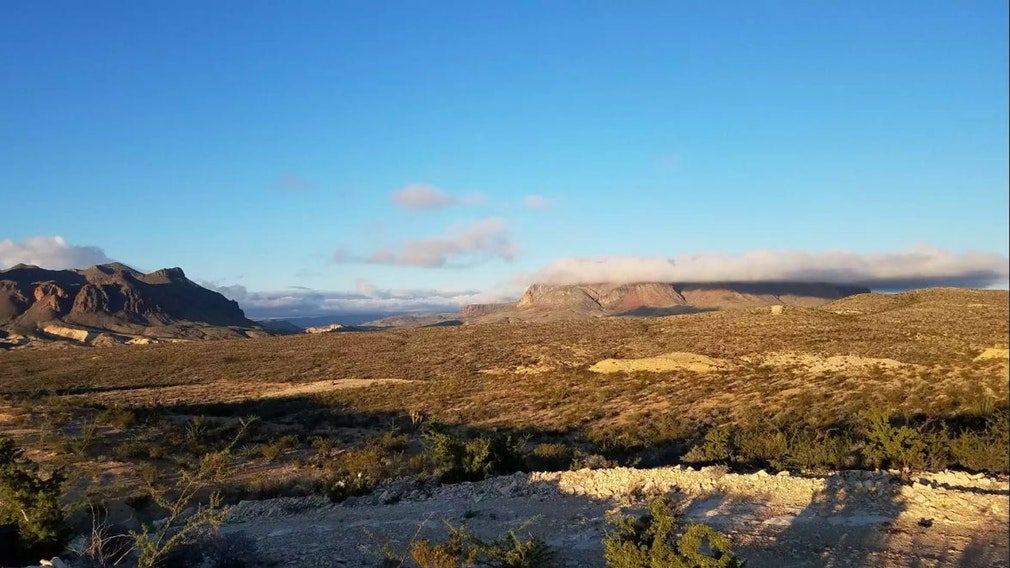 Before you even get inside Big Bend National Park, the scenery turns stunning. If you want to camp on your approach or exit close to, but just outside the park, it's hard to beat Tierra Del Sol. This secluded, primitive spot is close not only to Big Bend itself, but also to the Bofecillos Mountains (which are a remnant of the area's volcanic past), the ghost town of Terlingua, and  Big Bend Ranch State Park.
Here you'll have pristine views of the night sky, unimpeded by light pollution, opportunities for off-roading and hiking, and the wide, clean desert all around you. It's only $20 a night, too, which is great news for both plan-ahead campers and anyone who finds Big Bend National Park camping to be unexpectedly full.
"It's 3 miles off Hwy 118 and 20 miles to the entrance to Big Bend NP. Very remote, but easy drive to sites. Totally open desert with no one else around and in the official dark sky country, so expect amazing stars at night." –The Dyrt camper Paul F.

Book Now
2. Chisos Basin Campground, TX
Perched high in the rugged Chisos Mountains, Chisos Basin Campground is a busy, fully hooked-up spot with easy access to hiking and breathtaking scenery. There are about 70 campsites here all with tables and food lockers, as well as several restroom facilities and locations for water. Be sure to make a reservation well in advance, because this is one of the most sought-after Big Bend National Park camping spots.
Reviews & Photos
3. Rio Grande Village Group Campground, TX
With close to 100 sites, Rio Grande Village Group Campground is the biggest campground in Big Bend National Park. The facility represents four group sites located on the banks of the famous Rio Grande River. One of the downsides to this spot is that it's a group site, so you can only stay if you have a lot of people. But, the mountain views, proximity to the river and shade from the surrounding cottonwood trees still makes this campground a favorite among visitors.
Reviews & Photos
4. Cottonwood, TX
Located in the southwestern corner of Big Bend National Park, Cottonwood Campground is a quiet desert oasis. This small, 31-site campground is one of the least-known and least-frequented campgrounds in the park. Getting its name from the surrounding cottonwood trees, this campground has pit toilets (not flush toilets), potable water, picnic tables, and grills. There are no hookups or dump stations but there is a general store and visitor center nearby.
Reviews & Photos
Explore Big Bend
Chisos Basin is an area in Big Bend that seems to take the brunt of the tourist traffic. And while it's a must-see, no trip to the national park is complete without including time in the Chihuahuan Desert. Home to curious creatures and adaptable plants, the desert covers most of the terrain.
The Rio Grande with its lush floodplains and steep, narrow canyons is not just a watery border between the United States and Mexico, it's actually a natural wonder of its own. And with well-placed roads and trails, you'll be able to explore and experience the vast beauty that Big Bend National Park camping has to offer.
The Dyrt's Ranger duo the Switchback Kids, who spent a year visiting all 59 National Parks, have put together this incredible video to document their firsthand experience in Big Bend with the hopes of improving the visit of others.
Switchback Kids Ranger Tip: Do not overlook the driving times throughout this park. The park is huge and the sights spread out so it would be best to have a solid plan before arriving.
Win gear for camping Big Bend
When you review campsites across the US on The Dyrt, you get the chance to win outdoor gear. In Texas, you have the chance to win a $100 gift card from CRKT, a $200 gift card from Mishmi Takin, and an MH2 Headlamp from Ledlenser. Check out the contest leaderboard, review your camping experience, earn points for your review, and you could win prizes!
---
Related Articles:
Related Campgrounds:
Popular Articles: