By some estimates the federal government owns 47% of all land in the West. In states like Utah, Nevada, and Oregon, the majority of land is owned and operated by the Bureau of Land Management (BLM). This is good news for campers looking to spend the night away from crowded RV parks and out in the wide-open wilderness. This is also great for budget travelers and van lifers since BLM campsites tend to be inexpensive and often free.
On BLM land, it is often fair game to camp anywhere outside of paid campgrounds, trailheads and picnic areas. Before you head out though, it is a good idea to check with the local BLM office to find out if there are any campfire restrictions in the area. When BLM camping, always abide by Leave No Trace guidelines, pack out all of your trash, and only use existing fire rings. Here are some of the best spots for BLM camping in the U.S.
San Rafael Swell Recreation Area (Utah)
Utah's San Rafael Swell is a massive uplifting of sandstone, shale, and limestone carved into a wild array of slot canyons, buttes, and pinnacles by the forces of wind and running water. This is a great spot to visit while road tripping from Moab to Capitol Reef National Park. Many of the San Rafael Swell BLM camping areas can be reached with a passenger car, but there are also many roads that only a high clearance four-wheel drive vehicle can navigate.
The most popular BLM camping areas in the San Rafael Swell are along Temple Mountain Road and Wild Horse Road near Goblin Valley State Park. To get there, take Highway 24 south from Interstate 70 to Temple Mountain Road. Here, you'll find plenty of BLM camping sites beyond the junction with Goblin Valley Road. You'll even find a vault toilet at the Temple Mountain group site area. Numerous BLM camping spots are also found along Wild Horse Road just past the turn off to Goblin Valley State Park.
Wild & Scenic Rogue River (Oregon)
Southwestern Oregon's Rogue River is designated a National Wild and Scenic River for its outstanding rugged scenery. The waters of the Rogue originate near Crater Lake and flow through the Western Cascades and the Klamath Mountains before emptying into the Pacific at Gold Beach. The stretch of river from Merlin, Oregon to Foster Bar Campground is a world-class multi-day whitewater rafting trip.
Much of the Rogue River is contained within the Rogue River-Siskiyou National Forest, which offers plenty of dispersed camping throughout the forest and along the river. Camping is allowed alongside the Rogue River unless otherwise posted. There is also a 14-day camping limit at the Rogue River Campground. The free camp spots on Mt. Ashland are also a popular place to stay near the Rogue River, and they provide convenient access to some great stretches of the Pacific Crest Trail.
Joshua Tree BLM Camping (California)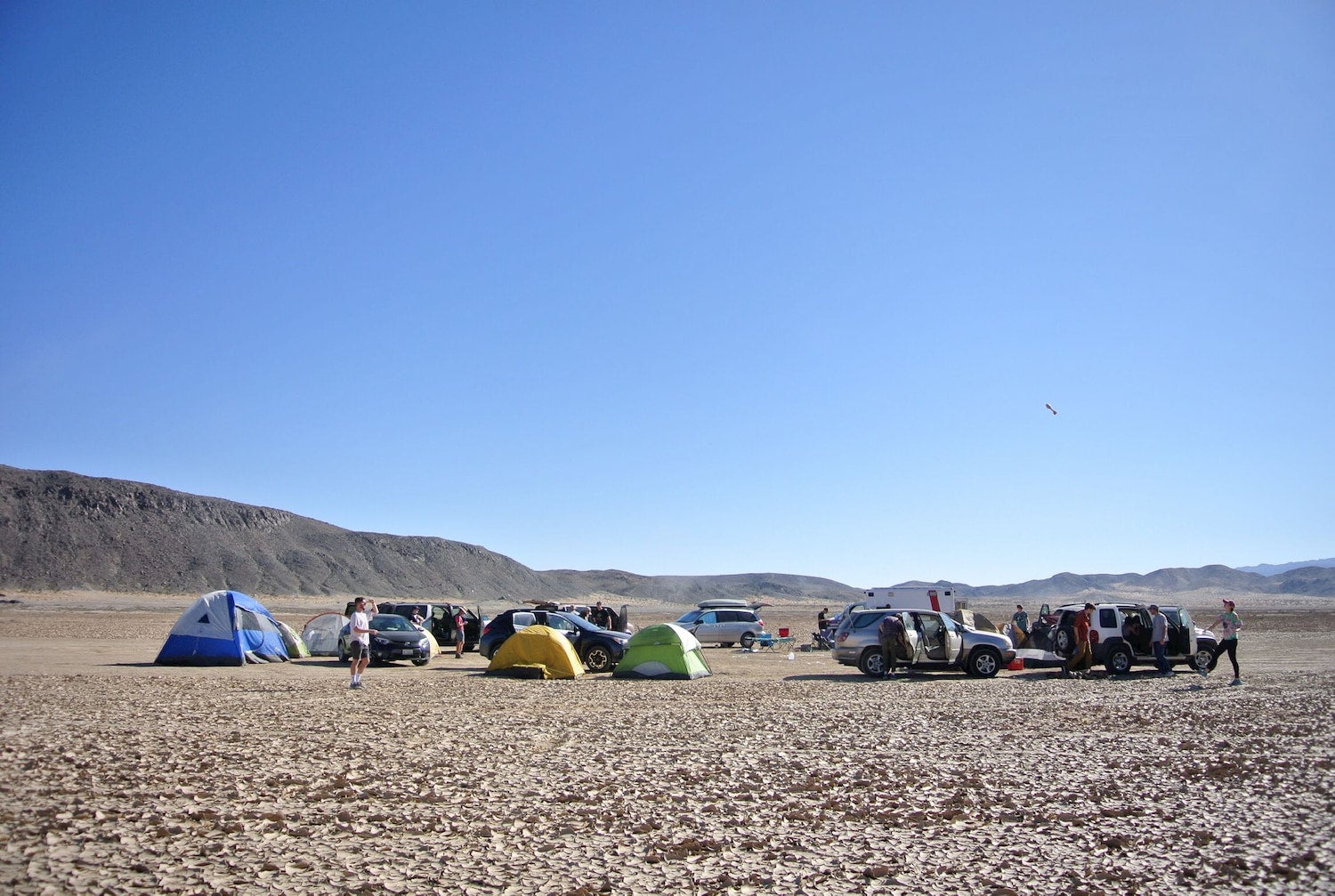 Since camping in Joshua Tree National Park is immensely popular, it can be difficult to score a campsite in the park on weekends. Especially during peak season from October through May. Thankfully, there is free dispersed camping on public lands just outside the north and south entrances of the park. Keep in mind, there are no toilet facilities or water, and all trash must be packed out.
From the Joshua Tree Visitor Center, head east on the Twentynine Palms Highway (CA-62) to Sunfair Road. Head north on Sunfair Road 2.5 miles and then take a right on Sunflower Road. Dispersed camping is allowed for the half-mile on the east side of Cascade. Sunflower and Cascade are dirt roads and can be washed out in spots; 4-wheel drive is recommended.
From the Cottonwood Visitor Center, drive six miles south on Cottonwood Springs Road, just past the park boundary sign to a dirt road after the aqueduct. Camping is allowed east of the Cottonwood Road and south of the Water District Road. The dirt road is typically passable to passenger cars and campers.
Sequoia National Forest (California)
Dispersed camping is allowed in many areas within Sequoia National Forest and Giant Sequoia National Monument just outside Sequoia and Kings Canyon National Parks. Sequoia National Forest Camping is free, but if you want to have a campfire, you'll need to pick up a campfire permit at any Forest Service, BLM or California Department of Forestry Office. Many of these sites are not accessible to RVs or campers, but they're great for tent campers looking to escape the national park crowds.
Crested Butte (Colorado)
Credited with being one of the birthplaces of mountain biking, Crested Butte is an old silver mining town turned outdoor recreation destination. Camping is limited in Crested Butte proper, but several dispersed camping options exist in the Raggeds Wilderness Area just outside of town.
The Oh Be Joyful Recreation Area is just six miles outside of town and offers both tent and trailer sites for just five dollars per night. Half of the campsites can only be accessed by crossing the Slate River, so a high-clearance vehicle is advised. The Gothic Colorado BLM area is another popular option, but takes some time to get to. From Crested Butte, head north on the dirt Colorado Forest Service Road #317—also known as the Gothic Road. It is about 5.6 miles to the camping area and the road is typically passable to most passenger vehicles.
Popular Articles: