This article was brought to you by INNO Racks. They make mountain bike roof racks as tough the slickrock single track you're craving. INNO has a rugged, easy-to-use system that will help you reach the trail.
---
Picture yourself making the bed in the morning, the sheets pulled tight over the mattress with only a few wrinkles and creases here and there. Now picture yourself making the bed, but with your dog still curled up in the middle, the sheets tenting over that furry little donut snoozing away. That's similar to what geologists call a swell—when a domed uplift, deep under the surface of the earth, pushes up the top layer of rock. And one of the best examples of a swell you can find is a mountain biker's and camper's paradise in San Rafael, Utah.
The San Rafael Swell is the result of eons of geologic activity in east central Utah. Layers of rock that are now far under the earth were pushed up over time, forming an enormous, solid bubble. Since that occurred, new layers of sediment have accumulated from the influx and drainage of vast inland seas, volcanic activity, wind, and rain. Over time, those various layers of sediment have worn away at different rates, creating the colorful, fanciful spires, slot canyons, gullies, and hoodoos that draw outdoor enthusiasts to the Beehive State by the thousands.
Exploring 'the Little Grand Canyon,' The San Rafael Swell
Because of the San Rafael Swell's unique combination of geologic formations and erosion, it's incredibly popular with mountain bike enthusiasts and bikepackers eager to test their technical skills against Utah topography. It's easy to see why it's called Utah's Little Grand Canyon for its winding, brilliantly pigmented gorges, grottos, cliffs, and slots. And with miles upon miles of trails for cyclists and off-highway vehicles, a bikepacker or overlander could spend months or years exploring every nook and cranny of this 2,000 mile swath of desert.
Unlike the actual Grand Canyon, almost four hundred miles away, the San Rafael Swell lacks national or state park designation and is somewhat off the beaten path. That means you won't have to compete with huge crowds for prime campsites and singletrack, or wait forever for strangers to wander out of the panorama you have lined up. That also means you won't be able to rely on rangers if you get into a pickle, so a little extra planning and caution are wise when you head out for an adventure in the Swell. Make sure you have all the tools you need for routine car and bicycle repairs, and that you are familiar with how you use your mountain bike roof rack.
The Wedge, as the San Rafael Swell is known, is an amazing place to stare 60 million years back in time. The Wedge Overlook will afford stunning views of the gorge, the many layers that make up the Swell, and the winding San Rafael River that carved this canyon. When the weather cooperates, you might even be able to see as far out as that other mountain biking mecca, Moab, and the La Sal Mountains almost 90 miles away.
Ambitious ultra-runners can make a 50K out of the 16 miles of trails along the rim if you go out and back, or you can explore by bike. There are several trails along the rim that connect to other areas of the San Rafael Swell. If you want to go even further, descend into the canyon either on foot, car, or ATV via Buckhorn Draw Road. From there, you can make your hike as short or as long as you like, from a relatively easy day hike to a multi-day backpacking trip.
There are numerous Jeep roads crisscrossing the floor of the canyon, as well as fords where you can cross the San Rafael River. Along the way, you'll pass by two-thousand-year-old pictographs in Buckhorn Wash made by ancient indigenous peoples known as the Barrier Canyon Culture and the Fremont Culture. You'll also encounter an old bridge built by the Civilian Conservation Corps, and gravel paths from the uranium mines that dotted this area during and after World War II.
Planning A Trip to the San Rafael Swell
This is BLM land, so free camping is plentiful. Your only limitations are the weather, your fitness, and your degree of backcountry experience. For all but the most die-hard desert lovers and winter camping enthusiasts, spring and fall tend to be the best times to explore the San Rafael Swell. Given how hot Utah can get during the summer and how frosty winter nights can be in the desert, shoulder season is prime time here.
That said, July through October is when the area sees some of the highest precipitation on average— though that's not saying much in the Utah desert. Water tends to be the most plentiful in springtime and early fall depending on snowmelt and rainfall. That's great news if you're hoping to filter along the way when your hydropack or water bottles need refilling.
Jesse Nestler, an avid mountain biker and camper on The Dyrt who has pedaled the San Rafael Swell before, reports that it is possible to purify water from streams and puddles after a major rain—though campers and bikepackers shouldn't count on these resources being available. If possible, you may want to practice and plan on water caching techniques that come in handy at other desert destinations like Big Bend National Park in Texas.
San Rafael Swell Mountain Biking Trails
One of the reasons mountain bikers love Utah is the variety of landforms and textures that make for diverse, thrilling runs. No matter your experience level or preference for trail features, there's a little something for everyone at the Swell, from hardpack trails and slickrock to deep sand that requires a fat bike.
Some are punishing even for advanced riders, like Dead Cow Loop. Others are dotted with unique treasures like petroglyphs and dinosaur fossils. And some are fun and rewarding places for beginners to take their first serious bikepacking tour without the pressure and crowds you'll find at busier destinations like Moab.
Behind the Reef Trail
Start: N 38°37.47 /W 110°45.50
Behind the Reef Trail is one of the primary trails mountain bikers flock to in the San Rafael Swell. According to Jesse Nestler, it's a challenging trail that beginners might want to skip unless they want to hike-a-bike for much of the trail. That said, it also provides incredible access to numerous slot canyons, and might be worth the struggle to reach a day of all-around outdoor fun.
This trail offers great access to the slot canyons north and west of Goblin Valley. Both the trail and the slots get more technical the further you go, and it's worth watching out for "keeper potholes," or slick, deep pits that are difficult for a climber, rappeler, or hiker to get back out of. Bring plenty of water and rope, and you'll have a blast!
The Good Water Rim Trail
Start: N 39°05.731 /W 110°44.937
You know the riding must be good if the trail was picked as one of Biking Magazine's "must ride" trails in the Western United States. A twisty, turny 21-mile loop with stellar views, this mountain bike trail alone would be worth the trip. While it isn't terribly technical, it will keep you on your toes as it winds around not only the edge of Good Water Canyon, but the slot canyons that feed into it.
If you're curious to explore the San Rafael Swell's unique topography, you'll see plenty of it on this unique and circuitous ride. If you're worried about the length or difficulty, it's pretty easy to customize your trip into an out-and-back, providing more flexibility to riders of all experience levels.
Iron Wash
Start Eastbound: N 38°47.340/W 110°42.583
Advanced riders who loves the up-and-downs—this trail is for you. If you're a skilled canyoneer enthusiast who doesn't mind 5th class climbs and putting your back into some chimneying, you'll love the Iron Wash narrows, too. Combine the two, and you have a fun day in the desert. The mountain bike portion is a 10.5-mile loop you can easily break up into sections. The further you go, the more brilliant swirls of color you'll see as you press past potholes, dry falls, and other geologic features carved into the Navajo sandstone.
Three Fingers Canyon
Start Southbound:  N 38°55.580/ W 110°25.091
The San Rafael Swell is full of petroglyphs, but there's an unusually large number hidden away in Three Fingers Canyon. There are several different ways to approach this ride, but almost all will carry you from the lower terrain at the base up onto the Swell itself. That's one way to take in just how abruptly the swell rises up out of the surrounding Utah landscape.
Black Dragon Wash is one entrance to Three Fingers Canyon, but it's also a stellar ride in its own right, or if you combine sections of both. Close to I-70, both Black Dragon Wash and Three Fingers Canyon are easily accessible. And Black Dragon Wash gives you the option of pedaling through the slot canyon that contains the titular petroglyph of a mysterious winged creature, or taking the upper route that peers down into the channels below.
Wild Horse Trail System
Start: N 38°34.179 / W 110°42.705
Beat the crowds at nearby Moab and instead tackle this gnarly trail system hidden away in Goblin Valley State Park. It shows off some of the best features of the San Rafael Swell. Even new or intermediate riders can enjoy these trails, which are designed as accessible loops that offer myriad vantage points from which you can take in the landscape.
First built in 2015, these seven miles of singletrack have some ups and downs but are largely level, complicated only by desert sands. You can combine the loops and sections in a variety of ways to make a longer or shorter excursion. You can also connect to the High Horse and Horse Tale trails, too, if you want to go further.
Buckhorn Trail System
Start Northbound: N 39°04.760 / W 110°40.033
As soon as you put tires to dirt along the Buckhorn Wash, it's easy to see why the San Rafael Swell Mountain Bike Festival is held here every spring. This is the true crown jewel of San Rafael Swell mountain biking. There are both sections of single track you can tackle, or you can cruise the numerous Jeep trails criss crossing the area You can also ride about 20 miles of the Cottonwood/Buckhorn Wash Roads, which cross the San Rafael River and offer views of Assembly Hall Peak, Blind Widow Peak, The Wedge, and No Mans Mountain.
About a mile and a half down the trail, up on a ledge, you can see an actual dinosaur footprint made by a theropod millions of years ago. There are also petroglyphs galore, towering hoodoos, chimneys, and colorful rock formations, and wide swaths of BLM land to explore. On another sandstone ledge infamous outlaw Matt Warner left his signature and the date Feb. 17 1920, along with a scribble of a cow. Also nearby is the Cleveland-Lloyd Dinosaur Quarry, a pretty little CCC swinging bridge you can walk or bike across.
Where to Camp Near the San Rafael Swell
With 2,000 miles of San Rafael Swell to explore and so much of it designated as BLM land, the sky is really the limit when it comes to finding a place to camp. That said, there are several designated campgrounds in and around the Little Grand Canyon and beyond. From beaches to group campsites to camping amongst stone "goblins" that sprout up from the ancient seafloor like toadstools, you might just be surprised by how diverse the San Rafael Swell can be.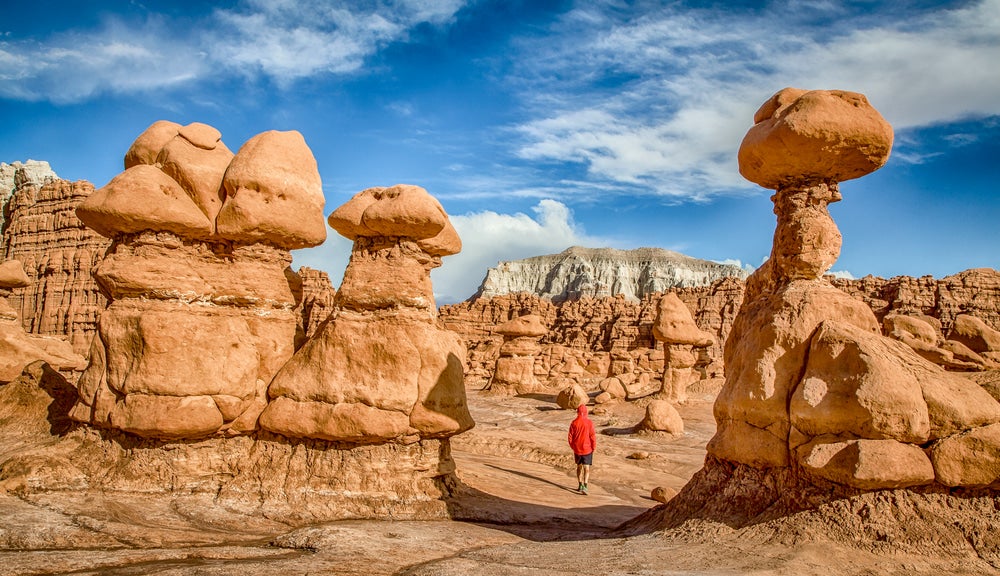 No, these are not the sort of goblins you might expect if you've been watching David Bowie's Labyrinth. But they are fascinating rock formations that occur in only a few places around the world, but are especially plentiful in Utah. Also known as hoodoos, goblins occur when erosion wears away sediment unevenly, leaving columns, sometimes with mushroom-like caps, standing up tall from what was once the ocean floor. Goblin Valley is also strewn with agate, hinting at the area's volcanic past. The biggest sparklers, though, are in the night sky— Goblin Valley is a designated dark sky park, making for an incredible celestial show.
Goblin Valley is one of the few parts of the San Rafael Swell to have state park designation, so you'll find some amenities here unavailable on BLM land, like restrooms and showers. You'll also find the relatively new Wild Horse network of mountain bike trails, unveiled in 2015. These trails are designed to show off some of the best features of the park, so pump up your tires and get ready for some one-of-a-kind sites.
There's even more for hikers to explore, with three distinct valley areas to wander, all dotted with goblins. For those with a little extra stamina, head to Goblin's Lair. It's a challenging 1.5 mile hike from the Goblin Valley observation point, and winds through a partially sealed slot canyon. While anyone can scrambled down into Goblin's Lair, you'll need rappelling equipment and canyoneering skills to reach an area called The Chamber of the Basilisk. Goblin's Lair is rated 3A I using the Canyon Rating System.
"We have camped at Goblin Valley State Park twice now. We stayed in site 11 the first time and site 3 the second time. Both are amazing tent sites! I would also highly recommend site 12 or site 4 because those sites are tucked back off the road a bit and are right up close to the formations behind the sites." —The Dyrt camper Stacy R.
2. Fruita in Capitol Reef National Park
The outer edges of the San Rafael Swell are spiny ridges known as reefs, where layers of strata were pushed up in such a way that their edges rose vertically from the ground like a dog's hackles. Technically that kind of wrinkle in the earth is called a geologic monocline. The San Rafael Reef sits on the northeastern edge of the Swell, while another, the Capitol Reef, runs for almost a hundred miles from the southwestern corner of the Swell as far as Grand Staircase Escalante.
During the Cretaceous era, when the last dinosaurs walked the earth, the Capitol Reef marked the edge of the Western Interior Seaway, which ran from the top of Alaska to the bottom of Mexico along what is now the Continental Divide. Today it's another playground for geologists and outdoor enthusiasts alike. In the Fruita area alone there are fifteen day hiking trails, as well as longer backcountry routes.
Like Goblin Valley, Capitol Reef National Park is a designated dark sky park. Unlike its neighbors, however, the Fruita area of the park is lush and agricultural, with orchards full of thousands of cherry, apricot, peach, pear, apple, plum, mulberry, almond and walnut trees. That means you'll find plenty of shade throughout the 71 campsites, and can purchase treats like fruit pies from the nearby Gifford House.
"Unless you're going deep into canyonlands backpacking or are canyoneering in zion its hard to find peace and quiet like you can at Capitol Reef Nat'l Park. The hikes in the park are quite long and reach hidden cowboy hideaways like Cassidy Arch. The driving loop is also nice if you have limited time and want to see the entire monocline." —The Dyrt camper Alan B.
A 56 site BLM campground with vault toilets, fire pits, and a cheap overnight fee already sounds pretty appealing. Even more so when you consider the access to hiking and mountain biking trails from your campsite. But what really makes Horsethief Campground magical is it's proximity not only to the San Rafael Swell, but also to Canyonlands, Arches, Deadhorse State Park, and Moab.
"This campsite is so convenient to world class mountain biking and trails for all ability levels. You can ride to Horsetheif, Mag 7, Navajo Rocks, Gold Bar (via Gemini Bridges Rd which is a dirt road), and you are a 10-15 minute car ride from the Klondike, Klonzo and Bar M trails. You can also easily arrange a bike shuttle for one way trips. Super easy and convenient and the go-to site for mountain bikers." —The Dyrt camper Jenny R.
Close to the Waterpocket Fold, which reveals seventeen different geologic formations, as well as spur roads leading to the Grand Wash and Capitol Gorge, Capitol Reef Group Campsite is a best kept secret of the lower 48. Without the crowds you'll find at nearby parks and close to scenery unlike anywhere else, you can hit trails like the Capitol Gorge Trail and Goosenecks Trail, Hickman Bridge, Najavo Knobs, and Rim Overlook.
Minimum occupancy for the group site is 8 people and maximum occupancy is 40 people. Capitol Reef Group Camp is RV-friendly, with covered picnic tables, a grassy spot for tents, above-ground grill, potable water faucets, and utility sink for cooking, flush restrooms and drinking fountain.
"Capitol Reef is a hidden gem, much less foot traffic than Bryce Canyon, let alone Zion. Here you can find petroglyphs, stunning geography, and everything from easy to strenuous hikes. Personally, I highly recommend Hickman's Arch. Check it out, there's a lot of great history to be offered!" —The Dyrt camper Will M.
Boondockers, tent campers, off-road enthusiasts, and mountain bikers can all enjoy the dispersed, primitive sites scattered between Goblin Valley and the Crack Canyon Wilderness Study Area. Miles from the nearest towns of Hanksville and Green River, stargazers will appreciate the view of the cosmos from here, and swimmers will appreciate that Muddy Creek isn't far off.
"This is a great spot to pitch your tent! This area is quite popular and located just past the Goblin Valley State Park line along Little Wild Horse Road. There are likely over 50 campsites tucked inside the formations that make up a large hillside on the backside of the state park. There are great views looking across the desert to the San Rafael Reef." —The Dyrt camper Carrie C.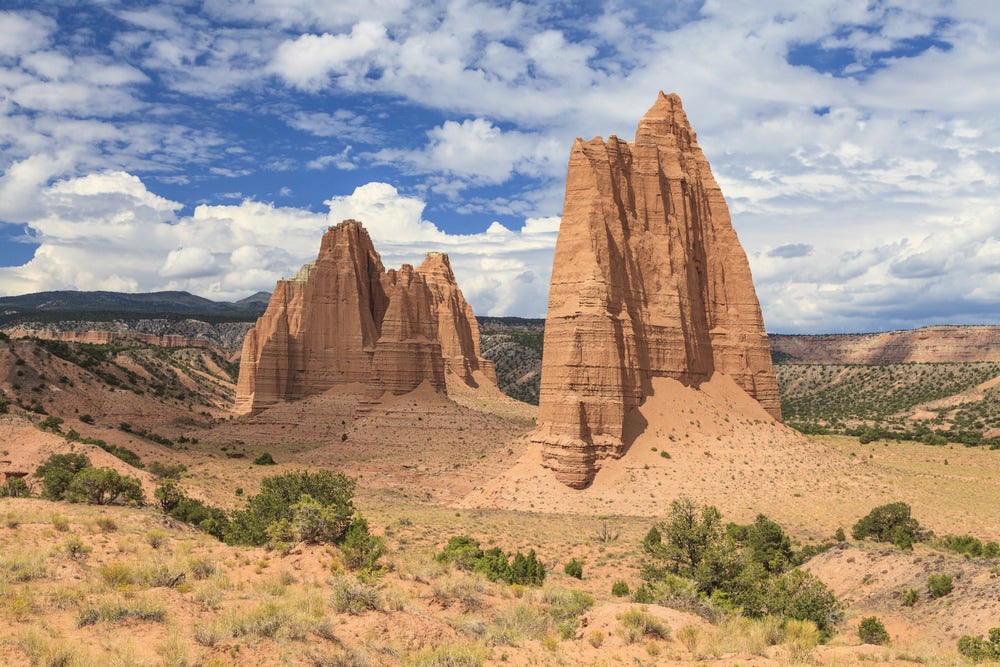 This campground isn't easy to get to, but the struggle will reward you with daytime views of the San Rafael Swell and nights so free of light pollution that the stars can be your lantern and headlamp. There are picnic tables, fire rings and a vault toilet waiting for you, but like many places in the Swell, you will need to pack in your own water and firewood.
"It's a hard drive to get there, definitely recommend a 4×4 with high clearance. There are two way to get there, one being through Fishlake National Forest off of 72 where you weave through the mountains, (We saw it snow at the peak of the mountain when we crossed.) and the other of 24 near Cainsville through Cathedral Valley and the bentonite hills." —The Dyrt camper Trevin C.
A little oasis in the desert, right off the Green River, Swasey's Beach has extra amenities you won't find elsewhere in the San Rafael Swell. Each site has metal fire rings, picnic tables, an outhouse, and camping pads, and there is some shade from the bankside cottonwood trees. Stay cool boating or floating on the river— you can arrive by land or water, and bring your paddleboard, kayak, canoe, or other vessel.
"The sandy beach is so clean and we were able to drive down to a drop in on 2 different days and easily float back to our beach on paddleboards and a raft. The kids really loved the beach, and our favorite part was some people had campfires directly on the beach." —The Dyrt camper Amanda U.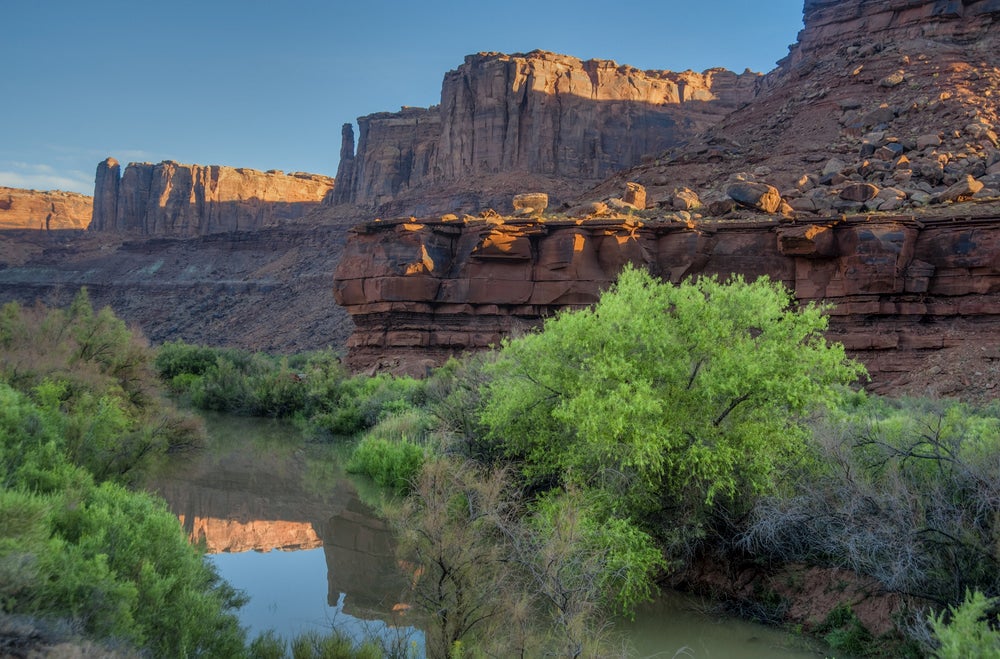 Considerably less remote than other campgrounds in and around the San Rafael Swell, the campground at Green River State Park is right in town. That means extra niceties like a 9-hole golf course, boat launch and rafting facilities. You can fly fish nearby in Flaming Gorge— which is also a fun mountain biking destination in its own right. An hour away from Canyonlands, Arches, Dead Horse State Park, and Capitol Reef, this campground is family-friendly and centrally-located.
"The facilities are incredibly clean, some of the nicest flush toilets and single showers I've visited. We stayed at site 3, which included electric and water hook ups. There is a dump station as well. The campground host is super friendly. It is a nice quiet place right on the golf course." —The Dyrt camper Julie M.
---
Related Campgrounds:
Popular Articles: