This article was brought to you by our friends at IceMule. IceMule makes signature cooler products that will keep cans from your favorite Asheville breweries cold for over twenty-four hours of outdoor adventuring.
---
It's official—Asheville ranks second in the nation for the most breweries per capita. With seventeen breweries per 50,000 residents, Asheville trails behind only Portland, Maine, in a recent study from C+R Research.
The number of Asheville breweries has grown along with the city as more people get a taste of western North Carolina's amazing outdoor playgrounds. It's not just the mountains drawing people here—Asheville is famous for an eclectic, come-as-you-are vibe that's led artists, creatives, outdoor adventurers, and free-thinkers to call this place home.
We've rounded up ten Asheville breweries close to prime Blue Ridge camping, so you don't have to choose between throwing another log on the campfire and savoring the last sip of your sour or lingering over your lager.
10 Asheville Breweries and Where to Camp Nearby
Scythes and rusty farm implements hang from the walls at Burial Brewing, blending the region's agricultural past with a moody reminder of mortality. But Burial Brewing isn't just about atmosphere. It's also turning out some of the best beers in the South and beyond, even earning Draft Magazine's coveted number one spot for the best IPA in America.
Camp nearby this and other Asheville breweries at Black Mountain Campground, where you'll find almost 50 tent and RV sites in the shadow of Mount Mitchell, the highest in the Appalachian range. Large RVs may struggle with the windy approach, but small rigs, vans, and car campers will have no problem squeezing in. There's a large meadow for volleyball and other sports, fishing in the South Toe River, hiking on the Mountains to the Sea trail, and admiring a whole slew of North Carolina waterfalls.
"Black Mountain is gorgeous and hosts great hiking and biking trails. Sites are spacious, clean, and well-maintained. Staff was welcoming and helpful– they come and deliver ice and firewood to you if requested. A must stay if camping in NC." — The Dyrt Camper Laura B.
If you love the mighty brettanomyces, that is, the yeast responsible for some of the most unexpected, delicious, wild-fermented beers on the market, you'll love Wicked Weed's Funkatorium. From farmhouse ales to barrel-aged sours to fruity beers spiked with tumeric and apricots, the Funkatorium is a place where craft beer fans can really play with their pallets.
Head to Four Paws Kingdom for a little dog-friendly glamping after your brews. Every cabin or RV campsite has its own private gated yard so you and your pup can enjoy the firepit without leashes or leads. There are also several dog parks so your pooch can socialize, as well as a private pond where your #DyrtDog can go swimming.
"Everyone is so kind, the women who run this place are so sweet and they were incredibly accommodating. The camp store has tons of treats and necessities for dogs and people, and a dog washing station and laundry are available communally. We also checked out the Equestrian Center which was an awesome recommendation of the staff and also dog friendly." — The Dyrt Camper Ash D.
Pisgah Brewing Company's signature pale ales, tripels, and infused porters are made with all-organic grains and malts, as well as clean, clear water from the Blue Ridge Mountains. The source of that water—the Pisgah watershed—and the brewery's community-minded attitude inspired their tagline "we all drink downstream."
Camping at the nearby Mount Pisgah campground is comfortable, with 53 tent and RV sites available for advanced reservation and 72 more on a first-come, first-served basis. There's also the Pisgah Inn right across the Blue Ridge Parkway, for those who prefer to sleep indoors after a day of hiking.
"Just off the Blue Ridge Parkway this campground is built among the rhododendron thickets. Sites are very private. The restrooms do have showers which is fairly unusual in national park campgrounds. The restrooms could use some cosmetic upgrades but they are adequate." — The Dyrt Camper Nancy R.
With an emphasis on Kolsch, Scotch Ale, ESB and Porter styles, FBR Brewing embodies the Scotch-Irish and English roots in western North Carolina. And like many Asheville breweries, FBR is deeply aware of the landscape and the role of the river in its brews and life here in Asheville—if you ask for a PBR, they'll tell you it stands for "Poor Boaters Rations."
French Broad River Campground is convenient to downtown, and accessible by land or water. Sites can accommodate tents and RVs up to 32 feet, and cabins are also available. With 2,000 feet of direct river frontage, this is a great place for tubing, kayaking, or rafting. You'll find niceties like hot showers and clean bathrooms, as well as extras like WiFi.
"Campsites are relatively flat but a little gravelly. Sites are pretty close together but each one has a fire ring and picnic table. You can't get any close to the water, being right on the French Broad River. Sling up a hammock for serious relaxation." —The Dyrt camper Kelsey G.
Green Man Brewing was founded in 1997; you can still visit the original tasting room, lovingly called Dirty Jack's. It's festooned with almost 20 years worth of stickers and has a chill, off-the-beaten-path vibe, despite being surrounded by plenty of other great Asheville breweries. Right around the corner, however, is Green Man's brand-spanking-new tap room and packaging center.
This architecturally stunning space is crafted from natural materials and overlooks the Blue Ridge Mountains from Asheville's South Slope. Outdoor enthusiasts can take special pleasure in the origin of the name, too—green man imagery dates back to old England and Celtic pagan traditions as a symbol of rebirth into nature.
Find a similar high-low vibe just outside the cluster of Asheville breweries at Lake Powhatan Campground. Go glamping near waterfalls, or stick to good old-fashioned tent and RV camping—either way, you're winning. The new glamping sites feature fully-furnished canvas platform tents, while the tent and RV sites have picnic tables, tent pads, lantern posts and campfire rings with grills.
All campers have access to restrooms with hot showers and flush toilets. Nearby Looking Glass Falls is popular in the warmer months, while in winter it is a hotspot for ice climbers.
"Great location, close enough to visit Asheville and hike the best [Pisgah] trails. The facilities were really nice, the staff friendly, and the camping lots were well kept and very well spaced. The area was open enough to not feel overcrowded. Definitely will visit again." —The Dyrt camper Sarah M.
Wicked Weed is more than just the Funkatorium, where they keep the wild and sour beers. Savor IPAs, imperial pilsners, English bitters, and a few drafts from the Funkatorium at this pub-style tap room. Even better, grab a seat next to the sweet outdoor fire pit on the patio.
Camp on the French Broad River, just twenty minutes north of the city. You'll find basic riverfront campsites, five equipped with electricity, in addition to firepits and picnic tables. There are also cottages with cable TV, a laptop-friendly workspace, heating, air conditioning, and a private entrance.
"The water is easily accessible and tubing is frequently seen along the bank. The entrance to the area is directly off the road, but has a VERY steep decline immediately following. Be cautious in driving too far up the bank. Overall, a small and personable camping option that is worth a visit!" —The Dyrt camper Ali S.
Hi-Wire Brewing celebrates the "little circus town we call Asheville" with carnival-inspired branding. Like the Funkatorium, Hi-Wire is dedicated to small batch and experimental brews, especially in the weird and exciting world of barrel-aged sour and wild ales.
Keep that whimsical vibe going from the Asheville breweries to Creek Ridge Campground, where you'll find circus-esque open-air cabins with swinging beds and camping pavilions overlooking Spring Creek, as well as colorful cabins that resemble human-sized birdhouses. Splash around in the nearby Laurel River or visit area hot springs. Creek Ridge is right by the Appalachian Trail if you want to get a section hike in, or take an extra-pleasant zero day.
"Spent two nights and three amazing days at this privately owned campsite. This campsite is in the mountains so be prepared for amazing views and a steep drive up to the office to check in. The hosts were awesome, helpful and so friendly. It was like staying at your friend's place. The bathrooms were incredibly clean and well kept. Showers were outdoors but private. So nice and plenty of hot water." — The Dyrt camper Jennifer Z.
Few Asheville breweries are as synonymous with North Carolina as Catawba, which started in 1999 when the craft beer scene was still new. The founders drove to Colorado to buy up the contents of a shuttered brewery and drove it back to Asheville by U-Haul.
Pack up some can styles of the Catawba's Hopness Monster IPA, White Zombie Ale, and Black Dome Stout into your cooler and head to Catawba Falls Campground. Campers can enjoy tent and RV sites, as well as newly-built or recently renovated cabins. The 17 full hookup sites and nine water/electric sites are better for smaller RVs, since this campground was first developed in the 1970s.
There are also primitive tent sites, a bathhouse, general store with ice, basic supplies, and ice cream, and a playground for the kids. It's an easy hike to Catawba Falls and close to Grandfather Mountain and Chimney Rock.
"Situated on a small river which makes a wonderful backdrop noise to the experience and your sleep. A short not overly strenuous hike to beautiful Catawba Falls to enjoy the beauty of the North Carolina mountains. The staff is helpful and the facilities are more than adequate. Highly recommend this campsite." — The Dyrt camper Jorge B.
One World Brewing feels like a downtown secret, located underground in a dark, cozy space, secluded from the hustle and bustle one story up. Close to Asheville favorites like Mast General Store and Malaprop's Bookstore and Cafe, it's nice to have a cool place to duck into for a quick Pushing Haizies New England IPA or Crispy Boy Kolsch.
Campfire Lodgings is north of Asheville on Goldview Nob, between the city and the French Broad River. The views from the Nob are spectacular, and you can really take in the landscape that makes Asheville so special.
Campfire Lodgings has tent and RV sites as well as yurts and cabins. There's also the Cliff House, a unique structure made of boulders and old shipyard beams—look for a pair of mahogany doors that once hung in The Bank of London. There are three tiers of RV sites, all with 20, 30, 50 amps and full hook ups. Tent campsites have water and electrical.
"We had to tear ourselves away from our camp spot to go to town. This campground is very convenient to great local food and arts as well as the Sierra Nevada Brewery and the Biltmore Estate. We talk about coming back here again a lot. If you can get a premium site pay the extra. If you can't, there are spaces you can bring your chairs to and see the view anyway." — The Dyrt camper Jeff G.
One of the original anchors of the South Slope, Asheville breweries, Asheville Brewing has a wide range of styles, from a classic American wheat to an IPA brewed with Koji rice. Order a delicious pizza with all the usual toppings, or go with a wildcard like vegan cheese, tofu, or Spam. Asheville Brewing Company also has another ace up its sleeve—a 150 seat dine-in movie theater with tickets starting at just three bucks.
Stay at Asheville East KOA, fifteen minutes away from downtown. Go tubing in the Swannanoa River or enjoy paddle boats, a swimming pool, volleyball, basketball, horseshoes, and cornhole. While smaller campgrounds higher in the mountains cannot accommodate bigger RVs, rigs up to 70 feet will fit at Asheville East KOA. Meanwhile, anglers can drop a line in the two lakes on the property.
"They escort you to your site, help you back in, come by to pick up your trash every morning, and are johnny on the spot with propane. A couple of quirks: There are a lot of ducks here! Oh, and the wifi is actually pretty good." —The Dyrt camper Erin S.
---
This post was brought to you by IceMule.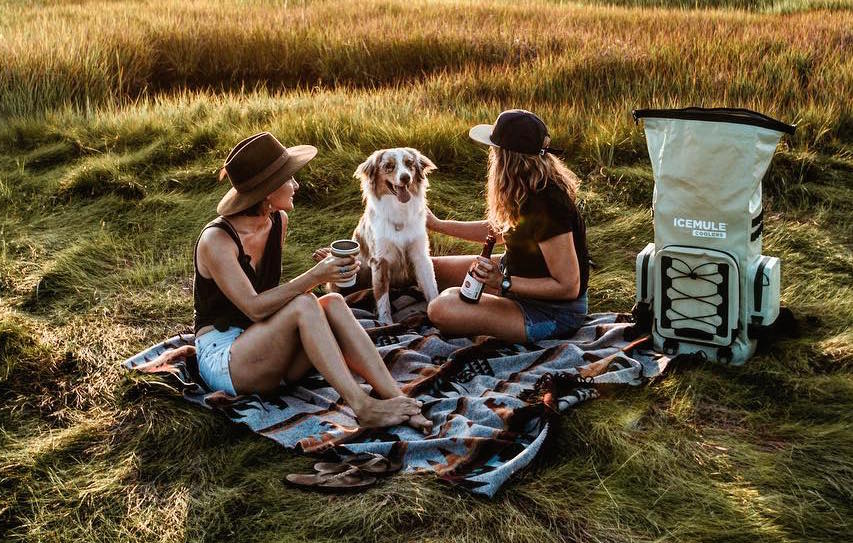 Snag a six pack for the campsite and throw it into your Icemule Classic Cooler today!
---
Related Campgrounds:
---
Related Articles:
Popular Articles: