This article is brought to you by Wenzel. Wenzel's camping pad is made from lightweight, durable cross link foam that adds insulation to your sleeping bag while keeping moisture and cold away throughout the night.
---
As kids, most of us looked forward to recess as the most exciting part of the day, when we could run free outside, beyond the confines of our stuffy classrooms. While students from outdoor-centric states might have been treated to the occasional lesson outside, the learning most often took place at desks in front of a chalkboard. Yet today, some schools are flipping that model around, with an emphasis on staying active and engaged with nature.
This focus on the outdoors can start early—forest kindergartens are a trending approach to early education that fully embraces an outdoor-first education.
These unique programs for the little ones are exactly what they sound like: kindergarten that takes place in a forest. They've emerged in recent years as successful and innovative alternatives to traditional education, if not for their emphasis on keeping kids active, then for their ability to give kids the freedom to explore, identify, and create in the best classroom the world has to offer: nature.
Forest Kindergarten programs have demonstrated that their open classrooms and deconstruction of traditional disciplinary norms are doing a lot of good, and the swell of interest in recent years has allowed more and more programs to get started.
The Origins of Forest Kindergarten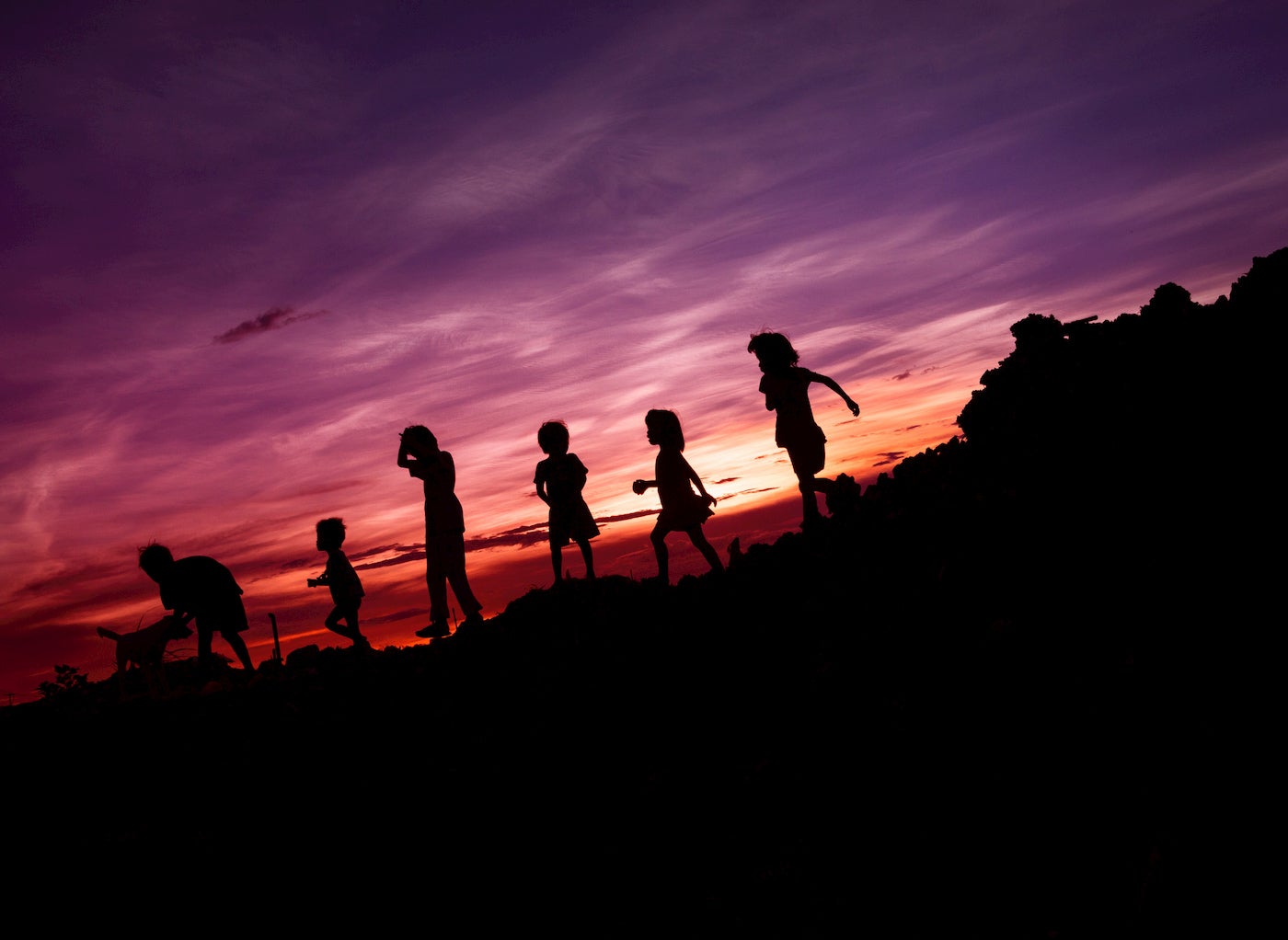 The initial concept for forest kindergarten originated in Europe, where outdoor-centric programs in Germany and Denmark have long encouraged students to roam free of the traditional constraints of the modern classroom and to engage with nature on a regular basis. Although unique in style, these programs soon caught on as popular options for preschool aged children, who learned and grew through natural inquisition and curiosity and "graduated" with skills and aptitudes that were absent in children from traditional preschool and kindergarten programs.

The motivations for forest kindergartens are primarily to allow children of a young age to grow and mature in their own way, with teachers as guides rather than rulers, and, in the context of nature, to offer children the opportunity to engage on a daily basis within a completely natural and open space.
Given the importance of play in a young child's life, forest kindergarten programs today are offering healthy, open environments in which children develop the skills for communication, social interaction, self-guidance, critical thinking, problem-solving and a sense of independence, all through the lens of natural exploration and gentle teacher collaboration.
Forest Kindergarten Programs
Sound like a match for your kids? Here are a few of the forest kindergarten programs (also known as nature school) on the map today:
Based out of the legendary Trackers Outdoor Program, this forest kindergarten is for children 5 and up. Outcomes from the kindergarten year include identification of major flora in the Portland area, knowledge of animal tracks, an ecological understanding of wildlife and nature, simple arithmetic, beginning writing and reading skills, project skills, pattern skills and teamwork.
Based almost entirely outside regardless of the weather, Cedar Tree Learning is an eight-week program that offers two- to five-day formats that allow students and parents to make the best decision possible for their kids and schedules. Running each morning of the week, Cedar Tree incorporates immersive nature programming while being based in the following pillars: rhythm, uninterrupted time, guides worthy of imitation, imagination, reverence and community.
The Wild Ones offers both summer camps and programs that run throughout the fall. With options for children up to 13 years of age, the Wild Ones is a good happy medium option between full-time and part-time formats. Summer programs fill up fast, so be sure to enroll your child early.
This well-founded forest kindergarten includes mixed-age kindergarten classes with the option for two-day, three-day, four-day, and five-day options, all for half of the day. Each day includes group interaction through games, songs and minor classroom tasks, as well as central activities in the woods surrounding the facility. Perhaps the most unique aspect of Westbrook is their offering of "parent-child" classes, during which parents with children under three years of age meet once a week in order to allow their child to socialize and prepare for their eventual kindergarten experience.
The Ashwood Waldorf School itself offers schooling for K-8 students, but its mixed-age kindergarten is a great chance for children ages 3 to 6 to explore the outdoors while still laying a firm foundation for their future education. With more than 30 acres to explore on the Ashwood campus, this forest kindergarten is a great opportunity for kids to get outside while still learning the fundamental lessons of early childhood education. Conveniently, Ashwood also offers an extended-day program that allows children to be in school on a full-day basis.
The Ipswich River Wildlife Sanctuary in Wenham, Massachusetts, offers a nature preschool for kids aged 3 to 5 that offers half-day options on a two-, three- and five-day basis or an all-day program two days a week. The wildlife sanctuary is a 40-acre natural paradise, which provides ample opportunities for interactive learning and hands-on educational experience. With a solid handle of state and national early education guidelines, the curriculum at Ipswich is a great combination of creative learning, project-based lessons and outdoor, teamwork-focused play.
Hosted in Ann Arbor, Michigan, the Green Apple Garden Nature School is a forest kindergarten and preschool level learning center that offers nature-based educational programming for children as young as infants and as old as 6. With two separate classrooms — the lower school and the upper school — Green Apple Garden offers half-day, extended-day or full-day care on a 4:1 teacher: child basis for younger kids and an 8:1 basis for older children, with a daily attendance of 30 children maximum. The upper school offers programming for kids from 3-6, which includes everything from free outdoor play to organized group projects.
With a self-proclaimed focus on "pre-academic" skill development, the Nursery School, based outside of Denver, is a half-day forest kindergarten learning center that provides ample opportunities to learn through direct experience with the outdoors. Established in 2017, this preschool prides itself on being almost exclusively outdoors, even during inclement weather. Students are encouraged to build shelters in order to stay shielded from the elements, and learn teamwork, collaboration, and hone their critical thinking skills in the process.
Set on 25 acres of forested land just outside of downtown Asheville, Asheville Farmstead School is a nonprofit, independent, Cedarsong Way accredited school that specializes in early childhood education of kids from potty trained to 6 years old. Children are given the opportunity for free play for a good chunk of each morning, with the addition of organized activities in and around the learning space. Asheville Farmstead also offers week-long summer camps throughout the summer, for ages potty trained to 12.
Run out of the University of Washington, this forest kindergarten program has gained popularity and attention in recent years for its effective approach to early childhood education in the Seattle area. The classrooms are located at the Washington Park Arboretum, an ideal area within the Seattle city limits for children to explore and gather in a local space. Children ages 3 to 6 can enroll in this preschool program that runs primarily in the mornings. It provides rich outdoor learning experiences that help to establish long-term skills in critical thinking, cooperative care and inquisitiveness.
---
This article is brought to you by Wenzel

Wenzel's butterfly chair is the answer to all of your camping comfort needs!
---
Related Campgrounds:
Popular Articles: