This article about RV camping in Tucson is brought to you by Banner & Oak. Banner & Oak snapback hats will keep you shaded as you leave the city behind to explore.
---
RV camping in Tucson is the best way to appreciate the Arizona desert in all its glory. You don't have to travel far to immerse yourself in the most beautiful deserts in Arizona. These camping spots highlight the scenic trails, deep sunsets, and dazzling star shows Arizona is famous for. If you want the best of Arizona's dramatic deserts, check out the RV camping in Tucson.
The Best RV Camping in Tucson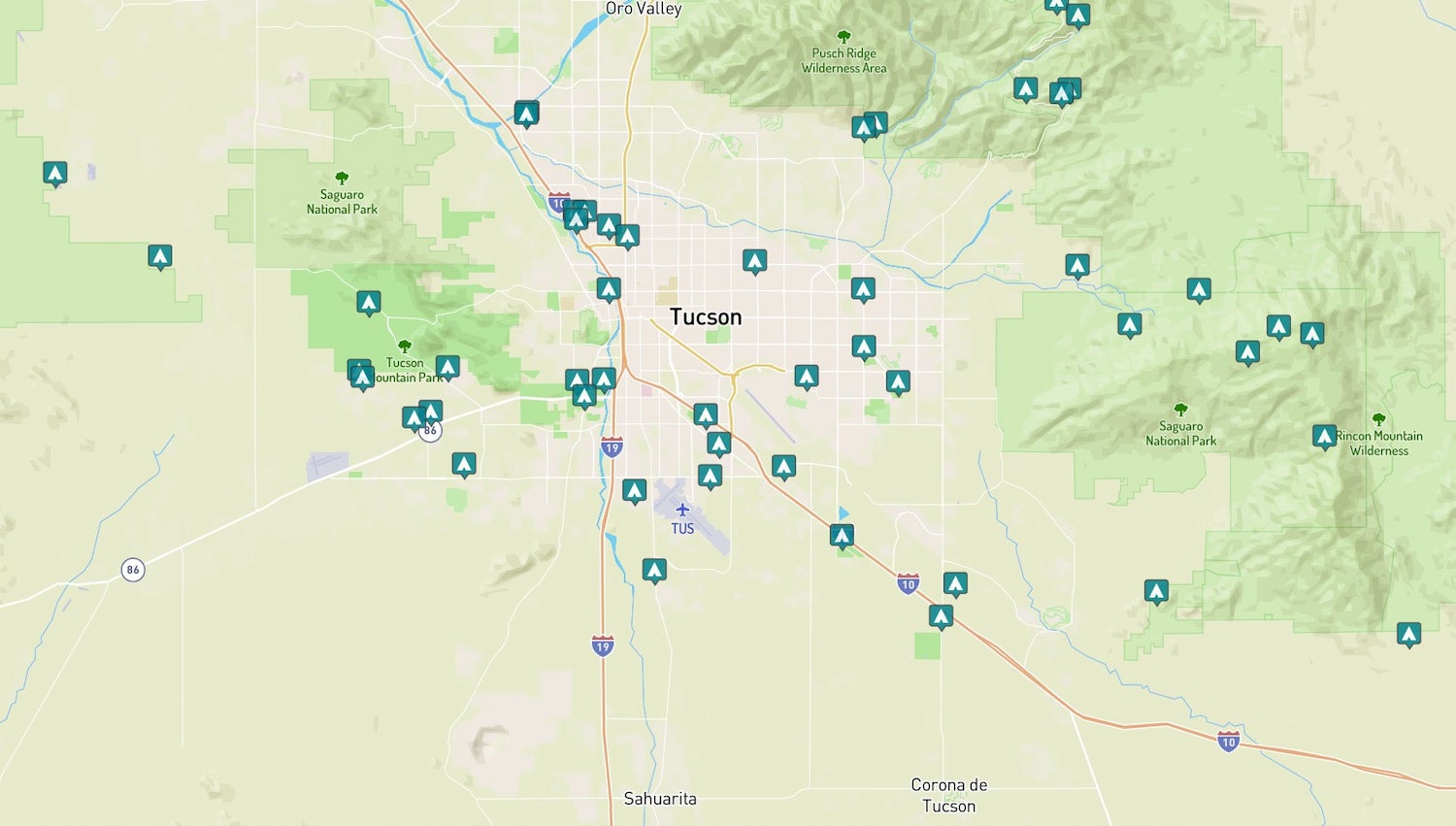 ---
Gilbert Ray Campground is the center of Tucson Mountain Park in the Sonoran Desert. The park is a mere 13 miles from Tucson, at the base of the Tucson Mountains. There are roomy tent and RV sites with electric hookups, flush toilets, and a dump station. The park features hiking trails, an archery range, historic movie sets, and the Arizona-Sonora Desert Museum. And you're only three miles from Saguaro National Park, where you can enjoy even more cacti and wildlife. Gilbert Ray is a lively camping spot highlighting Arizona's best scenery, trails, and desert creatures.
"Quiet, clean, a winner! I've stayed at this campground three times now. It's always such a pleasure to stay here. The bathrooms are clean, the people are nice, and the sites are well-spaced. Even managed to get a 23 mile bike ride through the desert today. Great place to stay when exploring Saguaro National Park. Will definitely stay here again." – Tamera
Campground Details:
Price: $10-20
Number of sites: 135
Fires allowed: No
Pets allowed: Yes
---
The Catalina State Park campground is 20 minutes outside of Tucson, at the base of the Santa Catalina Mountains. They have sites for tents and RVs, as well as equestrian campsites. Amenities include electric and water hookups, flush toilets, hot showers, and dump stations. You'll find miles of desert trails, hundreds of bird species, ancient archeology, and fun events. With more than 5,000 acres of natural beauty and outdoor recreation, you'll never be bored. Catalina State Park is a wholesome camping experience where you can enjoy the best scenery in the Arizona desert.
"This is a great campground. It's perfectly suited as a site that takes little time to get to, and yields tons of star gazing, hiking and camping fun. You can use a primitive site and get a feel for boon-docking, or take advantage of the super clean showers and bathrooms near the more established camping site. We fully recommend this camping location." – Joseph K.
Campground Details:
Price: $30
Number of sites: 120
Fires allowed: Yes
Pets allowed: Yes
---
The Kartchner Caverns State Park campground offers something a little different. There are sites that accommodate tents and RVs up to 60 feet, and cabin rentals that sleep up to six people. Sites come with electric hookups, flush toilets, showers, vending machines, and dump stations. The desert around Kartchner is stunning, but the main feature is a living limestone cave. You'll see stalactites, columns, and totems formed over tens of thousands of years. It's an incredible display of unique mineral formations. There are a variety of Kartchner cave tours available. The park is also a Dark Sky Park, with brilliant star displays at night. Kartchner Caverns is a unique destination where you can learn some geology and tap into your sense of awe.
"The State of Arizona has done it again with the Kartchner State Park. The Campsite is beautiful in a way only the desert can be and Kartchner Caverns is breathtaking. Recommend making reservations to ensure you get a long enough spot and get a spot in a tour of the caverns." – Liz A.
Campground Details:
Price: $30
Number of sites: 58
Fires allowed: Yes
Pets allowed: Yes
---
The Picacho Peak State Park campground is 40 miles from the city, in the gorgeous Sonoran Desert. Picacho Peak sits at a lofty 3,374 vertical feet, with sweeping views of the desert landscape. The campground has large sites for tents and RVs. Amenities include electric hookups, flush toilets, showers, and a dump station. The park is a mecca for hikers and bikers, with a rich network of scenic trails. Hike to Picacho Peak, where you can enjoy unparalleled views of the desert. The park is home to a variety of wildlife species, and offers junior ranger programs and a visitor center. Picacho Peak is a great spot for hikers and explorers who want to soak up the Sonoran Desert and beyond.
"First I have to mention the bathrooms, the showers are incredible. There are tent pads or set up your camper or RV. Electric and water at every site. The view is incredible no matter where you are camped. Hiking trails and picnic sites all over. Enjoy the relaxing atmosphere." – Josie G.
Campground Details:
Price: $30
Number of sites: 85
Fires allowed: Yes
Pets allowed: Yes
---
The Cactus Forest campground is off Interstate 10, in the magnificent Sonoran Desert. The campground is aptly named, surrounded by saguaros, chollas, and other desert shrubs. It's a dispersed camping area managed by the Bureau of Land Management. Camping is free, but there aren't any amenities. Come prepared with water and other supplies. The sites are spread apart, accommodating tents and RVs of all sizes. The views are classic desert vistas, with Picacho Peak in the distance. You'll find curious local wildlife roaming around. Cactus Forest is a quiet, secluded desert camping experience less than an hour from the city. It's a great place to go for a few days to recharge.
"Campsites are scattered along the dirt road. I have no idea how far the little narrow dirt road goes, but as long as you can find a place to park, I think your good. Quite dense with cactus and many of the sites are kind of pull throughs. Biosphere II is about 28 miles to the east, so it was a good spot to camp at for free and then drive to my tour in the AM." – Shawn A.
Campground Details:
Price: $0
Fires allowed: Yes
Pets allowed: Yes
---
Triangle T Guest Ranch is a unique desert experience. Staying at the Triangle T is like being in a real-life western. Many westerns have been filmed at the ranch, and John Wayne was a frequent visitor. In addition to rental casitas, they have spacious full-hookup RV sites for every size. The ranch features a saloon, pool, jacuzzi, miles of trails, horseback rides, and ATV tours. It's surrounded by beautiful desert and giant boulders. As a bonus, you'll see the resident horses roam the grounds and impressive star shows at night. The Triangle T is a great spot where you can learn some history, see where your favorite westerns were made, and take in stunning desert views.
"Beautiful site right off the interstate with amazing landscapes that make you feel like your a million miles away from it. Dry camping, electric only, or full hook ups available. They also rent casitas. Little saloon that serves basic food. Plenty of hiking and horse back riding available. Tame horses roam free on the property. Lots of famous movie set areas to see like 310 to Yuma. Pool and hot tub also on site. Bathrooms and showers available as well. Friendly and affordable." – Sandi
Campground Details:
Price: $30-70
Number of sites: 14
Fires allowed: No
Pets allowed: Yes
---
Molino Campground is 25 miles from Tucson, on the western slopes of the Catalina Mountains. The campground sits at 4,500 vertical feet, showing off the high desert landscape. There are spacious sites for tents and RVs up to 22 feet. Sites come with picnic tables and vault toilets but no potable water. You're close to several scenic hiking trails, including the Arizona Trail. Molino is the perfect getaway for relaxation. Note that this campground is closed during the summer, but open in seasons with milder weather.
"This campground is very well maintained with nice restrooms. There are a few sites, including the one we were at, that are back a little ways from the road and you have to walk in to get to them. We went in February and it was warm and beautiful here. The campground was not crowded at all. There are hiking trails out here, you can check out the Gordon Hirabayashi campground and the old work camp remains which are pretty interesting. Also, if you want to drive up to the top of Mount Lemmon, it's a beautiful and scenic drive. On your way back into town, you can stop at the Agua Caliente park where you'll find tons of palm trees surrounding a peaceful pond." – Kelly Z.
Campground Details:
Price: $20
Number of sites: 36
Fires allowed: Yes
Pets allowed: Yes
The RV camping in Tucson is some of the best in the state. From the Sonoran Desert to the Catalina Mountains, these camping spots give you the best bang for your buck.
---
Banner & Oak has you covered.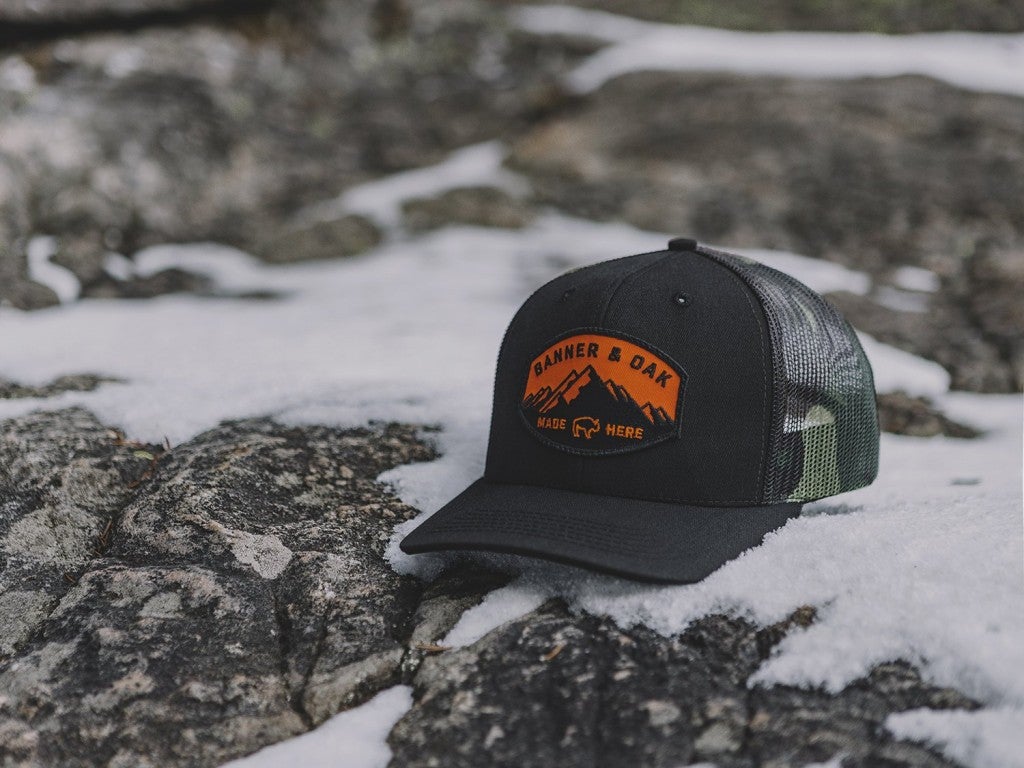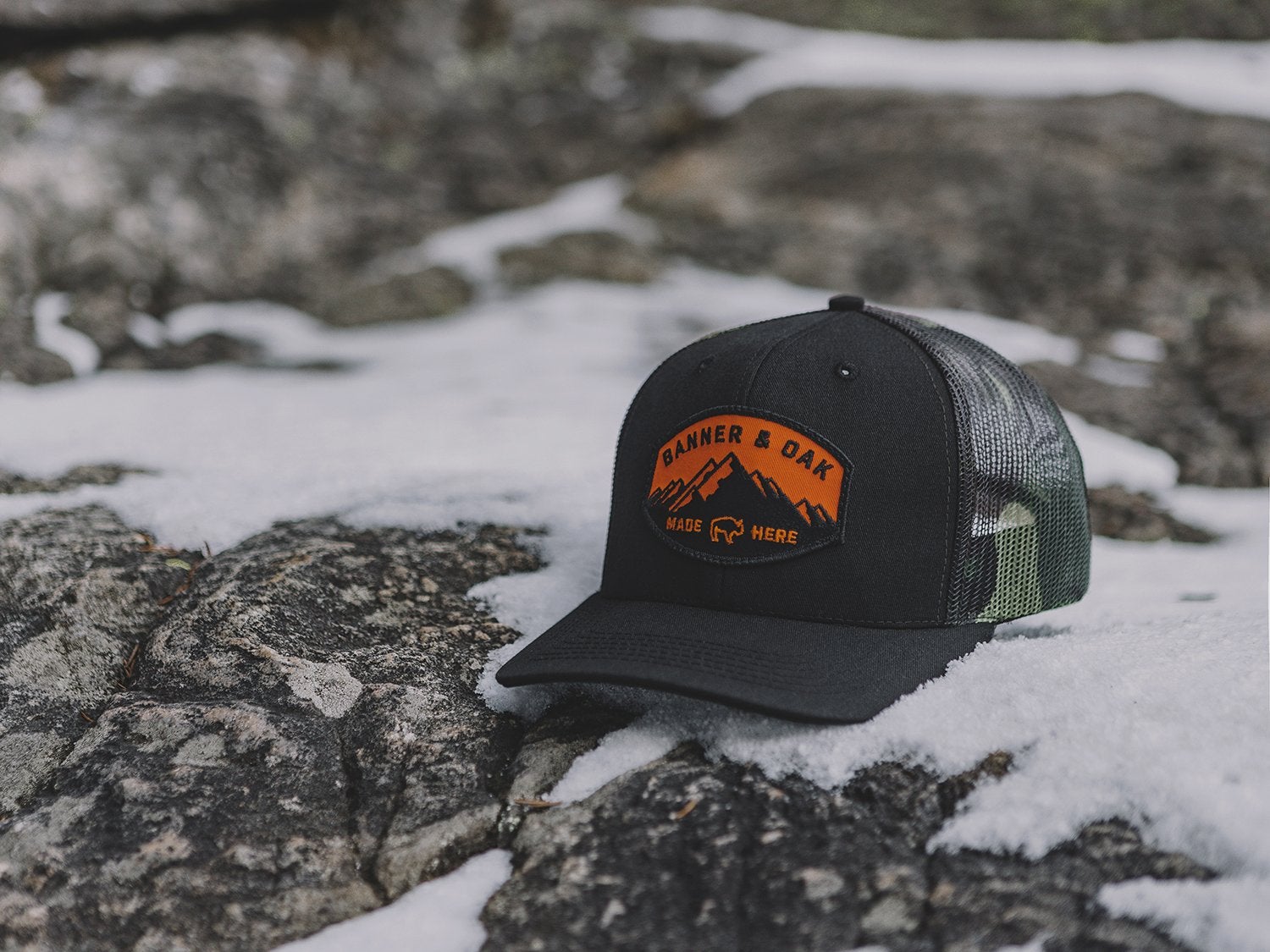 Don't leave your snapback hat behind on your trip to check out any of these great RV camping spots in Tucson.
Popular Articles: