This article was brought to you by GCI Outdoor, makers of stadium chairs, tailgate chairs, and their famous outdoor rocking chair. No matter which one you choose, they're all comfortable, portable, and ready for game day!
---
Do you drive your RV to sporting events? If so, congratulations—you have the ultimate tailgating-mobile. But you knew that already, didn't you? With the comfort of your home on wheels and the freedom to drive it to all of your favorite pre-game party spots, RV Tailgating is undeniably awesome.
But this year, perhaps you can make it even better. These RV tailgating tips might inspire you to take your party plan to the next level.
In addition to these tips, be sure to download The Dyrt PRO to find your favorite campgrounds offline. With our upgraded app, you can download maps, campgrounds and photos when you don't have service.
How to Plan the Best RV Tailgating Trip
Whether you're towing a canned ham trailer packed with pigs-in-a-blanket or driving a big rig stuffed with brisket and burgers, you can rest assured that everyone is about to have a great time, whether you're celebrating a victory or not.
Tailgating Tip #1: Scope out a Site
First things first: to throw a great tailgating bash from your RV, you need to know some of the rules and regulations for RV tailgating at your destination. These can influence how many people you can invite, if there are restrictions on music, alcohol, or fires, and if your rig will fit in a parking spot. Be sure to read up on the rules and restrictions for the particular stadium where you'll be tailgating, as each tend to have slightly different guidelines for tailgaters, or even depending on whether you're tailgating out of an RV, from a bike (thanks, Colorado State University,) or as a pedestrian.

You might be surprised by the little details you want to stay abreast of to avoid getting in trouble and to stay as safe as possible. For example, the MetLife Stadium — home of the New York Jets — requires tailgating ticket-holders to carry a minimum class 2A-10B:C fire extinguisher. Others, like Texas A&M University's Kyle Field, don't allow RVers to overnight in their rigs, and ticket-holders can only be in the tailgating area during certain hours. Still others, like Colorado State University, ban liquor, permitting only the consumption of beer and wine while tailgating.
Check maps of the RV tailgating area, too. Your neighbors won't appreciate your RV encroaching on their parking spot or your canopy extending over the white line. Space is usually quite tight at tailgates, and being respectful of other people's boundaries (literal and metaphorical) is crucial to creating a great experience. Knowing how your RV will fit in the available space, too, will help you plan for how many fold up lawn chairs to bring, where to put the grill, how many friends to invite, etc.
Tailgating Tip #2: Plan a Cookout Menu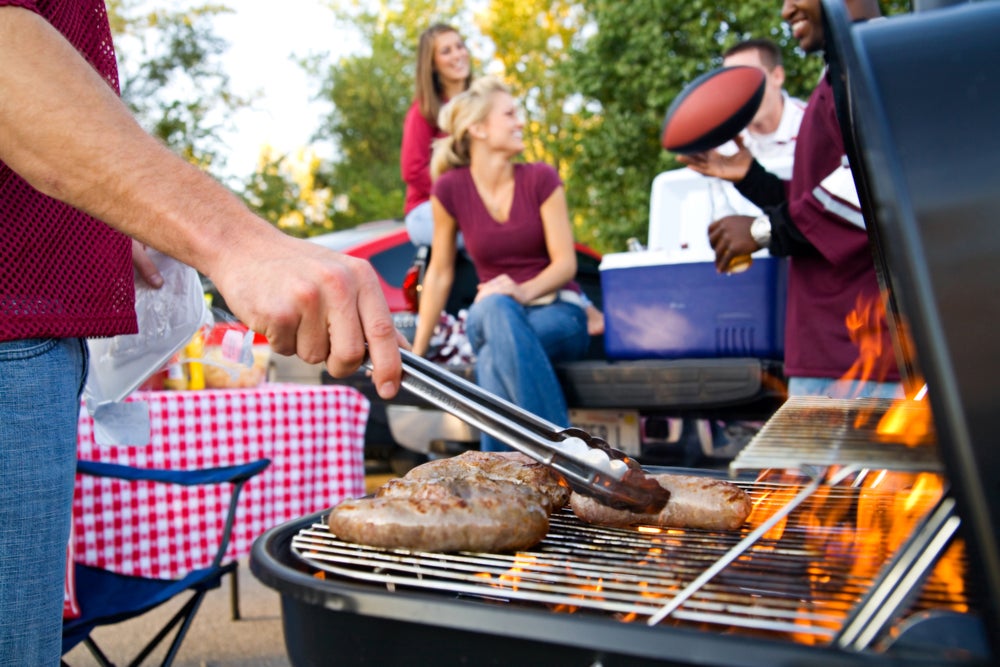 As anyone who has tailgated even once knows, the food is half the fun — not just eating it, but making it too. According to the 26th Annual Weber GrillWatch Survey, 93% of tailgaters prepare their food once they get to the event, and burgers are by far the most popular grilled item tailgaters typically serve up. There's just something about the fresh charcoal sizzle that lets you know ah yes, it's game day!
Once you know the rules and regulations in place at the tailgating venue, you can start planning the menu. It's important to know ahead of time if you'll be able to have open fires, use charcoal or propane grills, will have access to electrical hookups, or can bring a generator, as those logistics can make a big impact on what's served.
Camping food and tailgating food have a lot in common, so if you're stuck on what to serve, you might start with easy camping meals for large groups, or outdoor classics that have their roots in tailgating traditions, like Frito Chili Pie. You can also please the 30% of tailgaters who aren't throwing burgers on the barbie by picking out one or two of the best sausages for grilling and passing out the campfire skewers.
Whatever you choose to make, it'll be a lot easier to pull off with your RV kitchen than a cooler and grill alone. For one, you don't have to worry about forgetting the right spices or mixing bowl when you have a full set of cookware, utensils, and ingredients dedicated to your RV kitchen (or included in your rental, as many RV-share companies do). For another, it's nice to have a cooktop in addition to the grill for prepping things like potato or pasta salad, a batch of chili, queso or Charleston cheese dip, toppings for nachos, or some seriously delicious sausage mac n cheese.
---
The Dyrt PRO ensures easy trip planning and helps you deal with last-minute cancellations. Our new app connects you thousands of campsites and reviews across the U.S., all available without service.
---
Tailgating Tip #3: Pack for Fun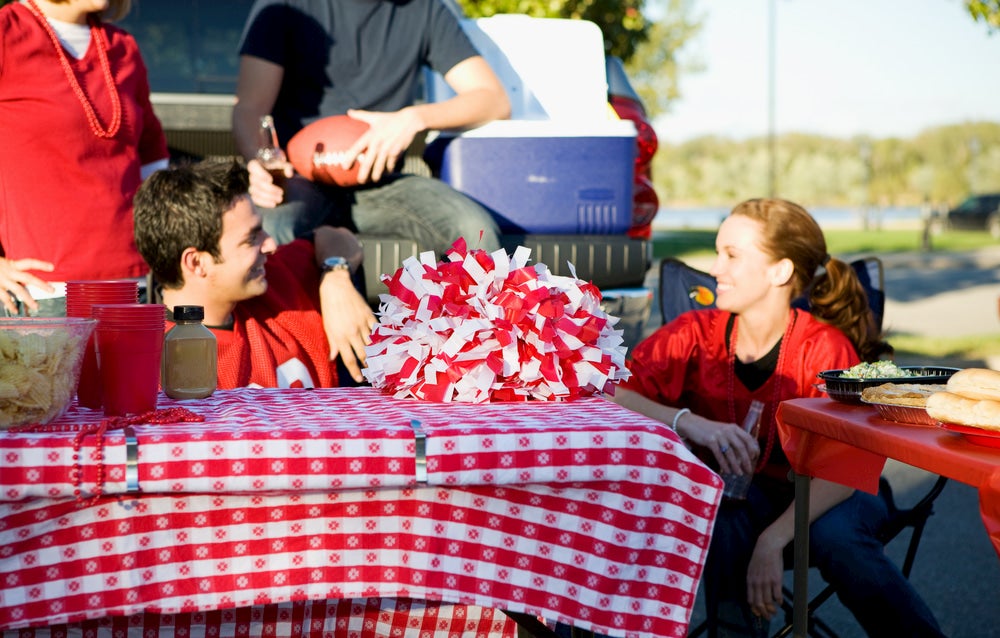 The great thing about tailgating from an RV is being able to arrive with all your amenities and room to spare. If you love to plan ahead, that means having all the items on your checklist not only on hand, but in a well-organized spot. Instead of hanging a trash bag from the trunk of your car or a nearby fence post, you can have the can ready to go with a fresh bag under the sink. Instead of wondering where you put that extra roll of tinfoil for campfire foil recipes, you know it's in the second draw on the right like always. And, of course, you can stock the bathroom with the exact type of toilet paper you prefer, instead of relying on the one ply in the communal Porta-Potty.
That said, every RV tailgating checklist could use an extra item or two. If you're curious about what accessories or essentials you might want to include, or you're putting together your rig's contents for the first time, here's a few suggestions up your tailgating game.
Seating
There's so many different types of chairs for sporting events now, it can be hard to pick the right one for your tailgating style! That said, it's hard to beat a swivel stool that doesn't take up much space if you tailgate frequently or your home stadium has tight RV spots in the tailgate section. But if a little more room to kick back sounds nice, a camping rocking chair or outdoor chair with canopy will let you get those front porch vibes, or stave off the sun if your RV canopy only reaches so far.
Decoration
One of the big advantages to tailgating from your RV is that you can make even more of a statement with your pro-team decor. A motorhome flag pole not only lets everyone know who you're rooting for, but can also make a great landmark to help friends or family find your rig as they hop from tailgate to tailgate or try to get from public transit to the best party on the lot. But there's a lot more you can do than just flags— window paint, streamers, bunting, balloons, and vehicle logo magnets can all set the tone for major camaraderie.
Bug spray
If you can't count on the smoke from your campfire to clear out the bugs like you would at the RV park, it may be time to bust out the bug spray. Some RV tailgating veterans swear by spraying down your camp chairs, canopies, and screens ahead of time, in addition to guests giving themselves a spritz as needed.
Sun protection
Don't forget to protect your skin, especially if you're going from dawn till dusk on the lot. A mineral-based sunscreen will have great staying power, and may be less likely to irritate your skin. You can also wear a rash guard to protect your back, arms, and chest, and show team pride with a branded ball cap.
Horizontal surfaces
Whether you're driving a big rig with a generous kitchen or a small travel trailer that acts as a rolling pantry and bar, a folding cook station can really come in handy. Without the picnic tables that come with most campgrounds, you'll need to haul in all of the available surfaces you might need not only to prep food, but serve it, set up a beverage station, and keep condiments on-hand.
Yard games
The big game isn't the only one people will be playing on tailgating day. Lawn games are part of the whole tailgating experience for a reason. From giant jenga to the perpetually popular cornhole, from ladder ball to beer pong, you have all kinds of options. You can also pick calmer group activities like cribbage or poker tournaments, charades or pictionary, or icebreakers like team-themed rounds of Who Am I?
A way to tune in
A radio and walkie talkies are smart to always have stashed in your RV whether you're tailgating or high-tailing it to the Grand Canyon. That said, they're extra handy on game day not just for getting weather updates from NOAA and giving you peace of mind in case of an emergency. A bundle like the EX210VP E+READY® that combines a hand-crank radio and walkie talkies means you can stay connected even when someone wanders away from your tailgating site to get more ice, and the radio will let you stay up-to-date on pre-game coverage or even updates after the race has started.
Tailgating Tip #4: Leave These Things at Home When Tailgating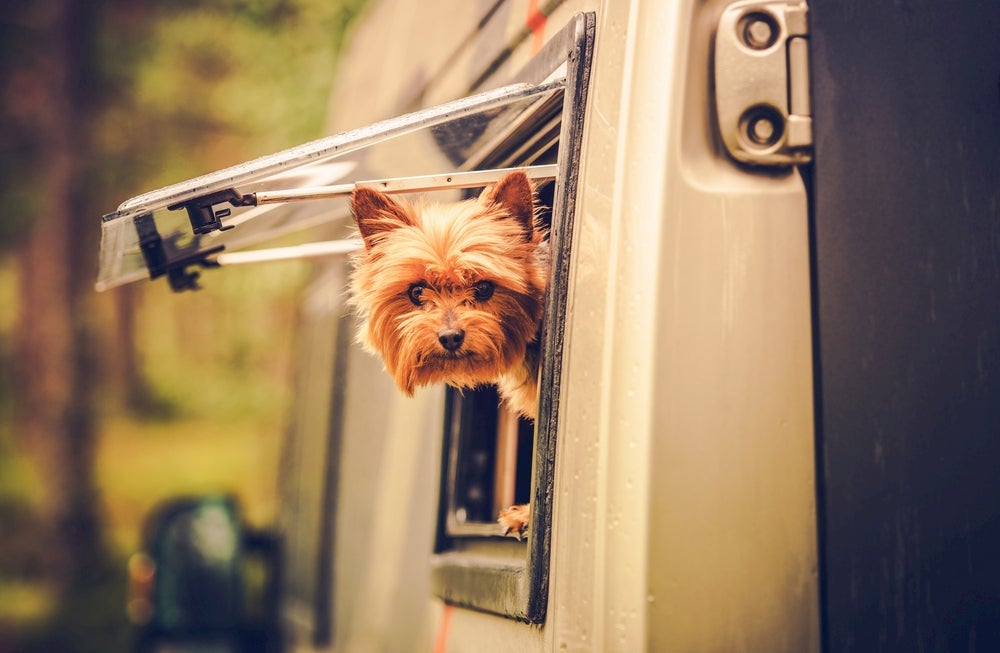 The sky is the limit when it comes to things you can pack for tailgating, depending on your party style, budget, the size of your rig, and how far you plan on traveling. That's why it might actually be easier to narrow down the possibilities by pinpointing what not to bring tailgating than it is to add every must-have to your planner. Here's a few things that both regulations and hard-won experience suggest might be best if left off the list:
Projectiles
A game of pickup or Frisbee sounds fun…until you knock over another party's solo cups, ding someone in the head, or get in the way of pedestrian traffic chasing an epic thirty yard toss. Let the pros toss the ball and stick to games that are easily confined to your tailgating spot.
Open flames
A lot of venues ban full-on fires anyways, but it's better safe than sorry. Skip the campfire, and consider nixing the charcoal unless there are dedicated disposals at the venue to safely deposit the embers and ash. You'd be surprised the trouble people have gotten in from trying to transport coals in the trunks of their cars or the undercarriage of their RVs! Instead, pack propane if it's allowed, and a fire extinguisher no matter what.
Glass containers
No one wants a glass shard in their flip flop! Many venues ban glass, and it's a rule worth sticking to. So many craft and domestic beers come in can styles now, and camping growlers made from stainless steel aren't hard to find. There's no reason for glass bottles the tailgate, especially when aluminum bottles will give you the same feel in your hand. Even canned wine has moved past the stigma in the past few years, with decent vintages coming in lightweight pop-top packages or boxed varieties. And if beer and wine aren't your thing, adult alternatives like White Claw hard seltzer or KYLA hard kombucha come in can-styles that are as packable as they are sippable
Pets
Unless you've got a service animal, it might be best to let Fido sit out on the fun. Between the crowds, loud noises, hot pavement, and all the commotion, your #DyrtDog might not have the best time, even if she can escape to the inside of your RV. If pets are allowed at the venue, however, and you can't bear leaving your four-legged friend home, be mindful of leaving animals in hot vehicles, and bring all the food, water, toys, treats, and safety gear your pooch needs to have as good a time as you do.
---
This article was brought to you by GCI Outdoor.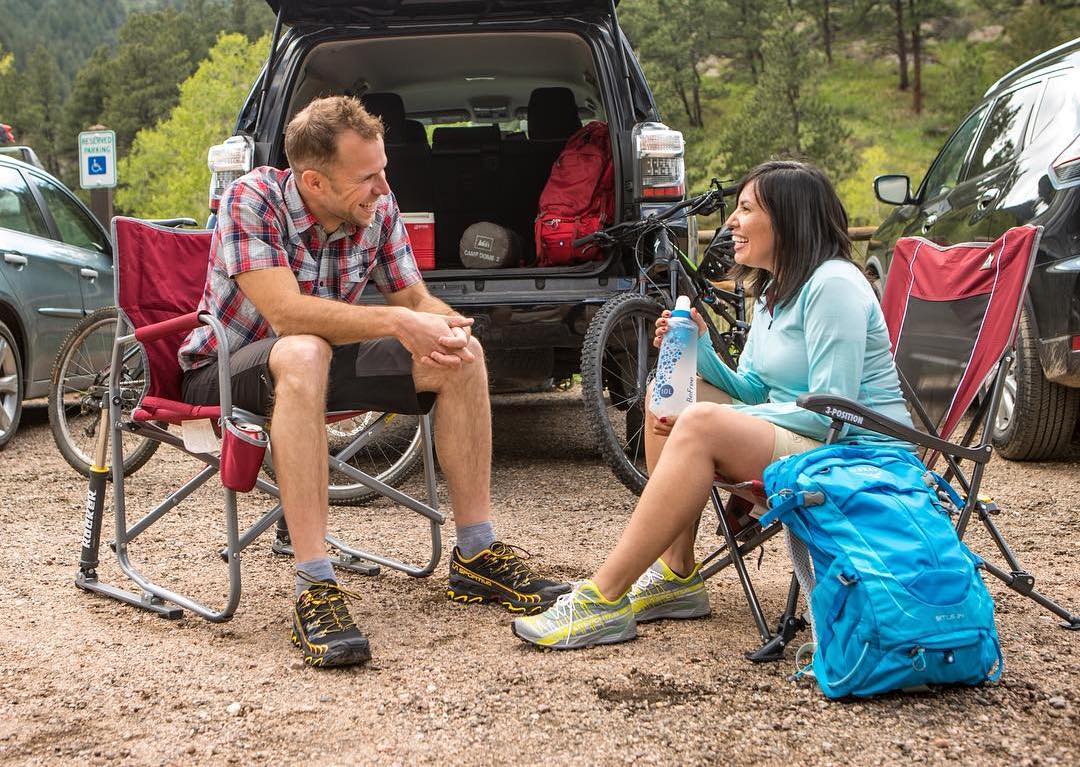 Bring along a couple of their camping chairs for your next pregame tailgate!
---
Related Campgrounds:
Popular Articles: