The first time I tried campfire foil recipes, I sat around a picnic table in an Oregon forest with the members of my Girl Scout troop. We laid out tin foil and concocted dinners of starchy vegetables, seasonings, and hearty servings of beef. After adding a bit of butter and a few turns on the coals, we were soon silent as we dug in, except for an occasional mmm or yummm.
Ever since my first campfire foil recipe, I've used any and every excuse to cook over the camp coals. The food tastes great and it enhances the camping experience.
11 Campfire Foil Recipes You'll Try and Love
For less puncture risk or leakage, opt for heavy-duty tin foil, and use a grate over the coals so the foil pack is easier to turn. For the best results, reduce the number of times you open your foil to check your food—the steam creates an optimal cooking environment and you want to keep it trapped for as long as possible.
1. Hawaiian Chicken Foil Recipe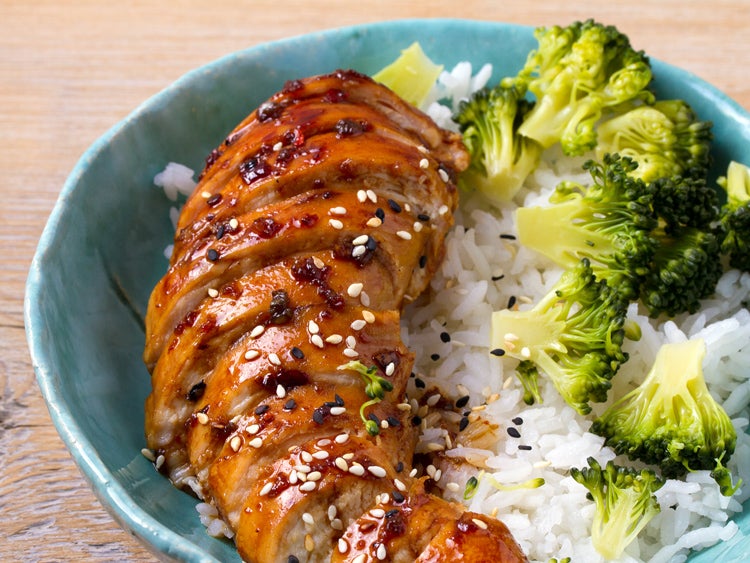 Who doesn't love a little taste of paradise at camp? This Hawaiian chicken foil recipe is easy to prepare and delicious to eat. Using a few vegetables and pre-cooked rice, prep takes less than 15 minutes and the dish cooks in 30 minutes, for a tasty meal that's ready in less than an hour.
Ingredients:
1.5lb of chopped or sliced chicken
2 cups cooked rice
1 sliced onion
Sliced red and green peppers (1 each)
Head of broccoli, chopped into florets
Chopped pineapple
Teriyaki sauce to taste
Directions:
Fold your tin foil into a rectangle with a 1-inch rim. Double up on foil if you plan to use it as a plate.
Divide cooked rice between each foil rectangle.
Add chicken on top of the rice.
Surround the rice and chicken with sliced vegetables, pineapple, and broccoli.
Add teriyaki sauce to your liking.
Cover each rectangle with tin foil to seal the packets.
Place hot coals around each packet. Cook for 30 minutes or until the chicken is cooked all the way through.
2. Campfire Mac & Cheese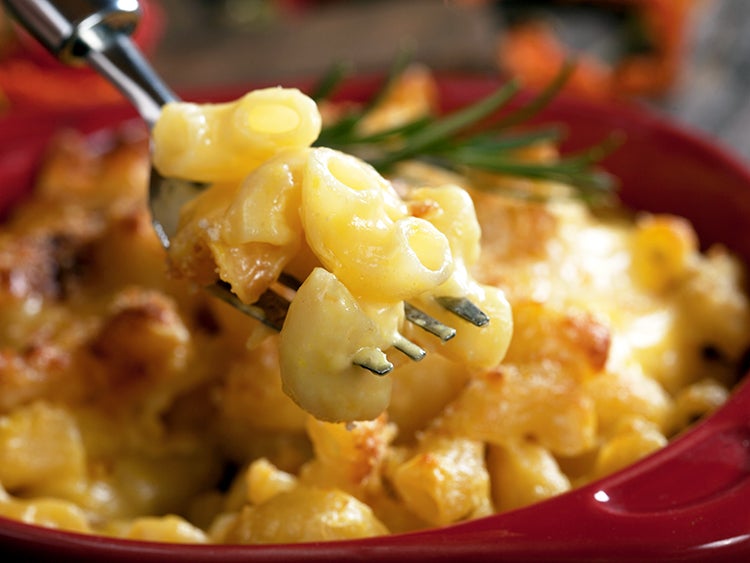 While most of the prep for this one happens pre-camping, the pure bliss of eating creamy, cheesy, fireside mac & cheese is well worth the minor pre-trip headache. Plus, it opens up more time to spend on the lake or trail instead of prepping and cooking meals.
Ingredients:
1.5 cups elbow macaroni
8 oz. Alfredo sauce
½ cup shredded cheddar cheese
½ cup shredded parmesan cheese
¼ cup shredded mozzarella cheese
½ cup half & half or whole milk
Salt and pepper to taste
Mini aluminum pie tins
Directions:
Cook macaroni according to package.
Drain pasta. Add cheeses, milk, and Alfredo sauce, stirring until cheese is melted
Spray each pie tin with non-stick oil.
Divide the mac & cheese between the pie tins and cover with aluminum. Keep chilled until ready to cook.
Place on a rack 2-3 inches above the coals and cook for 8-10 minutes.
3. Cheeseburger Hobo Packets
Cheeseburger hobo packets also use traditional family favorites to create a campfire foil recipe you'll want to make every time you head into the woods. It's simple to make; even the kids can do this one!
Ingredients:
1lb ground hamburger
1 egg, beaten
1 tsp seasoning salt
½ tsp garlic powder
4 small potatoes
1lb carrots
2 Tbsp olive oil
4 cheese slices
Directions:
Combine hamburger, egg, salt, and garlic powder until thoroughly mixed and mold four hamburger patties.
Slice carrots and potatoes into bite-size chunks.
Spray four pieces of foil with non-stick spray and add a bed of carrots and potatoes to the bottom of each.
Place a hamburger patty on top of vegetables and seal the packet with another layer of foil.
Set on coals for 20 minutes and then flip for another 20.
Open the foil, add a piece of cheese to the patty. Re-seal the foil and allow the steam to melt the cheese.
4. Tin Foil Monkey Bread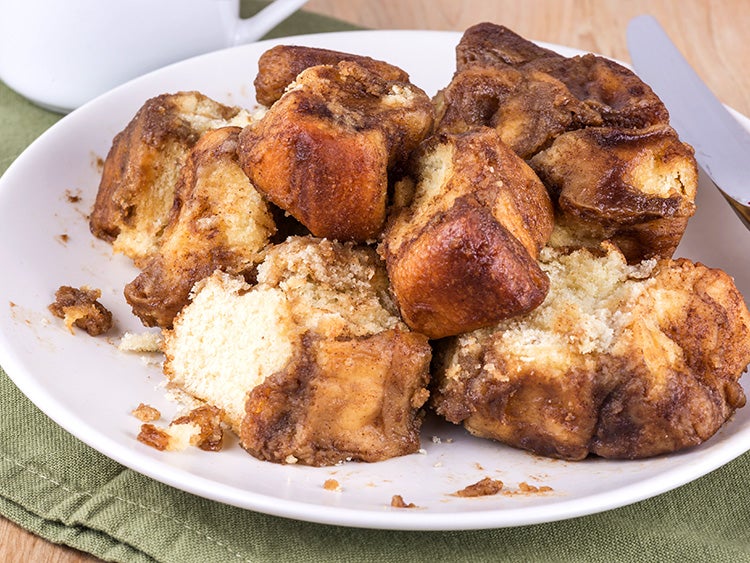 Who knew campfire foil recipes could get this sweet? Because carbs are life, this monkey bread will be the talk of the campground. In fact, you should probably at least double this recipe to make sure there's enough to feed the flock that will come after the sweet scent of sugar and cinnamon wafts through the campground.
Ingredients:
1 can of biscuit dough
¼ cup sugar
¾ cup brown sugar
1 tsp cinnamon
4 Tbsp cold butter
Directions:
Spray 2 large pieces of tin foil with cooking spray to prevent sticking.
Stir cinnamon and sugar together.
Break up the biscuits, cut each into four pieces, and coat in the cinnamon and sugar mix.
Put biscuits on one of the sprayed tin foil sheets.
Cut butter into small pieces and place between the cut biscuits.
Sprinkle remaining sugar and cinnamon mixture over the portions.
Cover with the remaining sheet of foil and cook over hot coals for 20 minutes or until biscuits are thoroughly cooked, turning frequently.
5. Campfire Trout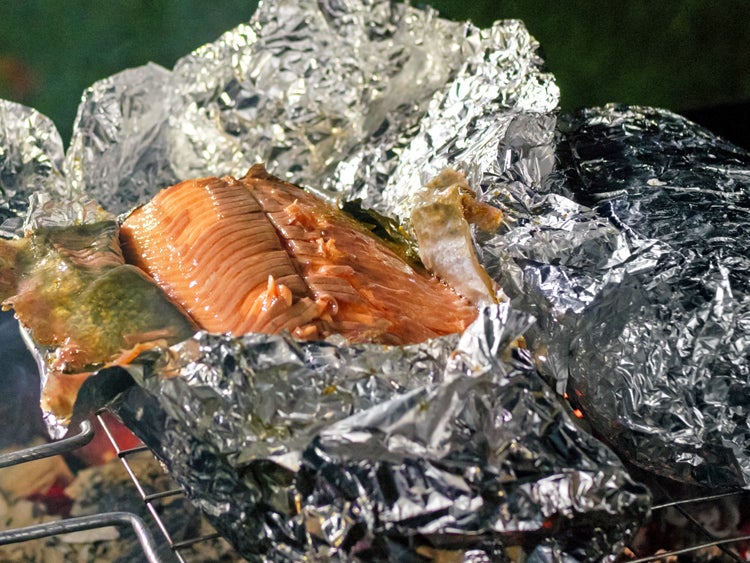 Of course, cooking fresh campfire trout depends solely on where you're camping. If you're camping near a river or lake, then this is one of the best campfire foil recipes in the book. I'm convinced there's nothing better than cooking a just-caught trout.
Ingredients:
4 fresh-caught trout, cleaned
1 clove garlic
1 green bell pepper
4 Tbsp butter, divided
Salt and pepper to taste
Directions:
Spray four pieces of tin foil with oil, and place one trout on each.
Season with salt and pepper; add 1 Tbsp butter, garlic, and green pepper to the cavity of each trout.
Tightly wrap each trout in tin foil. Place directly on, and under, hot coals.
Cook for 7-10 minutes until the flesh is thoroughly cooked and tender.
6. Philly Cheesesteak
This Philly cheesesteak recipe combines crowd-favorite ingredients like potatoes, veggies, and ground beef to create a yummy, cheesy, almost-indulgent campfire meal that the kids will ask for time and again. And it'll be hard to say no—this one of the quickest campfire foil recipes, taking less than 20 minutes to prep and less than 20 minutes to cook.
Ingredients:
2 large Yukon potatoes
1 large green pepper
½ yellow onion
6 oz. mushrooms
1lb lean ground beef
1 Tbsp Worcestershire sauce
2 Tbsp ketchup
½ tsp each paprika, onion powder, garlic powder
1.5t sp Italian seasoning
Sliced Provolone cheese
Directions:
Slice and dice all vegetables into bite-sized pieces and add to a bowl. Toss vegetables in olive oil until evenly coated.
Add veggies to oil-coated foil sheets.
Combine ketchup, Worcestershire, and seasonings to make the sauce.
Add beef to sauce and knead until thoroughly mixed.
Coarsely break beef apart over veggies until evenly dispersed.
Seal packets and place over the fire, turning every 5 minutes until cooked through.
7. Foil Packet Nachos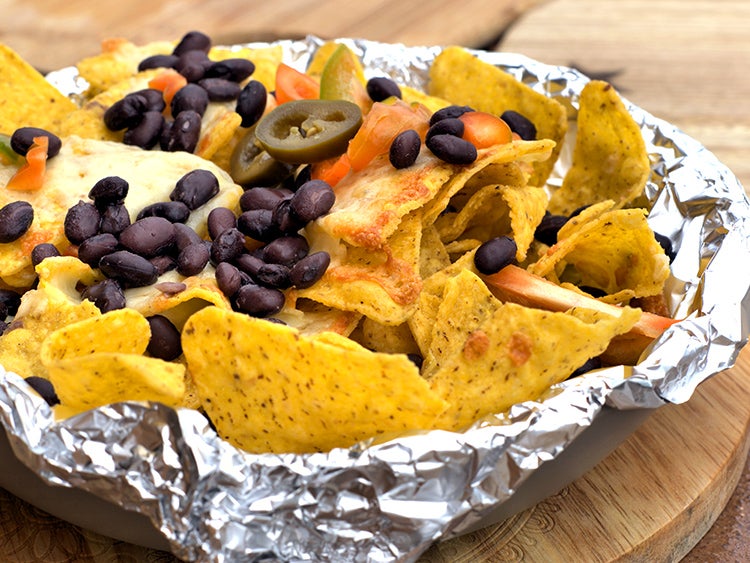 For anyone that loves a fat plate of nachos, the experience gets kicked up a notch when you're eating this favorite dish by a fire (watch out for the birds, as they're likely eyeing your nachos, too). These nachos are one of the easiest campfire foil recipes to make and even easier to eat.
Ingredients:
Tortilla chips
½ lb ground beef
Packet of taco seasoning
14-oz. can diced tomatoes
4.5-oz. can green chiles
14-oz. can black beans
½ diced onion
2 cups Mexican blend shredded cheese
Sour cream
Cilantro for garnish
Directions:
Brown beef in a skillet with taco seasoning. When almost brown, add diced tomatoes and green chiles.
Create rectangles with your foil and add a layer of chips to each.
Top chips with the beef mixture, divided among the foil packets.
Loosely add a top foil layer with a few holes to allow steam to release.
Place a few inches above coals and cook for 12-15 minutes.
8. BBQ Veggie Party Pack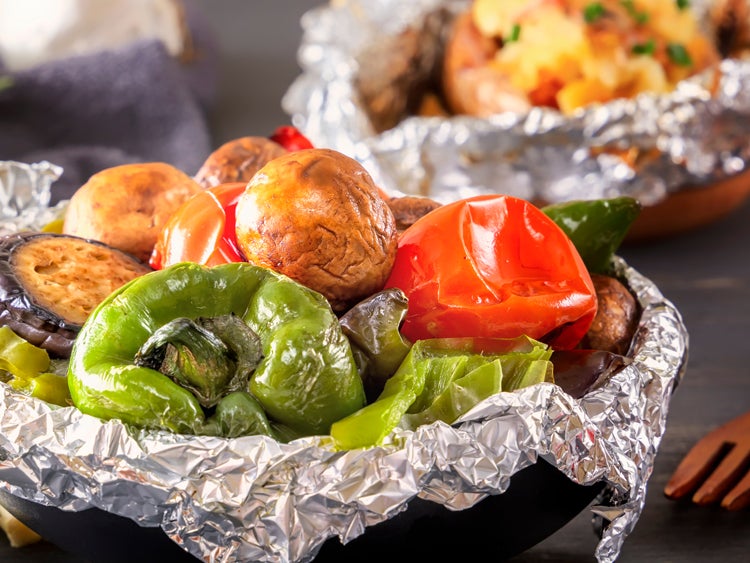 For all the veggie lovers out there, we present the BBQ veggie party pack! It's basically a kebab without the stick but with a whole lot of flavor. This is one of many tasty and simple campfire foil recipes, requiring only minutes of prep. It's guaranteed to be a crowd favorite .
Ingredients:
1 cup orange and red bell peppers
1 cup red or white onion
1 cup carrots
1 cup potato
1 cup zucchini
1 cup mushrooms
1 cob of corn (cut into 1-in pieces)
2 Tbsp olive oil
2 tsp liquid smoke
1 tsp lemon juice
1.5 tsp onion powder
1 tsp each cumin, smoked paprika, ancho chili powder
½ tsp each black pepper, ground coriander
¾ tsp sea salt
Directions:
Chop all vegetables and add to a large bowl. Add oil and seasonings; toss well.
Add a heaping cup of the mixture to each piece of foil and cover to create a packet.
Cook for 8 minutes on each side or until the carrots and potatoes are tender.
Serve with hot sauce or BBQ sauce for extra flavor.
9. The Original Campfire Tin Foil Dinner
Would this campfire foil recipes list be complete without the OG tin foil dinner? We didn't think so. Made with four simple ingredients, the campfire tin foil dinner is both tasty and unbelievably easy to make. You likely already have these ingredients, and if you don't, you won't break the bank purchasing them.
Ingredients:
1lb ground beef
1 large potato
2-3 carrots
1 onion
Salt, pepper, garlic powder, butter to taste
Directions:
Cut the potato into medallions and slice onions and carrots into long, thin strips.
Divide the ground beef into four portions and place on four pieces of tin foil. Top with potatoes, onions, carrots, salt, pepper, garlic powder, and butter.
Bring up the sides of the tin foil to create a packet.
Cook for 10 minutes on each side, until the meat is cooked to your desired level.
10. Cajun Shrimp Boil Foil Packet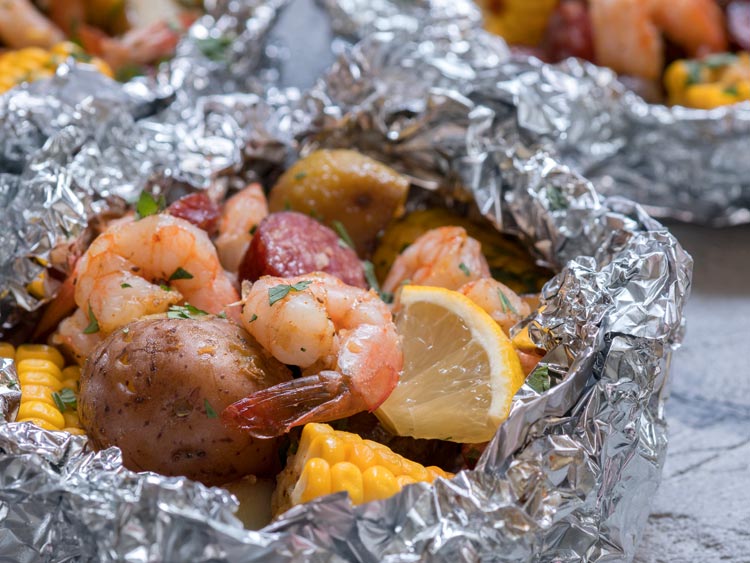 The Cajun shrimp boil foil packet combines shrimp, sausage, and plenty of veggies for one of the most well-balanced campfire foil recipes with enough flavor to pack a punch 'til Tuesday.
Ingredients:
1lb large shrimp, peeled and de-veined
6 oz. Cajun-style sausage
2 zucchini
1lb baby potatoes
1 medium corn on the cob (cut into 1-in pieces)
4 Tbsp butter
1 Tbsp Cajun seasoning
2 tsp seafood seasoning
Directions:
Melt butter. Place all ingredients in a large bowl, stirring to ensure all veggies, shrimp, and sausage are covered with butter and seasoning.
Put a mound of the mixture on each piece of foil, then cover with another piece of foil, making sure there's enough room for a bit of air and steam to circulate.
Place each serving on the fire and cook for 10 minutes on each side.
11. Blueberry Cobbler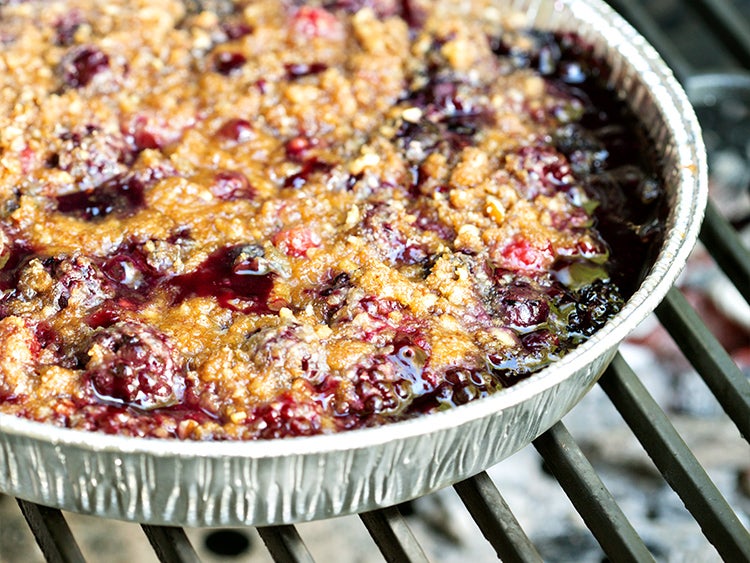 This campfire foil recipes list would be nothing without dessert! Even though we have previously published camping dessert recipe round-ups, we needed to add another one here, too. This blueberry cobbler is so ridiculously easy and tasty you'll probably want to make it even when you aren't camping.
Ingredients:
4 cups blueberries
¼ cup sugar
2 Tbsp all-purpose flour
1 can biscuit dough
Optional: ice cream
Directions:
Rinse blueberries, transfer to a mixing bowl, and add flour and sugar
Add blueberries to an 8-in foil pan. Cover with foil and set over coals for 10 minutes, stirring briefly.
Cook for another 5-10 minutes, then add a layer of biscuit dough.
Cover and cook an additional 5-10 minutes until biscuit layer is golden brown.
Serve with ice cream, if you can keep it cold!
Popular Articles: