This article on mythical beasts is brought to you by our friends at Midland USA. Use a portable power station to power all of your high-tech equipment for your creepy creature stakeout. 
---
Stories of mythical beasts and creatures that wander the wilderness exist all over the world. Spooky sightings are shared around campfires and passed along to other campfires. Grainy videos are pored over on Youtube. The stories inspire curiosity, wonder, and even a little fear.
Mythical beasts do tend to roam in places that are hard to reach. But sitings can happen in more accessible places, too — like our national parks.
Encounter Mythical Beasts in the National Parks They Call Home
You need to be prepared to document the inexplicable. These creatures are experts at disappearing into thin air, leaving you wondering if you really saw what you think you saw.
Fill your favorite hiking pack with these creature research essentials:
Camera and audio recording device
Pen and paper
Plaster of Paris for documenting tracks
Tweezer and bags for collecting evidence
Don't forget to bring a friend or two — it will help to have witnesses to corroborate your story
Walkie talkies — no cell service? No problem! Stay connected with your friends while chasing creatures of the night
Whether you're a Big Foot believer or simply enjoy a well-told tale, these national parks could very well be home to the beasts of legends.
Get ready for the Monster Mash because we're about to do the Transylvania Twist with some wild mythical creatures.
We'll kick things off with the most famous mythical beast of them all: Bigfoot. This hairy, giant ape-like creature roams the wilderness leaving behind only a foul aroma and massive footprints.
The Bigfoot Field Researchers Organization has nearly 700 documented sightings in Washington state — with the most recent reported sighting in July 2018.
Olympic National Park in Washington is a unique and diverse wilderness. The nearly one-million acre park has been shaped by thousands of years of geographic isolation. The steep glacier-capped peaks, thick old-growth temperate rainforest, and 12 to 14 feet of annual rainfall make this wilderness rugged and challenging for human access — and perfect for the elusive Bigfoot to call home.
Camp under the thick green canopy of moss covered spruce and hemlock at the Hoh Rain Forest campground. The Dyrt camper Diane N. writes, "There are more shades of green than there are names for them, and the moss that grows everywhere makes you feel like you have entered a fairy tale forest."
The Dyrt camper Xoe M writes, "I kept expecting fairies and unicorns to cross the road. While we didn't see any mystical creatures, we did see elk, ducklings, slugs, deer, and ravens."
You don't need to break into Area 51 to spot UFOs, extraterrestrials, and other out-of-this-world mythical beasts. Located in the shadow of the ancient Sangre de Cristo Mountains, the Great Sand Dunes National Park is known to attract otherworldly visitors.
The park is home to a diverse landscape including North America's tallest sand dunes. Visitors can hike, splash in Medano creek, camp, and soar down sand dunes on sleds. (Aliens may find this behavior bizarre, but we think it looks like a blast.)
Sleep among the dunes at The Dunefield campground. The Dyrt Rangers the Switchback Kids said this was one of their favorite campsites after visiting all 59 national parks! They write: "True wilderness: just you, your tent, and the sand…One of the most serene and unique camping experiences we have had. Once we crossed over the day use area, it was like being in another world."
With UFO sightings dating back to Spanish Conquistadors in the 1600's, the dunes and surrounding valley are a hotbed of UFO sightings and paranormal activity. The Valley even has it's own UFO watchtower , from which over 70 sightings have occurred since 2000.
Like the Sanderson Sisters from Hocus Pocus, Spearfinger is a witch known for coveting delicious youth. Originating as Cherokee lore, she is also called U'tlun'ta which translates to "spear finger," referring to her long, dagger-like stone finger.
According to legend, she would disguise herself as a feeble old woman to lure children close, then used her spear finger, sharp as an obsidian knife, to steal their livers. She prefers the cover of fog to catch her victims when they wander off to drink from a stream or pick berries on the outskirts of the village. But in the Fall, she would be drawn to villages by the smoke from brush fires set by the tribe. Every Fall, villagers would burn entire mountainsides to easily find and harvest the roasted chestnuts. This made it easy for Spearfinger to find them and feast on her favorite cuisine: liver.
Spearfinger is said to roam the mountains of eastern Tennessee and western North Carolina, much of which is now a part of Great Smoky Mountains National Park. With over 150 known cemeteries dotting the misty ridge lines, the Smokies are a regular backdrop to spooky tales. These ancient mountains are full of history, diverse flora and fauna, and breathtaking views.
The Dyrt campers recommend Gee Creek campground, a primitive campground located on the Hiwassee and Ocoee Rivers.  If you like to keep your feet dry, then check out one of the nearby hiking and biking trails. The Dyrt camper Shari G., enjoyed a "lovely bike ride along the backroads of Appalachia. You are sure to meet some nice folk, as well as some real characters, in these mountain hollers."
If you find yourself in one of those mountain hollers when the fog begins to roll in, and you catch a glimpse of an old woman with a lone raven singing a haunting song — you may be in the company of Spearfinger!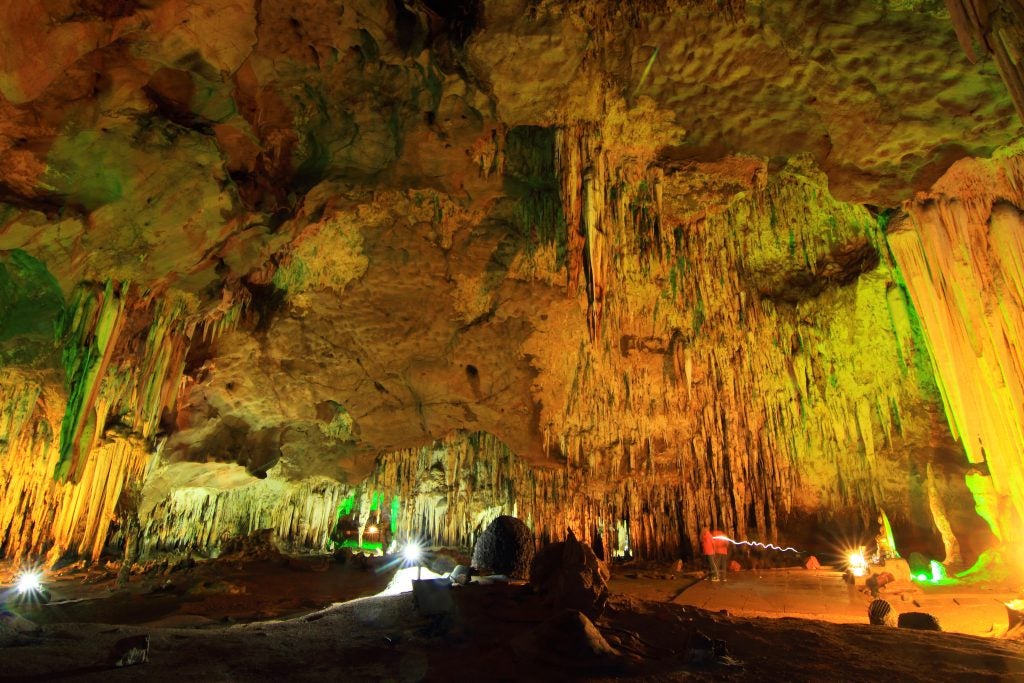 Have your own X-Files experience at Kentucky's Mammoth Cave — the world's longest known cave system. Guided tours have been offered at Mammoth Cave since 1816, making it the nation's second oldest tourist attraction, after Niagara Falls. More than 400 miles of vast chambers and intricate labyrinths have been explored, but there are still unexplored dark corners where mythical beasts could easily be lurking in the shadows.
Before the caves were a tourist attraction, they were used by Native Americans for thousands of years. Ancient artifacts and petroglyphs have been discovered in the cave — many of them 4,000 to 2,000 years old!
It was used as a saltpeter mine (used to make gunpowder) during the War of 1812. After the war, the cave was used for a physician's experiment. The doctor believed the cave's constant temperature and humidity could heal those suffering from consumption (tuberculosis). The experiment ended in failure after several patients died in the cave.
By the mid-1800's, the cave had become a tourist attraction and young slaves worked as guides. One of those guides was Stephen Bishop. According to the National Park Service, Bishop was "became one of the most celebrated guides in Mammoth Cave's history." Bishop's ghost is allegedly still exploring the caves and has been seen following tour groups.
The caverns at Mammoth Cave National Park have been called "the most haunted natural wonder in the world." The cave's mystery along with its sheer size has fueled legends and explorations for centuries.
Camp Mammoth Cave campground for easy access to the visitor center and cave tours. The Dyrt camper Stephanie T. went on a cave tour and writes, "If you aren't afraid of cramped dark spaces, squeezing through tight spots and darkness, try the wild cave tour. Otherwise go with the easier historic tour."
Wailing women are a common theme in folklore. The origin of the banshee comes from ancient Ireland. Known for their chilling wail, a banshee is a spirit of a woman that was murdered or died from childbirth.
The Badlands Banshee is said to perch on top of Watch Dog Butte. Legend has it that she is the ghost of a murdered woman who lures people close by mouthing a question no one can hear. Once you get close enough, she chills you to your bones with her blood-curdling scream, flailing her arms as she disappears in plain sight, then reappears — still shrieking — on top of the butte.
In 1864, General Alfred Sully described the Badlands as "Hell with the fire gone out." The labyrinth of canyons and towering rock spires give the park an ominous aura. However, the striking rock formations and rugged landscape of Badlands National Park have drawn visitors and archaeologists from around the world. The region is the remains of a dried up sea floor and home to one of the world's richest fossil beds.
When you're not distracted by wails of sorrow, you can enjoy stargazing at Badlands National Park, where up to 7,500 stars are visible on clear nights. The Dyrt camper Celina M. set up camp at Cedar Pass campground. She decided to sleep without  a rainfly for a better view of the Milky Way, and writes, "The Badlands provide a dramatic landscape during the day and one of the most incredible skyscapes at night."
The Dyrt's Ever-Expanding Guide to Camping in National Parks
No mythical beast list would be complete without including this creature from the south. Its name translates to "goat-sucker."
Stories of the Chupacabra sightings were rampant in the mid-1990's when farm animals, usually goats, were found with their bodies intact but entirely drained of blood. Eyewitnesses often describe it as hopping around on two legs like a kangaroo with scaly reptilian skin, large red eyes, long fangs, and sharp spines running down its back.
The Chupacabra quickly reached levels of fame comparable to Bigfoot. In August of 1995, at least 150 farm animals were killed near the town of Canóvanas, Puerto Rico. Each animal was left unscathed except for vampire-like puncture marks and the complete absence of blood. The beast has been terrorizing farm animals and making headlines ever since. Sightings of chupacabras in Puerto Rico's El Yunque National Forest are so common that the U.S. territory is also known as Chupacabra's Island.
El Yunque is the United State's only tropical rainforest. Canóvanas, the town where the majority of original sightings and animal attacks occurred, is located on the border of El Yunque. This national forest is one of the smallest, covering 29,000 acres, but it's also one of the most biologically diverse. It is home to thousands of plant species and hundreds of animal species — many of which exist nowhere else in the world.
Camp in El Yunque National Forest and enjoy the many hiking trails, waterfalls, and evening choir of tiny tree frogs. Visitors can hike the Mt. Britton trail to a stone tower built by the Civilian Conservation Corps in the 1930's. From the tower you can take in panoramic views of the surrounding rainforest, the Caribbean Sea, and the Atlantic Ocean. El Yunque is a "gentle jungle" since it has no mosquitos or poisonous snakes. So you can focus on worrying about the chupacabra.
Popular Articles: