We are not the kind of people who can wake up and go for miles after only a trail bar or a handful of nuts and dried fruit. We need the energy found in whole meals, especially when exploring the outdoors.
Hearty Breakfasts for the Campground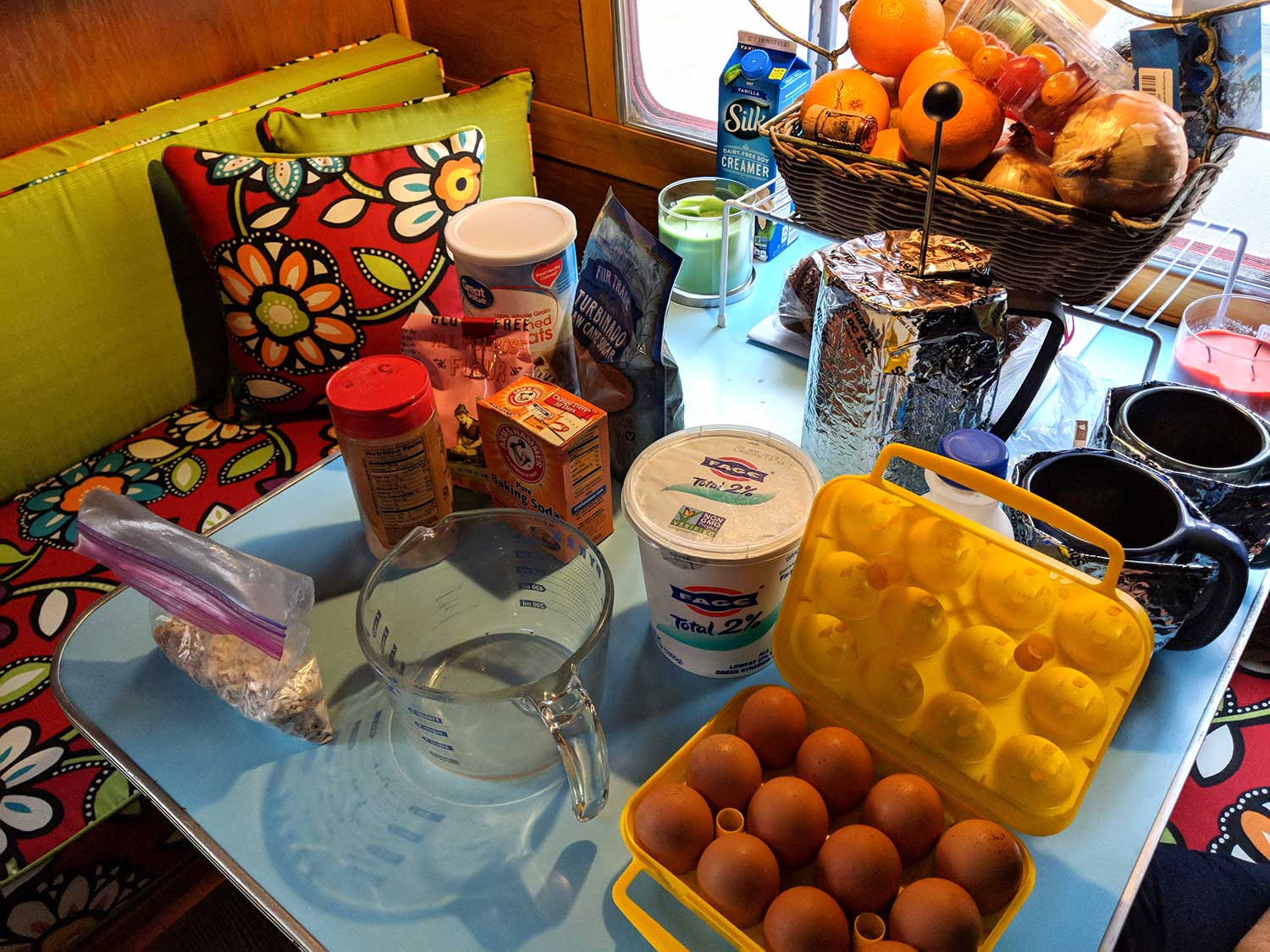 For campers like us — those who are looking to fill up on energy before a big day on the trails or exploring the region around your campground — these easy breakfast recipes are just the thing. We've listed them from simple to complex, though none require any serious cooking skills.
1. Blueberry Chia Almond Oatmeal Recipe
This easy breakfast is perfect for early mornings. This meal can be made the night before and involves no cooking. You can even speed up the process by pre-mixing the dry ingredients before leaving home. Unlike instant oatmeal, cold cereal or other quick camp breakfast recipes, this meal will actually fill you up and keep you going for hours because it's packed with plenty of protein, calories, and fiber. Do note–this is gluten-free and vegetarian, and can be made dairy-free too. This easy breakfast recipe serves two hungry campers.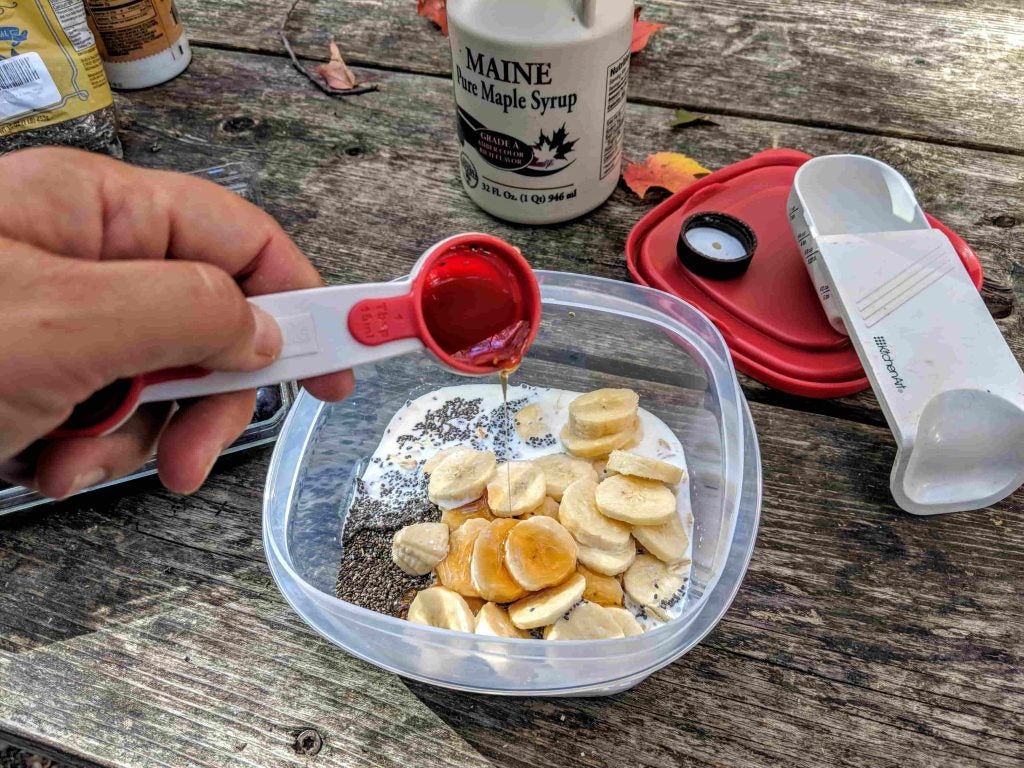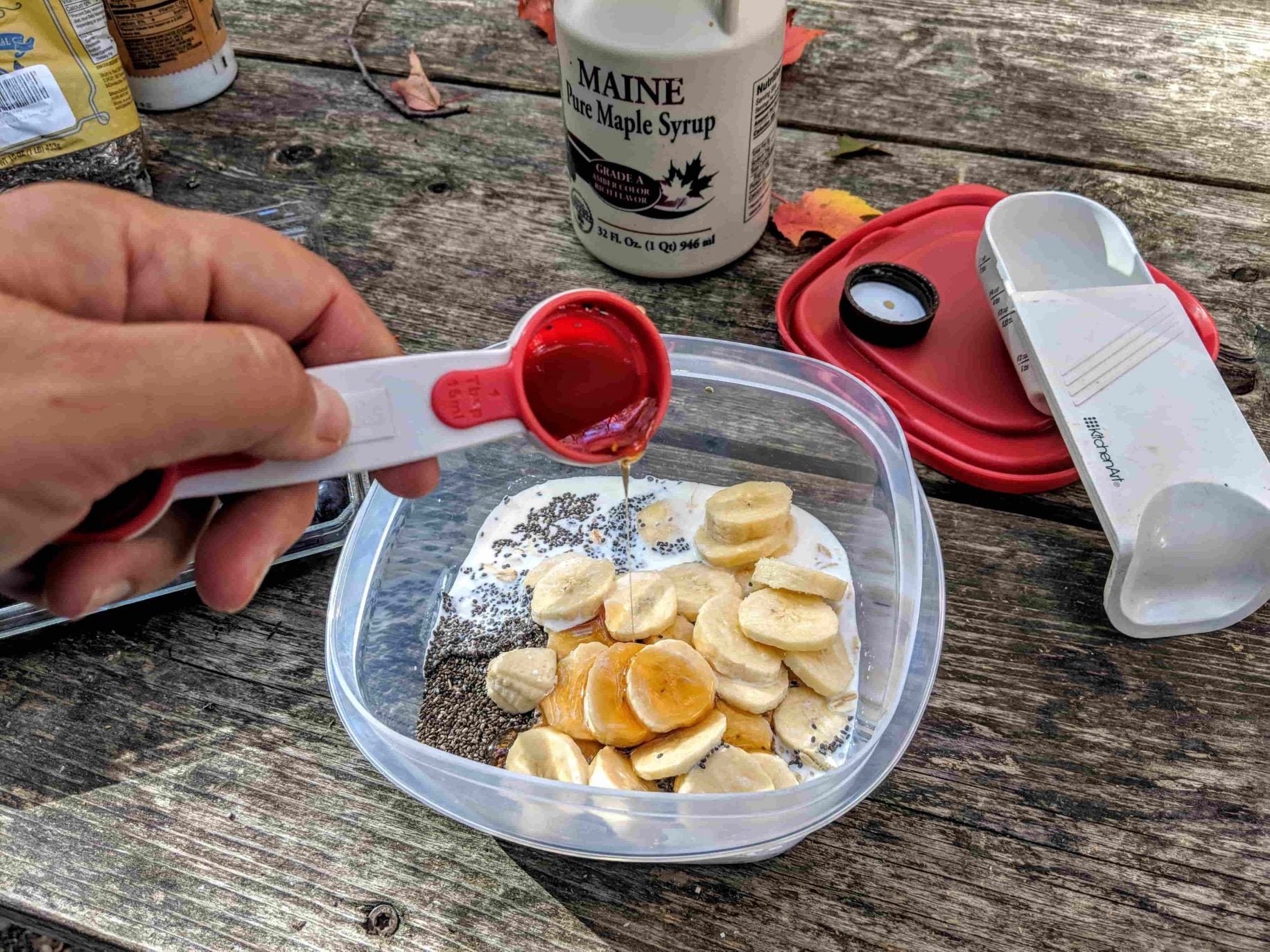 Mix together the following ingredients and store in an airtight container in your cooler or fridge overnight:
2/3 cup whole oats
4 tablespoons chia seeds
One banana, sliced
1 cup milk (can be dairy or dairy-substitute)
1/2 cup blueberries (also great with peaches, strawberries, etc.)
1 1/2 tablespoons real maple syrup
1/8 teaspoon salt
1/4 cup sliced almonds (mix in just before eating to keep them crunchy)
If you substitute strawberries for the blueberries, try adding a handful of dark chocolate chips to the mix for a delightful dose of extra flavor.
---
2. Killer Egg Sandwich Recipe
This is like an Egg McMuffin turned up to eleven. We can make two egg sandwiches in about 10 minutes and they are delicious, loaded with hearty ingredients, and will keep us going until lunch. This is one of the easiest breakfast recipes you can enjoy around a morning campfire.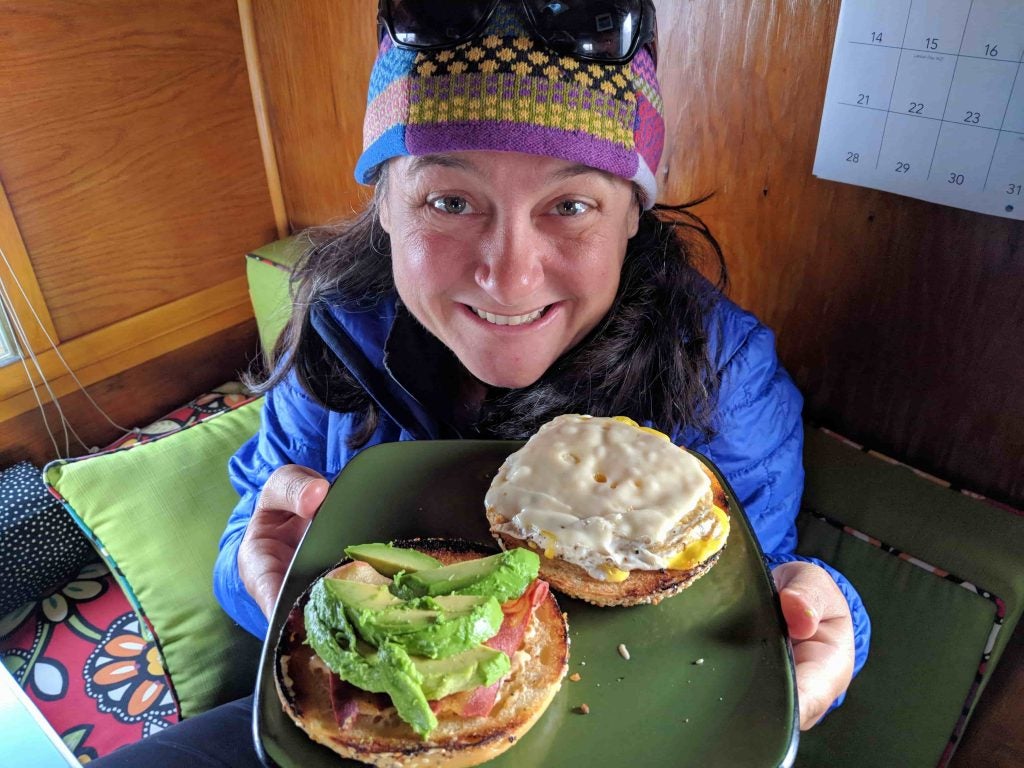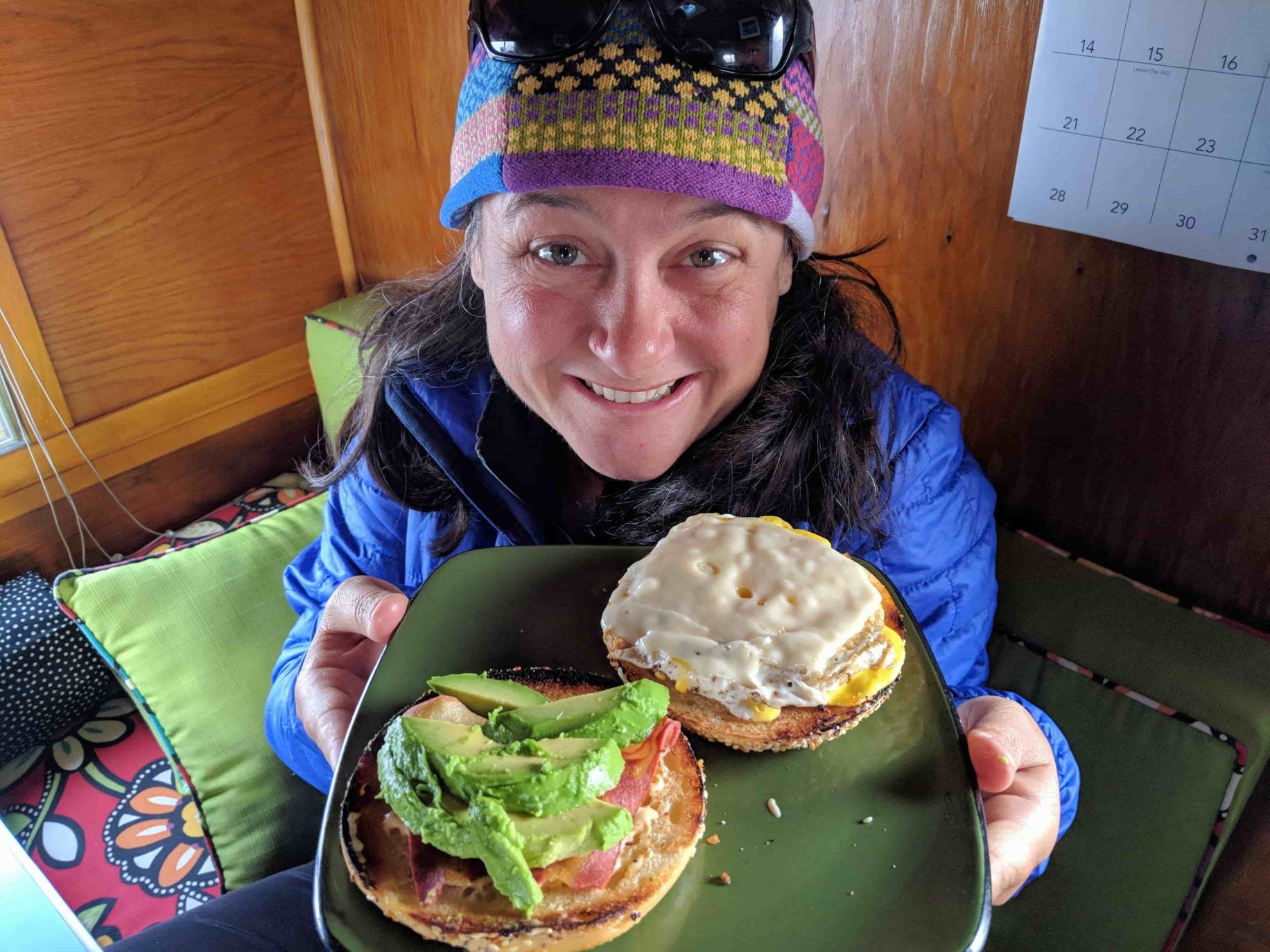 Toast up an English muffin or bagel in a pan.
Fry an egg and add a slice of cheese, then cover to melt it all together.
Add a slice of tomato and avocado, and dress with Sriracha Ranch dressing.
---
3. Breakfast Burrito Recipe
Who doesn't love holding a piping-hot soft tortilla of egg and cheesy goodness on chilly morning? This versatile and easy recipe is a winner, and you can make good use leftovers from a previous burrito dinner. This portion feeds two hungry hikers.
Chop and sauté one medium sized onion.
Beat one to two eggs per person, season with salt & pepper, scramble with the onion, cover with shredded cheese and keep warm.
Heat one drained can of seasoned black beans and keep warm (or use leftovers from your burrito dinner!)
Heat tortillas on a griddle, load with the eggs, beans, Greek yogurt, salsa, avocado, or anything else you could imagine that sounds good in a breakfast burrito!
---
4. Breakfast Quesadilla Recipe
Kick your breakfast burrito up a notch and put it all in between two layers of melted cheese and toasted tortillas. We made this easy breakfast recipe for the first time up on Sahale Glacier, about 7,000 feet above North Cascades National Park, and started calling them "Sahale-dillas." It'll take your next backpacking breakfast up a few notches!
Rehydrate dried black beans and prepare dehydrated hash browns according to the package directions.
Scramble one to two eggs per person and melt cheese on top.
Layer all ingredients between two tortillas, and pan fry until golden brown.
Serve with Greek yogurt, avocado, and hot sauce.
---
5. Protein Packed Pancake Recipe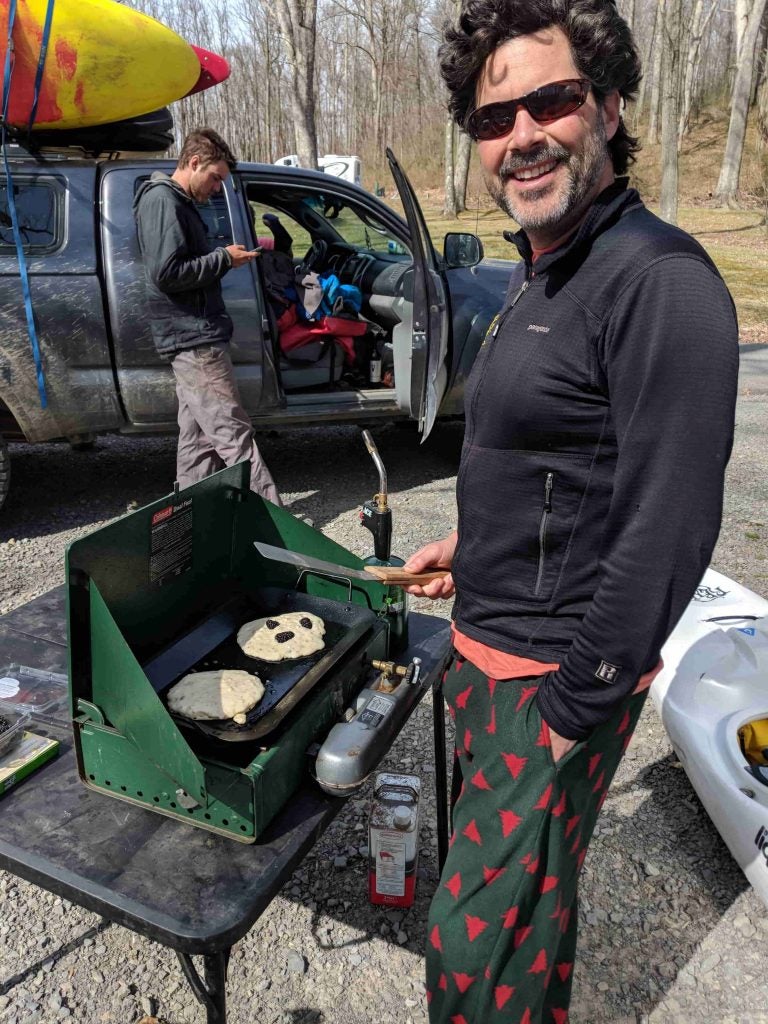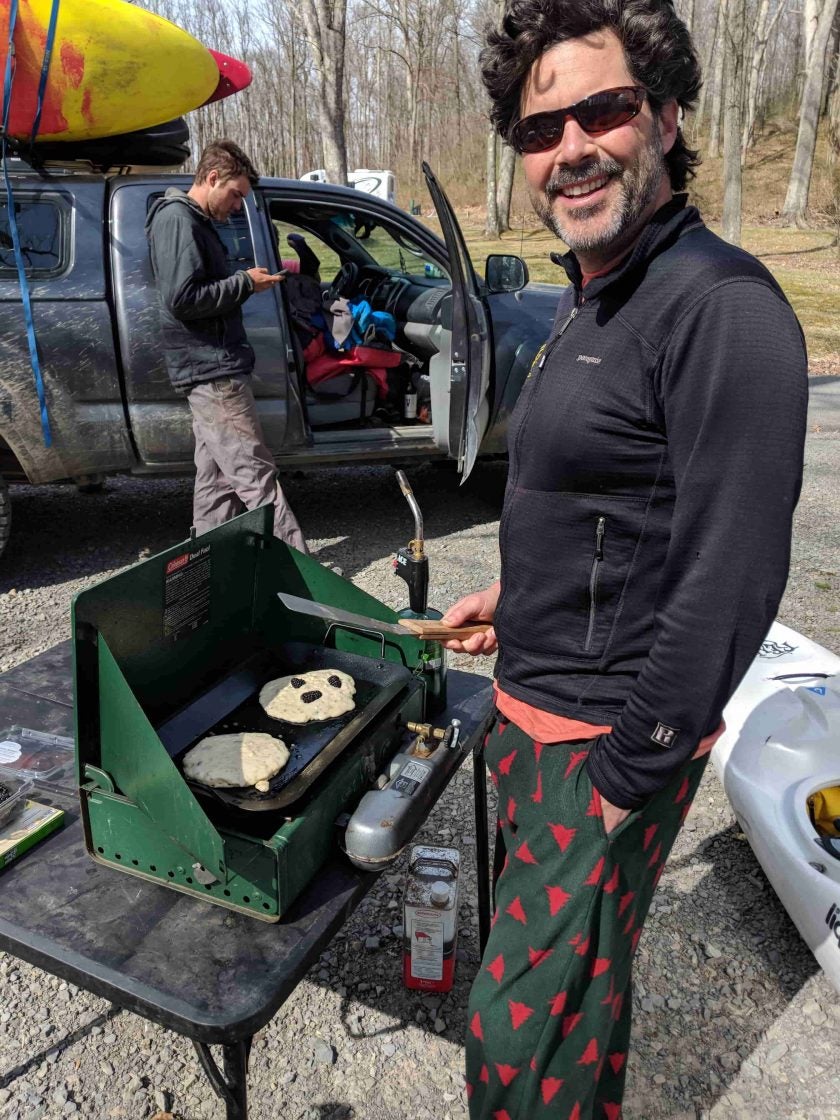 This recipe has replaced all pre-made mixes for us and gives us energy to keep moving all morning. Save some time by mixing the dry ingredients in an airtight container or ZipLock bag before leaving home, then add the wet ingredients just before the griddle is ready. This recipe is easy to make gluten-free, and they'll taste just as delicious! This portion serves two hungry campers.
Dry Ingredients:
3/4 cup oatmeal (whole oats, not quick oats)
1/4 cup all-purpose flour (can be gluten-free)
1/2 tablespoon sugar
1/2 teaspoon baking soda
1/2 teaspoon salt
Wet Ingredients:
1/2 cup plain Greek yogurt
1/2 cup low-fat milk
1 tablespoon coconut oil
One egg
Add nuts, fresh bananas or blueberries, or chocolate chips for some extra fun flavors and crunch (sometimes we just add trail mix!) and, of course, your choice of syrup.
---
6. Root Vegetable Hash on a Bed of Spinach, Topped with Fried Eggs & Avocado
This is a great breakfast recipe for a fall camping trip, especially when you plan to hang around the campground for a bit before heading out. It takes a small chunk of time to prepare the hash, but is totally worth the wait! Two to three hungry campers will be satisfied by this easy breakfast.
Chop one medium onion, three small beets, and one large sweet potato into small cubes.
Add veggies and 1/2 cup of water to a deep-dish frying pan.
Cover and simmer until water is boiled off and veggies are soft.
Add 1-2 tablespoons coconut or olive oil and sauté on a griddle or over a campfire until caramelized.
Set aside, but keep warm.
Fry up one to two eggs per person.
Serve the hash on a bed of fresh spinach greens, top with fried eggs, and sliced avocado.
Popular Articles: