We love the simplicity of camping. It helps us get outside and reconnect with our primal nature. Everything takes a little longer, and that's okay, because we have no where to be, and no time constraints — just simple living. One key to embracing that simplicity is a seamless camp food plan.
If you're new to camping, the idea of cooking meals can seem foreign. There are so many moving parts: what type of food, how much food, and how to cook it? What can you make without a kitchen full of gadgets? Do you just go to the camp kitchen section of REI and purchase one of everything?
You could, but that might defeat the whole "simplicity" thing.
A 6-Part Guide to Simple Camp Food Plans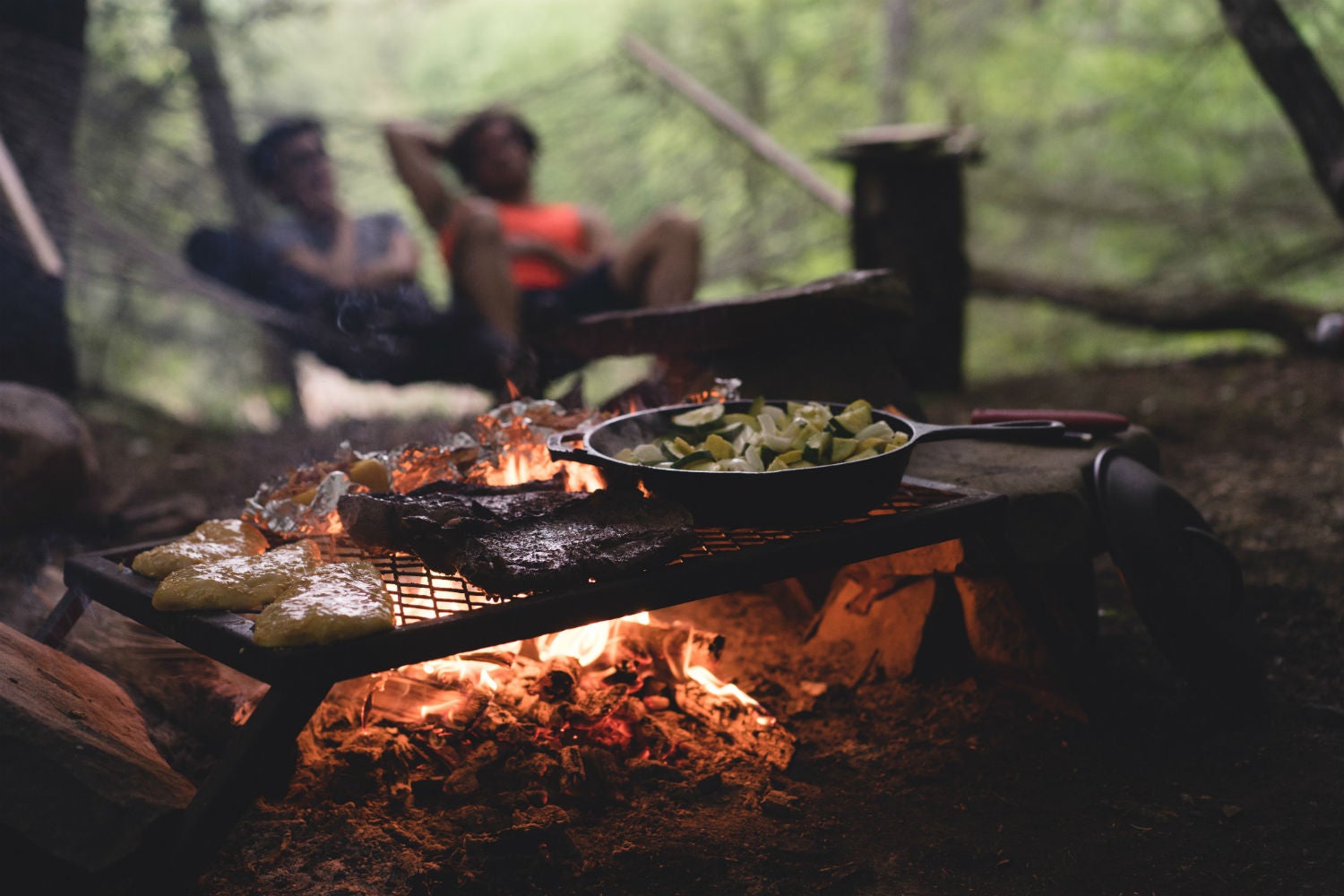 We put our heads together to determine what you need to create the perfect meal plan for your camping weekend getaway.
1. Methods For Camp Cooking
Before you dive into your meal plan, think about the different options available for cooking at your campsite. Will there be a fire ring? Some campgrounds have grills on site — does yours? What kind of fuel will you need to bring?
Dutch Oven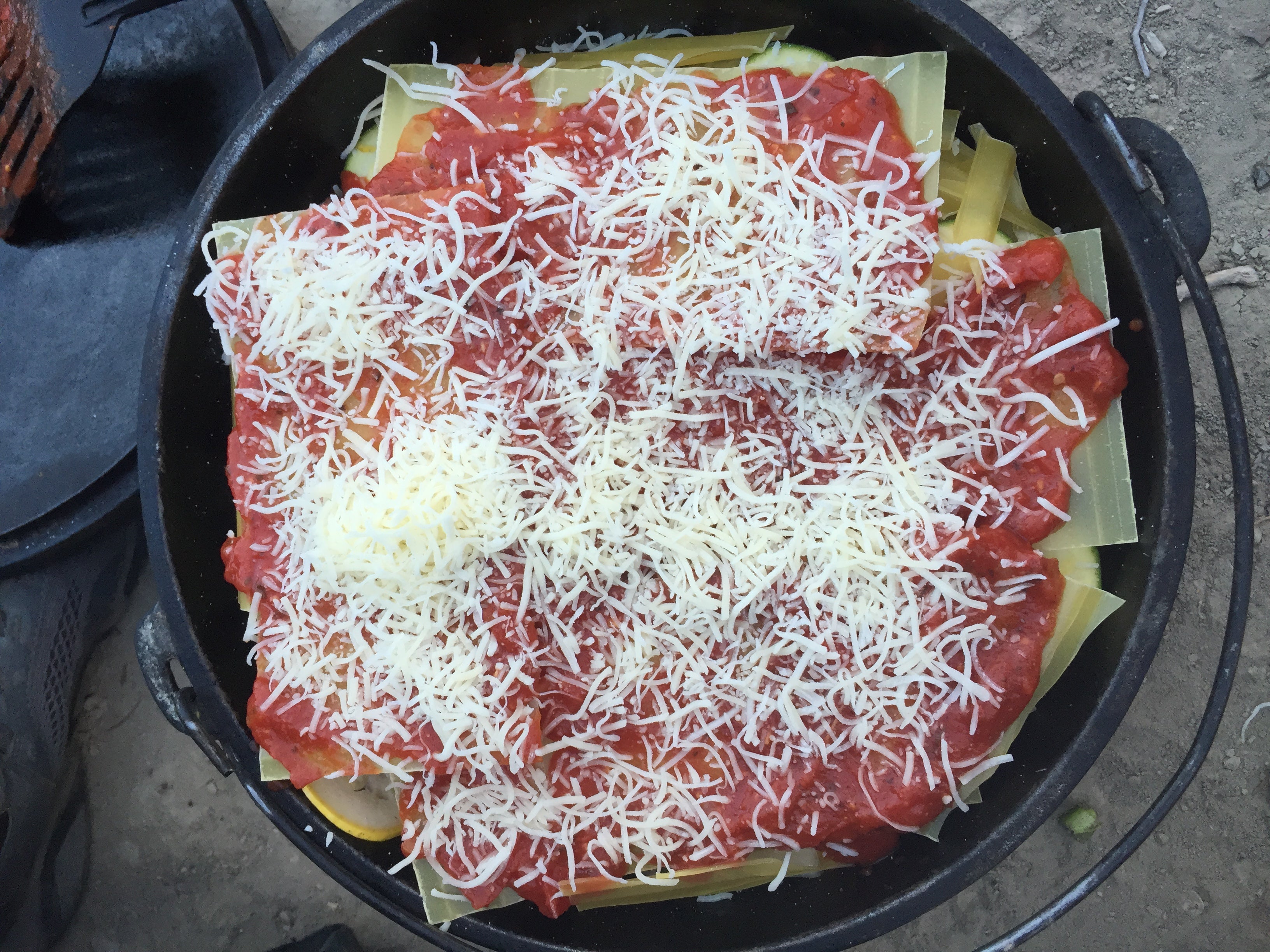 If you own a Dutch Oven, you're probably aware of its magic. Dutch Ovens are the simple one-pot meal solution to camping with few resources. They're seasoned, thick, cast iron cooking devices with a tight-fitting lid. And the camp food options are endless. You can make enchiladas, lasagna, and all kinds of dutch oven desserts. But they're also heavy, so if you're lugging your camp kitchen far, this might not be the best option.
Tips for cooking in a Dutch Oven:
Bring olive oil to coat the interior
Don't use soap to clean the pot, it will ruin the seasoned coating
To clean, simply wipe out food with a damp cloth
A wire brush is helpful for removing coal ash from the lid
Lift the top evenly to not spill ash into your meal
Campfire Coals
Cooking camp food over coals is my personal favorite way to make meals at the campground. Like the Dutch oven, cooking over fire coals requires little prep and clean up. There are plenty of recipes online, but you can't go wrong by throwing diced vegetables, protein of your choice, butter, salt, and pepper into a foil packet — then cooking them over the coals.
To cook over coals, build a campfire in advance, and let it burn long enough that the flames have died down and the embers in the center of the fire are glowing hot.
Tips for cooking over campfire coals: 
Throw all your ingredients into a foil packet
Move bigger logs to the side of the fire, and create an even bed of coals
Add enough butter to keep vegetables from sticking to the aluminum
Rotate foil dinners every 10-15 minutes to ensure even cooking
Camp Stove
The most common camp cooking apparatus is the stove. There are plenty of manufacturers out there, and we love Primus. (Did you know one of their camp stoves accompanied Sir Edmund Hilary on his ascent of Mt. Everest?). Each company offers different options from simple one burners to complex grill set-ups.
2. Keep the Food Simple
Think about what you like to eat at home, find a simple version, and apply that to your camping meal plan. If you love meatloaf and mashed potatoes, you can make meatloaf on coals, and add hot water to Idahoan Mashed Potatoes. For snacks, consider purchasing trail mix in bulk, chips and salsa, and a precut veggie tray to make daytime snacking healthy and easy.
Some great simple camp food options? Spaghetti, breakfast hash, sloppy joes, hamburgers and hot dogs, stroganoff, or the ever classic PB&J. If you're looking to keep it super simple, try freeze-dried meals like the Mountain House Italian Style Pepper Steak with Rice and Tomatoes, or Macaroni and Cheese. You'll only need to boil water, and if you are keen to eat out of the pouch, your only clean up will be finding a trash can.
Tips for simple camp cooking:
Integrate similar ingredients into every meal to reduce the amount of groceries you're lugging to the campsite
Dice vegetables ahead of time for less outdoor prep
Throw a bunch of random canned soups into a pot for "Whachagot Soup." 99.9% of the time it turns out delicious
Hamburgers and hot dogs require minimal prep and cleanup, and are fun to cook over the fire
3. The Setup
There's that old saying, "Bring everything but the kitchen sink!" That 100% does not apply to camping! The fewer camp food items you bring, the fewer you have to dig through to find the right one, and the fewer you have to clean after. Think about the essentials: pots, pans, knives, cutting board, spatula, and a space for cooking. Check in with your campground ahead of time to ensure there are picnic tables at each site. If there aren't, bring your own camp table. It'll not only come in handy for cooking, but for card games afterwards.
4. Consolidate your Condiments
It seems like a good idea to bring the entire bottle of ketchup until you can't fit it next to your six pack of beer. Try to transfer appropriate amounts of your favorite condiments to smaller bottles or containers, or purchase the smallest version and reuse the container next time. You'll reduce space in your food bin, and also free up room in the cooler for the things that really matter. To keep oil and other condiments from spilling, try these reusable silicon containers from humangear.
5. Where to Keep Your Camp Food
Obviously your cold food needs to be kept cold in a cooler, but where does all your dry food go? Compartmentalized camping helps keep things organized, and prevents added stress when you can't find the last ingredient for the Dutch Oven lasagna. Keeping all your dry camp food in a one closed bin will also help prevent critters invading your campsite in the middle of the night to find leftover morsels.
If you're camping in bear country, consider using a bear canister to protect your food and your campsite. Bear canisters help conceal smells from food, toothpaste, and anything else that could be enticing to animals. Some areas require bear canisters, like Yosemite National Park and Teton National Park, so check with the campground ahead of time to be prepared. (Most campgrounds that require use of bear canisters will provide them on-site.)
---
Related Reading:
---
6. Camp Clean Up
In the interest of Leave No Trace, keep your campsite clean. The cleaner your campsite, the fewer rodents and other critters you'll find lurking in the bushes, waiting for crumbs to drop. It's also an important consideration to other campers. If you leave food out on tables, you can draw in larger animals that most campers don't want to run into.
Bring two to three buckets for your dishes (unless the campground has a dishwashing station, which some do) to accommodate the gray water, clean water, and sanitizing. Also pack a few trash bags — you'll need them. We recommend using eco-friendly soap, like Dr. Bronners Castille Soap (which can also double as body wash). When finished with your dishes, strain out food scraps from the gray water, then spread the gray water over a large area. Make sure you're at least 200 feet away from a water source, and other campsites.
If there isn't a dishwashing station at camp do not do your dishes in bathroom sinks or at a drinking faucet, unless you want to deal with an angry camp host.
10 Campground Meals You'll Love
Not sure where to start? These recipes will get you started and make you hungry!
And More Food Inspiration from The Dyrt…
Hungry yet? Here are even more campground cooking ideas:
Popular Articles: