If you are already a Hipcamp host, or if you use another hosting platform like Airbnb to host overnight guests in tents, RVs, glamping sites, cabins, yurts, etc, then you're in the right place! Property owners just like you have found a lot of success using The Dyrt's commission-free hosting program. 
It isn't that those other hosting platforms are bad—but we believe that we are doing things better. With The Dyrt, there is no cost to join, no commissions on your bookings, and we have fewer requirements to get you started. This means you could be up and running today!
Now that we have your attention, let's take a look at the 9 best reasons to start hosting with The Dyrt.
---
1. Commission Free Bookings = More Money for the Host
Since the boom of the "sharing economy," there are a lot of platforms out there you can use to host your property. But The Dyrt is the first and only platform to take zero commission from hosts on every booking you receive with us. This means more money in your pocket, plain and simple. 
---
2. It's Free to Join The Dyrt
Some platforms will charge you to gain access to their community. However, with The Dyrt, you'll gain access to one of the largest and most active outdoor communities in the industry. The Dyrt and our incredible community has generated more than 4 million reviews, and has over 50,000 campgrounds listed (at the time of publication).
As soon as you become a host, you'll have full access to this community for FREE. Plus, you don't even need to download The Dyrt app to join (iOS app / Android app), everything you need is available on our website. New hosts can get started by claiming your property on The Dyrt today.
---
3. You Control Your Listing (But We Can Create it For You!)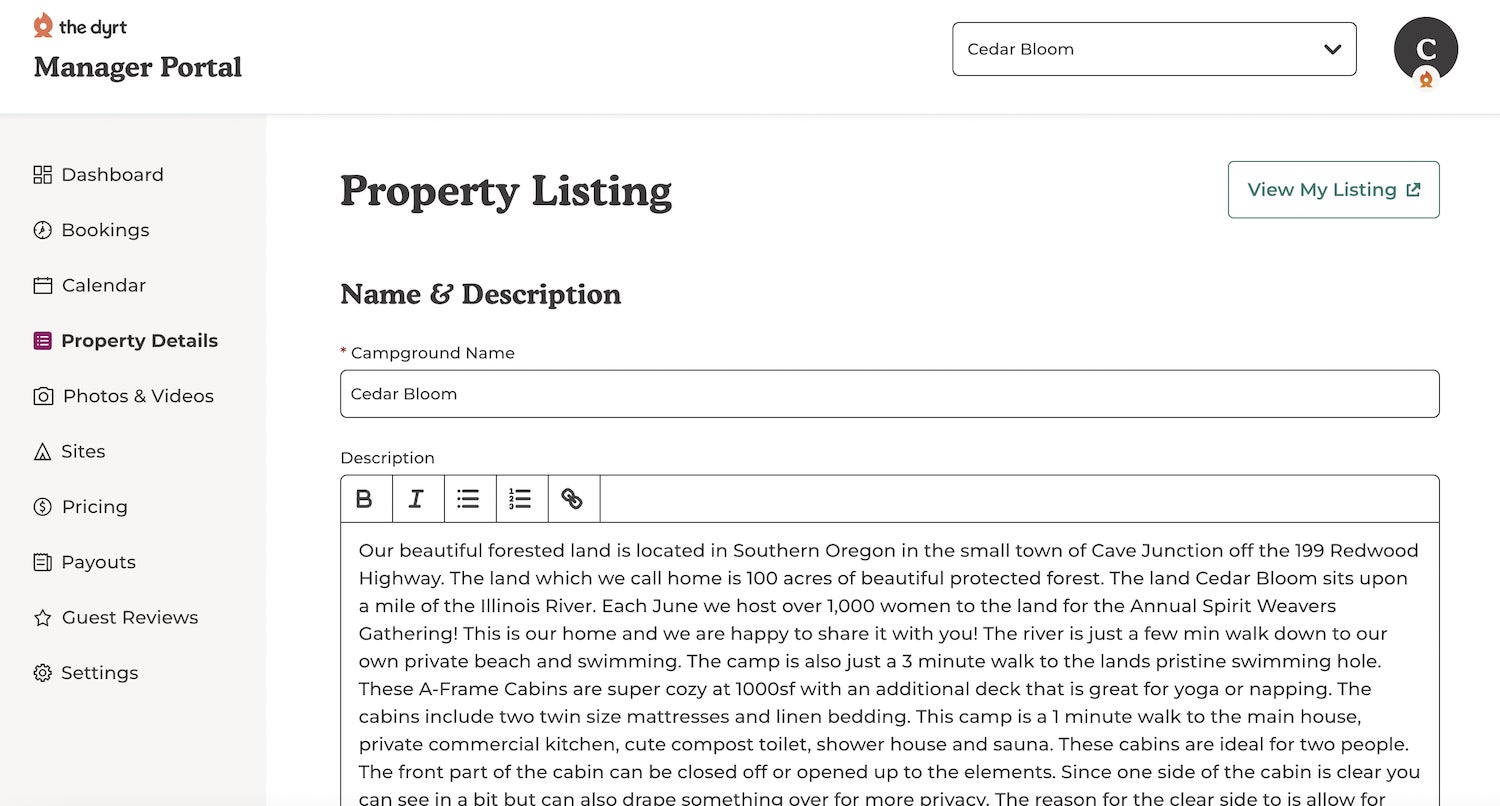 If using computers is not your strongest skill, then we are here to help. The Dyrt can actually create your listing for you! Seriously, you can email our team at campgrounds@thedyrt.com and we will do the work for you. We'll create a new listing on The Dyrt, give it a name of your choice, list all of the amenities you have on-site, add contact information, etc. It doesn't get easier than that.
Once your listing is live on The Dyrt, and you have officially "claimed" it (we can help you with this step too), then the customization fun can begin. You will be able to have complete control of your property listing, details, and more.
Inside The Dyrt's platform, you have control of everything. We'd recommend you start by adding a 'property description', which is really just an overview of your property—where it's situated, what kind of camping is available, what makes it interesting, and all the things that guests can experience during their stay. Then you can continue to improve your listing by adding as many photos as you can, but remember, when it comes to pictures, quality matters more than quantity. Complete an exhaustive list of all the features and amenities of your property. And last but not least, you can also adjust your price per night, add multiple sites, add different types of sites (tent vs RV parking), and even turn off bookings—in case you want to take some time off for a camping trip of your own.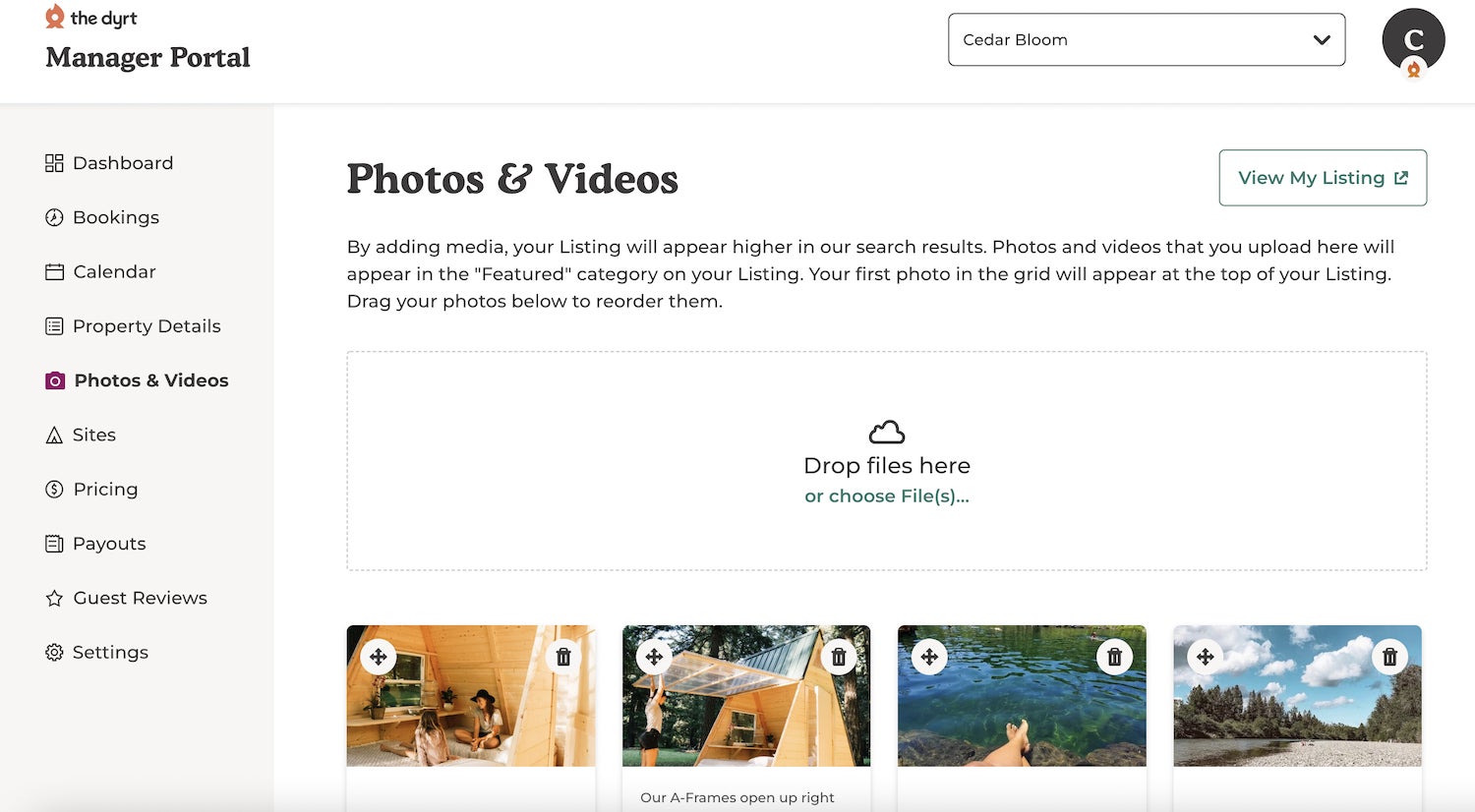 ---
4. Sync Your Booking Calendar to Make Life Easier
Like a lot of hosts, you might be weary of getting double-booked. Managing your listings on multiple platforms can seem daunting, but don't worry, we've made sure that hosts have everything they need to make their hosting life as smooth & easy as possible. Because, when you sign up with us, and you can sync your calendar with other platforms like Hipcamp, Airbnb, and VRBO…basically any platform that uses iCal for their bookings. Plus, you can choose to use "Instant Book" or "Request to Book" for your reservations—whatever works best for you.
---
5. Your Listing Gets Pushed to the Top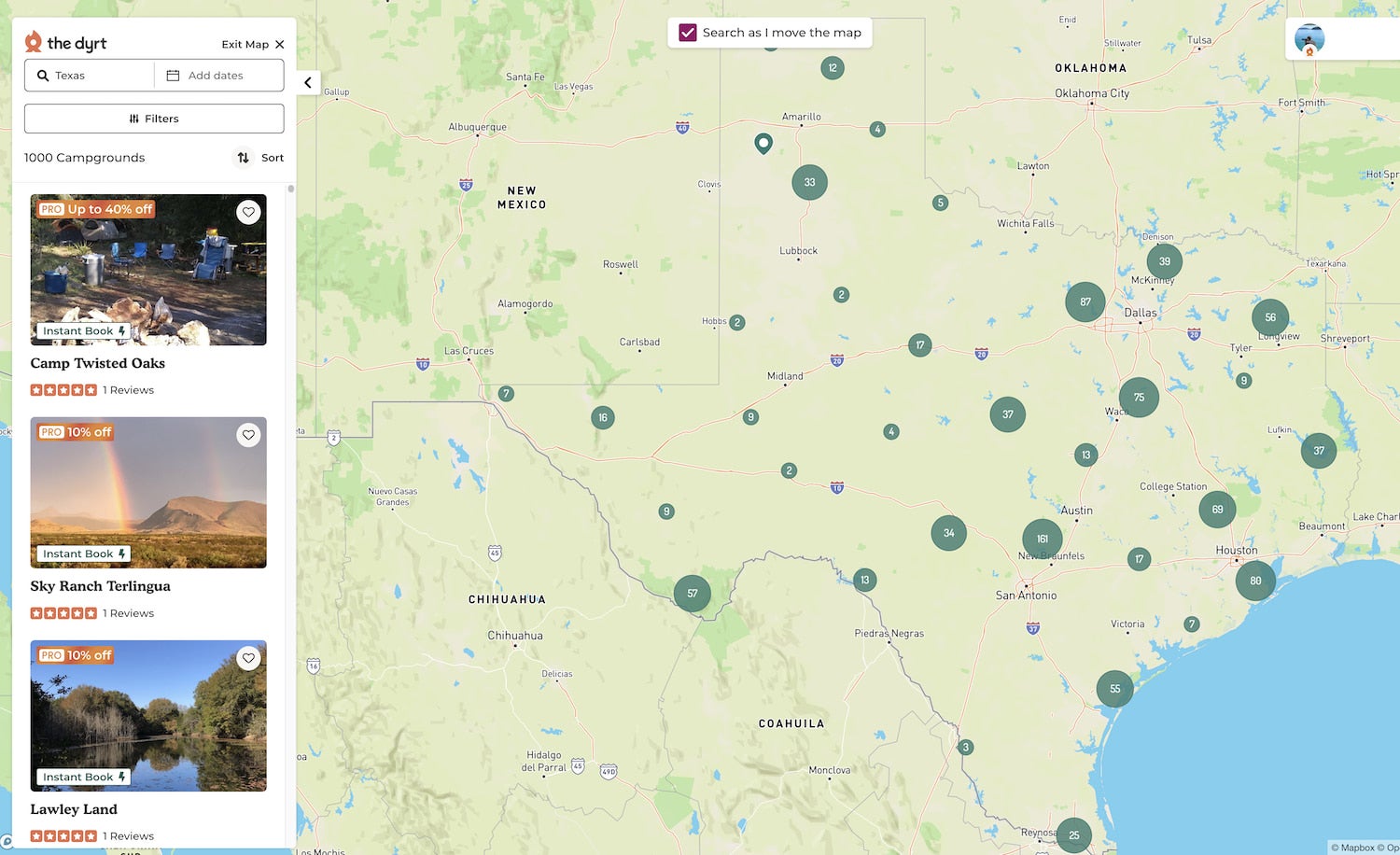 There are free ways to get your listing pushed to the top with The Dyrt. Having "Instant Book" enabled will help your visibility & appeal, because campers love to know that their spot is secured right away! So, when campers are looking for a site in your area, The Dyrt's algorithm will push your listing toward the top because it already knows your availability. 
Another way to increase your bookings is to offer a discount to PRO Members of The Dyrt. Our PRO Members pay a yearly fee to access additional, premium features. By offering a discount, these members—who are extremely active—are more likely to book with you.  
---
6. You Partner with a Worthwhile Mission
Our main goal at The Dyrt has always been to help make camping more accessible, for more people. So, when new hosts join, they instantly become a cruicial part of the solution.
Plus, at The Dyrt, we don't believe we get to define what "camping" is, or what it should look like. That's why we encourage hosts to create the kind of campsite that works best for them & their property, which can run the gamut…from simple tent camping, parking for RVs or travel trailers, or all the way to full-blown glamping setups, cabins, and A-frames.
---
7. Get More Bookings with The Dyrt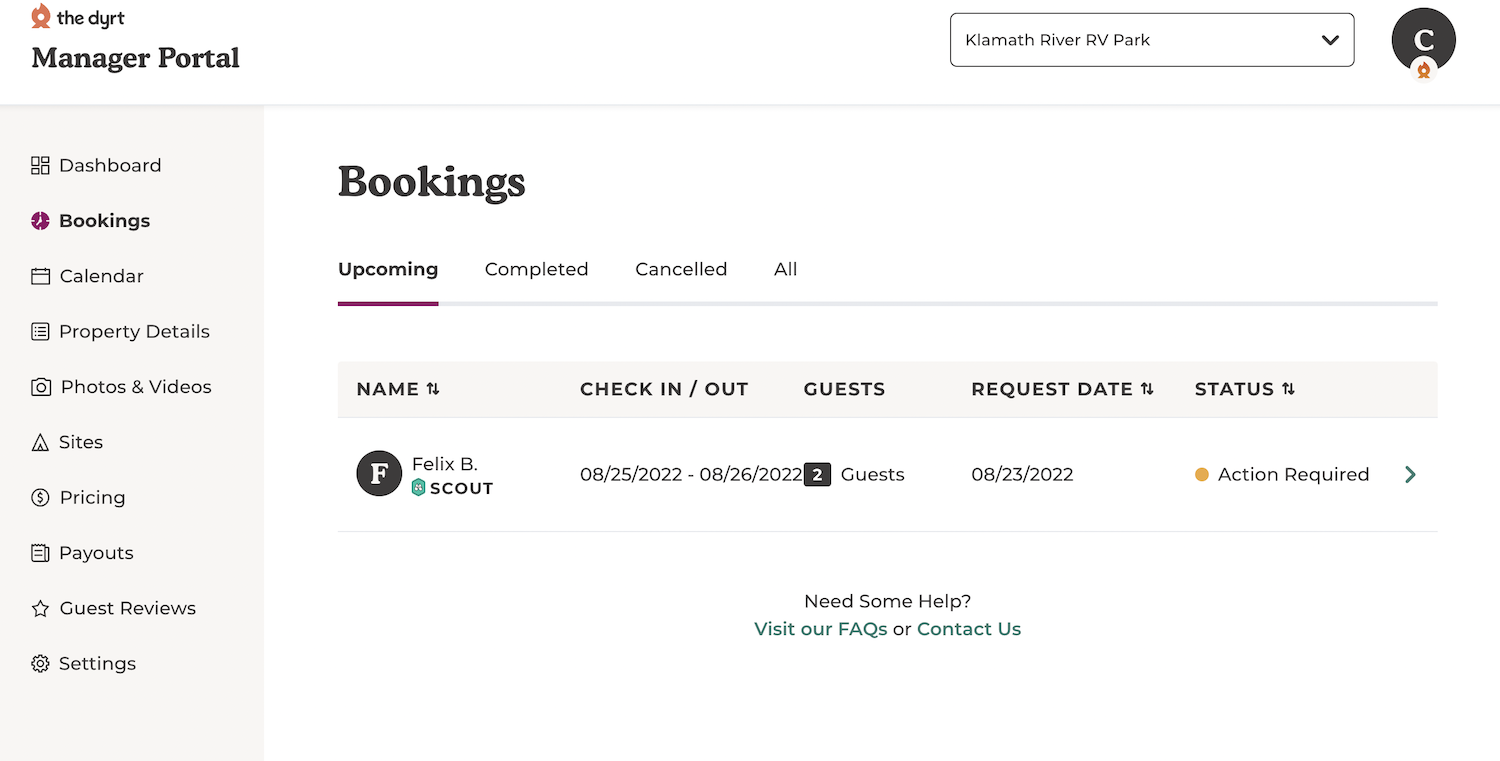 The Dyrt has one of the largest and most active communities in the outdoor industry. With over 4 million reviews and 30 million visits in 2022, you'll have tons of exposure to potential campers. 
In addition to the huge audience The Dyrt provides, you'll get valuable tips and tricks to make your listing stand out—regardless of your location. And we'll help you figure out the best projects to increase your revenue and get lots of five-star reviews. 
---
8. The Dyrt Makes It Easy to Get Started
Getting started can be overwhelming, and sometimes deters people from hosting. The Dyrt keeps it simple—we welcome basic tent campsites, RV parking spots (with or without hookups), cozy glamping tents, picturesque cabins, and everything in between. If it's out in nature, then you can list it on The Dyrt. There are no minimum property or restroom requirements to worry about. We let the guests decide if your site fits their camping desires. So, feel free to start hosting with whatever you have ready now, then over time you can try to attract more guests by adding amenities, creature comforts, unique features, or by just expanding the number of sites you have available. 
---
9. Respond to Your Reviews!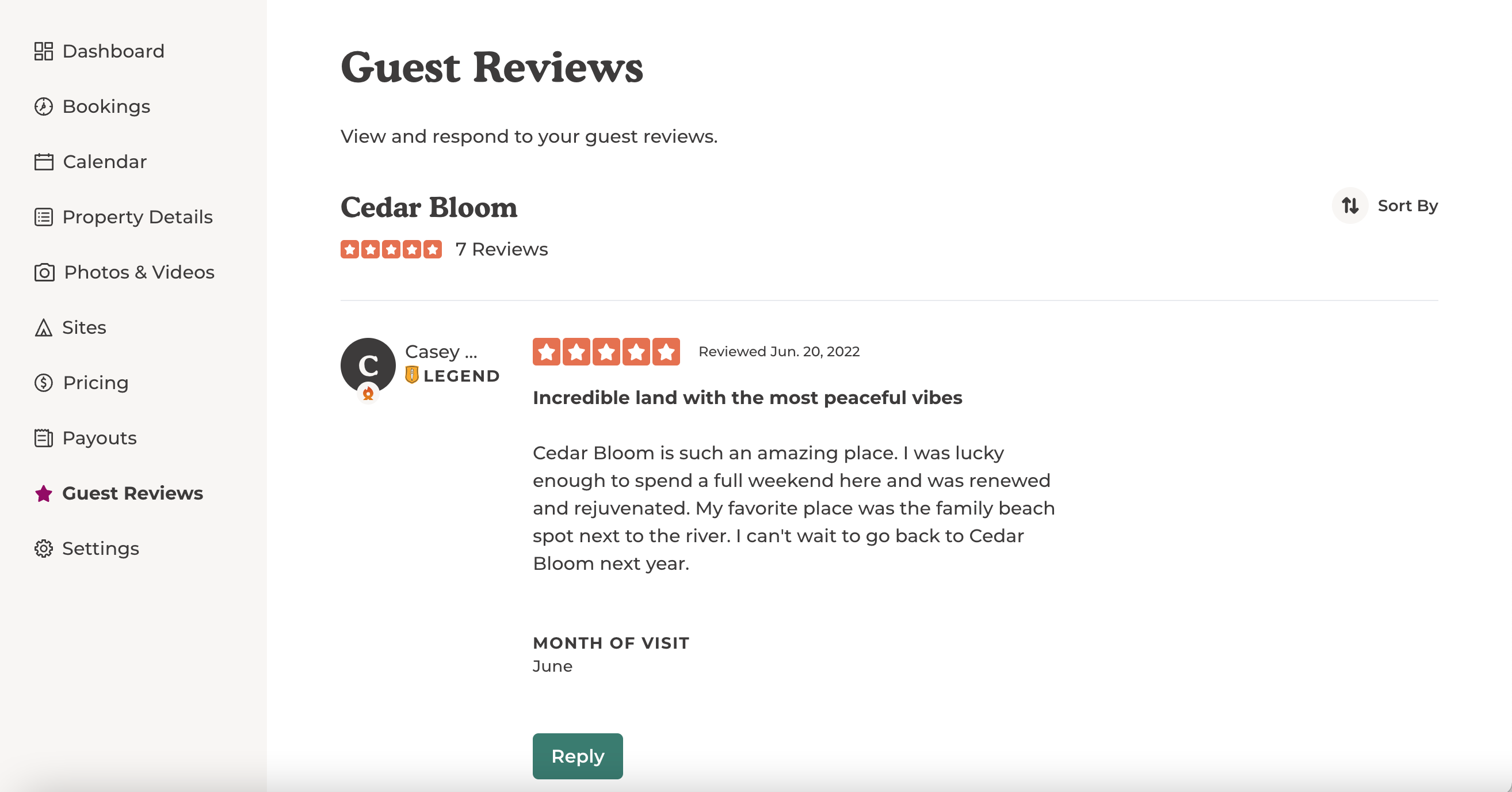 This is a brand new feature on The Dyrt and one that is helping to make life easier for our hosts. You're now able to respond directly to any reviews that are posted on your property listing. Plus, you can get an email notification as soon as you receive a new review, which makes it just that much easier to respond quickly and keep your listing looking good. Reviews are crucial for both campers and hosts, so being able to respond to the reviews on your listing is a game-changer. You can now quickly and easily interact with past guests, thank them for staying, and for leaving a great review. And of course, in the rare event that you get a less-than-positive review, you'll be able to comment on it publicly, dispel any misinformation, add context, etc—all of which will show other campers how you gracefully handled the situation. Hosts always get a say on their own reviews, 5-stars or otherwise.
---
Start Hosting Today!
With The Dyrt, you can become a host today, and begin earning those commission-free bookings in no time. Get started by claiming your property now. It's just that easy.
And if you have any questions or need any help at all, email us at campgrounds@thedyrt.com. We're always available and ready to help!
---
Popular Articles: