This article about easy camping meals for large groups was brought to you by Grubstick, who perfected campfire skewers which make outdoor cooking easier and more fun, whether you're toasting s'mores for one or prepping one of these five easy camping meals for large groups.
---
Cooking for a crowd is a challenge—especially when you're working around a campfire or grill instead of a full-size kitchen. There are more moving parts, more hungry people hovering nearby, more bugs. Cooking for big groups at a campground is just a lot more work.
But making meals for many doesn't have to be a hardship, or even terribly expensive. With a little planning and a smart grocery list, you can turn any group campsite into a commercial-scale cooking operation.
6 Easy Camping Meals for Large Groups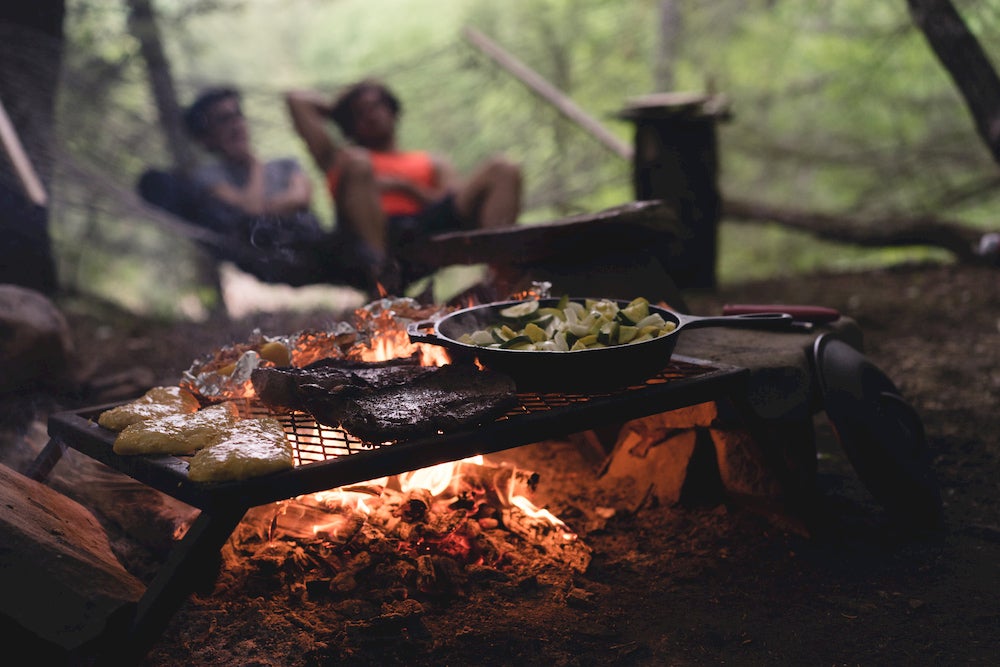 These easy camping meals for large groups are already scaled for a crowd. The options feature a flavor pallet to please even the pickiest eaters or die-hard foodies, and come together easily even if all you've got is propane and a campfire. By prepping some ingredients beforehand and finishing others with campground-friendly techniques like roasting meats and vegetables on campfire skewers, your whole menu can come together with minimal effort.
1. Alice's Big Burrito Bar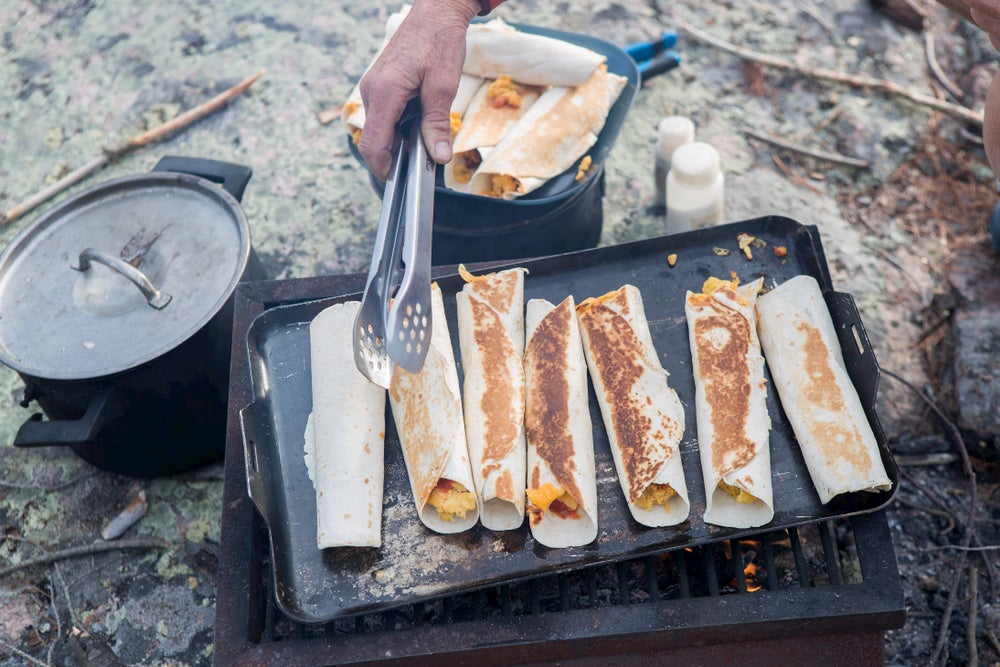 When you need to feed a crowd full of people with divergent tastes, it's hard to beat a burrito bar. This flexible large-format meal can easily be made inclusive of vegetarian, vegan, and gluten-free diners, those who prefer varying degrees of spice, and the usual gamut of preferences and aversions. To feed up to 20 hungry people with big appetites stoked by miles on the trail, fix up the following:
5-6 chicken breasts (see recipe marinade below)
2-3 lbs ground beef or turkey (cooked with taco seasoning packet to package instructions)
3 cups dry rice
2.5 cups black beans
2.5 cups pintos beans
20 flour tortillas
20 corn tortillas
Pre-marinate the meat at home, and pre-cook the rice & beans if you want to save fuel at your destination. You can fire-roast the chicken and beef or brown in a cast iron skillet while you set out all your burrito bar fillings buffet-style. It's hard to imagine this could be such an easy camping meal for large groups! Before filling each burrito, toast the tortilla in your cast iron pan or briefly over the grate of your charcoal grill.
Possible toppings you can bring along include queso, sour cream, Mexican cheese, feta, guacamole, avocado, lettuce, fresh spinach, alfalfa sprouts, cilantro, parsley, diced cucumbers, diced tomato, pico de gallo, sundried tomatoes, salsa, picante, salsa verde, chipotle/adobo, corn salsa, roasted red peppers, green peppers, jalapeños, pepper relish, black olives, green olives, capers, mushrooms, artichokes, hearts of palm, red onion, green onions, chopped garlic scapes, pineapple and mango,.
Key lime chicken marinade:
1/4 lb butter
1 tsp salt
1 tsp pepper
1/4 tsp paprika
1 onion, sliced thin
4 garlic cloves, minced
1/4 cup keylime juice
Mix ingredients well in a non-reactive bowl. Toss chicken until well coated and refrigerate or keep on ice in a cooler overnight, or until you reach your destination.
2. Woodland Hot Dog Stand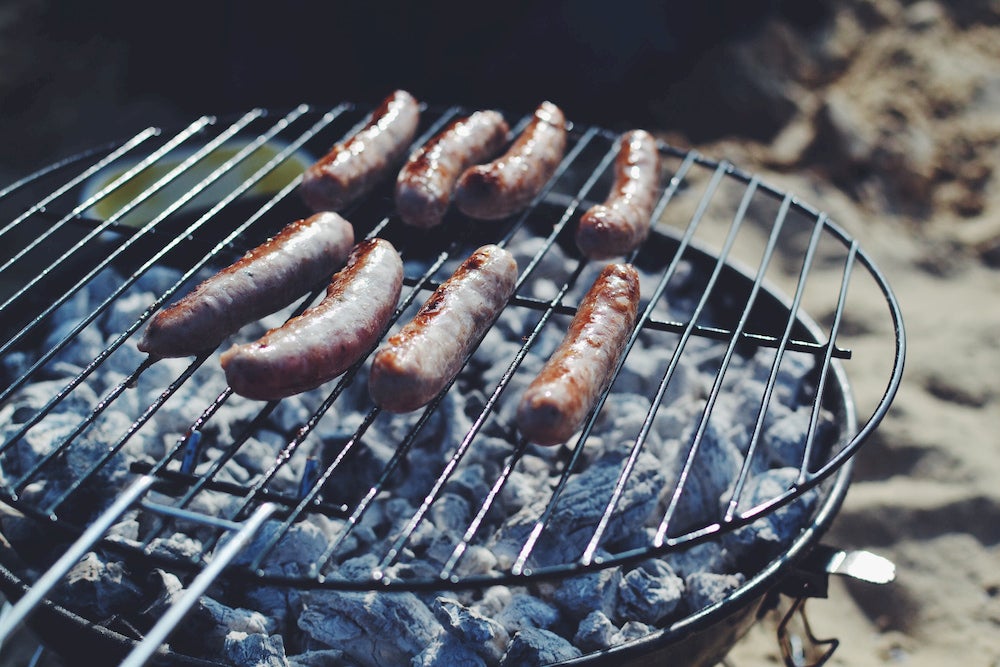 Another easy camping meal for large groups is a buffet of sausages, hotdogs, buns, and fillings that, like Alice's Big A Burrito Bar, let everyone pick their own ingredients. Once again, it's easy to customize for different dietary needs, including vegetarians and vegans, especially for anyone sticking to camping keto.
Pick up a variety of 3-6 different types of sausages, from hearty bratwurst to veggie dogs to classic Franks for purists or youngin's. Make sure you have enough for everyone to enjoy more than one sausage, so aim for at least 2-4 of each type of sausage, with buns to match. As with the burrito bar, you can cook the sausages themselves in classic style with campfire skewers while someone else sets out all the condiments.
Take inspiration from your favorite city's signature hotdog style or your favorite toppings at a classic hotdog stand with a toppings bar that includes ingredients like chopped onions, sauteed peppers and onions, fresh salsa, coleslaw, guacamole, vegan chili, shredded cheese, baked beans, banana peppers, BBQ Sauce, Crushed Potato Chips, Dijon Mustard, French Fries, Fritos, meat or veggie bacon bits, sauerkraut, kimchi, giardiniera, cream cheese, etc.
3. Backcountry Breakfast Buffet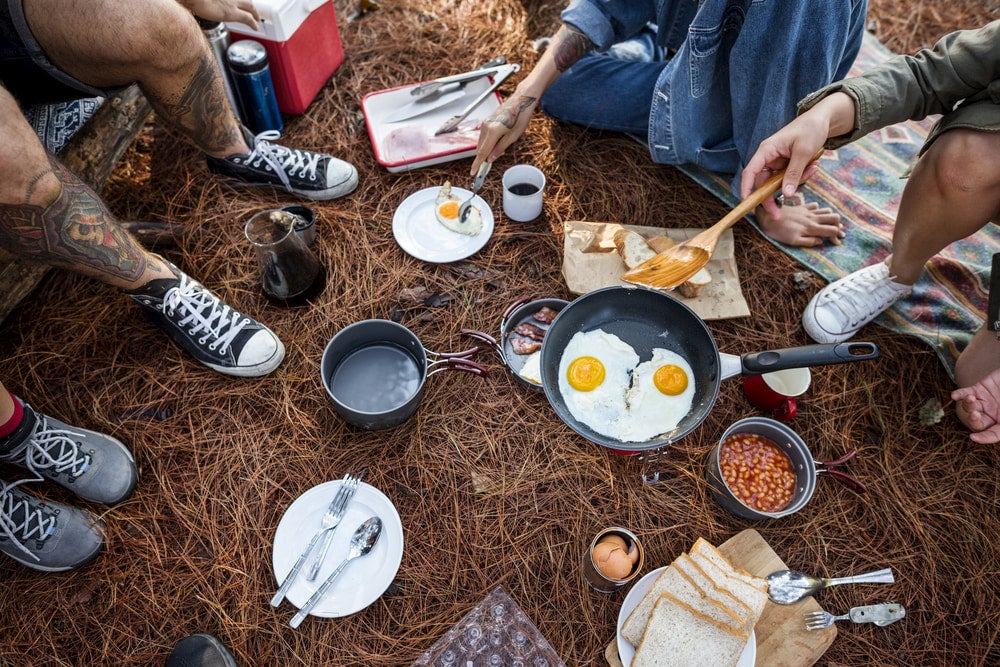 Just ask any short-order cook at a diner how to please a crowd and keep food coming in a hurry, and they'll tell you how breakfast is magic, any time of day. A familiar assortment of comforting foods that are packed with enough protein to fuel your outdoor fun and enough sugar to feel like a treat, breakfast is one of the ideal easy camping meals for large groups.
Breakfast is easy to spin into a vegan or vegetarian camping meal. The classic option is a big batch of pancakes using a recipe like the one published by King Arthur Flour which can easily serve up to 75 hungry diners. Talk about an easy camping meal for large groups— the main ingredient is a five-pound bag of flour.
King Arthur calls for pouring the batter onto a griddle preheated to 325°F to 350°F, but they'll be even better crisped up on a cast iron griddle over the campfire, or on a two-burner camp stove.
Pair your hotcakes with bacon or facon, sausages or veggie sausages, fried eggs or tofu scramble, and fresh fruit and you'll have a filling breakfast (or breakfast-for-dinner) that will leave dozens of people satisfied, whether you're hosting a group site family reunion, a morning-after brunch following your campground wedding, or just getting the gang together for a fun weekend.
4. Group-Size Grill-Out
The real reason so many campgrounds have charcoal grills as an amenity, other than mitigating fire risk, is because grilling out is such a satisfying, simple way to prep easy camping meals for large groups. Burgers, kebabs, corn, chicken breasts, steaks, brisket, or barbecue all cook up beautifully over charcoal or over wood coals with several campfire skewers.
Side dishes for a Group-Size Grill-Out are easy to make ahead, and can be kept a safe temperature with some ice and a high-quality backpack cooler. Potato salad, macaroni/pasta salad, fresh watermelon, peach and brie quesadillas, baked beans, coleslaw, succotash, funeral potatoes, panzanella, hummus and pita, fresh veggies and dips, chips and salsa, queso, charcuterie, and cobblers or other campfire desserts are all possibilities that can easily be tailored to your group's favorite flavors! It's no wonder that this is the go-to menu for so many group events, from tailgating football to NASCAR events.
5. Super Stoked Stir-fry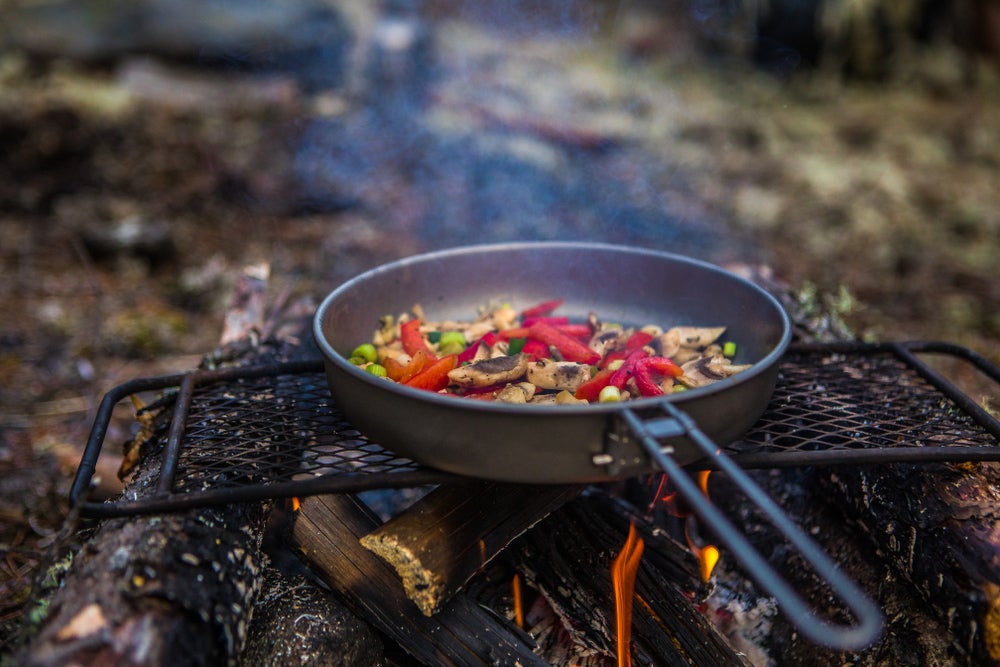 Stir-fry is another dish that is easy to scale up and is sure to please a crowd— even if you can't pull off an onion volcano or shrimp-in-the-pocket tricks like your favorite hibachi joint. The recipe below should feed 20, can be largely prepped ahead of time and packed in. What really makes it one of the best camping meals for large groups, though, is that you simply throw all the ingredients together in a cast iron wok, cook-it-all, or openfire pan.
4-5 pounds ground pork or chicken, or chicken or steak strips, tofu or faux-meat like seitan or TVP
4oz tube of ginger stir-in paste like Gourmet Garden brand
¼ cup hoisin or teriyaki sauce
2 bell peppers
1 cup matchstick carrots
2 cups broccoli
2 cups snap peas
1 large white onion, sliced
4 cloves garlic
2lbs sliced mushrooms
16oz canned water chestnuts
1/4 cup low sodium soy sauce pre-blended
2 tbsp cornstarch
15 oz canned baby corn
5-10 cups dry rice
1 cup sesame or vegetable oil
35-40 oz dry udon noodles (roughly two packages of grocery store brand)
Optional: Sriracha or red pepper flakes to taste
Optional: two tablespoons Chinese five spice
Optional: crumbled peanuts or green onions for crunch
It might sound like a lot of ingredients, but it's easy to pre-mix the hosin, soy sauce, cornstarch and spices before you leave home, divide the liquid, and pre-marinate your protein and veggies in separate gallon freezer bags. Pre-cook the rice and bag separately.
When you're ready to make lunch or dinner at the campground, preheat your cast iron cooking pan or wok over the fire with half the oil. When the oil is hot enough to sizzle when you flick a little water into it, toss in your stir-fry protein and veggies (in batches, if need be).
Add oil as needed to keep everything cooking without sticking, but without getting too greasy. Cook the protein first, then add the veggies halfway through browning the meat so they stay crisp. Finish with hot sauce and crumbled peanuts to taste.
6. Logging Camp Spaghetti Dinner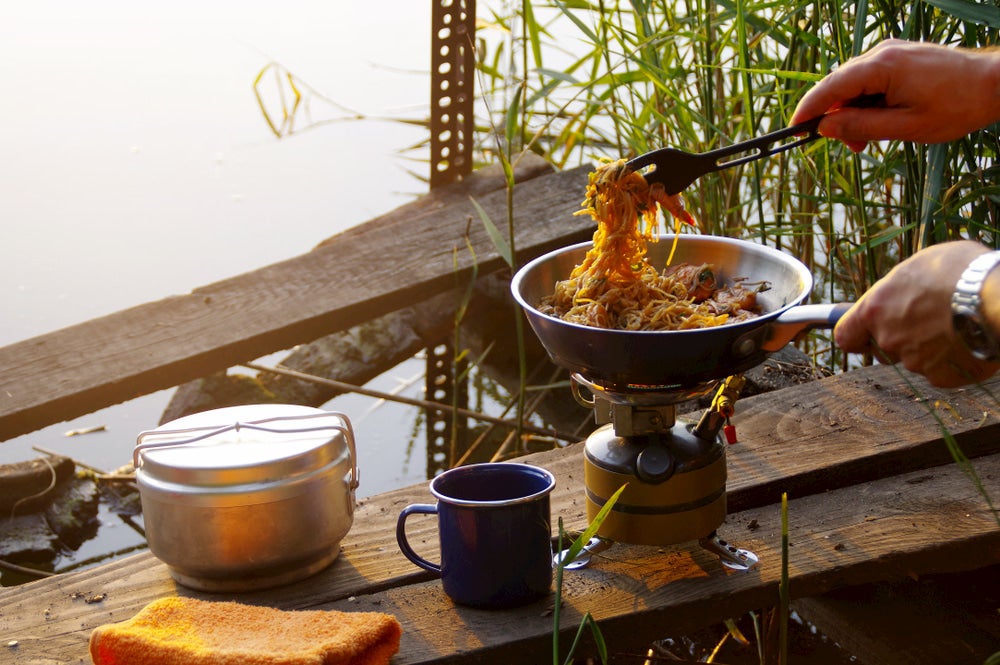 Few meals scale up as nicely as a big pasta dinner. Pasta is filling, cheap, and lightweight. Canned pasta sauce can be bought in economy sizes and isn't as heavy as brands packaged in glass jars. Meat or other protein can be carried to your campground frozen or in a cooler, then browned or grilled on-site.
You can also easily bulk up a pasta dinner with cheap, nutritious veggies like spinach, mushrooms, squash, zucchini, and fresh tomatoes to help your main ingredients stretch, make a heartier meal, or just make the whole thing taste more like summertime.
5 pounds pasta
80 oz pasta sauce (roughly 3 24 oz jars or cans)
3-5 lbs ground beef, pork, or turkey or faux-beef crumbles or TVP
1 package shelf-stable parmesan cheese or nutritional yeast (nooch)
¼ cup garlic powder
1 large white onion, finely chopped
1 bunch vine-ripened tomatoes, chopped
4 packages frozen chopped spinach
1 package fresh basil
1-2 lbs sliced mushrooms
¼ cup olive oil
Optional: sauteed zucchini or squash
The main trick with this meal is the amount of water you'll need to boil the pasta. That's no big deal if you're cooking on a propane system with enough fuel to boil the water and cook the pasta through. Otherwise, you might consider pre-cooking your pasta for half the recommended cooking time, tossing with olive oil, and finishing it at your campsite by cooking it as you warm the sauce. You can also pre-chop the vegetables, season them, and sautee them at your campsite, or precook them along with the pasta.
Whichever method you choose, it won't take long for your spaghetti dinner to come together. Simply brown the meat or protein in a large cast iron skillet or tin foil packet tucked into the coals, and the mushrooms, squash, and onions if they aren't yet cooked. Use half to all of your olive oil to keep everything from sticking.
If you're using a pan, add the sauce to the protein and veggies once they're browned. As the mixture warms, stir in garlic powder, chopped tomatoes, and pasta and cook until the noodles are al-dente (slightly firm). Top with Parmesan cheese or nooch and drizzle with any remaining olive oil. Pair with enough veggies (think convenient carrot sticks, cucumbers, and other "salad" options you can eat with your hands) and garlic bread toasted on campfire skewers for a well-rounded, super easy meal for a large group.
---
This article was brought to you by Grubstick

Popular Articles: