The ketogenic, or keto, diet is a high-fat, moderate-protein, and low-carbohydrate diet that has risen to fame over its promise of rapid weight loss, muscular, toned physiques, and less bloating, inflammation, and food cravings. It works by depleting your body of sugar and using fat and protein for energy, which ultimately puts your body in a state of ketosis.
For those looking for keto camping meals (or anyone interested in easy, tasty meals for the campground), these are for you.
Your New Keto Camping Meal Plan
These keto camping meals are quick and easy to make—even in the outdoors. Just come prepared with proper ingredients and cooking utensils, and you'll be able to effortlessly take your keto diet with you, even on a busy camping vacation. We've included a packing list as well as meal prep you'll need to do prior to leaving the convenience of your kitchen.
Packing List:
Cast iron skillet
Knife
Spatula
Cutting board
Spices (We bring a lot of spices when camping. To make this hassle-free, we pack ours in a kid's sized shoe box.)
Plates, bowls, silverware
Necessary Meal Prep
The Trail Mix might be one of the few keto camping meals you should make at home, since you'll need to use an oven. For lunch, it might be easier to cook chicken and hard boiled eggs at home as well. However, chicken cooked over a campfire is absolutely delicious, so it might be worth the wait.
As a quick option for vegetable prep, chopping vegetables and keeping in a container in your cooler might also make your morning meal a bit faster.
5 Easy Keto Camping Meals
The below recipes all incorporate keto-friendly ingredients, in a balance of high-fat, moderate-protein, and low-net carbs. As an added bonus, I've made each recipe with the option of working for vegans, vegetarians, or carnivores. Simply switch up the offending ingredient for one that works for your particular diet.

1. Breakfast: Veggie Scramble with Eggs and Avocado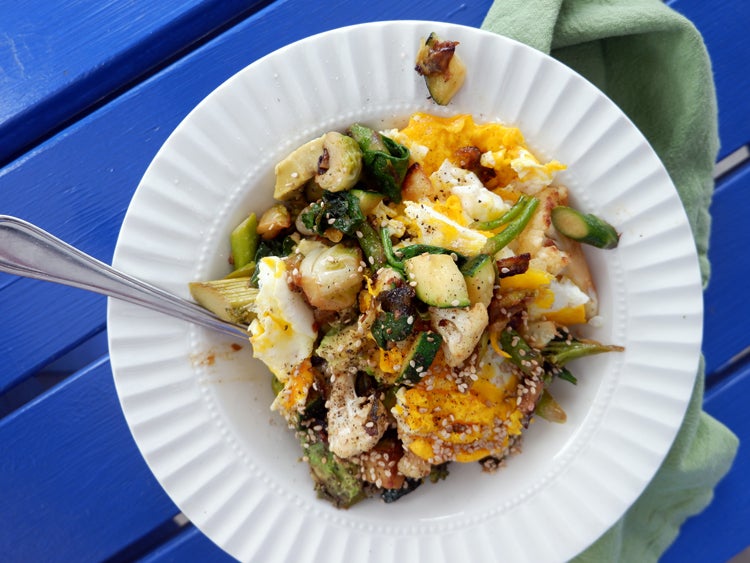 This is one of the fastest, easiest, and most delicious breakfast keto camping meals out there. It's high fiber and fat content will keep you fueled for a morning of camp activities.
Ingredients:
EVOO. You'll need a few tablespoons to coat the entire bottom of your cast iron, and you'll need more as you're cooking as well.
Two cloves of garlic
1 large handful of brussels sprouts, or about 8. Cut bottoms off and slice in half or quarters.
1 large handful of broccoli
5 spears of asparagus
1 zucchini
1 handful of cauliflower
Two handfuls of spinach
1 whole avocado
Eggs (2 per person)
Sharp cheddar cheese
Optional: bacon, sprouted seeds, sprouted nuts
Directions:
Prep vegetables by cutting into large, bite-sized chunks. Dice garlic.
Begin by warming cast iron skillet with EVOO and garlic.
Add brussels sprouts first. Next, add broccoli, asparagus, and zucchini. Add spinach last, mixing well once wilted.
Create a hole in your veggies to crack an egg into, or pour scrambled eggs over the top. Add sharp cheddar to melt.
Spoon into bowls, top with cut avocado, drizzled EVOO, pepper and himalayan salt.
To make, chop veggie, sauté in EVOO with a sprinkle of himalayan salt and pepper. Cook two eggs per person, separately, over easy or as desired.
Vegan Option: Omit the eggs and cheese. For added fat and calories, add sprouted nuts and seeds to the top of your veggie bowl. My personal favorite? Sprouted sunflower and pumpkin seeds, and sprouted cashews. Drizzle oil and a sprinkle of himalayan pink salt.
Meat Option: Cook bacon and crumble over the top of your bowl.
---
Prepare for your next adventure by downloading maps. The Dyrt PRO lets you download maps and campgrounds without cell service. "My alternative to using pro would be to drive back out to cell service".
---
2. Lunch: High Energy Salad
This simple salad is packed with energy: with fiber, high in antioxidants, and a solid amount of fat, this is one of the more satisfying keto camping meals, despite being salad-based.
Ingredients:
2 handfuls of lettuce per person
1 handful of spinach per person
Avocado, cubed
1 tomato, diced
1 hard-boiled egg per person
½ chicken breast per person
Handful of sunflower seeds
4 small cubes of sharp cheddar cheese, or cheese of choice, per person
Spices: himalayan pink salt, pepper, to taste
Directions:
Chop lettuce and spinach, place in individual bowls.
Slice avocado, tomato, hard-boiled egg, and chicken to desired thickness. Cube cheese. Place on top of lettuce and spinach.
Sprinkle sunflower seeds over the top, and add dressing.
Dressing:
Your choice of your favorite keto-friendly salad dressing, or make this simple one:
Extra Virgin olive oil (2 tablespoons)
Lemon (squeeze a bit, to taste)
Salt (to taste)
Vegan/Vegetarian option: Omit egg, meat, and cheese. Add marinated tofu in place of meat.
3. Snack: Trail Mix

Since this is different from other keto camping meals on this list, feel free to add in whatever keto ingredients you'd like to have in trail mix. Store this in any reusable container to bring along with you, keeping it on hand for a quick snack (and for dessert, listed below).
Ingredients:
3 cups total of chopped nuts. I used walnuts, cashews, almonds, pecans, hazelnuts, and brazil nuts.
6 tbsp melted unrefined coconut oil
1 egg white
2 tsp vanilla extract
1 tbsp chia seeds
1 tbsp sesame seeds
2 tbsp ground flax seeds
1 tbsp hemp seeds
1 tsp nutmeg
2 tsp cinnamon
½ tsp himalayan pink salt
4 tbsp large shredded coconut flakes
Directions:
Preheat oven to 300 degrees.
Line a baking sheet with parchment paper and set aside.
Melt coconut oil over low heat.
In separate bowl, combine all dry ingredients (nuts, seeds, spices).
In smaller bowl, whisk together egg white, vanilla extract, and coconut oil. Pour this over the dry ingredients, and mix thoroughly.
Lay mixture flat over parchment paper lined baking sheet.
Bake for 30 minutes, or until light golden brown, gently tossing about half-way through to cook evenly.
4. Dinner: Flame-broiled Burger with Toasted Cauliflower

Is there anything better than a burger cooked over an open flame? We think not. If you're camping in a fire-free zone, this can still be made on your camp stove or grill.
Ingredients:
8 oz ground beef, made into two patties
1 small handful of spinach, finely chopped
1 clove garlic, finely diced
Avocado (leftover from breakfast)
2 tomato slices, 1 per person
1 large handful of cauliflower per person
Spices: turmeric, himalayan pink salt, ground cumin, to taste. I typically add spices about a ½ tsp at a time, tossing as I add more. For this, equal amounts turmeric and cumin, and salt to taste.
Directions:
Dice garlic and spinach, combine and set aside in a bowl.
Mix ground beef with garlic and spinach, and form into patties.
Next, chop cauliflower into large chunks. Add them to your cast iron skillet, toss with EVOO and salt, turmeric, and ground cumin, to coat cauliflower chunks.
Cook over open flame, stirring frequently. Just before they begin to tender, add spinach and garlic hamburgers to the open-flamed grill.
Cook until desired doneness.
Top with avocado slices and a fat, juicy tomato slice for a delicious take on traditional ketchup. Serve with a side of toasted cauliflower.
Vegan/Vegetarian Option: Cut out the ground beef, instead using tempeh or seitan. To make, you'll want to create more of a one-skillet meal here, cubing up your vegan meat of choice. First, drizzle EVOO in pan, add garlic and spices used above, and adding in cauliflower. Cook until desired tenderness. Once there, put cauliflower to the side, and add diced vegan meat to skillet with additional EVOO, spices, and garlic and chopped spinach. Thoroughly mix to combine and continue cooking for 20 minutes. Next, add cauliflower, combine, and cook another 5 minutes. Top with avocado and a drizzle of EVOO.
5. Dessert: Yogurt and Berries with Keto Trail Mix
Think you can't have dessert while on a keto diet? Think again. While desert might look a bit different than in your pre-keto days, rethinking what you define as 'dessert' means you don't have to go without even when you're keto.
For this dessert, we're going with berries, coconut flakes, a sprinkle of Keto Trail Mix above, and a dollop of plain coconut yogurt. This is a vegan, keto-friendly dessert that's simple and yet feels decadent. You can sub plain greek yogurt for coconut yogurt.
Ingredients:
A few large spoonfuls of plain coconut yogurt (or plain greek yogurt)
Handful of fresh berries
Homemade Trail Granola (recipe above)
A sprinkle of large shredded coconut flakes
Directions:
Grab a bowl and spoon in a bit of plain coconut yogurt.
Top with berries (your choice…but a mix of raspberries and blueberries is delish) and a handful of trail mix, topped with a sprinkle of additional coconut flakes.
Popular Articles: