This summer outdoor cooking article is brought to you by our friends at Midland. As the leading supplier of two way radios, Midland walkie talkies provide reliable communication for every type of adventure. So you can let the gang know that, "Dinner is served!" when they're miles away from the campground. 
---
Every summer it's the same old dishes at family bbqs and camping trips – burgers, hot dogs, kebabs, deli salads, and probably some cold fried chicken. Thanks to sites like Pinterest you've probably tried a fancy recipe or two. But if you're heading out again this weekend and you're fresh out of campground culinary ideas, fear not…
Embrace Outdoor Cooking this Summer with Seasonal Camping Recipes
Camping allows us to get in tune with mother nature. We're surrounded by the season; the flowers, the breezes, the smells of summer. You can savor the summer on your plate, too, with these seasonal camping dishes:
1. Smoked Trout With Beets and Quinoa

This is filling, satisfying, and easy-to-make. You can prep the quinoa ahead of time and pack it in, but it's also not hard to fluff some up fresh over your camp stove. Canned smoked trout is the easiest thing to carry in, but if you're confident in your outdoor cooking skills you can smoke your own fish. Just remember to let the folks at camp know when you're headed back with your catch so they can have the beets roasting in the embers and the fire primed for smoking. This is an occasion when a walkie talkie might come in handy so you can stay in touch to get the timing of your meal just right.
Ingredients:
4 big beets
1 or 2 cans of smoked trout (1 can will serve 1-2 people)
1 bag of quinoa
1 lemon
2 tablespoons olive oil
½ tablespoon salt
Paprika, garlic, and black pepper to taste
Massage your beets with olive oil and wrapped them in tin foil to roast (you can add onions, too, if you like 'em!). Next, smoke your fish (or pop the can). Chop the beets into bite-sized pieces. Stir them into the cooked quinoa along with chunks of smoked trout and season with the spices and lemon juice.
2. Peach and Brie Quesadilla
These smoky, savory, sweet treats are super easy to make by the fire. They are simple enough to please all pallets but feel a little fancy thanks to the unexpected flavor combination. Not only that, is there anything that tastes more summer than a nice, fresh peach? Only when the sweet, tangy juice mingles with fresh woodsmoke.
Ingredients:
1 pack wheat tortillas
1 wheel of brie
1-2 peaches per person
1 lime
1 small container of honey
½ tablespoon salt
Cayenne pepper or smoked paprika to taste
Thinly slice the peaches and brie. Spread a little honey on the tortilla and arrange the fruit and cheese. Sprinkle with salt, cayenne pepper, and/or paprika. Fold the other half of the tortilla over. Grill the quesadillas over the fire. This will be easiest if you are using a campsite charcoal grill, a grill grate over the fire, or a small cast iron fajita pan. In a pinch though, you can make these hobo pack style with tinfoil. Grill until the tortilla is crispy and the cheese is melty. Squeeze lime over the quesadillas and serve.
3. Spicy Grilled Watermelon
This recipe is adapted from Serious Eats to make it a little heartier for camping. Like the peach and brie quesadillas, it hits that spot for sweet, spicy, and smoky all at once. Plus the watermelon makes it super refreshing, which is perfect for hot summer nights.
Ingredients:
1 small container of honey
4 limes
Cayenne pepper to taste
½ tablespoon salt
1 medium watermelon, cut into 1-inch thick wedges
1 Ziploc bag of shredded mint
½ cup of slivered almonds
1-2 pouches of chicken
Mix the honey, lime juice, cayenne pepper, and salt ahead of time. When you've got the grill or campfire going, brush the watermelon wedges with the mixture. Grill about 2 minutes on each side, or until the grill grate leaves marks. Quickly chop the watermelon into bite-size chunks and toss in a large bowl with the mint, slivered almonds, and chicken. Pour remainder of lime juice, honey and spices over the salad. Enjoy! Who said salads can't be a fantastic part of your outdoor cooking repertoire?
4. Sourdough Campfire Pizza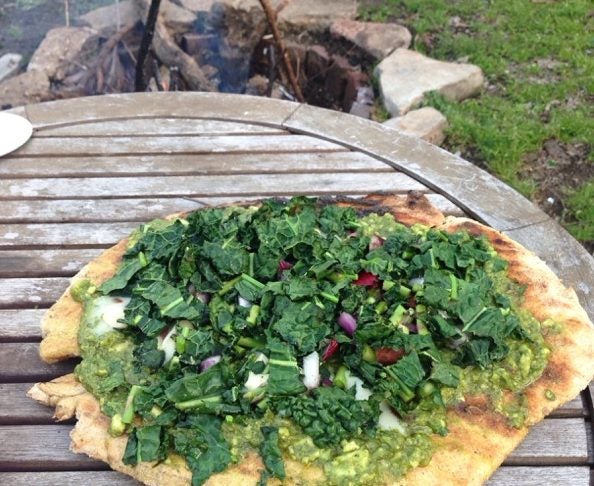 Make your sourdough pizza crust ahead of time (or purchase!) and refrigerate in a Ziploc bag. The great thing about the wild yeast in the sourdough is that it can last in your pack while continuing to get more flavorful. After all, fermented foods like sourdough were developed over thousands of years to last without refrigeration. If you feel a little nervous about the dough keeping, feel free to keep in a cooler.
Mix up your tomato sauce beforehand and pack in a small container, or use a can of pre-made pizza sauce (just don't forget an opener!). You can also get inventive and bring out pesto instead, or whip up a thick roasted garlic sauce if you aren't a fan of tomato-based pizzas. (We love this Collard Green and Pecan Pesto).
The great thing about campfire pizza is you can bring whatever toppings you like. This is especially great if you'll be gone for a few days and want to clear out the fridge. Grab that partial rind of Parmesan, whatever greens are about to wilt in the crisper drawer, sausages if you partake in meat or mushrooms if you don't, the last of a bag of nooch. The sky is the limit!
As for actually grilling your masterpiece, we like this recipe from The Kitchn a lot. You grill one side of the dough, flip it, and assemble the toppings very quickly on the toasted side while the other cooks. Make sure you have all your ingredients prepped and ready to go. This process always seems to go a little quicker than you think it will. It's hard to beat the incredible flavor of the smoky, tangy sourdough crust, though. This will transform your summer outdoor cooking experience.
Do you have some kiddos that wouldn't be too keen on these dishes? Then check out our kid friendly recipes.
---
You can win free gear from Midland Radios and 19 other outdoor brands by reviewing campgrounds on The Dyrt. Share past camping experiences, photos, and videos to earn points towards monthly prizes in The 2018 Great Camping Giveaway!
Popular Articles: