The big list of RV hacks is brought to you by GCI Outdoor, whose camping chair is a four-position foldable recliner to bring the comfort wherever you go. Made from powder-coated steel and equipped with storage pockets and backpack straps, it's fit for any RV adventure.
---
RV life can feel like a challenging game of real-life Tetris. While you can include more in an RV than in a traditional four-wheeled vehicle, there's still not room to include everything you'd have in your home. So, when things break on the road, or when you're trying to fit maximize limited space, it's the little things that can come to the rescue.
We've created this big list of RV hacks to make your RV life better than you ever dreamed it could be.
Simplify Life On The Road with These RV Hacks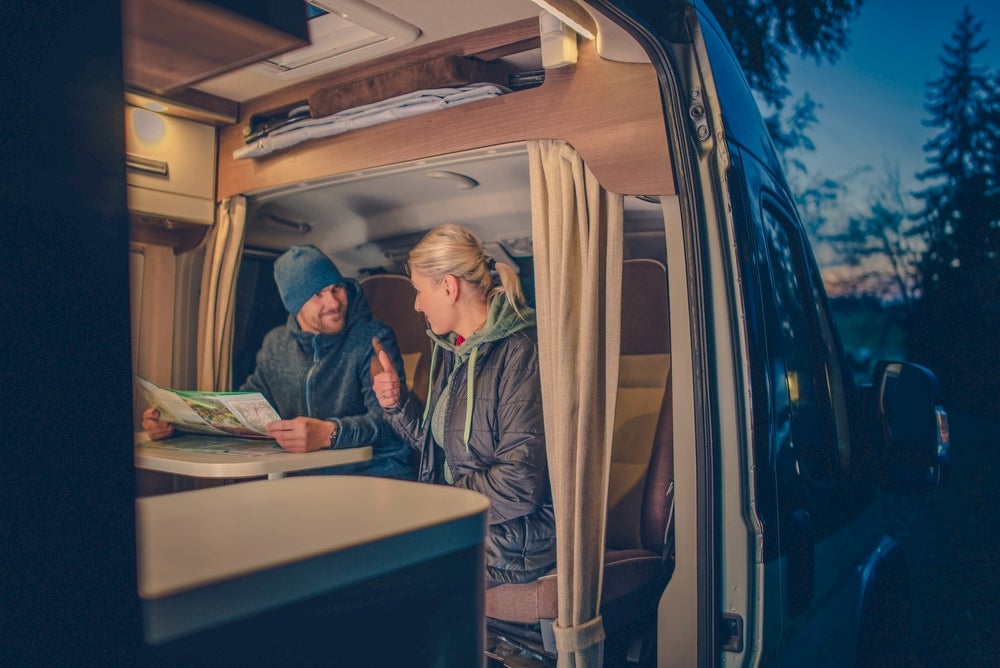 RV Storage Hacks
1. Stock Up on Curtain Rods
It might not be the first thing you think of when trying to spruce up your RV living game, but trust us when we say that a good tension curtain rod is a lifesaver in several situations. Use them to hang extra clothes in spaces like the shower/bathroom, or use them as a barrier in your fridge to prohibit things from falling out while you drive.
2. Get Sticky with Command Strips
If you don't already have a handful of these strips lying around, grab a pack (or five) and get going! As far as RV hacks go, they're helpful in a variety of situations, from attaching remote controls to your chairs (never lose it again!) to hanging posters, art, or signs that can easily be switched out.
3. Add Hanging Storage with Command Hooks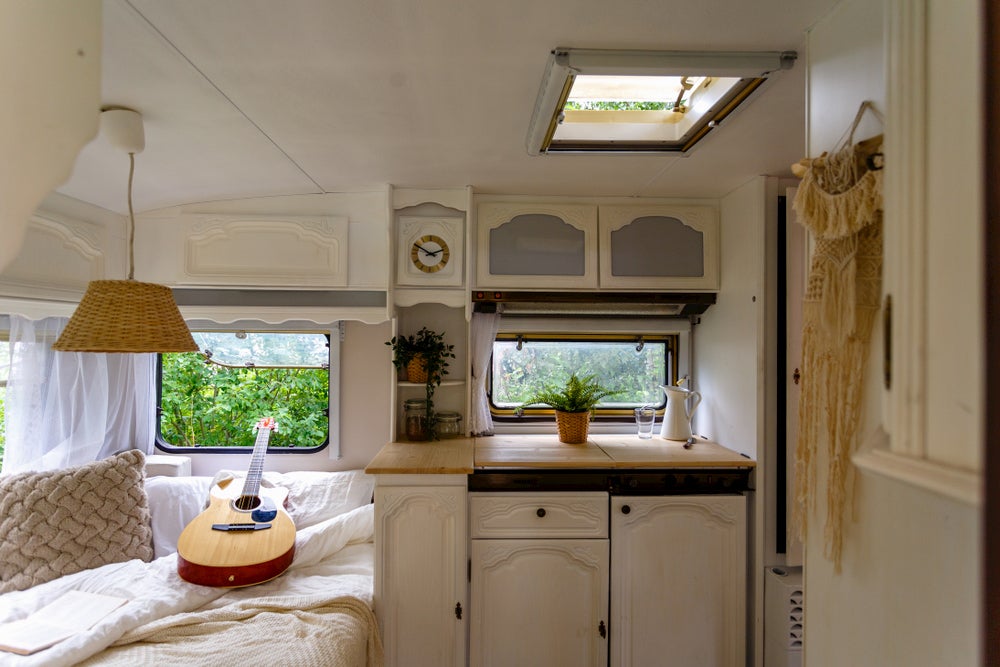 Right up there with Command Strips are the hooks that allow you to hang just about anything. Whether you're hanging decorative lights a few extra coats in the already-stuffed closet, these puppies will keep your storage game as clean as your RV!
4. Hang Your Wastebaskets
When you're trying to save space, every inch counts. That's why we advocate for the hanging wastebasket. These small, rectangular trash bins hang neatly on the inside of cabinets in either the main area or the bathroom, saving you vital cabinet space for cleaning supplies, toiletry items, or other miscellaneous items. Available on Amazon or elsewhere.
5. Invest in a Mattress Caddy
Solve your RV bedside storage needs for $10 to $15 with a mattress caddy. Available in a variety of materials and sizes, this RV hack tucks into the side of your mattress and holds things like reading glasses and books. It's a great way to avoid a clunky bedside table, and helps keep the floor clear of clutter.
6. Turn your Tables Upside Down
If your table isn't already doubling as a storage unit, you're missing out on one of the great perks of RV life. Most RV tables have enough space underneath to attach a couple of DIY drawers, which can be made from smaller, plastic storage bins, or purchased outright from RV Upgrades. These easy-to-install accessories are the perfect place for storing things like playing cards, pencils, or other miscellaneous table knick-knacks.
7. Door and Closet Organizers
These basic organizers can completely change your RV life. Whether it's an accordion-style organizer for clothes and personal items, or the classic back-of-the-door organizer that holds anything from shoes to hairbrushes to miscellaneous cords and cleaning supplies, it's hard to go wrong with this simple, yet effective, method of storage.
8. Maximize Space with Folding Chairs
Turn up the comfort without adding bulk with reclining camping chairs like the ones GCI Outdoor offers. Whether you're napping, snacking, or just enjoying your time on the road, the foldable chair is a key RV hack, both for space-saving and comfort, regardless of where you are.
9. Collapsible Dishes
It might not be everyone's cup of tea, but if you're really looking to save space, try replacing your ceramic dishes with the collapsible kind. Popular among campers and backpackers, these dishes fit perfectly inside of one another, and compress completely flat. They've gotten so popular that companies like Sea To Summit have started producing collapsible pots and even a collapsible tea kettle.
10. Hanging Food Basket
Normally, baskets are used for fruit. In an RV, they can be used for anything. If you have some space in and around your kitchen, hang a basket for fruit and other snacks that can be easily accessed or taken down when you're on the move. It makes a great place for keys and other miscellaneous items as well!
RV Heat Hacks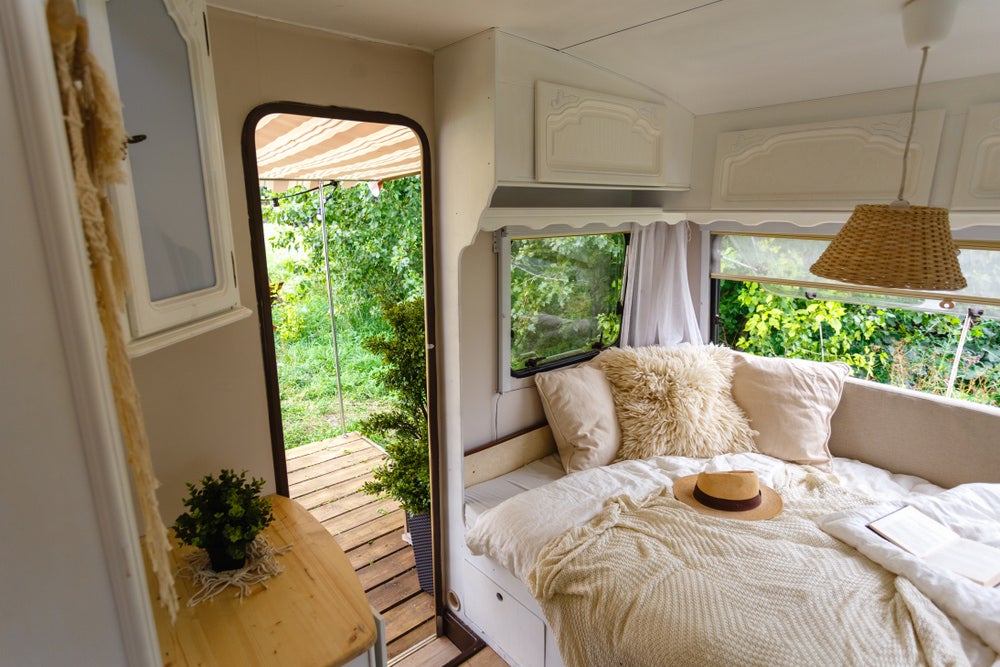 11. Purchase a Vent Cushion
While most RVs make great on-the-road living spaces, many fall short when it comes to insulation in extreme temperature environments. A vent cushion is one of the cheapest RV hacks on our list that can change the way you stay warm in the winter or stay cool in the hot summer months. Tuck it into your vent to instantly seal up drafts.
12. Repurpose Styrofoam
The next time you buy something packed in egregious amounts of styrofoam, think of your RV! Small pieces of styrofoam are basically meant for our list of RV hacks, and are ideal for blocking those pesky gaps that keep your RV from being totally insulated. Cut them to the size you need and put them in windows, door gaps, or anywhere else that valuable warm or cool air escapes while you're on the road.
13. Window Sheets as Curtains
It might not be the most intuitive use of those extra bedsheets, but if you have them you can use them to block out light and keep your RV cool during the hottest months of the year. Just attach sheets around the sides of your windows, and you've basically made yourself a fortress of darkness, and a comfy one at that! Bed sheets also make great couch cushion covers in a pinch.
Miscellaneous RV Hacks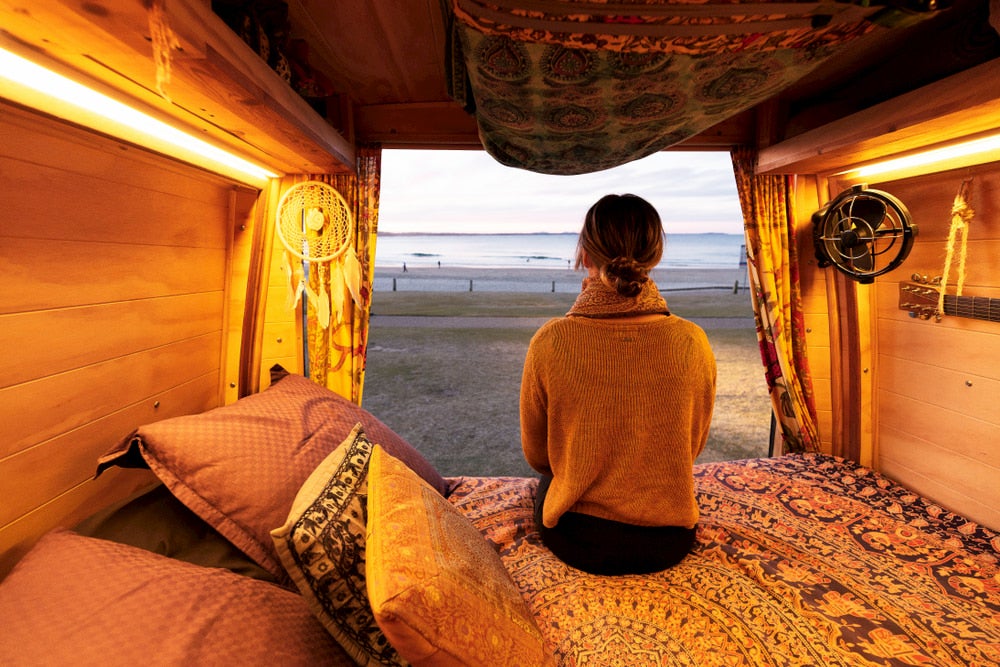 14. The Koozie Fix
Regular RVers know the necessity of bringing along a few choice beverages. The downside is that bottles are apt to clank against one another during drives on rough roads, and, if they don't break, they can create a sound that will drive you up the wall. Cut down on the noise and avoid broken glass by sliding koozies onto your wine and beer bottles.
15. Make Wall Putty a Go-To
Wall putty is another sleeper pick for the best RV hack out there. Use it to patch up small holes, fix items in place, or even to hang things on the wall. It might be the most diverse tool on our list, and at less than ten bucks, it's worth having around.
16. Tape Them In Their Tracks
Not just any tape, but Gorilla Tape, the kind that's strong enough to fasten just about anything. It's also great at catching ants and other multi-legged creatures that might want to call your RV home. Put a strip of Gorilla Tape anywhere bugs are prone to enter, and watch as they get caught by the best insect guard of all time. Plus, it's chemical-free so you don't have to worry about having little ones around—it's like two RV hacks in one!
17. Shine Bright with LED
LED lights are well-known in the RV world for their versatility and brightness. To counteract the yellow light in your RV, place a few LEDs around, either by mounting miniature ones with velcro or in lanterns. They make great spotlights when you need to find something, and can brighten up the darker corners of your RV home. Bonus points: place a few miniature LEDs inside of drawers and other often-used cabinets.
18. Glow Your Way Out
The steps from your RV can be a hazard, especially if you're traveling with elderly people or young children. It only takes a couple of near-falls to make glow-in-the-dark tape seem like a no-brainer. Apply tape along the edges of your steps to provide some extra support to those who might need it.
19. Rubber Placemats…Everywhere
They're grippy, they're soft, they're a lifesaver no matter what you do with them. Use rubber placemats to protect glassware, or place them between dishes, pots and pans, or underneath things so they don't slide around. Also, they come in pretty colors.
20. Keep Dishes (and More) in Place
Dish holders are a simple RV hack to save space and add convenience. Line them up in the cabinet (or countertop) of your choice, and watch the space become available for those few extra things you were hoping to pack away. Just don't forget to fasten the dish holders down—perhaps with that handy tube of wall putty?
---
This article is brought to you by GCI Outdoor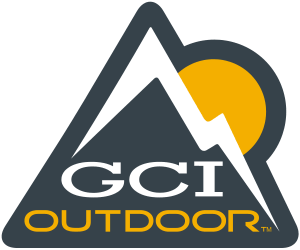 GCI Outdoor's folding camping chairs offer top-tier comfort wherever you go.
---
Related Campgrounds:
Popular Articles: