I grew up in the 90s in Crosby, MN a tiny town in the eastern half of Central Minnesota. At the time, the town had a population of around 2,250 year-round residents. Every summer, the number fluctuated on weekends as people drove two hours north from "The Twin Cities" (Minneapolis and St. Paul) to spend time at their lakeside cabins.
You had to be lucky enough to live on a lake to find anything to do in the summer. A small skatepark located next to the police station was the only place for young people to congregate on land. When we became old enough to drive, many local teens took crappy cars out to the mine pits where we'd drive way too fast with the windows down admiring the views of all the man-made and natural lakes surrounding our town.
Today, the population of Crosby is about the same, but the region has recently seen a major boost in tourism.  The area has always had a myriad of recreational activities within a short drive, but recently built infrastructure—trails and places to stay, namely—has brought in plenty of new visitors. With major developments in small-town charm, including several main street breweries, cafes and equipment rental shops, it's not just Minnesotans who are making the scenic drive up Highway 169 to visit Crosby, MN.
Why Crosby, MN Is a Secret Outdoorsy Hub
People are drawn to Crosby, MN for the unique landscape, kind residents and opportunities to get some red iron ore dirt on their tires. Just remember, the joke about Minnesota only having two seasons is true—you'll either need to swat (mosquitos) or shovel (snow). Come prepared with seasonally appropriate gear and you'll enjoy your stay in this Northern oasis.
Find Adventure On the Water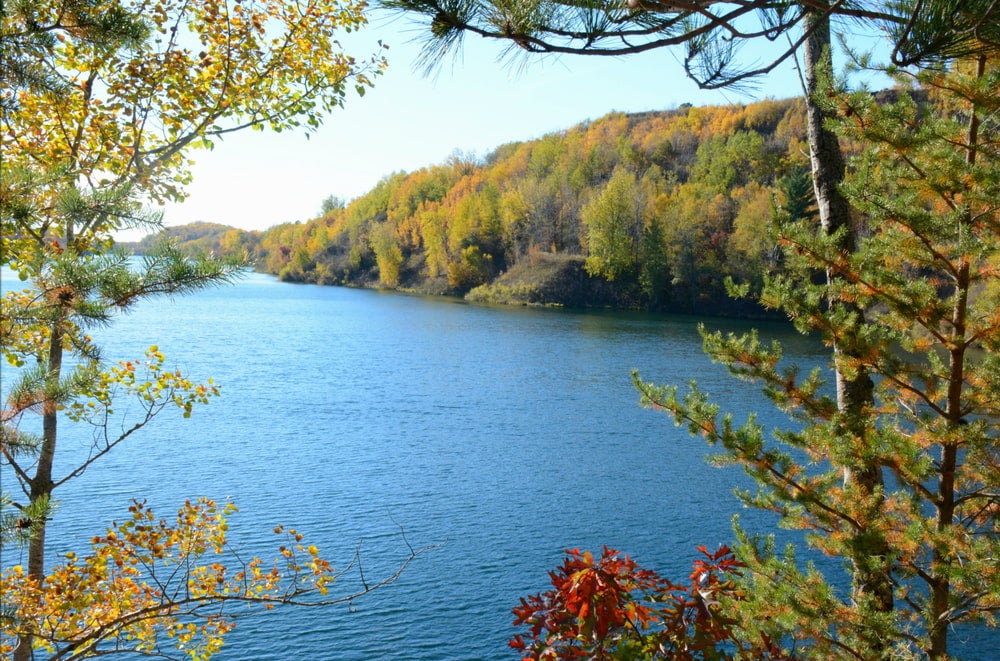 Paddle
Crosby is located in the Cuyuna Range, a major iron ore mining area during the mid-1900s. As people extracted ore and moved on to richer sources they left behind the mine pits, massive holes that have since filled with rain and groundwater to become a treasured feature in the local landscape.
Area rental shops like Cycle Path & Paddle have kayaks, canoes and standup paddle boards to take advantage of the countless lakes in the area. They'll even drop off and pick up the watercraft at your destination.
If you enjoy spending time on the water, head to one of the local pits like Portsmouth where you can float along the uniquely teal waters.
Fish
The region is famous for fishing—so much so that even state governors have come to the area during the summer to catch their fill of walleyes, crappies and bass. Stop at any gas station in the state to pick up a fishing license and head to Oars-N-Mine, just off Crosby's main drive, to catch the latest gossip on the hottest fishing spots. The locals are kind and will help you choose the freshest minnows, but that doesn't mean they'll give away all their fishing secrets!
If you arrive in the winter, you'll need hand and feet warmers, serious layers and some grit—the wind is no joke out on the frozen lake. While ice fishing in Minnesota as a young kid my uncle "Johnny Walleye" told me to walk backward if I felt a fish on the line—he didn't think I could maneuver my reel with my mittened hands. He was right, but his instructions sent my tiny body right into a fish hole as I followed his instructions and walked backward without looking. Thankfully, enjoying a tasty, freshly caught dinner after a long day in the cold is always worth it.
Watch the Boat Races
In late summer every year the town celebrates the powerboat races on Serpent Lake—a more than 1,000-acre lake in the heart of Crosby. It's a blast to sit at the beach and watch local youth and professionals scream their way around a circular track lined with colored buoys. The drivers work on their spaceship-like boats all year, prepping the motors and shaping the cockpits so they're as aerodynamic as possible.
You can even watch in the shadow of the Serpent statue, a more than 2,000-pound rainbowed creature said to lurk in the depths. Bring earplugs if you're worried about your hearing—this race can be heard throughout the town.
Experience Thrills On Land
Mountain Biking
With the nearby Cuyuna Mountain Bike Trail System, you can pedal around the lakes on 25 miles of paved singletrack with incredible views of the green forests and blue water in all directions. You're sure to get a workout on this silver-rated system as you ride up and down the mine tailing piles.
There are 30 routes available from amateur to expert, so anyone can try out the trails at any difficulty rating. The trees—ranging from aspens to oaks and Norway pines—offer awesome obstacles to huff and puff your way around while you quickly gain and lose elevation on man-made switchbacks.
Be warned: the local high school's mountain biking team is equipped with spandex and helmets, and they may blow past as you learn the many curves of the trails.
Fat Biking, Snowshoeing and Skiing
During the winter months, 40 miles of multi-use trails are available for cross-country skiing, snowshoeing and biking. Half of those routes are groomed just for fat bikes so you can get your cycling fix even if the wind chill is 40 degrees below zero—a feat that happens here many winters. To avoid frostbite partaking in these activities you may need a full-face helmet, goggles, and serious gloves to keep your fingers warm and give you steering or ski pole control.
After you've had your fill of the sparkling snowy landscape, head straight to a local cafe like Mixed Company to warm up with tasty coffee roasted in Duluth, another Minnesotan outdoor hotspot just 90 minutes northeast.
The Best Camping Around Crosby, MN
If you're interested in camping at the newest drive-in sites in the area, head to True North Basecamp. Here, you can stay in a cabin, park an RV, sleep in a tent, or try out a yurt. This all-inclusive private campground offers hot showers on-site but there is a nightly charge for pets so keep that in mind if your adventure pup is coming with you.
The campground rests on the southern edge of the Cuyuna Country State Recreation Area, where countless lakes and trails offer plenty of activities for outdoor lovers.
"A great little campground right near Crosby MN (easy to bike in for coffee or beer) but it feels like you're deep in the Northwoods! (…) Situated right on a quarry with fun fishing and kayaking opportunities. Connects to the mountain bike trails too!" —The Dyrt camper Lacey F.
If you are interested in staying in town on Serpent Lake see if you can snag one of six tent spots at Crosby Memorial Park. Families love taking pictures with the serpent statue, playing at the beach and enjoying the playground. During the summer, weekly Music in the Park events bring together locals and tourists to enjoy tunes from all genres.
The campground offers group, RV and tent sites and features restrooms with showers and potable water. You can easily walk or bike to everything on main street including restaurants, antique shops and the grocery store.
"A little city campground in the heart of Crosby MN. Easy trail access to the Cuyuna MTB trails and paved bike paths. Right on Serpent Lake for boating and swimming access. Shower house, water/electric hookups, playground, walking distance to downtown shops and brewery." —The Dyrt camper Kim H.
If you're willing to venture just out of the city limits (approximately two miles, that is), the Portsmouth Campground in the Cuyuna Country State Recreation Area offers a more bike-friendly camping experience near Crosby, MN. The park is located with easy access to miles of hiking and mountain biking trails, so don't forget your wheels!
"The outer ring has some foliage but the central ring is wide open with very few trees. The upside is that the campsites go the whole width of the inner ring. There are lots of bike trails at this campground and people love mountain biking here." —The Dyrt camper Liz H.
---
Related Campgrounds:
Popular Articles: