While many parks in the northwestern part of the U.S. begin closing down facilities and roads as early as September, there are still numerous national parks you can visit in October, and beyond. Some of the most iconic parks remain open, and burst into color in the fall.
The best national parks to visit in October are either in the Southwest or in the East. Prerequisites are pristine forests and, preferably, hilly or mountainous terrain. Canyons and deep glacial valleys work, too, as we'll see below. This is because parks with a variety of vegetation and large elevation differences will have the longest period of fall foliage.
The first signs that fall has arrived are typically present at higher elevations. The color line then slowly creeps down the slopes until even the low-lying valleys can't escape the yellow, orange and brown wave any longer.
The Best National Parks to Visit in October and Beyond
A National Parks camping trip this fall guarantees amazing fall colors and wonderful hiking. Cozy campfires keep everyone warm in the evening, while crisp mornings get rid of sleepiness even better than the strongest coffee.
While there is never a wrong time to visit any one of our parks, we'd like to think these are the 5 best national parks to visit in October:
It may be a surprise to see a desert/canyon park in this overview, but Zion National Park is one of the top national parks for fall colors. When the enormous summer crowds are gone—it's the fifth most-visited of the national parks—things quickly calm down in September, exactly when the leaves begin to turn at the higher elevations.
Though Zion is one of the best national parks to visit in October, leaf-peeping is possible well into November, with peak fall foliage happening around mid-October. Zion is photogenic and colorful in the popular season, but fall brings with it an explosion of yellows, oranges, red and browns in Zion Canyon that's not seen by many. Especially when the sunlight dramatically paints the canyon walls red at sunrise and sunset, this place is magnificent.

Best Fall Hikes in Zion National Park (Zion Canyon)
Where to Camp in Zion National Park in the Fall
The two campgrounds in Zion Canyon, both located near the southern entrance in Springdale, are open until late November or early December, so you'll have the chance to enjoy the park's fall scenery throughout the whole of the season. There are restrooms, trash bins and potable water at both campgrounds, but no showers, electrical hookups or outlets. All sites have a fire pit with grill and picnic table.
This park's popularity means the campgrounds are full every night pretty much all the time. Some sites are available on a first-come, first-served basis, but reservations are recommended if you'd like a guaranteed campsite.
"I love South Campground when I go to Zion. Recently, they switched over from first come, first served to a 2-week reservation system ($20/night) so be aware of this when you want to go. You can check for cancellations, which is how I got in the last time at the last minute. You can't beat the views at sunset, you get to look up at the watchmen and be in awe. It is worth one morning doing the Watchman overlook trail, and also pulling your camping chair into the virgin river behind the campground after a day of hiking." — The Dyrt camper Cynthia L.
Camp Here
---
"Zion is generally a very crowded park, but our site at Watchman was nestled in a patch of trees and tucked as far away from other sites as can be expected in a big campground like this. We had two tents, a shade tent, and two cars, and we had plenty of space at our campsite. Since generators are not allowed, we were able to really enjoy the quiet scenery." — The Dyrt camper SwitchbackKids
"The best part of this campground in my opinion is the proximity to hiking and the shuttle lines. The campground is a 5-minute walk of the visitor center where you can access a shuttle into the park or the shuttles that go to Springdale, where there are grocery store, gift shops and restaurants. There are also several hikes that you can access from the campground." — The Dyrt camper Amanda D.
Camp Here
---
Prepare for your next adventure by downloading maps. The Dyrt PRO lets you download maps and campgrounds without cell service. "My alternative to using pro would be to drive back out to cell service".
---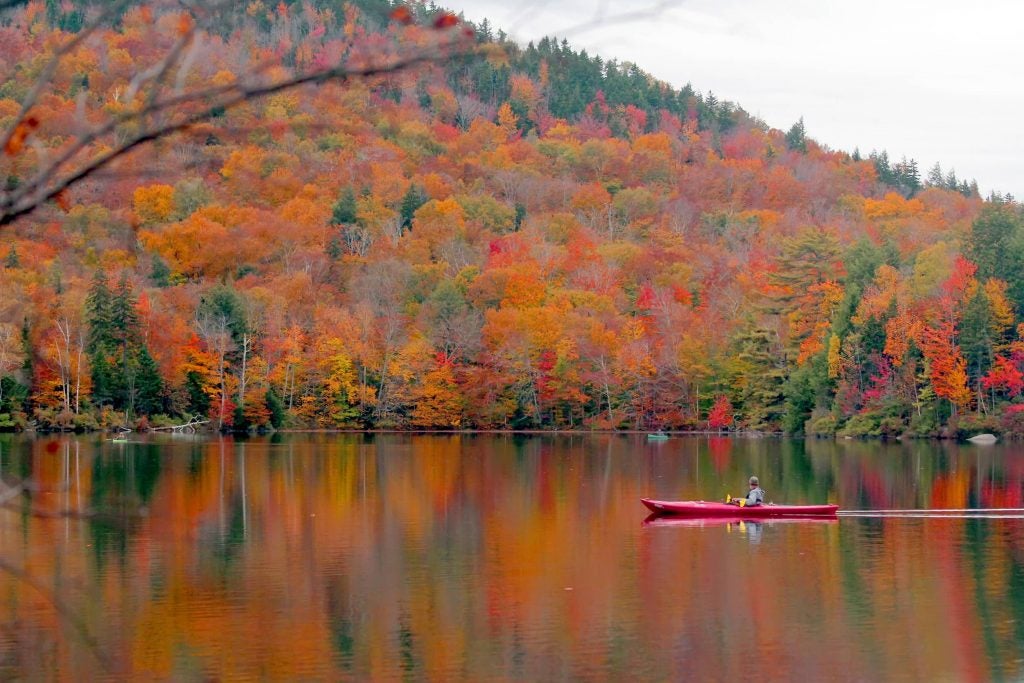 Fall in New England is what painters and photographers dream about. Hikers, boaters and cyclists, too, can explore and enjoy the vast woods, countless lakes and granite mountains of New England in autumn. Fall foliage peaks from late September through late October in the Northeast, depending on latitude and elevation.
The only national park in New England, Acadia National Park is one of the best national parks to experience autumn in the Northeast. Visit anytime from the first to the third week of October for a famous display of fall foliage. Drive the Park Loop Road, bike the historic carriage roads, stroll around Jordan Pond and hike up Cadillac Mountain for sunrise.
Best Fall Hikes in Acadia National Park
Where to Camp in Acadia National Park in the Fall
Of the four regular campgrounds in Acadia National Park, only one is open through the month of October. Two are open during the first weeks of the month, so we've highlighted those below as well.
Camping in Acadia National Park is popular and reservations are highly recommended from spring through to the end of the season. Also, note that there really is only one campground in the main area of the park on Mount Desert Island—Blackwoods Campground. All others are spread out across other peninsulas or islands in the park. They might lack accessibility, but make up for it with seclusion and quietness.
"Close to many trails as well as the vast, beautiful ocean, clean bathrooms, close to island adventures/Bar Harbor restaurants and overall is a pleasant family campground. There are really nice showers within a two minute drive that are coin operated (ATM and coin machine inside though) and the campground also gives you an armful of free wood. Sites are not as secluded but the location and cleanliness makes up for that." — The Dyrt camper Brittany D.
Camp Here
---
"Camping on in the Duck Harbor Campground is nearly the stuff of legends. This remote island off the coast of Maine only has 5 campsites in this part of Acadia National Park, and reservations are required. The Park's website describes this in classic Park Service understatement, "Duck Harbor Campground is very popular. Please plan your trip in advance." I believe I'm right in saying that the hype is worth it here, more than just because it's difficult to get here and difficult to get a reservation. This is a beautiful place to camp and an amazing island to explore by bike, by kayak, and on foot." — The Dyrt camper Shari G.
Camp Here
---
"This campground is a gem! It is located on the Schoodic Peninsula, which is the quieter side section of Acadia National Park but no less breathtaking. Here you get to enjoy the hiking and biking trails, amazing coastal scenery, quaint towns, and a peaceful campground in one of America's top 10 parks without the crowds and craziness of Bar Harbor and Acadia NP located on Mt. Desert Island (which is only an hour away)." — The Dyrt camper Nancy W.
Camp Here
---
In the Blue Ridge Mountains of Virginia, fall colors first show themselves toward the end of September. The crest of the mountains is where it all starts, but it takes several weeks before the whole landscape wears its autumn clothes. The second half of October is typically when fall colors peak in Shenandoah National Park. It is, however, wise to check local fall foliage reports and trackers.
The best, and only, way to enjoy fall in Shenandoah National Park is driving Skyline Drive. The park's only public road, it parallels the Blue Ridge for 105 miles. There's plenty to see and do on the way, from 75 overlooks and numerous hiking trails to historic lodges and abundant wildlife.
Best Fall Hikes in Shenandoah National Park
Where to Camp in Shenandoah National Park in the Fall
All five campgrounds in Shenandoah National Park—four standard campgrounds and one group campground—are open seasonally. They open throughout spring, with Big Meadows first in late March, followed by Lewis Mountain shortly after, and the rest in early May. They all close for the season on the last Monday of October, with the only exception of Big Meadows, which remains open for another two weeks.
None of the Shenandoah National Park campgrounds have hookups, but potable water is available. RVers might want to consider that only the Lewis Mountain Campground has a dump station. All sites have fire pits, picnic tables and food storage boxes. This is black bear country, so always keep a clean campsite!
"This campground is located in Shenandoah National Park on Skyline drive and offers some amazing views! There are several hikes in close proximity to the campground and the Appalachian Trail goes through this part of the park as well! The staff are very friendly, the park is clean and there is wildlife everywhere. […] If you don't feel like cooking, the lodge is very close by with delicious food, a warm fireplace, local musicians, games." — The Dyrt camper Charlotte D.
Camp Here
---
"This is the best campground in the park! The spots are secluded, there's bathrooms that are in good shape, and it's super close to some awesome hikes and great sunset lookouts! We loved being able to hang our hammocks and watch the wildlife roam around. Our dogs were welcomed and we felt right at home! One of my favorite NPs and definitely my favorite camp spot in the park!" — The Dyrt camper Molly G.
Camp Here
---
"We loved sharing the site with so much wildlife. We had a bear, a doe and her fawn, and a lively family of rabbits. The facilities are clean, and there is a store and showers. Only thing I didn't like was the one way through the whole campground, but I understand the need for it. They have walk in sites for tent campers who want a more wilderness experience or for the through trail campers." — The Dyrt camper Stephanie J.
Camp Here
---
While Yosemite National Park's winter wonderlands, sensational waterfalls and alpine meadows make it a national park worth visiting in any season, fall offers unique and undeniably gorgeous sights. This is when the park's dogwoods, oaks and maples shed their greens and bring out the yellows and reds. Yosemite Valley is, of course, where the magic happens.
Mid-October is the start of the fall colors, which stick around in pockets through the rest of the season. The end of October and into November is, however, generally when the colors are at their brightest and most widespread. Snow is possible in Yosemite National Park most of the year, though. The fall can bring the occasional snowstorm, so make sure to check the park's website for temporary closures.
Best Fall Hikes in Yosemite National Park
Where to Camp in Yosemite National Park in the Fall
More than a dozen campgrounds dot Yosemite National Park. Only the Upper Pines, Camp 4 and Wawona Campgrounds are open year-round. North Pines is open through mid-November, and Lower Pines is open through the third week of October.
All three featured Yosemite National Park campgrounds below can accommodate both RVs and tents, but you're advised to double-check individual site details when reserving a site, as there may be length restrictions. Yosemite is a massively popular park and making reservations is the best way to ensure that you have a place to camp during your visit; reservations can be made up to five months in advance.
None of the campgrounds have hookups of any kind, nor showers. Public showers are only available at Half Dome Village in Yosemite Valley.
"Sites are moderate sized with bear locker, picnic table and fire pit. Campground has flushing toilets, sinks. It is close to Curry Village [Half Dome Village] where showers, pool, market and pizza are available. Campground is near Happy Isles, where the trailheads for Vernal Falls, Nevada Falls and Half Dome begin. Great camping spot to see Yosemite valley! Also is pet friendly." — The Dyrt camper Maureen C.
Camp Here
---
"On the east side of Yosemite Valley, it offers a convenient spot to rest after exploring and enjoying all the activities the area has to offer. Is crowded, but each spot is equipped with fire ring, food storage, picnic table, parking spot and flat, shaded spots for your tent." — The Dyrt camper Kalai L.
Camp Here
---
"Wawona is different [from Yosemite Valley]. The sites are large, well-spaced, and idyllic. Many of them are situated along the South Fork of the Merced River. It's quiet there — and peaceful. On both of my trips, Wawona was a beautiful reprieve from the sometimes hectic pace of the Valley. It's near the Mariposa Grove of Giant Sequoias; there's a free shuttle during the day, and you can take a car there at night — walking among the sequoias alone at night is absolutely amazing." — The Dyrt camper Joe H.
Camp Here
---
With more tree species than all of Western Europe combined, Great Smoky Mountains National Park is one of the best national parks to visit in October for the variety of colors alone. Here you will find a fall foliage show unlike any other park. A variety of elevations and microclimates stretches the peak color season from late September through early November. The first trees to turn are the mountain maples, yellows birches and American beeches at higher elevations.
The entire month of October offers amazing fall colors anywhere in this mountainous park. Hit the Blue Ridge Parkway—which, by the way, runs all the way north to Shenandoah National Park—to get a panoramic view of the fall landscape from Clingmans Dome, visit popular Laurel Falls and watch for elk and black bears in Cades Cove.
Best Fall Hikes in Great Smoky Mountains National Park
Where to Camp in Great Smoky Mountains National Park in the Fall
There are 10 different frontcountry campgrounds in Great Smoky Mountains National Park, along with several more backcountry campgrounds.
Most of those 10 campgrounds are open well into October, some stay open year-round. They all have flush toilets and running water, but there are no water or electrical hookups or showers in the park. Each campsite comes with a picnic table, food storage boxes and fire grate.
Some campgrounds require advance reservations whenever they're open, while others only during a certain period. A number of these sites are first come, first served. In autumn, reservations for all frontcountry campsites are either possible or required, so you're advised to book ahead. Below are three Great Smoky Mountains campgrounds that are recommended by The Dyrt campers.
"I loved coming here! We came in the middle of fall with all of the leaves in full bloom! The winding mountain roads, rivers and picture perfect views made this trip my all time favorite. The campground was nestled in the middle of the forest right off of a crystal clear river. This was a a great spot for pictures and for fishing small mouth bass right off your site. There were plenty of deer, turkey and even a black bear off in the distance." — The Dyrt camper Kasey K.
Camp Here
---
"We loved this campground. My two kids loved exploring the river, the bathrooms were kept clean, sites were plenty adequate for tents or campers. This is a very busy campground and sites were very close to each other but we would definitely camp here again. We saw bears and went horseback riding at the Cades Cove stables. No showers or hot water at this campground." — The Dyrt camper Elisabeth B.
Camp Here
---
"This is an unbelievable area! We took our small camper and stayed during the elk rut [which starts in mid-September] and it was incredible! Our dog came too and we were able to hike and get some great pictures of elk in the valley!" — The Dyrt camper Natalie M.
Camp Here
Popular Articles: