Camper van rental companies across the country let you road trip and take "vanlife" for a test drive. 
---
So you've seen all the beautiful photos of #vanlife on Instagram and the open road is calling your name. You've thought about van conversions or buying a used RV; you've collected some inspiration on your Pinterest boards; and you're dreaming of all the places you'd visit across the country.
But wait. Buying or converting your own camper van is a serious commitment. Are you ready to devote the time and money?
The ability to travel and live out of a camper van is undeniably awesome. That is until your 1986 GMC Vandura breaks down on the side of a remote mountain in Montana for the second time in two days and you don't have cell service to call a tow. Speaking from experience, I would personally recommend renting a camper van BEFORE you buy one.
The truth is, owning a campervan or a converted van can be a pain in the butt. And it's a big commitment. Sure, you can hit the road on a whim and not worry about booking hotels or campgrounds, but you'll likely dump a bunch of money into your van, especially if you buy an old one like I did. (Never again will I be swayed by the draw of "vintage charm.")
Alternatively, RENTING a van frees you from the responsibility of maintenance and repairs, and allows you to embrace the thrill of short-term road trips.
Camper Van Rental Companies Across the U.S.
Each of these camper van rental companies offers something a little different. Take a cruise through their websites to find one that's right for you.
Location: Los Angeles, Las Vegas, San Franciso
Rent here for: Long distances (no max), no young driver fees, and discounts on RV parks.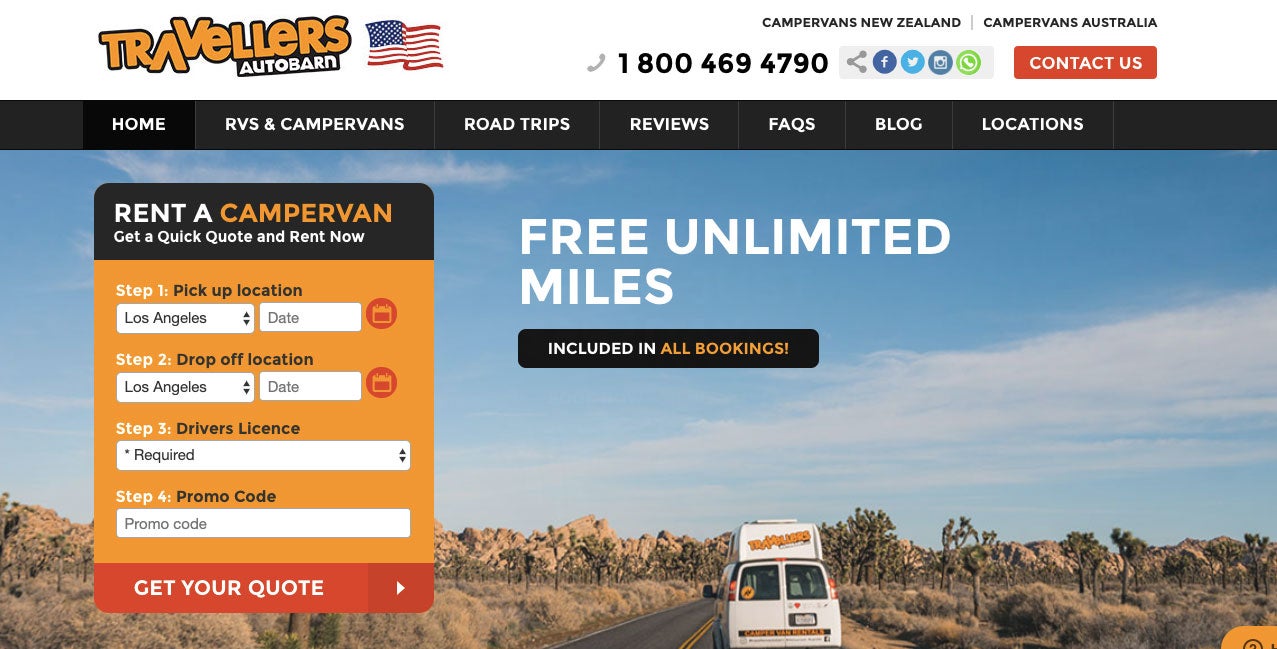 This established and trusted camper van rental company from Australia is now available in three West Coast cities in the U.S., with pickup locations in Los Angeles, Las Vegas, and San Francisco. But renters can take Travellers Autobarn' budget-friendly vans as far as they choose, with free mileage and no maximum on miles traveled. Their compact options are low-maintenance and reliable, and let you focus on the adventure rather than your rig. Book Now
Location: Portland, OR and Bay Area, California
Rent here for: Van shares with personality. You rent directly from owners, like AirBnB.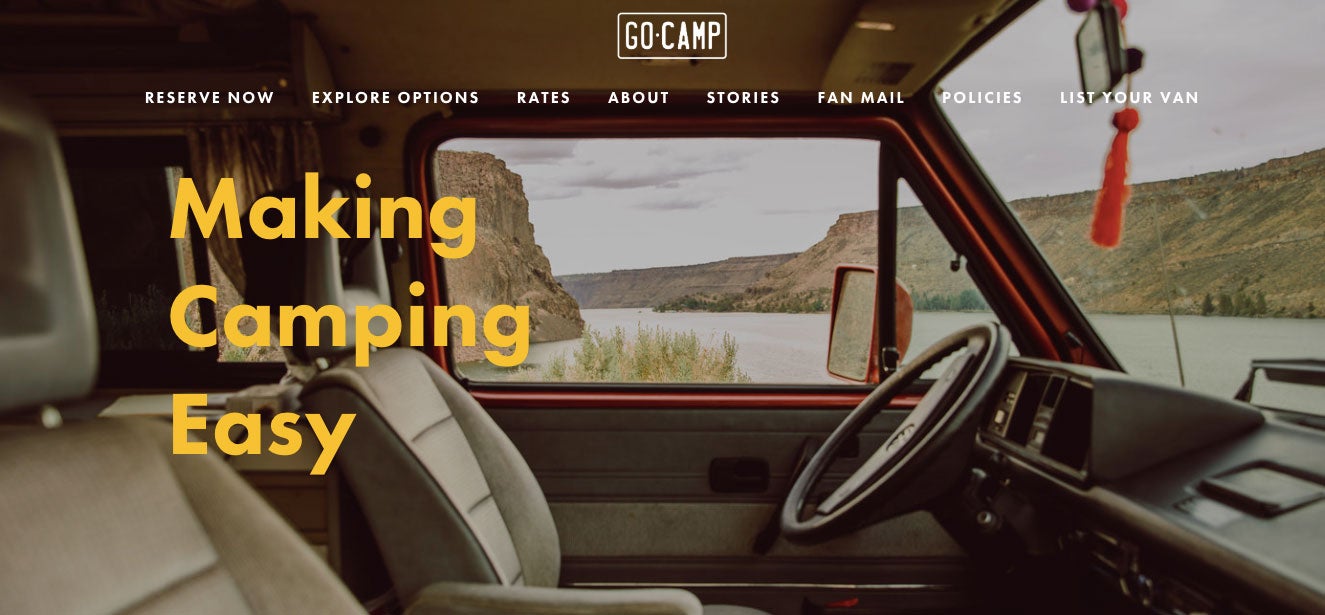 GoCamp just appeared on the van rental scene last year, but they're already bringing van owners together with van dreamers for some epic camping trips. GoCamp is a van sharing platform; think AirBnB for little homes on wheels. It's free to list, and interested renters can choose from a variety of van options, from new Sprinters to vintage VW buses. Since all of the vans are owned by individuals, they each come with an individual personality, adding some flavor to your PNW road trip. Book Now
Location: Seattle, WA
Rent here for: VW campervans and people who specialize in them.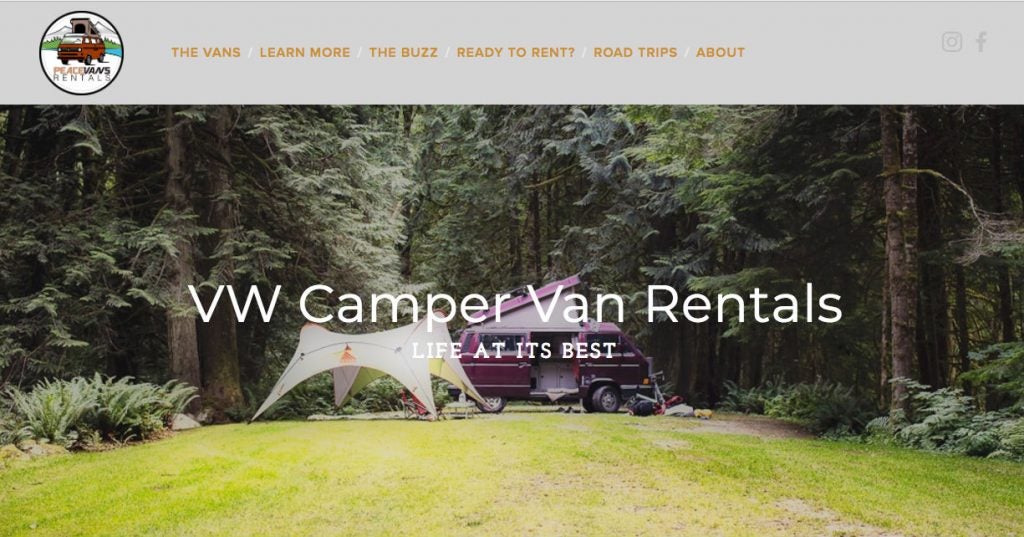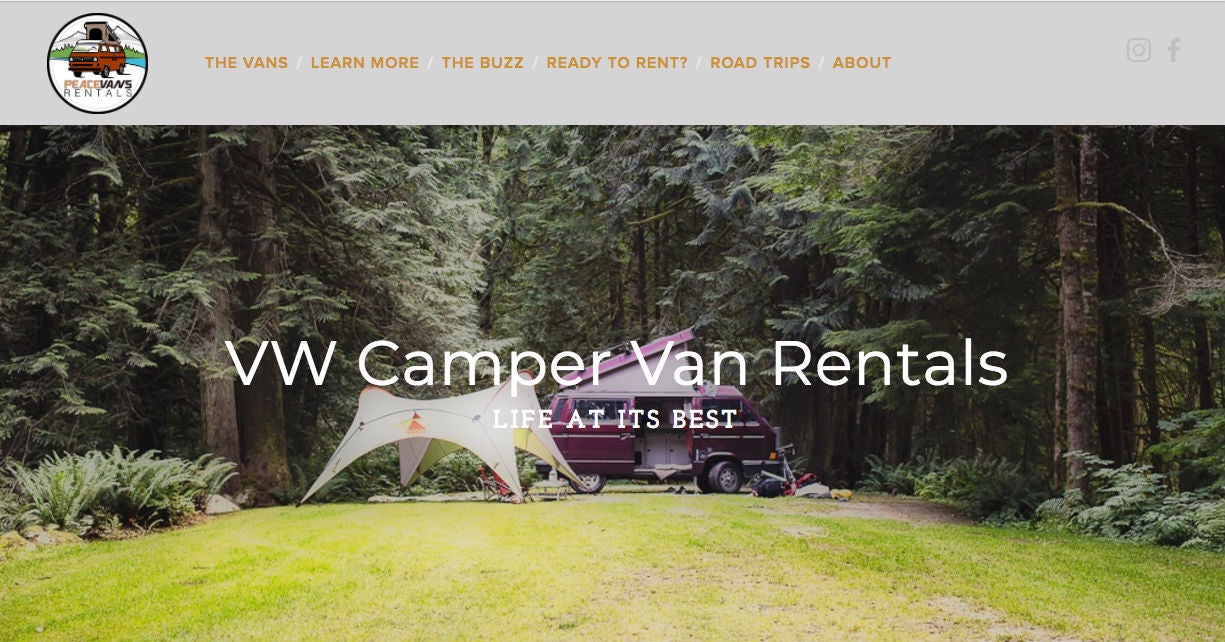 VW Camper Vans are undeniably groovy. And since Peace Vans Rentals only rents out this one iconic brand, you know they know their stuff when it comes to Volkswagens; Peace Vans Rentals are actually serviced by the largest Vanagon/Eurovan shop in the U.S. In addition to getting to sleep in these awesome vans, Peace Vans offers access to secret camping spots (Peace Vans Camps) and detailed itineraries that will help you discover some of the best road trip routes in the region. Book Now
Location: Portland, OR
Rent here for: Lots of options.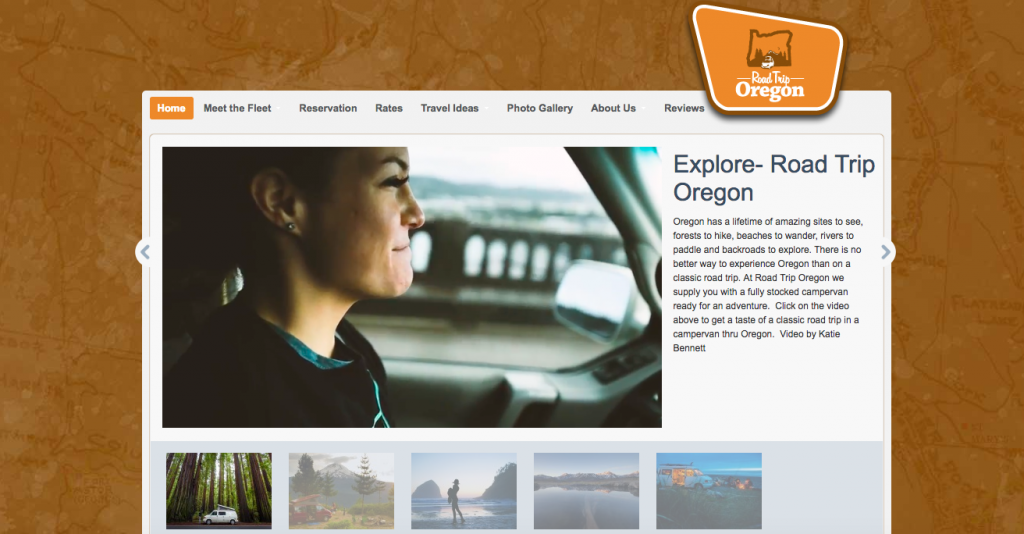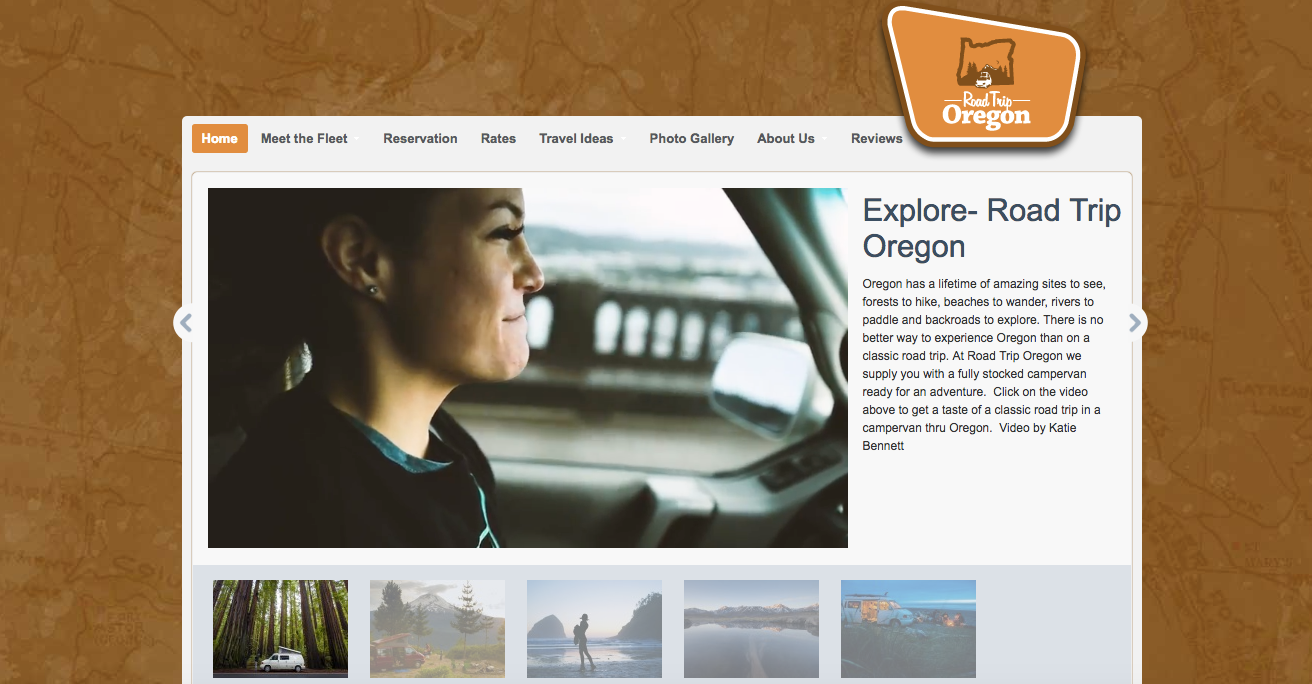 Road Trip Oregon wants you to explore the many sides of this diverse state, and beyond. Their rentals include Sprinters, Eurovans, and Land Rovers, and each comes fully stocked with bedding, kitchenware, and basic groceries like coffee and sugar. (The essentials!) You can add a bike rack, a tent, and even an inflatable SUP at additional costs. Book Now
Location: Seattle, LA, NY, Miami, and More
Rent here for: Beautifully hand-painted vans.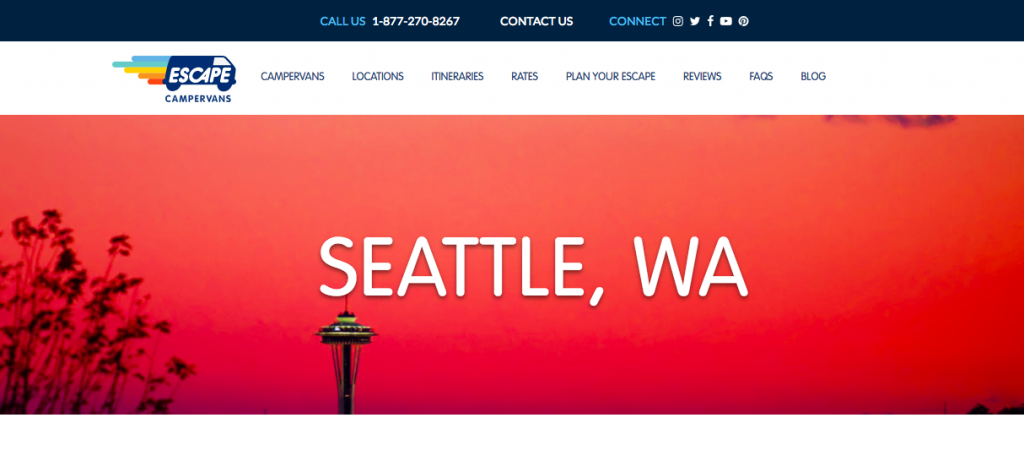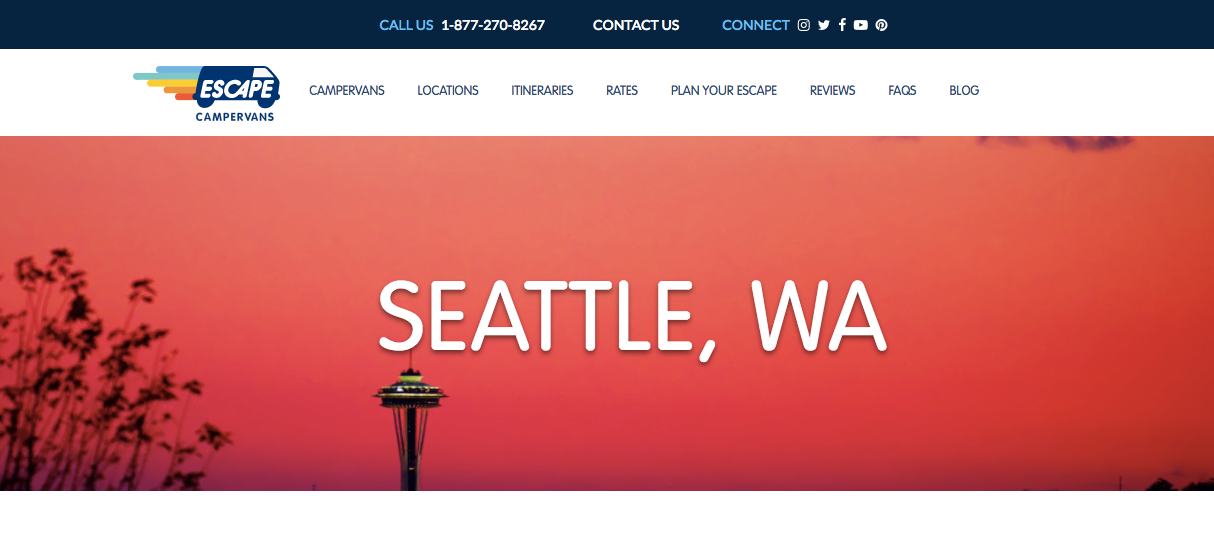 Escape Campervans is the largest campervan rental company in the country, with locations in Seattle, Los Angeles, Las Vegas, San Francisco, Vancouver, Phoenix, Denver, Atlanta, New York, and Miami. Their Maverick and Ventura models are both big enough to get comfortable and small enough to reach those trickier destinations, like remote campgrounds, where RV's wouldn't fit. Escape Campervans are also hand-painted by artists in Los Angeles, so you're sure to turn some heads on the road! Book Now
Location: Boise, Salt Lake City, Portland
Rent here for: Ford Transit vans.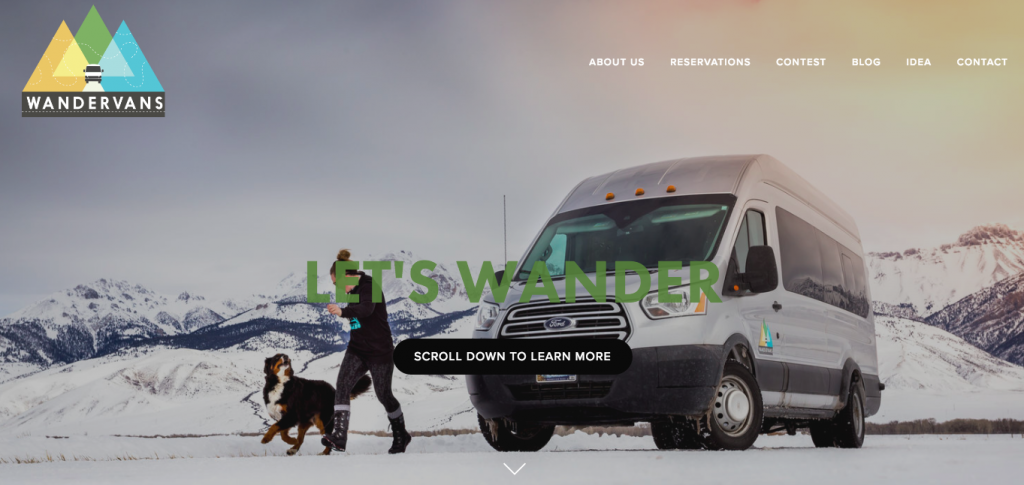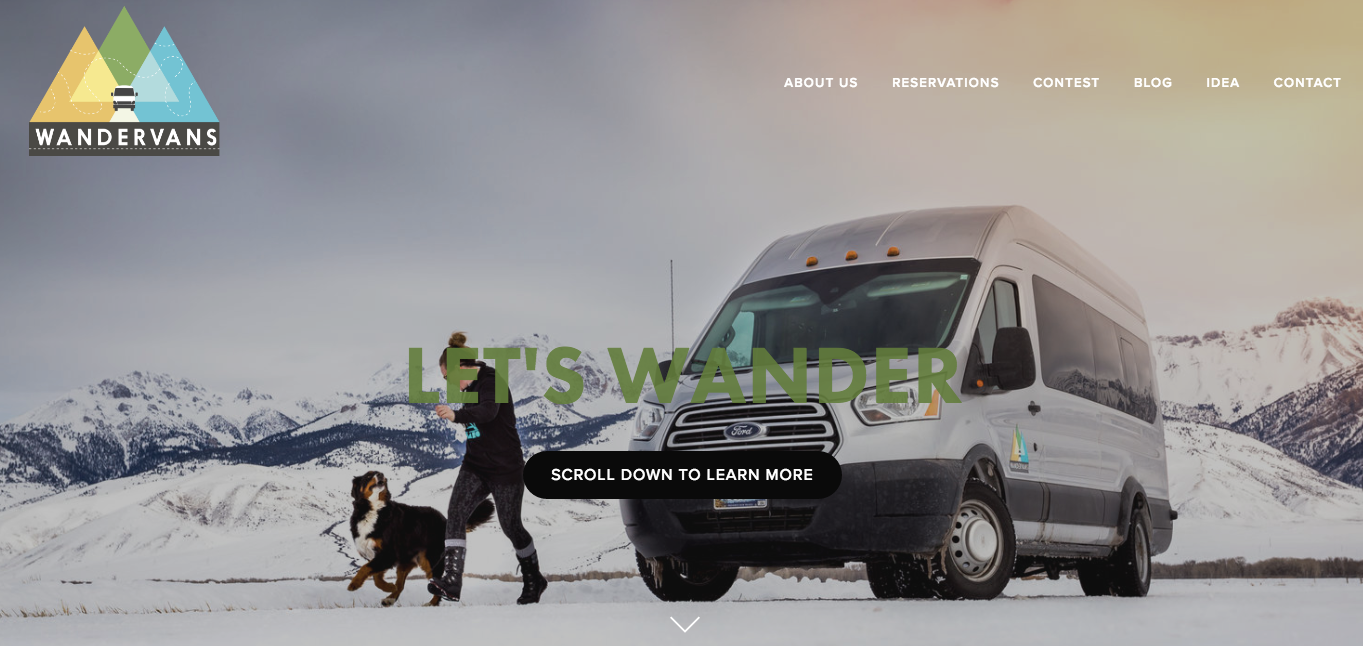 Wandervans rents "boutique" Ford Transits, which is a pretty new van to the United States, but has been a popular road trip vehicle in Europe for years. With locations in Boise and Salt Lake City, you're able to explore cool cities and the incredible outdoor opportunities that surround them. Their website offers lots of fun road trip ideas from both locations. Book Now
Location: San Francisco, Las Vegas, Los Angeles
Rent here for: Discounts on KOAs, urban adventures, Sunland RV Resorts, and more.
If you've ever noticed a bright purple and green van or RV at a campground, it was probably a Juicy RV. Their "mini RVs" are packed with amenities. The Juicy Trailblazer comes with a fridge, two gas stoves, a sink, and two double beds. You'll be shocked by how much they've managed to fit into the body of a minivan. Juicy offers all kinds of extra amenity rentals to add on, plus discounts for renters through partnerships with campgrounds and resorts across the country. Book Now
Location: Nationwide
Rent here for: A large selection of user-owned rentals across the country.
240,000 road trips have been taken with rentals through Outdoorsy, one of the largest peer-to-peer marketplaces for RV and van rentals. Whatever type of RV or camper van you're looking for, and wherever you're looking to pick one up, you'll likely find a match here. Book Now
---
Related Campgrounds:
Popular Articles: