If you have dreams of traveling and camping in a photoshoot-worthy campervan, you're not alone. Lots of people are inspired by the beautiful campervan conversions they see on social media. But do you really need your camper to look like something out of a catalogue? Or do you simply want to live and camp comfortably while traveling?
The reality of converting a van into a campervan is that everything you add has the potential to create more work and more issues when you're on the road—not to mention the upfront time and money you'll need to install every fancy feature you find on Pinterest.
When I bought my GMC Vandura and started living in it part-time, simplicity was my focus. I wanted to seriously downsize my life, so I didn't want to fill my van with too many extras.
The Key to a Successful Campervan Conversion? Keep it Simple.
The "van life" movement is rooted in minimalism. The VW van-dwellers of the 60's didn't have Pinterest to source ideas from. They lived and camped in their camper vans as a way to escape the confines of too many possessions. And the recent resurgence of van-love, now replete with a hashtag (#vanlife), grew in tandem with the tiny house obsession, along with the idea that less is more. People wanted to reinvent the "American Dream," without expensive mortgages and working their lives away to pay the bills. They wanted to get outside more. Mobile living (including tiny homes, vans, RVs etc.) offered a simpler version of comfort, along with mobility, freedom, and low-cost living.
But as this alternative lifestyle has turned into mainstream clickbait, the "minimalism" is sometimes overshadowed by expensive Sprinter van build-outs and elaborate rigs.
Now, don't get me wrong. I love a gorgeously curated interior. I bet you do, too. But the reality is I don't have the budget or the time for all the bells and whistles. And when I'm sleeping at campgrounds, I really don't need them. If you're looking to turn your van into a camper van, you might not be interested in the fancy build-outs either.
Whether you're parking at campgrounds or boondocking, you don't have to spend tens of thousands of dollars in converting a van into a camper van.
Let's break down the things you do need in your simple camper van conversion…
5 Things to Focus on for a Simpler Campervan Conversion
I spoke to some fellow vanlifers — some of them live in their vans full-time, others camp in their vans on weekends — to round out my own advice on what you need for a simple van conversion.
M own camper van conversion is a 1986 GMC Vandura. It's old and creaky and slightly unreliable, but (most of the time) I love it, and it's perfect for camping.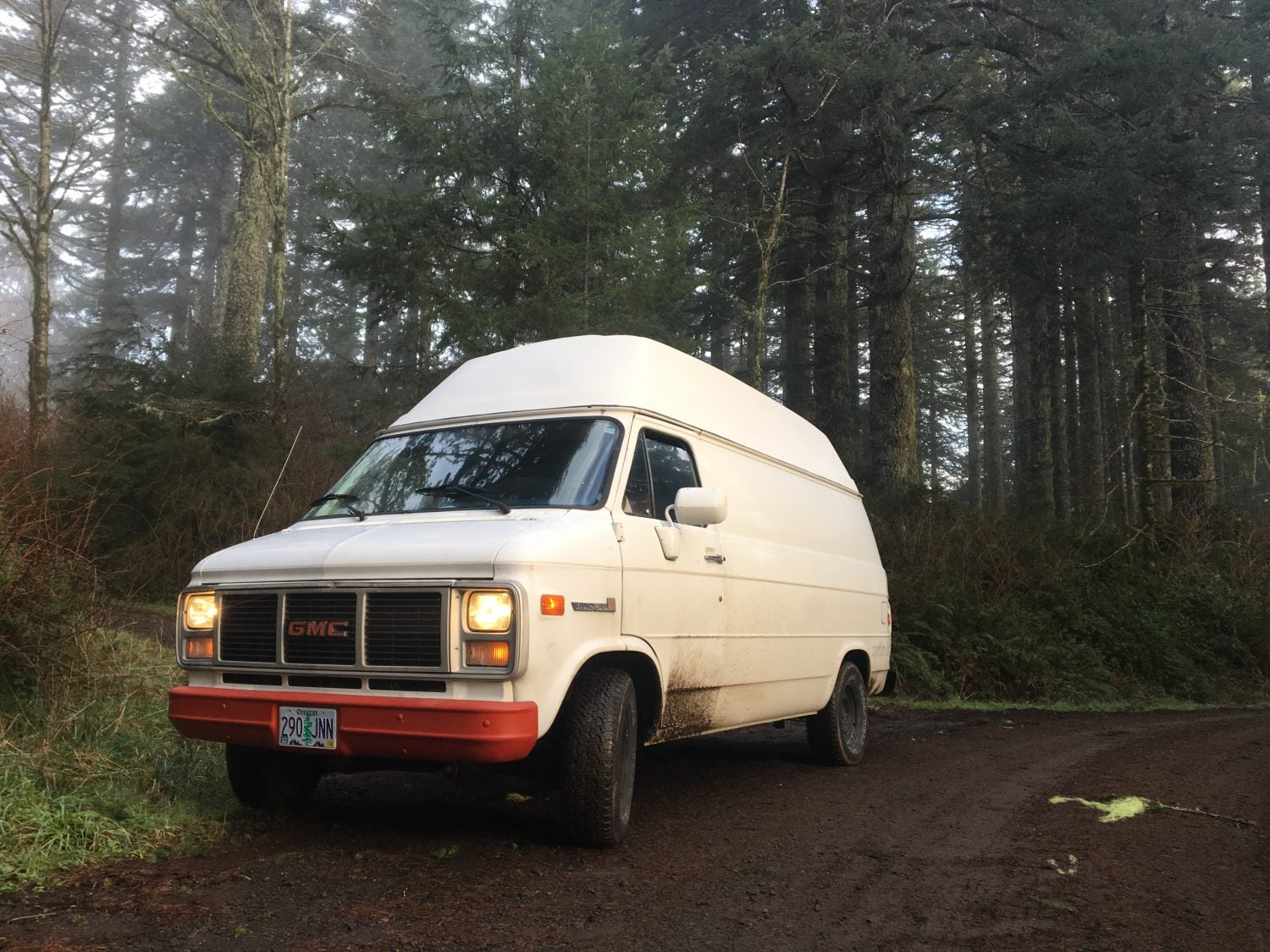 A Bed
The bed is the foundational difference between a van and a campervan. (Related: once you have a bed in your van, it's officially an RV, according to AAA, and you'll need their RV coverage if you ever want a tow. I discovered that on the side of the highway in Seattle.)
I've seen vans with the backseats removed and a mattress thrown in. I've even seen a hammock strung up inside of a van, which can be easily removed to maximize living space when you're not sleeping.
My van came with a bed that folds into itself to create a bench seat. It's similar to this one, built by @gnomad_home:
But I keep mine out like a bed all the time, and find the bed works fine for sitting and occasionally working on my laptop. If I did a camper van conversion myself, I wouldn't bother with the fold-up feature.
The vanlifers behind Two Wandering Soles built a super simple platform bed in the back of their Chevy, and they offer detailed instructions on how to make your own.
When it comes to bedding, I'm a big fan of an excessive number of pillows. And I'm kind of in love with my Pendleton wool blanket. But now that the weather is warming up, it's much too hot. I love the concept of the Rumpl blanket — it's made out of sleeping bag material which stays nice and cool, but also keeps you warm. Plus, my dog's hair won't stick to it, like it does with the wool blanket. I don't have one yet, but it's on my list for summertime van camping.
Power + Light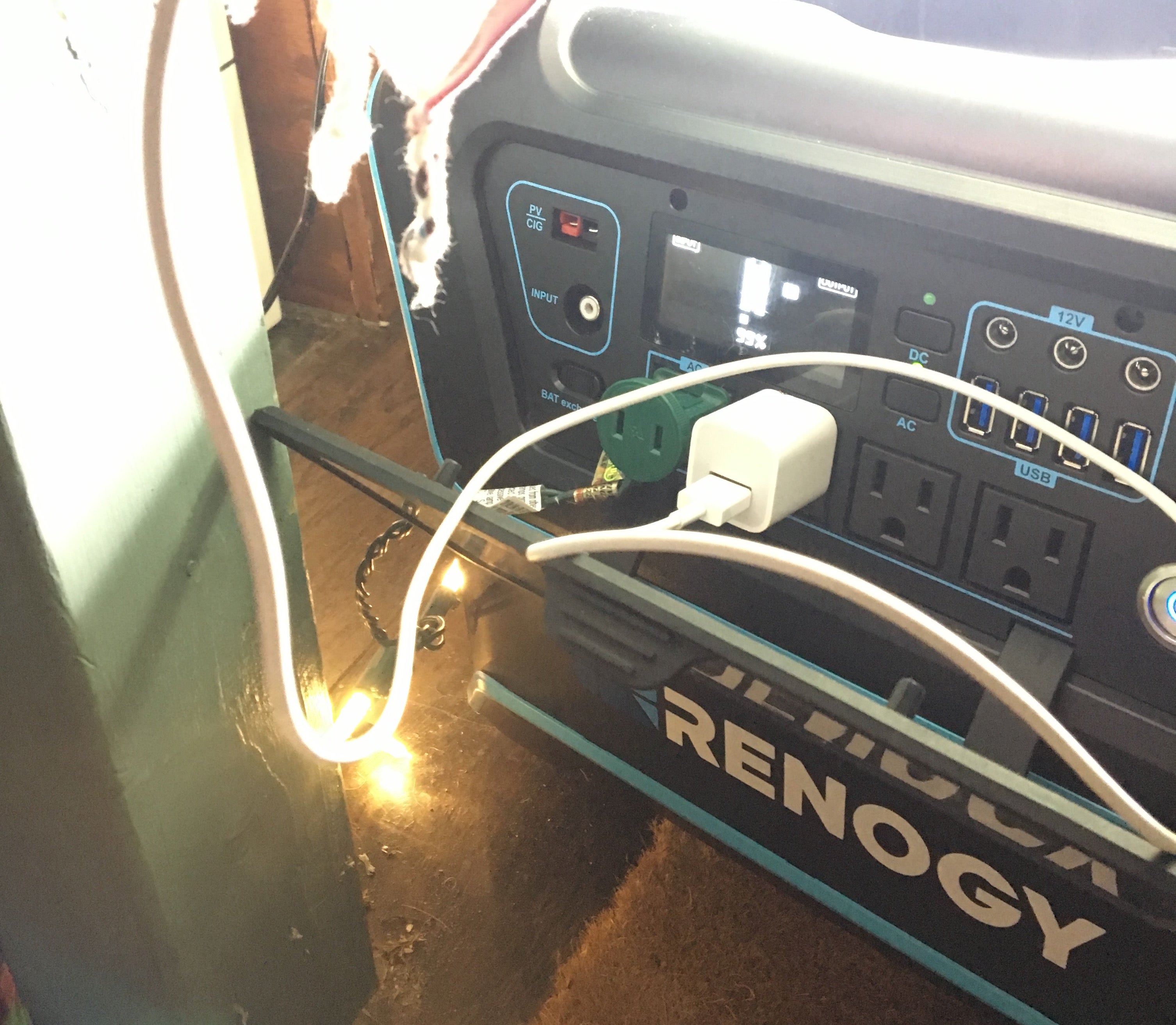 There's something special about being in the van at night. I drove miles up into the coastal mountains of Oregon to reach Horse Creek Campground on my first van camping trip. The dark tunnel of dirt road was eery, as I drove further and further away from civilization. But then I reached the nearly empty campground, turned on my collection of Christmas lights, strung around the van's ceiling, turned off the headlights, and felt right at home.
The thing is, if you want to do anything in your van at night, you're going to need light. I've amassed more and more Christmas lights, which I plug in to The Lycan Powerbox from Renogy. If I want to read, I also turn on a little lantern I have hanging over the bed.
I have a foldable lantern in the storage compartment over the driver's seat in my camper van conversion, so I can see to find my clothes. And a few smaller lights scattered around the van, so there's always one in arm's reach when I climb in and need to see before I accidentally step in my dog's water bowl.
The UCO Gear Sitka Lantern is another appealing option. The extendable arm can give you light from above, which is especially handy when cooking or reading.
I'm also a big fan of battery operated twinkle lights. They're not great for reading, but they give my van a cozy vibe for nighttime relaxation.
Because you can never have enough options when it comes to your ability to see in the dark, I also keep a headlamp on hand. Ledlenser Headlamps are so much brighter than most headlamps I've tried. Stick one behind your gallon of water for a makeshift lantern when it's not on your head.
Fellow van camper Kelly S. also keeps it simple when it comes to lights: "I didn't want to mess around with wiring a van, storing an extra battery, figuring out how to charge an extra battery, etc, so I have hooks on the ceiling for battery powered LED lanterns. This way, they're portable too, and you can use them outside of the van!"
Econoline-dweller Rachel loves her LED lights for keeping things simple, too: "For lights I have an LED strip that plugs into USB and I just use those little backup phone batteries and switch them out and charge them through my lighter while I'm driving."
Shelly S. is hooked on LUMINAID. "I get the Cairn subscription box, which is how I received the initial run of this awesome little lantern and have been stuck to it ever since."
Water
Rule number #1 with any type of camping: Bring more water than you think you'll need. This isn't hard when you're van camping — there's plenty of room! But you have a bunch of options when it comes to water storage.
Kelly S. shares how she sourced her best van ideas from traditional tent camping, including water.
"For water I have a 7-gallon aquatainer. If you need drinking water? There's a spout right there! Coupled with a tub on the floor underneath the split, you have a sink to wash your hands, too! Having it bungee corded in place for transport works great, and then if you want to spread out somewhere you stop, you can take it out!"
---
Related Reading:
---
When it comes to water storage, you really can't beat the classic big blue jug. The Reliance Aqua-Tainer 7 Gallon holds plenty of water for a summer weekend of water drinking, dish washing, and the occasional foot rinse after a barefoot stroll around the campground. Just make sure you have a way to secure it to the floor when you're bouncing down dirt roads.
As for showers, if your van is strictly for camping, then you can usually rely on campground bathrooms for bathing — or simply embrace the dirt while you're out there.
If you want to get a little crafty, you can add a makeshift outdoor shower to the roof of your van with ABS piping and a hose.
Since I sometimes spend several weeks in my van, I wanted to have a place to wash my face and brush my teeth. I relied on disposable face wipes and gym bathrooms for the first few months. But then my friends at Wood Intimations built a gorgeous sink that is super simple and looks great — and it's been a game changer.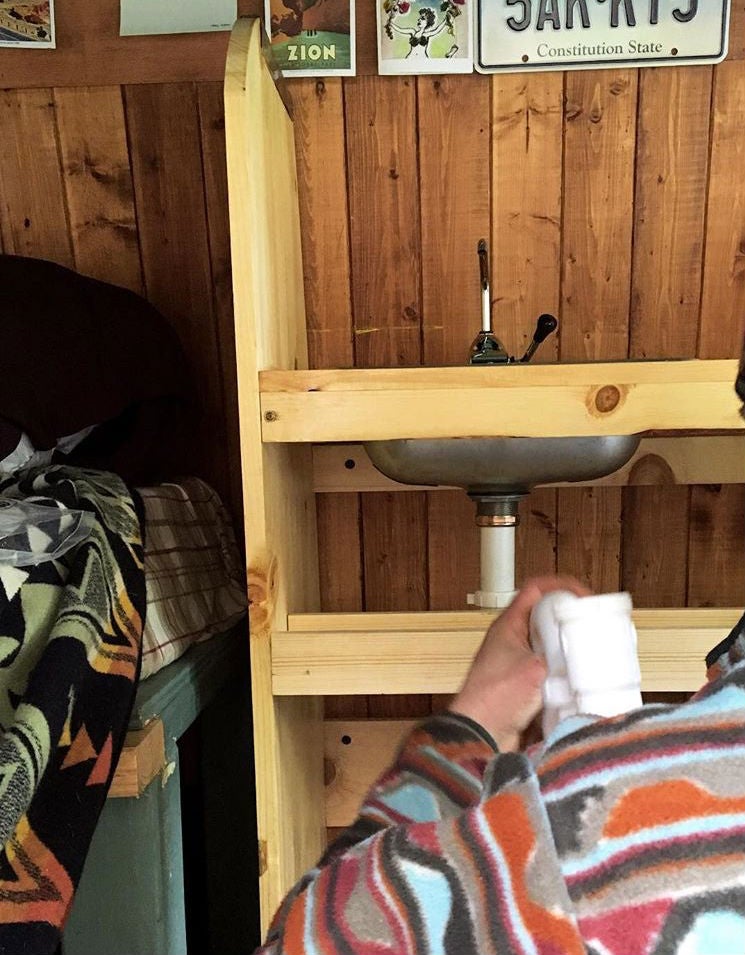 The pump faucet draws water from a 4 gallon jug beneath the sink, and gray water drains down into a hole in the van floor, so I don't have to empty anything.
It also provides some much needed counter space, and a little shelf for storing those tiny things that always get lost in the van, like the remote to my twinkle lights and my chapstick!
Organization
Organization is so important for your sanity when living or camping in a camper van conversion. Even if you're a minimalist guru who wears one outfit and lives off protein bars, you're going to manage to collect more stuff than you think.
And if your lighting isn't great, it's going to be even more difficult to find that stuff.
Staying organized will make you feel like you have a handle on the whole #vanlife thing. Organization can be as simple as a few plastic bins that can slide under your bed. Just make sure you know exactly what you're storing in each of them. (Clear storage containers are ideal so you can see what's in there when you inevitably forget.)
Shelly S. camps in her 4Runner. "It's not a van, but the same concepts apply," she tells me. Organization is important for her, too. "Mountainsmith has some nice storage cubes — soft sided and stuffable. That being said, you can do about the same with those free cloth shopping totes, stored in either a cardboard box or a plastic bin."
Leah W. recommends as few belongings as possible for staying organized. "My biggest recommendation is really paring things down to what you NEED. I had one set of basic utensils, one pot, plate, and bowl, a one burner stove, etc. A small toiletry bag, one duffel bag of summer clothing, one duffel bag of winter clothing." She agrees with Shelly about using bags for organization. "While most people are fans of creating boxes for organization, we found that sturdy-ish bags worked best."
I went to the Container Store and bought a couple of soft containers with attached lids. Because the structure of the containers is fabric, they're easy to stick into places where they barely fit, like the storage area above the driver and passenger seats of my GMC Vandura.
Hooks have also been a sanity saver for me in my sometimes not so organized camper van conversion. I keep a jacket and a couple of shirts that I don't want to be all wrinkly, hanging on a hook by the door. I always know where they are, and I can reach extra layers if I get cold at night. I also have a hook for my headlamp, because that is something that always gets lost.
When it comes to food storage, you'll need to think about uninvited house visitors.
"Store your food in closed containers or bins, " advises Leah W. "We started our trip with our food in an open crate, and quickly had mouse friends also enjoying our snacks."
---
Related Articles:
Popular Articles: