Vermont's verdant, vibrant summers are a welcome shift in temperature, landscape, and color from its long and frigid winter season. When all the snow melts, Vermont waterfalls take center stage.
A Tour of 6 Vermont Waterfalls With Camping Nearby
In the warm summer days, rivers and lakes are often filled with swimmers, kayakers, and water lovers of all sorts. But to experience the drama of Vermont's impressive annual precipitation (about three feet a year) gushing over rocky landscapes, you'll want to venture a little further. A trek to one of the many hidden waterfalls in Vermont can offer unrivaled swimming holes surrounded by lush foliage, a refreshing spray on a hot summer day, and a truly special experience in Vermont's natural setting.
Many of these waterfalls lie within state forests or parks, and all are near truly fantastic camping options.
1. Bingham Falls—Mount Mansfield State Forest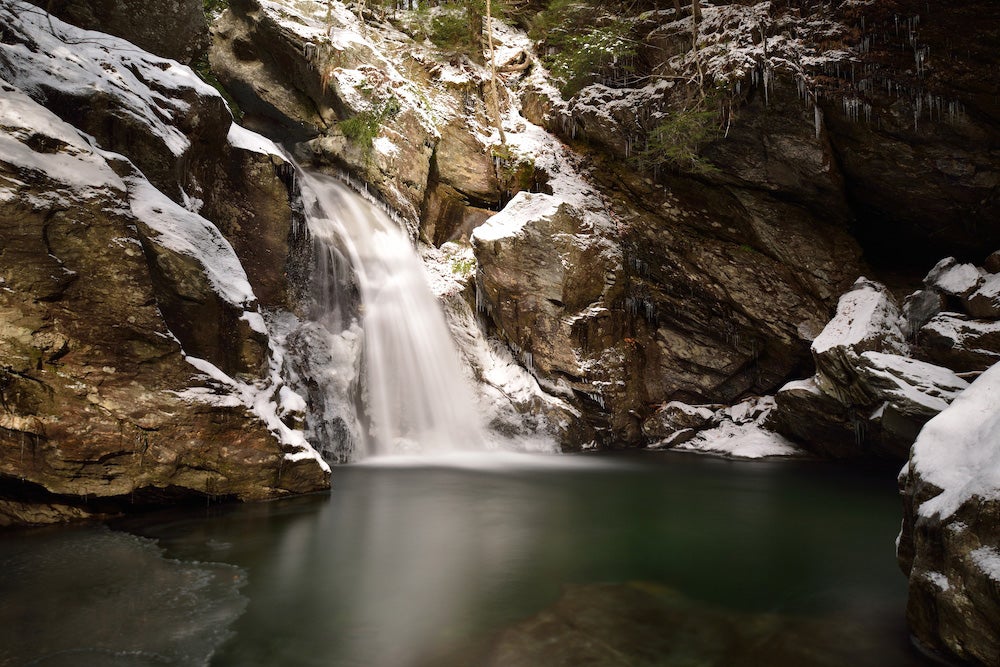 Located in the Mount Mansfield State Forest, Bingham Falls is a secluded 25-ft plunging waterfall that pummels through narrow gorge walls before emptying into a wide emerald pool. Although it can be dangerous to do so when water levels are high, swimming here is spectacular. Nearby trails make this a popular spot for a post-hike dip, and the boulders that encircle the falls and pool make it a fun spot for a daring jump.
The trailhead for the hike to Bingham Falls lies north of Stowe, VT about 12 minutes on Mountain Road. The trek to Bingham Falls is relatively easy, with the total hike a little over a half of a mile round trip. Bingham Falls can be popular on a hot summer weekend, so if you'd prefer less of a crowd, aim for a weekday visit.
"There was not a bad site within the entire vicinity. All were fully shaded and extremely private. Bathrooms were clean and the main office sold firewood at the entrance. Facilities are also pet friendly. Plus, there are so many hiking trails and recreational opportunities in and around the Park-from Stowe Mountain Resort to the quaint shops in town and local craft breweries." —The Dyrt camper Rachel P.
2. Texas Falls & Moss Glen Falls—Green Mountain National Forest
We're giving you a two-for-one here, as these two waterfalls are so close to each other, don't require a hike, and are both equally worth a visit.
Texas Falls is one of the most photographed waterfalls in Vermont, adorning postcards, tourist sites, and hiking guides. Although swimming is no longer allowed here due to injuries, this punchbowl falls has a 35 ft total drop, with plunges that flow between a deep ravine. With the spring snow melt, this creates a roaring waterfall that is a quite a site.
Moss Glen Falls of Granville (there are two waterfalls in Vermont with the name "Moss Glen Falls") also has a total drop of 35 ft, before widening out and gathering into a wide, shallow pool. Moss Glen Falls is visible from the road, and has a wheelchair accessible boardwalk to the falls itself, making it a wonderful stop on a very scenic Vermont byway, Route 100. Close to hikes and other area swimming holes, combining Moss Glen Falls and Texas Falls into one trip is ideal.
"Such a beautiful place to stay! We stayed in a wooded area surrounded by large rocks my daughter could climb on. The beach was nearby and included in the stay with horseshoes and a playground. There was hiking nearby, but with the rain we weren't able to go. Can't wait to go back again!" —The Dyrt camper Desiree V.
3. Bolton Potholes—near Bolton, VT
A local favorite, the "potholes" are a fabulous place to spend a summer day with the whole family. There are five total waterfalls along this hike outside Bolton, VT, each forming the titular potholes and swimming holes that hikers can relax and cool off in. The Bolton Potholes feature the gorgeous emerald river water that Vermont swimming holes are known and loved for. At the base of the falls there is a shallow, sandy area that's perfect for young kids to splash and swim.
The trailhead for the hike to the Bolton Potholes begins on the Bolton Valley Access Road, a few miles south of the Bolton Valley Ski Resort. one must walk a short distance on the Bolton Valley Access Road.
"Little River State Park is located just outside of Waterbury Vermont so it's an ideal location for jumping off on other adventures! There are so many great stores and restaurants nearby if you want something else do to! The park is on the shoreline of Waterbury reservoir so there is boating (rentals available) and plenty of fishing. There is also a lot of hiking!" —The Dyrt camper Danielle S.
4. Hamilton Falls—Jamaica State Park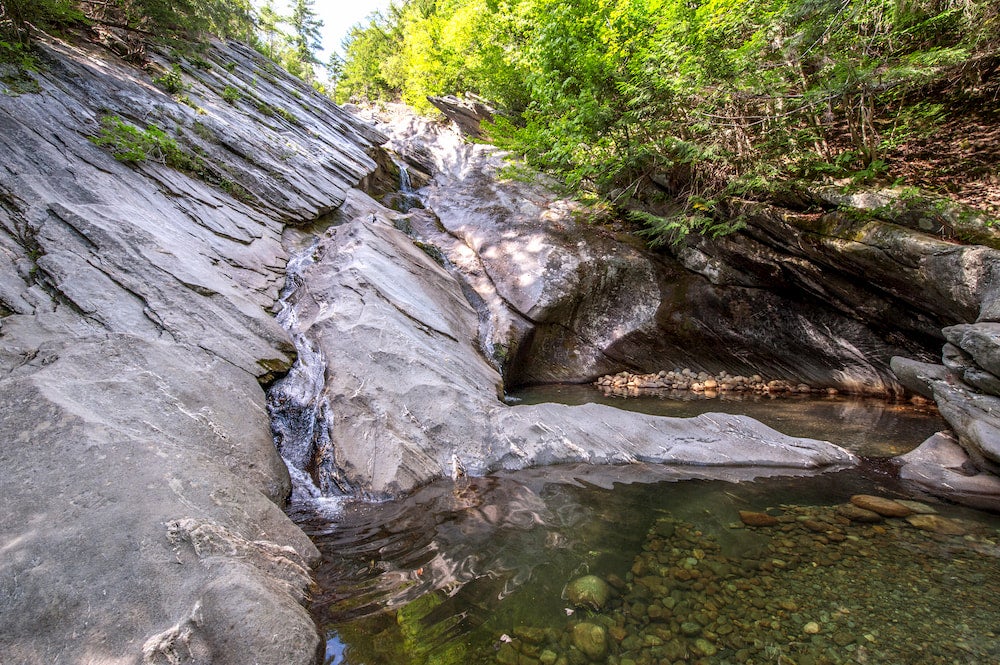 Hamilton Falls is one of the tallest waterfalls in Vermont, at 125 jaw-dropping feet. During low precipitation years, Hamilton Falls is a mild, but still beautiful, waterfall. But in a wet year, this waterfall plunges and cascades through deeply cut gorge walls. At its base, there is a popular wading pool for swimming; at its top, there are pools, but swimming is prohibited, as at least a dozen people have lost their life here.
Hamilton Falls is accessible from Jamaica State Park, where there is a trailhead within the park that leads directly to the falls. This makes it a fantastic option for camping.
"Very beautiful campground with a few great hikes. We had the whole campground to ourselves during the week. Camped right on the river on one of their lean to sites. A little pricey but worth it. Large sites. Cleanest campground I've been in. Everyone was so kind and helpful." —The Dyrt camper Summer S.
5. Warren Falls—near Roxbury State Forest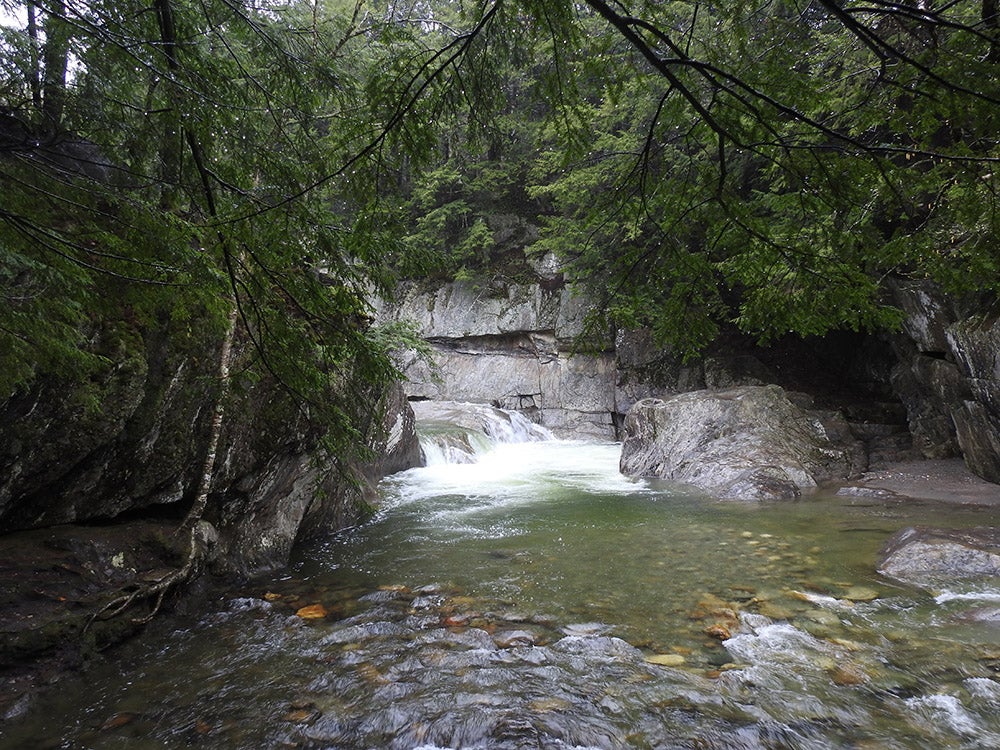 Warren Falls is a wildly popular swimming hole—and for good reason. Located on the Mad River, Warren Falls is one of many equally fantastic swimming spots only a local would know about (you'll have to ask). Warren Falls perhaps steals the show of all the waterfalls in Vermont. There are striking gorge walls that outline the entirety of the falls, lending a perfect spot to soak up the sunshine after a shockingly cold swim.
Cliff-jumping is a favored pastime at Warren Falls, and luckily, it's entirely safe to do so.
"The camping and parking area wedged between the Mad River and Vermont Route 100. Grassy and Rocky sites, 4 fire rings, 3 porta-potties, and stream side (river) camping close to trails, Warren Falls swimming hole, the Lincoln Gap Road and hiking, and the "famous" Warren General Store, and covered bridge." —The Dyrt camper Michelle R.
These are arguably the most dramatic of the waterfalls in Vermont, cascading down 125 feet and hundreds of tiered rocks. It's like waterfall layered on top of waterfall next to waterfall, with the seemingly endless rock levels adding texture and depth to this massive display. This water show is at its peak in the springtime while the snowmelt is at its heaviest. The hike in to view Lye Brook Falls is about 5 miles of moderate trails. Start at the Lye Brooke Falls Trail, and take the spur trail at 1.8 miles on the right to view the falls.
"We were at site 17, and it was a massive site. Lots of room would be great for a large family or group. The beach on the river is beautiful and clean! Easy swimming for all. " — The Dyrt camper Christina M. 
---
Related Articles:
Popular Articles: