This guide to camping in Great Smoky Mountains National Park was brought to you by Mountain House, who know how important it is to not only stay fueled when you're camping and hiking, but to have that comforting backpacking food that makes you feel at home wherever you wander.
---
Along North Carolina's border, stretching into eastern Tennessee, you'll find Great Smoky Mountains National Park. This all-American treasure was established on June 15th, 1934; making it the 23rd-oldest national park in the United States and the second-oldest national park in the eastern United States. This national park is full of stunning natural beauty, and we want to help you enjoy all that the park has to offer. So, without further ado, here's our guide to camping in Great Smoky Mountains National Park.
Why You Should Visit the Great Smoky Mountains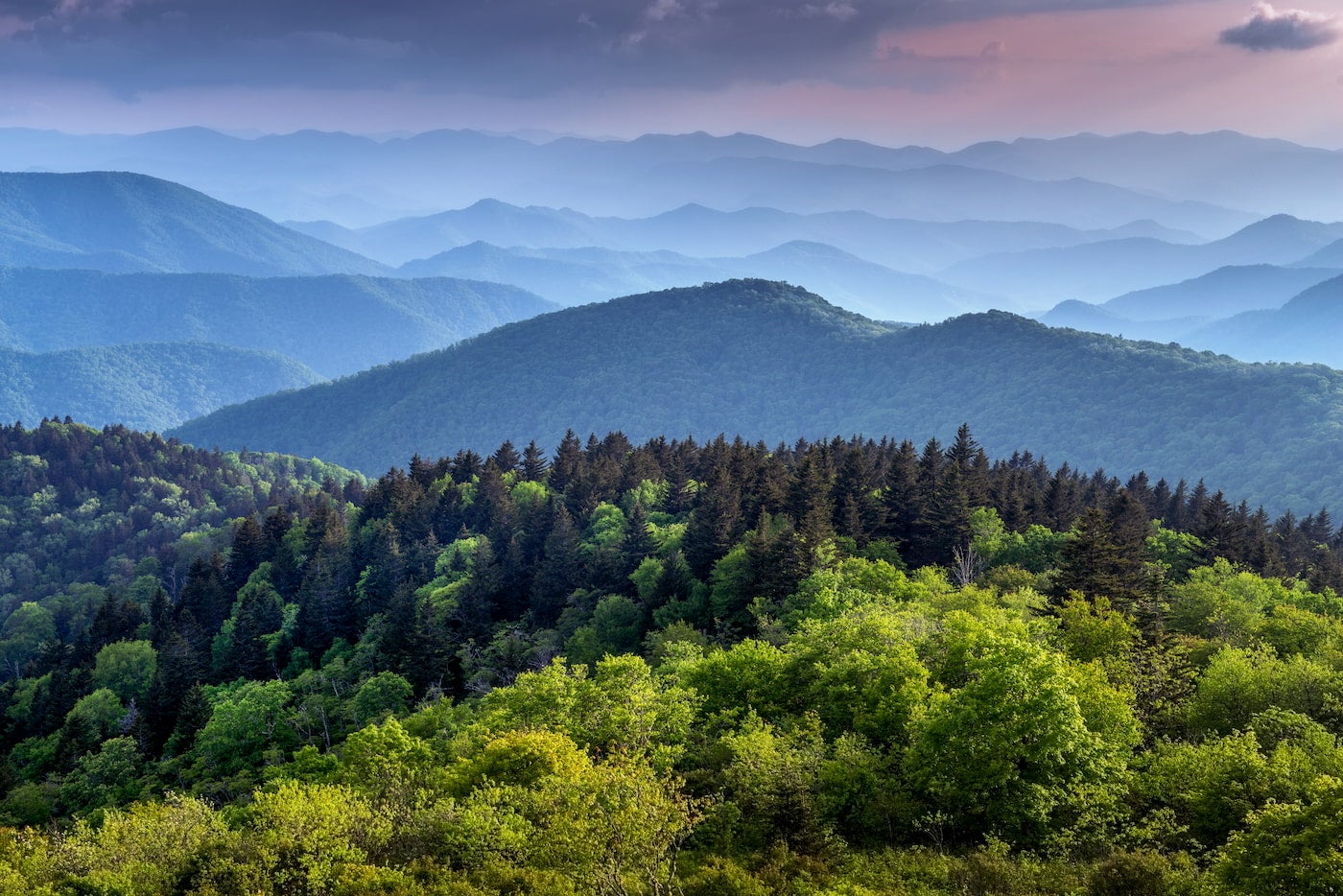 Let's start with some highlights. Here are just a few interesting facts about the Great Smoky Mountains National Park, to help set the scene for this awesome natural wonder:
It covers over half a million acres
Elevation in the park ranges from a few hundred feet above sea level to over 6,000 feet above sea level

The landscape here ranges from dense, old growth forests to an awe-inspiring number of soaring mountain peaks. There's a staggering 16 mountains within the park that reach over 5,000 feet. Now you know why the Appalachian Trail is famous for building calves of steel amongst its hikers!

It's the salamander capital of the world

If you're interested in checking out some of the smallest amphibians, you will find plenty of salamanders here. But remember, this is their home, so look all you want but be a polite houseguest and don't touch or bother them.

It's the most-visited national park in the country

Its popularity speaks to its beauty, accessibility, and the exciting wildlife that the park has to offer.

There are no entrance fees

Great Smoky Mountains National Park remains one of the few national parks with no entrance fee. This is, in part, to give travelers and road-trippers access to US-441, which is an incredibly scenic highway.

The park has the highest concentration of black bears in the nation

Guard your food and be careful with your trash while camping.

Plants rule in the Great Smokies

The flora of the park is absolutely breathtaking. If you visit in fall, you'll get to witness the 100 native tree species and 100+ native shrub species in full autumnal hue. There are also over 1,600 flowering plant species, so if you visit in spring or summer, you're sure to enjoy a verdant landscape.
Great Smoky Mountains National Park Camping
With all these reasons to visit this eastern treasure aside, here are The Dyrt's choices for our seven favorite campgrounds for awesome Great Smoky Mountains camping.
Stay at one, or bounce around to several different campgrounds for a more personalized experience of the park. And as always, be a respectful camper by keeping these tidbits in mind for your visit. All campgrounds have a 14-day stay limit, and you cannot visit the park more than 60 times per year. Generator quiet hours are between 8 pm-8 am, and general quiet hours are from 10 pm-6 am.
Elkmont is the largest Smoky Mountains National Park camping destination in the park. It is located in Gatlinburg, Tennessee, and features 220 sites for tents and RVs. While the campground has running and potable water, it does not have showers or hookups for electricity or sewage.
It's for overnight guests only, and it does not have any facilities for day usage. Elkmont Campground also features 9 ADA-accessible campsites with electrical services for medical devices. The sites range from $25-$27 per night, and the season lasts all year long.
Elkmont is a front country site close to town where you can take a trolley back and forth. There is plenty of tree coverage, and the sites are a reasonable distance apart. The Little River that flows through the middle of the campground keeps the area cool and is a great feature.
This campground is close to the 800 miles of trails that run through the Great Smoky Mountains National Park. While you should make reservations, there are 20 sites reserved for walk-ins.
Look Rock Campground is no longer open to campers, but Abrams Creek is just 15 minutes away in Tallassee, Tennessee. Abrams Creek Campground is a backcountry site that averages about $17.50 per night. You can still hike over to the Look Rock tower, but the amenities at Abrams Creek might be enough to keep you entertained.
Abrams Creek is set up for tent sites and is an excellent fishing location. Visitors will have access to running and potable water, but there is no electricity or sewage hookups available.
The peak season at Abrams Creek is between April and October. You must make reservations, and there is a limit of 6 people per site. The sites are close to each other, but there is still plenty of room to spread out. Some sites back up to the creek, which is perfect for fishing. Well-behaved and supervised pets are allowed, but not on the trails.
The Cosby Campground is a front country site located in Cosby, Tennessee. This 131-tent campsite features beautiful trees for swaying hammocks and horseback riding trails. Fair warning for potential visitors; there are no showers on site and no electricity or sewage hookups available either. However, the lack of amenities does help make it one of the quietest campgrounds in the Great Smoky Mountains National Park. The sites are well-separated from each other with trees. There is running and potable water available.
At Cosby Campground, reservations should be made in advance and cost $17.50 per night. The peak season runs between April and November. There are 2 ADA-accessible sites, and 9 sites reserved away from the tents for RVs. For more spontaneous campers, there are about 40 sites that are on a first-come, first-serve basis.
This campground is nestled in the Cades Cove valley, between scenic mountains covered with lush foliage. Cades Cove Campground is one of the most popular front country camping sites in the park and costs $25 per night. Reservations are recommended.
The peak season is year-round. There is a camp store available between May and October, and there is potable water and flushing toilets readily available on-site. However, there are no showers or hookups for electricity and sewage.
Cades Cove is the perfect place to go hiking or biking along the Cades Cove loop, and there are horse rentals available for horseback riding. Cades Cove Campground is also teeming with wildlife, including white-tailed deer, coyote, and the prolific black bear.
Loop B allows generators, while Loop C does not. This area is perfect for those looking to relax and enjoy the peace and quiet of outdoor camping.
Paint Rock Farm Glamping Retreat is the perfect backcountry campsite for those who aren't quite willing to give up the creature comforts of modern life. Located in Hot Springs, North Carolina, Paint Rock Farm is still a great place to disconnect and decompress in the comforts of your own furnished cabin.
The average price for a night at Paint Rock Farm varies from $100-$125 and you will need reservations. Each site has easy access to running water, electricity, and flushing toilets.
Paint Rock Farm has a rich history and was initially established for farming tobacco. The old barn where they dried tobacco is now a stunning wedding venue. In 2019, Paint Rock Farm became an organic hemp farm for use in CBD. You and your friends or family will love touring the hemp fields and learning about the many innovative ways hemp products are changing the health and beauty industries.
For a mix of glamping and traditional camping, Lake Powhatan Campground in Asheville, North Carolina offers the best of both worlds. There are 12 designated glamping sites in addition to 74 traditional tent sites. Prices range between $22-$120, and you should definitely make reservations if you're planning to glamp. There are hot showers, flush toilets, and ADA-accessible sites. The peak season is from April to December.
The camp is separated into four sections; all of which are near Lake Powhatan itself. Lake Powhatan has a beach area that is designated for swimming and sunning. To help preserve the area there and no motorized boats allowed on the lake. The campground is also near the French Broad River, which is a great place to fish. It's only 10 minutes away from downtown Asheville too, so you can enjoy your camping experience and head downtown for dinner and supplies.
Located in Cherokee, North Carolina, the Smokemont Campground is a large front country site with plenty of things to do. There is running water for drinking, flushing, and sinks, and it is accessible to tent and RV campers, alike. There is an electricity hookup for RVs and plugs in the bathrooms. The site costs $25 per night, and the peak season is from February to November. Reservations are wise, but there are also some sites set aside for walk-ins.
Smokemont Campground has an old church where you can visit and take pictures. The site is close to hiking trails and a river for cooling off. There is lots of wildlife to encounter, including elk and white-tailed deer. The site is quiet, and you have access to the many hiking trails that run through the forest.
If you're ready to get out, explore, and go camping in the Great Smoky Mountains of North Carolina, the campgrounds on this list offer a well-rounded collection that's sure to have something for everyone. Pick and choose your favorites for the ultimate customized camping trip.
---

Popular Articles: