When campers and gearheads alike see the title "4-season" in a store, skepticism often follows. How can a buyer be sure this thing will actually hold up? If real-life testing is the only way to judge, then it should be no problem to trust the strength of Hennessy Hammock and their new 4-season hammock kits.
Back in 2017, our team at the Outdoor Retailer Show heard the story of how Tom Hennessy, the founder of Hennessy Hammock, survived a tornado in one of his hammocks. Hear it from the man himself here:
At this year's Outdoor Retailer Show, we knew our team had to see for ourselves just how strong the brand's new 4-season hammock line is. What we saw lived up to the tall tales.
Hennessy Hammocks Has Made the Most Resilient 4-Season Hammock
With the two new models available in their 4-season hammock line (the 4Season Expedition Zip and the 4Season Explorer XL), winter hammock camping can be more than just a pipe dream.  Hennessy Hammock upgraded their single-bottom hammock design into a 4-season hammock by creating the SuperShelter 4Season Insulation System, which can adjust the hammock to a wide range of temperature conditions without adding weight or bulk.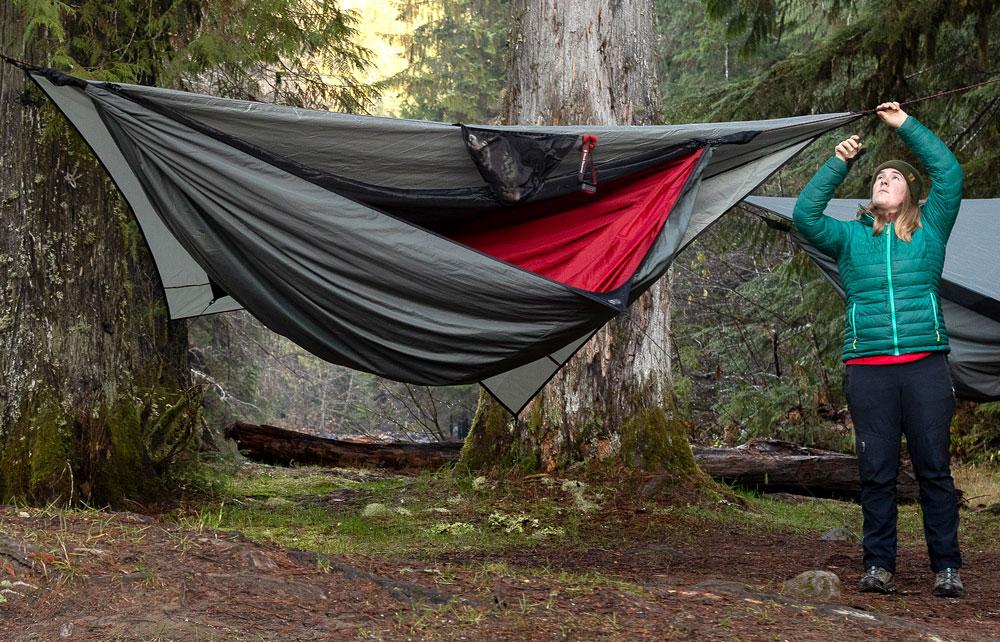 The 4 season hammock line includes additional insulation options like a space blanket and a foam pad, while retaining a low profile and room for additional insulation. An oversized hex fly is provided, which makes the hammock kit not just usable in 4 seasons, but in any weather you can imagine. The two 4-season hammock kits are available on Hennessy Hammock's online store. Buy Now: $269-$299
Popular Articles: