This article is brought to you by Morsel, whose camping spork is a 5-in-1 tool that will level-up your camp kitchen whether you are in the San Juan Mountains or your backyard. Made from a durable, flexible composite material, Morsel's spork is the last dining tool you'll ever need in the backcountry!
---
Tucked inconspicuously amongst the rest of Colorado's high-alpine terrain are the San Juan mountains. Rugged and gaunt in their appearance, the San Juans are known for their soaring peaks and abundant wildlife, including moose, antelope, mountain goats, cougars, deer, and black bears. They're also highly mineralized, and their large quantities of silver and gold led to the establishment of several of the small mountain towns at the base of the range.
Along with their prominent role in the early history of Colorado, the San Juan Mountains have remained a popular spot for tourists who visit Telluride, Ouray, Silverton, or Creed looking to get a taste of the true Colorado experience. Stretching from southwestern Colorado to northwestern New Mexico, these unglamorous peaks are home to some of the best outdoor recreation and camping in Colorado, if only you know where to look!
What Makes Colorado's San Juan Mountains An Idyllic Outdoors Destination
For the dedicated hikers and outdoor enthusiasts, the San Juan Mountains offer a wealth of opportunity to explore one of Colorado's great natural areas. With 13 of Colorado's 53 fourteeners in one location, the San Juans are premium territory for high altitude hikes and wilderness excursions, as well as climbing, fishing, and OHVing. Here are a few of our favorite things to do during a visit to this spectacular mountain range:
Off Roading at Clear Lake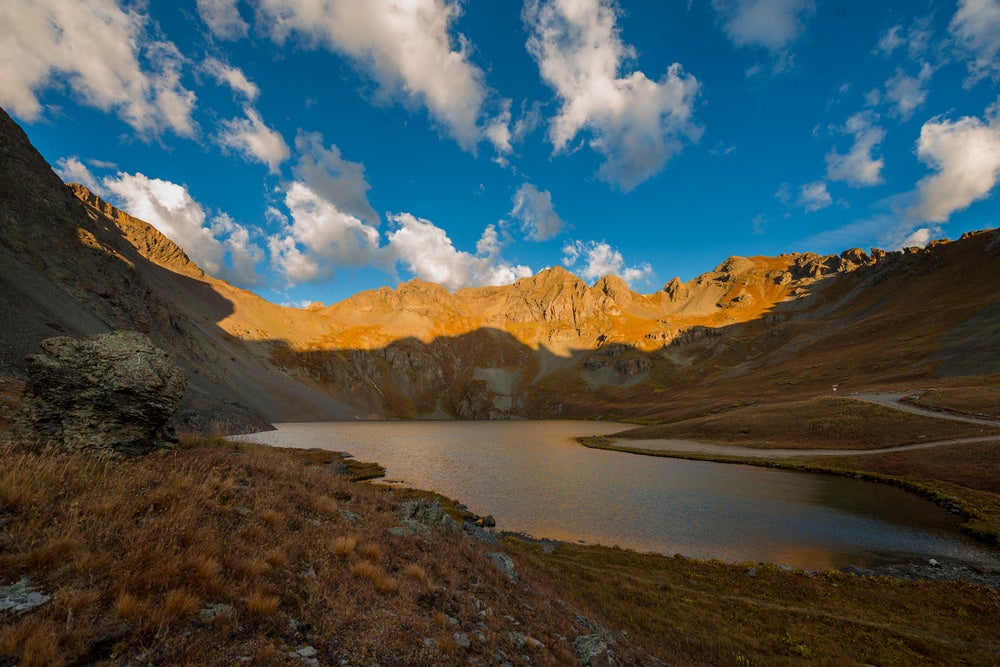 When it comes to off-roading, almost nothing beats the Clear Lake OHV Trail. At just under 10 miles in length, this trail grants visitors a spectacular view of Clear Lake, one of the clearest lakes in the state, and a prime area for a quick hike or a picnic.
Clear Lake is the perfect way to spend a day in the San Juans if you only have one, or to do during a weekend adventure into the Colorado backcountry. Clear Lake also offers excellent hiking and fishing opportunities to OHVers who want to make their experience more multi-faceted.

Fly Fish Anywhere in The San Juan Mountains
For anglers looking for the perfect place to wet a line, the San Juan Mountains offer near infinite choices when it comes to catching fish.
Between the numerous high alpine lakes (Ice Lakes and Clear Lake included) full of Cutthroat Trout and local Brookies to the flourishing Animas River, eager anglers can stop nearly anywhere they choose along most popular trails in the region. Just don't forget your fishing license! Hermosa Creek (mentioned below) is also an excellent option, containing Rainbow Trout, Brown Trout, and Brooke Trout that are biting year-round.
Ice Lakes Basin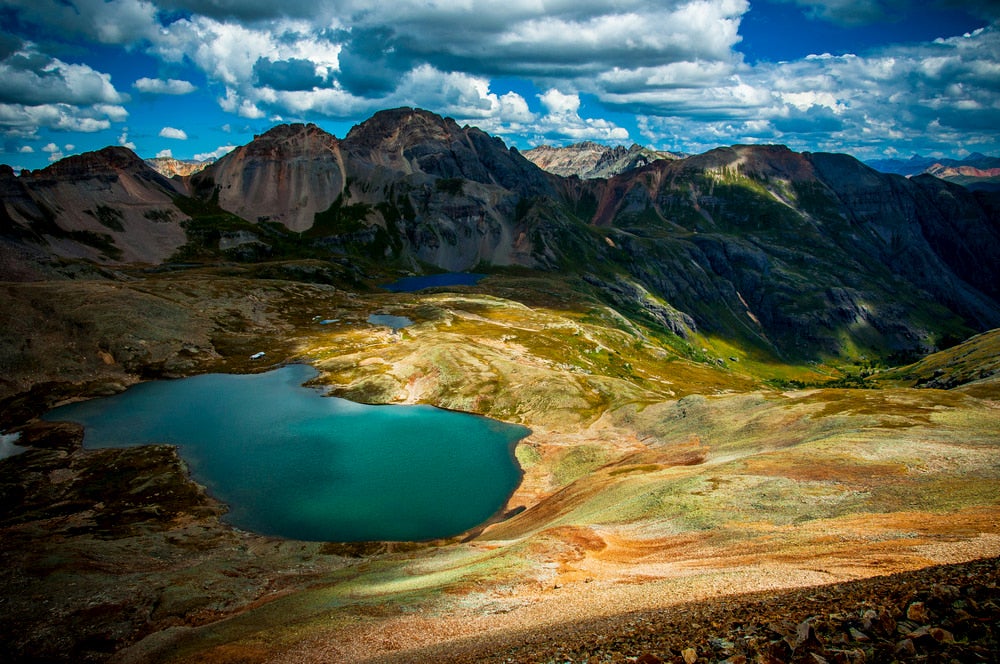 This 8-mile trail is more difficult than the others on our list, but offers a wide variety of activities and access to some of the most beautiful natural lake in the state. Formed exclusively from snowmelt, the Ice Lakes Basin offers two lakes of crystal clear, blue / green water surrounded by spectacular peaks. Avid hikers should be aware that the trail starts at around 10,000 feet and concludes at well over 12,000 feet, so the proper altitude precautions should be taken, including for your furry friends!
Hermosa Creek
Located just outside of Durango, this is a popular trail for its even grade and singletrack rideability for mountain bikers. At 18.6 miles point to point, this trail is great for longer runs, hikes, or even an overnight backcountry trip. Just don't forget to bring your camera! The trail offers stunning views of the surrounding peaks and wilderness, including regular encounters with wildlife.
Ouray Ice Park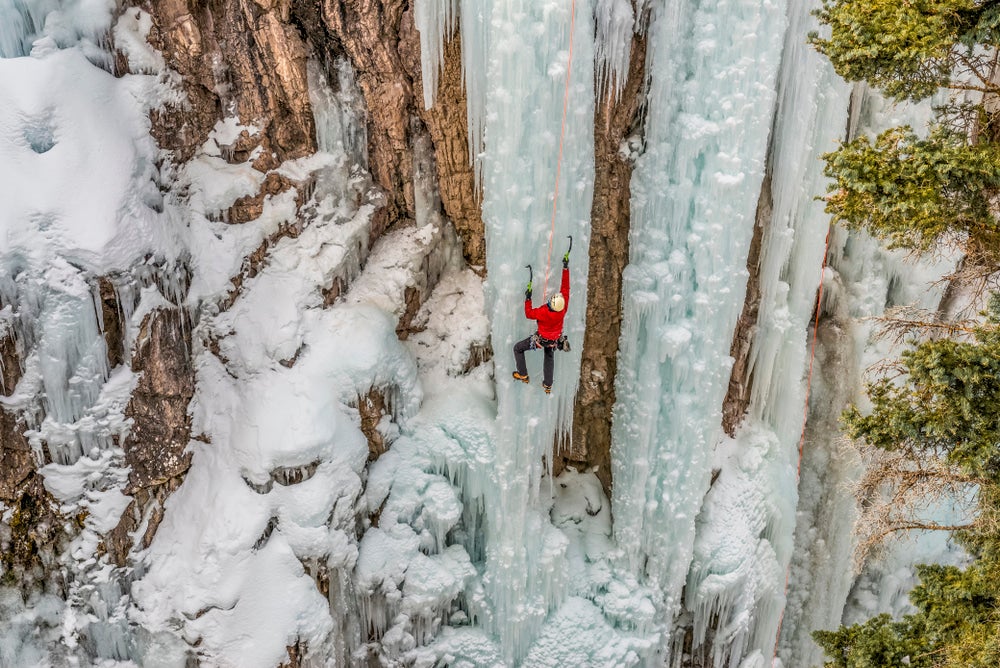 Known for some of the best ice climbing in the country, Ouray's Ice Park is located within walking distance of the famous mountain town. With over 200 routes and the popular annual Ouray Ice Festival, this is a must-see destination right at the foot of the San Juan Mountains. Also famous in this region is the annual Ouray Ice Festival, which happens each January, and features outdoor companies and climbers from all over the world who gather to climb, commune, and enjoy the San Juan wilderness.
Animas Overlook Trail
This trail is a short (.8 miles), paved walk that offers all visitors the chance to see the gorgeous Animas River Valley with the San Juans as the backdrop. It's a perfect picnic spot for families or tourists looking for an easy way to catch some stunning views without the taxing hike.
It's also a great spot for those looking to acclimate themselves to the Colorado altitude. If you've just arrived to the San Juans and are prepping for your high alpine hike, try the overlook trail first!
Where to Camp in the San Juan Mountains
Luckily for those wanting a taste of the camping scene in the San Juan Mountains, much of the land in and around the range is made up of designated national forest, which includes a handful of awesome campgrounds throughout the region.
This campground is located right in the town of Telluride, which means it offers both excellent views of the San Juans and prime access to downtown Telluride's shops and restaurants. The campground provides RV and tent spots, as well as open spaces for events and festivals that occur throughout the year.
"This campground rocks. Helpful staff, amazing views of the mountains, and 5-minute walk to the Telluride shops, restaurants and galleries. Bathrooms and showers are super nice and have hot water. A river/creek flows right next to the campground too which is lovely!"— The Dyrt camper Katie B.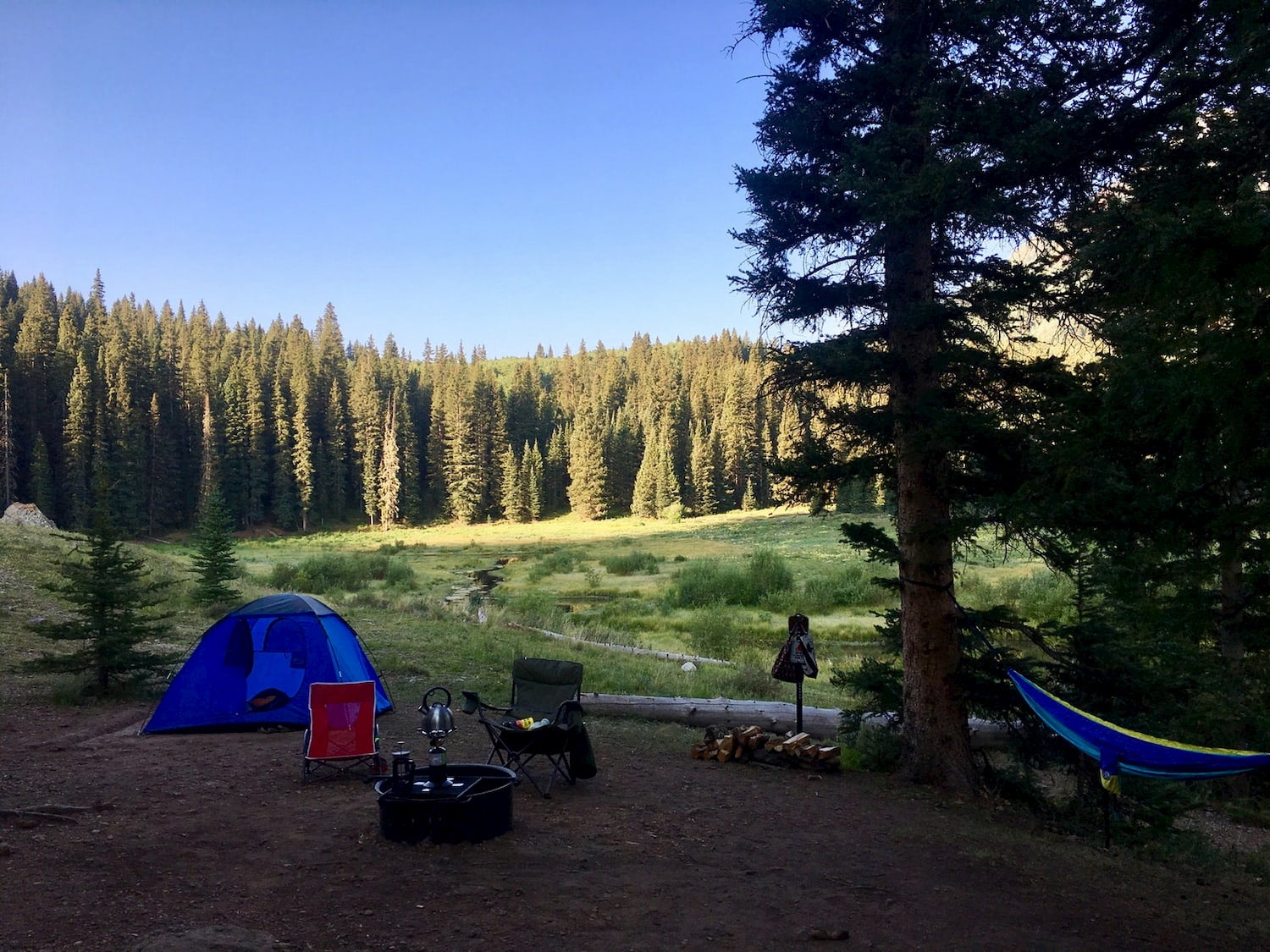 Located near the Galloping Goose Trail in the San Juan Mountains, Priest Lake has nine designated tent-only campsites. Since this is a dispersed-style campground, visitors should plan to pack out their garbage and supplies. Priest Lake offers limited fishing opportunities as well, and is a short drive from Telluride.
"I love this campground. It is only 15 minute drive from Telluride, but once you are there you are immersed in wilderness. Great for car camping, solid fishing, bonfire pits and bathrooms available."— The Dyrt camper Patrick L.
Cayton Campground is a staple of the San Juan Mountains with excellent proximity to fishing, hiking, and incredible scenic driving routes. The campground itself is located on the shores of the Dolores River, giving anglers ample opportunity to fish for rainbow, brown, and cutthroat trout. There are 27 single-family campsites available at Cayton, the majority of which are placed along the river. Several sites are electricity enabled and appropriate for small-sized RVs.
"A little bit of modern with a rich history of Colorado past, this campground is named for a former ranger which worked and did big things in this area. What sets this camp apart from others is just that, the camp has numerous signs telling of the past making it a little treat for those hiking around camp to discover."— The Dyrt camper Crystal C.
Located 18 miles outside of Durango, Haviland Lake is a premier campground offering ample chances for hiking, fishing, and canoeing in and around Haviland Lake and the surrounding San Juan Mountains. The Forebay Lake Trail starts in the campground, and ends at Forebay Lake a mile to the east. The campground consists of both electric-enabled RV sites and tent sides, in addition to drinking water.
"I stayed at Haviland Lake near Durango, Colorado for three days, but could have stayed for a week or more! Very beautiful area and nice campsites next to a pristine mountain lake filled with trout and in a serene mountain setting. Hosts were very friendly and helpful and there were opportunities for paddleboarding, canoeing, and kayaking (no motorized watercraft)." – The Dyrt camper Neil C.
Set on Little Molas Lake off the Million Dollar Highway between Durango and Silverton, this campground is popular amongst visitors and thru-hikers alike. The Colorado Trail winds directly through the campground, so thru-traffic and visitation levels remain high throughout the year.
"You literally cannot beat the views of the San Juan mountains. This area is beautiful. I have only backpacked into these areas, you can find established sites along the trails."— The Dyrt camper Leah W.
One of the largest campgrounds in the San Juan Mountains, Silver Jack has 60 campsites located within the dense Aspen and Spruce trees that cover the area. The campground is in very close proximity to Silver Jack Reservoir, and hiking trails nearby are in abundance.
Campers should note that Silver Jack is fairly remote in its location, so be prepared with all of your supplies before you set off for the woods!
A gorgeous, high-alpine campground set within Ridgway State Park in the San Juan Mountains, Pa-Co-Chu-Puk is one of the region's best. The campground sits on the Uncompahgre River downstream from Ridgway Reservoir, and offers several types of sites, from small RV sites to tent sites to hike-in dispersed style campsites.
Bear cabinets are also provided at each site, as the region is well known for its furry visitors. The campground is also within driving distance of Ouray, Ridgway, and Black Canyon of the Gunnison National Park.
"The walk to the river was short and there even is a parking area for those who are not camping but want to fish. Sites were well maintained, restroom and showers were as well. Picnic tables, fire ring and grill at all sites. Deer wandered around freely and was an extremely restful night." —The Dyrt camper Heather P.
---
This article was brought to you by Morsel Spork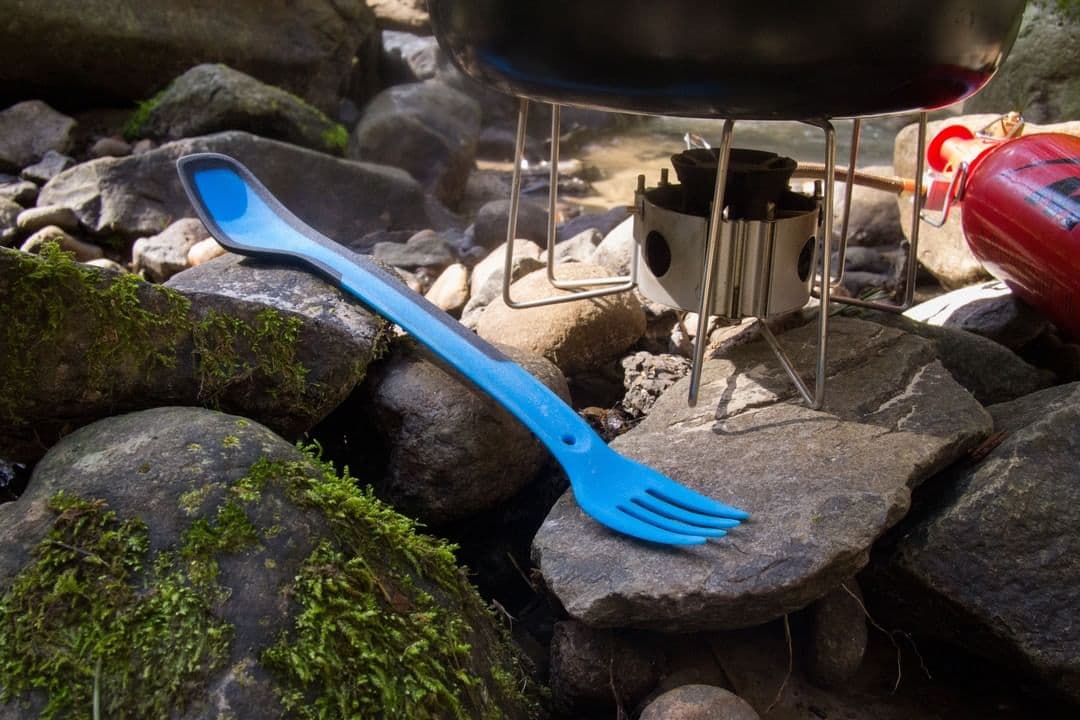 Morsel's spork is the solution to your cooking woes, whether you're digging into your homemade oatmeal or your favorite dehydrated camping meals.
---
Related Articles:
---
Related Campgrounds:
Popular Articles: