Colorado has national and state parks scattered everywhere, so camping near Denver is relatively easy to find. For those who are visiting the mile high city—here are our top picks for bringing the RV or trailer out an exciting trip into the spectacular nature Colorado has to offer.
Visit National Forests & Enjoy Mile-High Views at These 5 RV Parks around Denver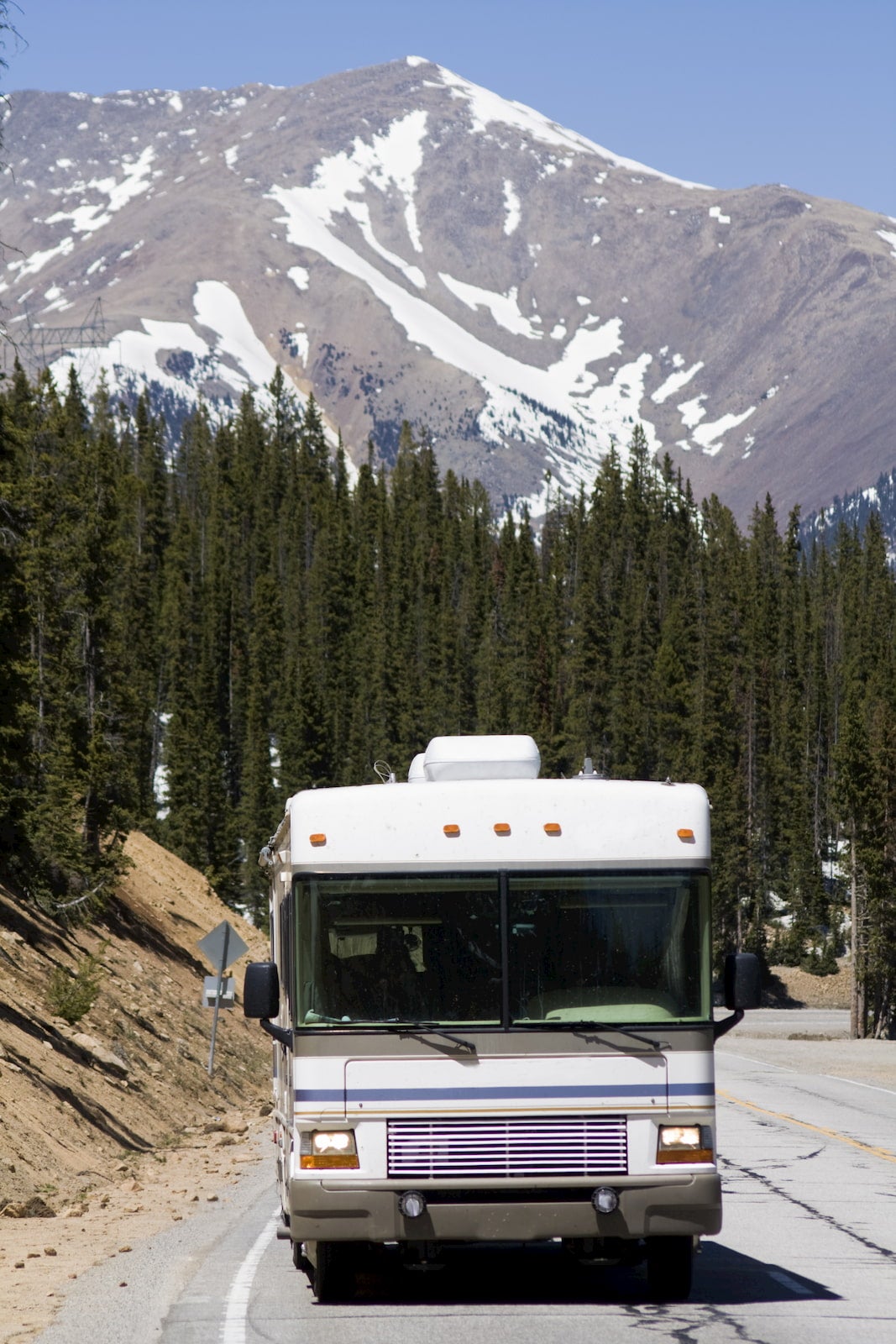 The Chatfield Reservoir is located on the south end of Denver just 45 minutes from the heart of the city. Chatfield State Park spans 5,800 acres. Popular activities at the park include hiking, biking, horseback riding, and seeing the frequent wild visitors to the park: deer, elk, foxes, prairie dogs, eagles, owls, songbirds, salamanders, and snakes. Fishing on the reservoir is permitted, along with swimming, boating, and even jet-skiing. The winter season brings on a host of unique activities such as snowshoeing, ice fishing, and cross-country skiing.
The campground contains a total of 200 tent and RV campgrounds. RV campers receive full-hookups at the majority of RV sites which can accommodate rigs up to 45 feet. Some other popular amenities include picnic tables, fire rings, WiFi, phone service, toilets, and drinking water. Dogs are allowed but must remain on a leash.
Campsites cost $21 to $30 per night, but the price rises to $132 to $144 per night for group campsites. The campground is open year-round, but sites and resources may become limited during the winter season depending on the weather.
"Convenient location. Whether you live in Denver and just want a quick getaway or if you are visiting friends in the area, it is a very easy place to camp. Located on the Southwest side of the metro area, it is just off of I-470. The park has great amenities with a great lake for powerboat sports." — The Dyrt camper Jeff G.
Golden Gate Canyon State Park is another one of those Denver RV parks conveniently located near the city. Also only a 45-minute drive from Denver, this is one of the closest, most scenic getaways from Denver. The 12,000-acre state park has 42 miles of hiking trail and is full of dense forest containing ponderosa pine, aspen, douglas fir, and Rocky Mountain juniper trees among other species. Most visitors to the park come for hiking, horseback riding, biking, and yes, camping.

The park contains 97 campsites that accommodate RVs and trailers with a dump station and some electrical hookups. These sites accommodate tent camping as well. Backcountry tent camping can also be found throughout the state park. Facilities that provide RV camping also provide showers, bathrooms, laundry facilities, picnic benches, fire rings, and a market. Note that WiFi is not provided.
Dogs are allowed in the park and at campgrounds but must be kept on a leash at all times. Pricing of camping varies between campsite type and whether or not visitors will be staying in the cabins and yurts provided. RV camping with electrical hookups goes for $36 a night while tents and yurts can be rented out for $90 a night. Camping is open year-round.
If the other Denver RV parks were close to downtown Denver, then this one is just a stone's throw away. Bear Creek Lake Park is only a 30-minute drive away from downtown Denver. According to the town of Lakewood, Bear Creek Lake Park is "a 2,624-acre gem that provides opportunities to hike, picnic, camp, fish, boat, windsurf, mountain or road bike, hit the swim beach or head to the archery range."
The Indian Paintbrush campground in the park is beautifully situated in a grassy area with surrounding trees and distant hills. This campground offers 47 campsites, 3 cabins, 2 yurts, and 1 group campsite. All of the campsites are RV accessible and cost $35 a night. Yurts are $55, cabins $65, and group sites $100 per night.
The campground provides full RV hookups, showers, a market, bathrooms, drinking water, picnic tables, and fire rings. Phone service is available and dogs are allowed as long as they're kept on a leash. Note that the season for camping occurs annually between April 1st and October 31st.
"Great campground close to Red Rocks with lots to do! We chose this campground to be close to Red Rocks for a show. We didn't expect much from it, but we really liked it!" — The Dyrt campers Bounding Around
Clear Creek RV Park is situated in the city of Golden. This campground establishes visitors near some notable parks, including Grant Terry Park, Mt. Galbraith Park, Windy Saddle Park, and Lookout Mountain Park. There are copious amounts of hiking trails in the area including the popular 6.5-mile Chimney Gulch Trail which contains plenty of snow during winter months.
The RV park is open year-round and is equipped with 22 full hook-up sites and 3 tent sites. Some other useful amenities include large bathrooms, showers, laundry rooms, WiFi, phone service, and picnic tables. Pricing per night is $27 for tent sites and $55 for full-hookup RV sites. Easily access Clear Creek from the grounds via the Clear Creek Trail. Dogs are allowed, but keep them on that leash!
"Heaven on earth. Spots are a little close, beautiful area w/lots of hiking, biking, walking trails. Golden is an awesome area to explore & very close to Denver." —The Dyrt camper Cynthia H.
Cherry Creek State Park is located right in Denver's backyard. Located only 20 minutes from the heart of downtown Denver, the park offers a beautiful prairie environment and an 880-acre reservoir where boating and swimming is popular in the summer months. The park is open in the winter as well when snow is on the ground and the campgrounds are less crowded.
Full-hookup RV camping is available at this RV parks in Denver, and tent sites are on offer, too. The campground provides WiFi, fire rings, toilets, drinking water, and picnic tables. Phone service is also available.
"Rocky Mountain High! The campground is spacious, level, paved, lots of green space. The staff here is helpful and organized." —The Dyrt camper Stacey B.
Popular Articles: