Rocky Fork in Tennessee is a foray into the woodlands of southern Appalachia. Thick with rhododendron bushes and rugged with mountain terrain, this plot of land on the border of North Carolina and Tennessee sat as wilderness for centuries—until a development scare lead conservationists to push for the area's protection. It was officially designated as Rocky Fork State Park in 2012.
As of January 2019, the park has been renamed to Lamar Alexander Rocky Fork State Park to honor the state senator. Since 2006, he has been a critical member of the effort to secure millions of dollars to bring Rocky Fork State Park land into the Cherokee National Forest.
Your Guide to Tennessee's Newest Public Land: Rocky Fork State Park
Rocky Fork State Park is Tennessee's 55th and newest state park. It's hailed as the best ride through the Smoky Mountains, but it's still mostly an unexplored part of Appalachia, even to locals. Not only is it the newest state park, at an average elevation of 4,400 feet, it's also the highest.
It's hard to imagine this land as a developed resort or the neighborhood that it nearly became in 1996, and again in 2005—the natural features seem too picture-perfect to pave over. Thanks to an alliance of activists, state officials, hikers, mountain bikers, and environmentalists, the land remains in its natural state and is now open to the public.
Rocky Fork's Rocky History
The path to preservation of Rocky Fork State Park began in 1996, when the land was nearly sold to a private development company. At the time, the Tennessee Wildlife Resources Agency was leasing the Rocky Fork land from property owners so it could be open and enjoyed by the public. However, as potential new owners grew interested, their plans threatened the wildlife haven. This spurred conservationists David Ramsey and Ed Williams III to campaign for the land's protection. Despite their efforts, purchase deals with the U.S. Forest Service, which would have preserved Rocky Fork, fell through due to the growing commercial price.
While the initial development and sale stalled at the end of the 90s, the wild land of Rocky Fork was in serious trouble again nearly a decade later. In 2005, private developers had their sights set on razing and carving into the Southern Appalachia mountainside, and the timber company that owned Rocky Fork put the land on the market for $40 million. The deal that almost had Rocky Fork State Park sold off to private developers was prevented by Ramsey and an alliance of like-minded individuals and organizations. This time, they would be successful. Through efforts of The Conservation Fund and local campaigning, the land was purchased from the timber company and was preserved.
Today, the vast majority of the 10,000 acres is owned and operated by the U.S. Forest Service as a wilderness area, and the remaining 2,037 acres are managed by the state of Tennessee and designated as Rocky Fork State Park. The park was first staffed in 2015, and since then has been open to the public. Rocky Fork remains both wild and a natural haven for visitors to enjoy. Ramsey released a book about the affair, "Rocky Fork: Hidden Jewel of the Blue Ridge Wild," detailing the tumultuous, decades-long legal battle that was hard won for Rocky Fork State Park.
What to Do and Where to Camp at Rocky Fork State Park
After fighting for protection, the park's next challenge was to build itself into an attraction. This has lead to an ongoing process of drafting public developments including campgrounds, visitors centers, hiking trails and more. While the development of the new park is currently in the preliminary stages, there's plentiful activities to do today in the park—here are some of our campers' favorites.
Drive through Tennessee's Great Smoky Mountains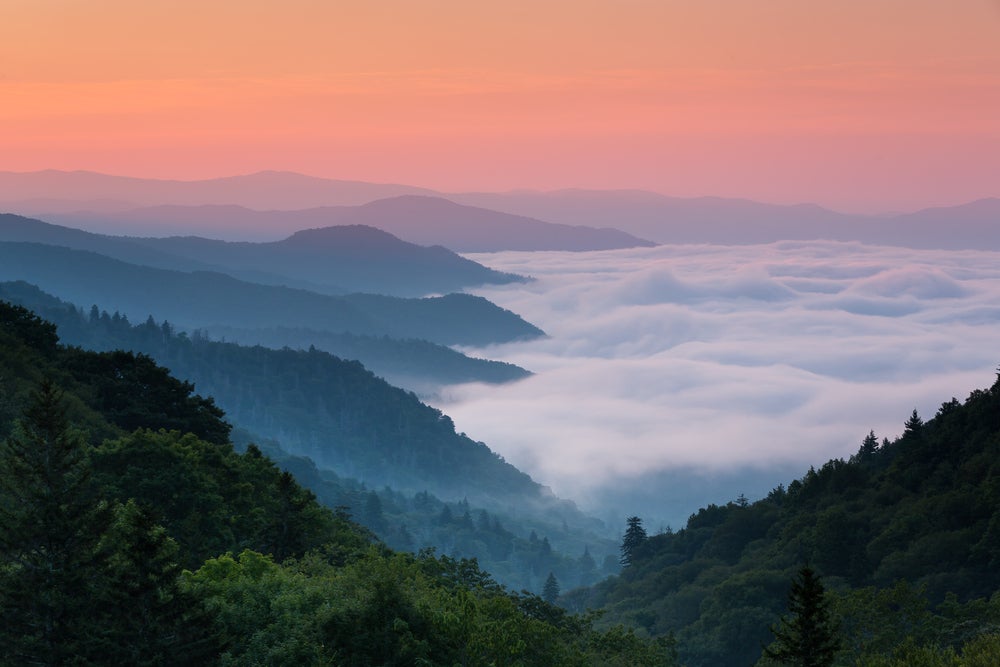 Currently, the road to Rocky Fork State Park is a humble single lane that twists and turns through rhododendrons and runs by a steep, sloping mountainside. The park recommends carpooling due to the limited parking at the gate. While the road currently is a beautiful-if-undeveloped trip through the thick of undeveloped Southern Appalachian wilderness, this roadway has some major upgrades in its future.
Park officials have proposed an access road that will take park visitor's from the Rocky Fork Road entrance at the top of the mountain. The paved road is intended to draw in visitors seeking a scenic vista drive to the summit. Plans for the road development are accompanied by proposals for a 3,000 square foot visitors center, two picnic pavilions, two primitive campsites, and one RV campsite. If all are approved, construction could begin early as summer 2019.
Traverse A Biologically Diverse Habitat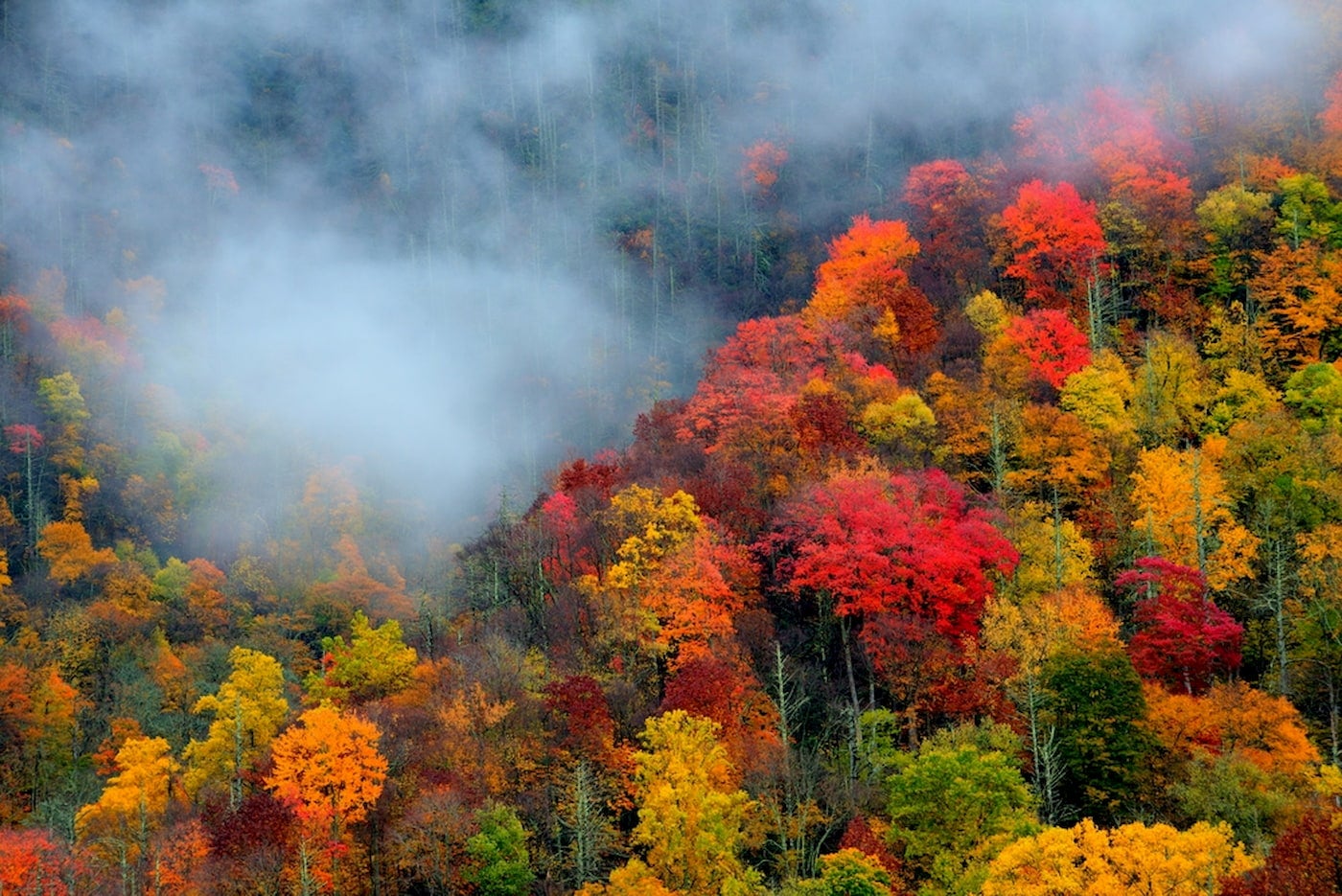 The more than 2,000 acres of land that makes up Rocky Fork State Park is renowned for its rushing mountain streams, dense Cherokee National Forests, and the rugged terrain of Appalachia. But that 2,000 acres is just a piece of the 10,000 acres that are protected as the Rocky Fork Wildlife Habitat.
Rocky Fork State Park Flora:
The nearby Rocky Fork Wildlife Management Area is a privately-owned expanse of Cove Hardwood and Northern Hardwood forests that connect the Cherokee National Forest and the Pisgah National Forest.
The Cove Hardwoods occupy lower elevations, like ravines and gorges. Species in this biologically diverse environment include:
White Basswood
American Beech
Yellow Buckeye
Sugar Maple
Red Oak
Fraser Magnolia
White Pine
Eastern Hemlock
White Ash
Hike to the highest elevations, such as Higgins Ridge, to find the Northern Hardwood species, which include:
Red Oak
American Beech
Sugar Maple
Yellow Birch
American Elm
Virginia Pine
Rocky Fork State Park Fauna:
Unmarred by human intervention, the forests act as breeding grounds for the common raven — a threatened species in Tennessee. Other neotropical migrant species that breed in the forest include:
Broad-winged hawk
Wood Thrush
Veery
Blue-headed vireo
11 species of warbler
Rocky Fork is also home to bald eagles, Yonahlossee salamanders, Saw-Whet owls, and native brook trout, furthering its importance as an environmental and ecological habitat.
Go Angling for Trout in Rocky Fork Creek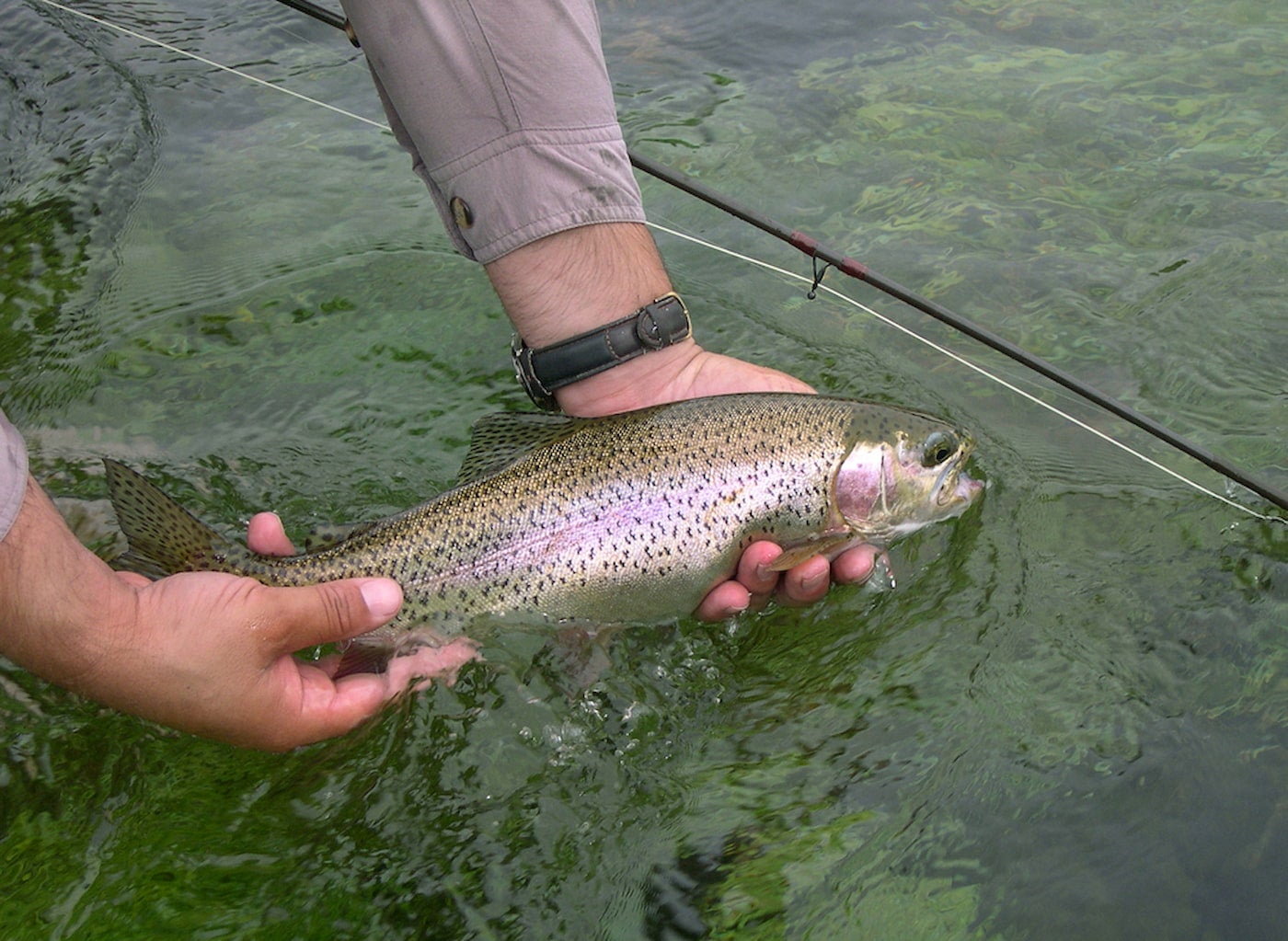 Some of Tennessee's best brook trout fishing is found right in the high-elevation mountain streams in Rocky Fork State Park. But you'll also find wild rainbow trout in these waters. Fly fishers should look to Rocky Fork Creek and Blockstand for ideal water conditions.
Be sure to cast away at the last mile of Rocky Fork Creek; this section is stocked regularly and there are no special fishing restrictions. However, keep in mind that TWRA regulations only permit single hook artificial lure fishing anywhere above the gate.
Carve Down Hills On Rocky Fork Biking Trails
The paths that were once used for logging roads have been converted to nearly 10 miles of marked mountain biking trails. Some of the primitive trails, which are shared with hikers, will take bikers across streams and difficult terrain. A portion of the trails run parallel to the watershed, taking bikers on a scenic trip through the Cherokee National Forest wilderness.
Lace Up For Hiking in Appalachia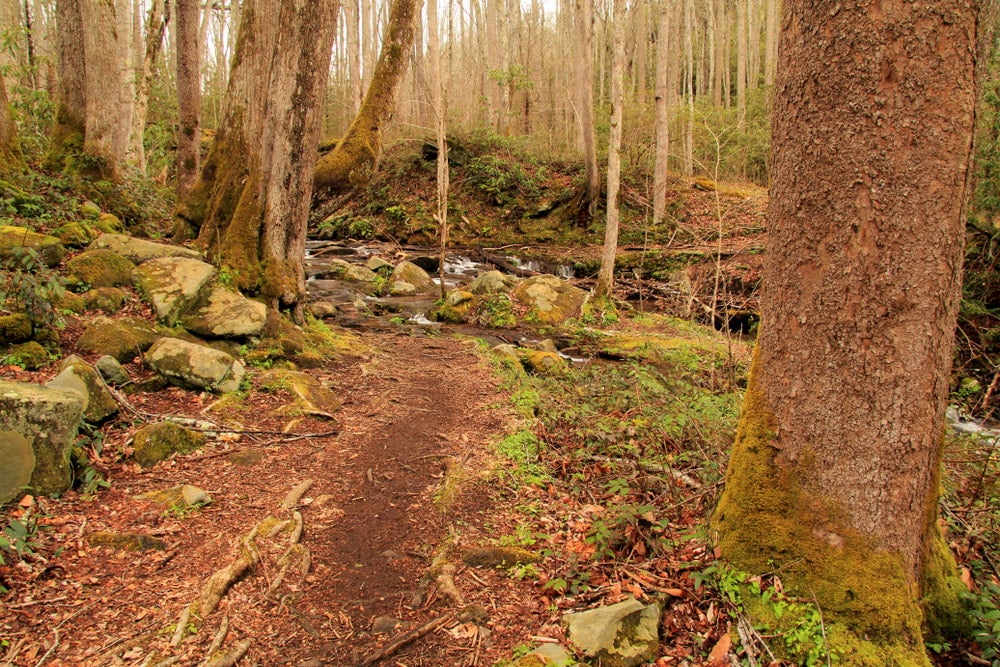 With close proximity to the Appalachian Trail, and around 14 miles of its own trail system, Rocky Fork State Park offers a variety of scenic hiking adventures. While the park is still in its early stages for construction and trail management, these are some of the trails you can hit right now.
Birchfield Camp Trail: This strenuous, 2.7-mile trail was once a logger road, and lets out at a lake.
Blockstand Creek Access Trail: Ideal for flora and mushroom enthusiasts, this 0.9-mile trail gains nearly 600 feet in elevation and leads hikers to the trout-dense Blockstand Creek. The full Blockstand Creek Trail runs for 4.2 miles.
Flint Creek Trail: At a moderate 2.05 miles, the Flint Creek Trail guides hikers to the historic battle site of John Sevier in the Cherokee and Chickamauga Wars.
Headwaters Trail: Brook and Rainbow Trout fishing enthusiasts may want to take the Headwaters Trail to get to the source of the mountain streams. Headwaters is a moderate, one-mile hike.
Rocky Fork Trail: This is the main trail and roadway that will connect hikers to other trailheads at an easy 0.7 miles.
Whitehouse Cliffs Trail: This trail is short, at 0.7 miles, but it's strenuous for its steep incline. Hikers seeking the highest vista views of Rocky Fork State Park should take Whitehouse Cliffs Trail for its lookout elevation at 3,240 feet.
Rocky Fork State Park trail maps can be found on the park website or by downloading the official geo-referenced Rocky Fork State Park trail map app. The app is designed to point out your exact location using GPS, not cell service, within the park.
Camping at Rocky Fork
Rocky Fork State Park camping is in the works, and shovels will hopefully break ground on campsites by fall 2019. Park planners are looking to set up two primitive campsites, as well as an RV-accessible campground.
Keep up to date on the progress of the design and concept of the campgrounds by checking back in to this piece for updates; also at the official Rocky Fork State Park website.
---
Related Campgrounds:
Popular Articles: