This article is brought to you by AfterShokz. Their bone conduction headphones are perfect for listening to audiobooks, podcasts, and music, or calling your grandma for company on the 54-mile Loyalsock Trail near Pennsylvania's World's End State Park.
---
Multi-day backpacking trips are not for the faint of heart. From bug bites to blisters, sore muscles to dehydrated meals, you don't embark on big miles for uninterrupted fun. Instead, it's about the experience—the challenge. Sometimes it's about the misery. It's about falling asleep when the sun sets and waking up as the sun rises. It's hard, it's painful, it's character building, and it's rewarding.
But you don't need to quit your job, break up with your boyfriend, and sell everything to embark on one of the two biggest and most popular thru-hikes (the AT or the PCT). Instead, there are plenty of big multi-day trails across America with fewer crowds and shorter but still challenging distances; Pennsylvania's Loyalsock Trail is one of them.
Along Loyalsock Trail, hikers find waterfalls, forests, streams, and history. The 59.2 mile trail is no easy feat. It winds through North-Central Pennsylvania, through the Loyalsock State Forest, and appropriately ends at World's End State Park; offering some of the best biking, hiking, wildlife viewing and camping in Pennsylvania.
What To Know Before Backpacking Loyalsock Trail Through World's End State Park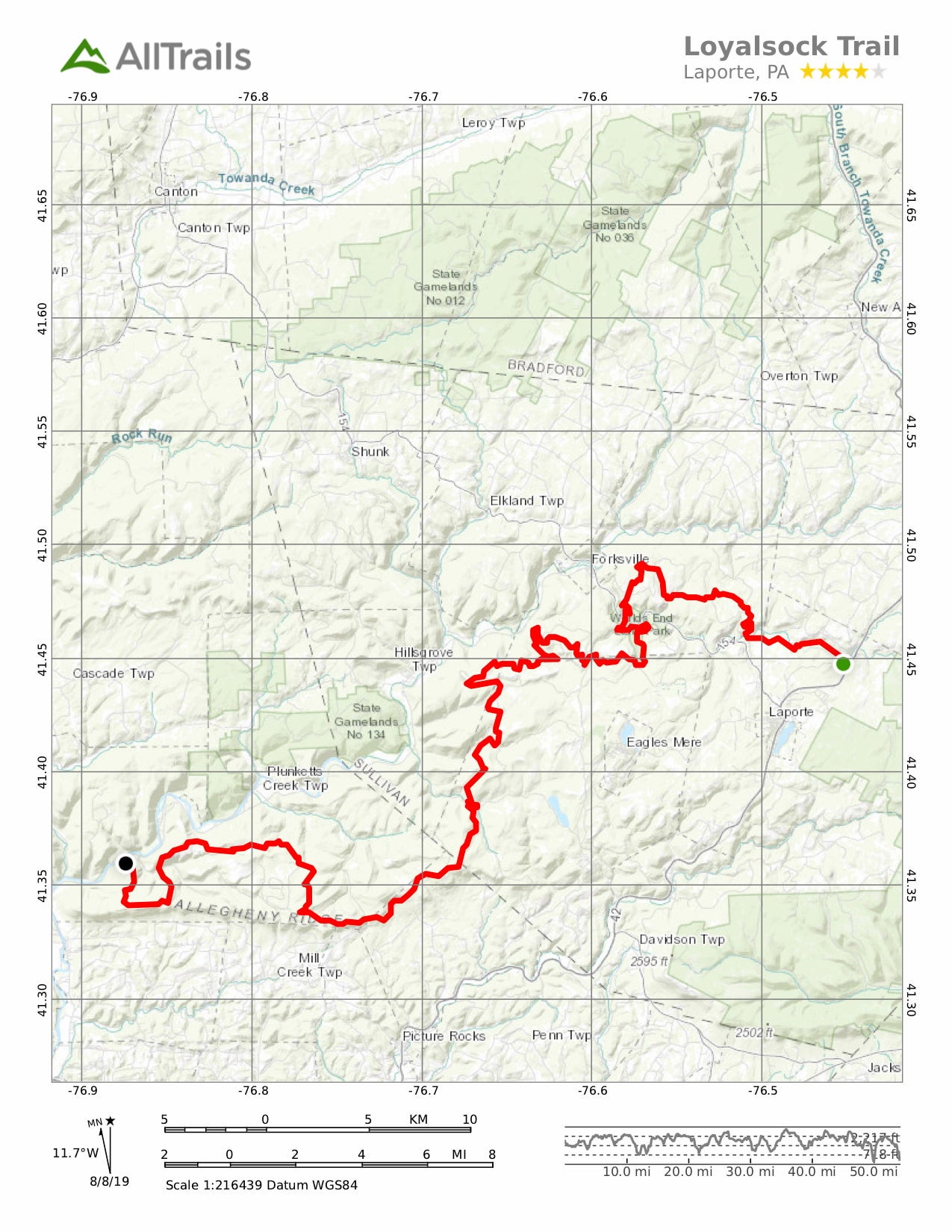 Before embarking on your trek there's plenty of planning to do. The hike generally takes 4-5 nights depending on your physical shape and speed. Divided into 10-mile sections, Loyalsock Trail can take six days and five nights for a weeklong adventure. Here's what you need to know about hiking through the Loyalsock Trail.
Best Season for Hiking Loyalsock Trail
You'll want to avoid hiking Loyalsock Trail from the Monday before Thanksgiving to mid-December–not only is the weather poor during those months, it's also dear and bear hunting season. Hiking in the spring or fall provides hikers with a nice range of temperatures as well as ample water run-off in the spring, and exquisite fall foliage in September and October.
Though there are multiple water crossings along Loyalsock Trail, most involve rock-hopping for easy passage. If anything, you'll end up with water to your ankles or mid-calf, nothing to worry about as you embark on the trail.
Where to Start and Parking at Each Terminus
The Loyalsock Trail begins and ends at Williamsport, PA and Dushore, PA. Williamsport is the Western trailhead, while Dushore is the Eastern. Most hikers begin at the Western terminus for two reasons: 1) a larger parking lot offers ample parking for overnight stays if using a shuttle service, and 2) gets the hard part over with.
From the Western terminus, you travel through the hilly parts of Loyalsock and leave World's End State Park for the end of the hike. You can also park your car in a bigger lot, so you don't have to worry about battling crowds to park your car.
If you're doing your own shuttle, arrive at the Western lot early to secure a spot. Otherwise, you can take your time arriving at the trailhead in the Eastern lot. There's updated information about parking and shuttle services on the Alpine Club of Williamsburg website. Shuttles are around $40 one-way and you can expect a 45-minute ride.
Camping Along the Loyalsock Trail
As the trail winds through National Forest land, backpackers are allowed to camp anywhere along the trail so long as they practice LNT principles. There are only a few areas that don't allow camping along the trail, like Worlds End State Park where you can only camp in designated areas, as well as along roads and private land. Signs are posted where camping isn't allowed, so pay attention to posted signs to avoid camping illegally.
Sights Along the Way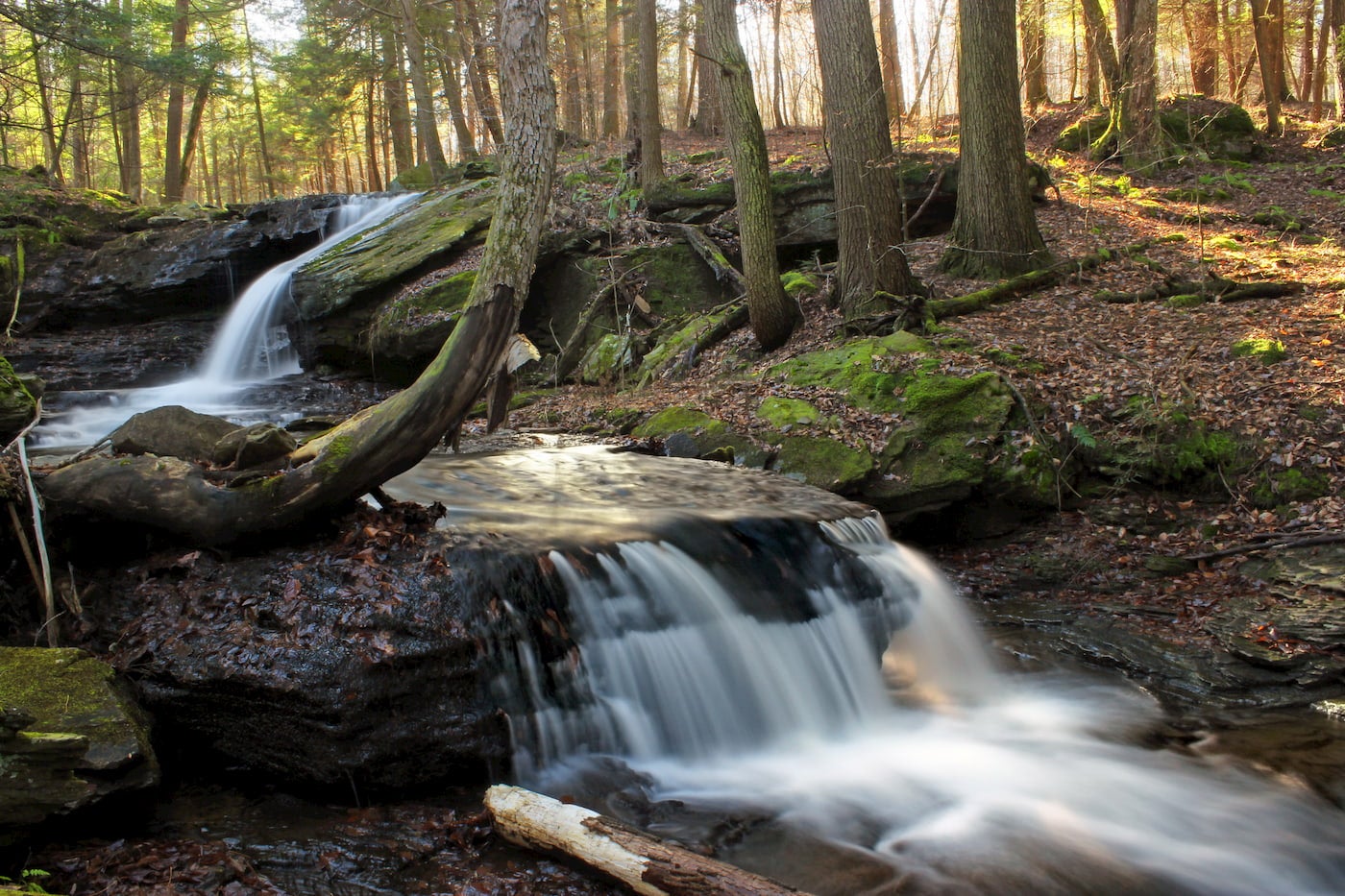 31 waterfalls splash off of rocks and downed trees along the Loyalsock Trail, forming the tributaries to Loyalsock Creek from Little Painter Run to Ogdonia Creek and the various branches of Mill Creek.
There are multiple vistas along Loyalsock trail, like Angel Falls (mile 23) a towering 80-foot waterfall that's accessible from the road if you're unwilling to hike the 60-mile trail, and Haystacks (mile 57) where an impressive class IV rapid cuts through the rock with icy mountain run-off.
To catch a glimpse of World's End State Park, be on the lookout for the Loyalsock Canyon Vista (mile 46) which showcases the many deep ravines of World's End. Before that, around mile 20, hikers can view historic buildings for a glimpse into the pre-industrial Pennsylvanian past.
Additional Resources
Hikers can connect with other hikers along the Loyalsock trail via Facebook by joining the Loyalsock Trail Facebook Group. This group provides cheaper shuttles from local residents as well as updated trail information and guidance. The group offers answers for Loyalsock related questions and is a great go-to as you prepare for your multi-day hike.
There's also a guidebook available for purchase through the Alpine Club, called "The Alpine Club of Williamsport Presents a Guide to the Loyalsock Trail and Side Trails." You can also find the book at Keystone Trails Association Online Bookstore.
---
This article was brought to you by Aftershokz.

Pick up a pair of their wireless headphones for your next backpacking trip!
---
Related Campgrounds:
PA Grand Canyon Camping, Ansonia, PA
Scenic View Campground, Tioga, PA
Friendship Village Campground, Bedford, PA
Little Mexico Campground, Winfield, PA
Artillery Ridge Campground, Gettysburg, PA
Hershey Camping Resort, Hershey, PA
Knoebels Campground, Elysburg, PA
Beaver Valley Family Campground, Ottsville, PA
Ohiopyle Campground, Ohiopyle, PA
Red Oak Campground, Russell, PA
Popular Articles: