While Colorado is best known for its Rocky Mountain views—plastered on everything from travel brochures to local business logos—the northeastern plains of the Centennial State offer an experience all their own. The best spot to start in this region is the Pawnee National Grassland — a landscape of wide open spaces and rocky buttes, ready for visitors to experience the definition of the "Great Plains."
The 193,060 acres of grassland are a haven for flora and fauna. Wildflower meadows, native bird nests, deer, prairie dogs, and so much more can be found along these grassy plains. This abundance of beauty and wildlife is what attracts visitors from all around to the Pawnee National Grassland.
Bird Watching, Butte-Viewing & More: A Guide to Visiting the Pawnee National Grassland
Pawnee National Grassland, located 67 miles east of Fort Collins, is an ideal destination for hikers, campers, and all outdoorsy sorts with its seemingly unlimited wide open spaces, despite its lack of similarity to other Colorado camping destinations. Fields of wild grass surround you while you take in miles of unobstructed views toward the eastern Colorado plains.
From where to pitch your tent to hiking trails, birding, and other activities, here's the lowdown for experiencing the grasslands.
A Brief History of the Grasslands
Western settlers made their way to eastern Colorado in the late 1800's, hoping to build a life around homesteading and farming. But nothing came easy. The Pawnee was once a barren land inundated with the devastating effects of the dust bowl in the early 1900's.
After years of recovery, the Pawnee National Grassland is now a sanctuary for wildlife, local flora, and recreation. 193,060 acres of land were set aside in 1960 to be protected as National Grassland, creating wilderness habitat and a space for humans to enjoy the raw beauty of eastern Colorado.
Natural Wonders in the Pawnee National Grassland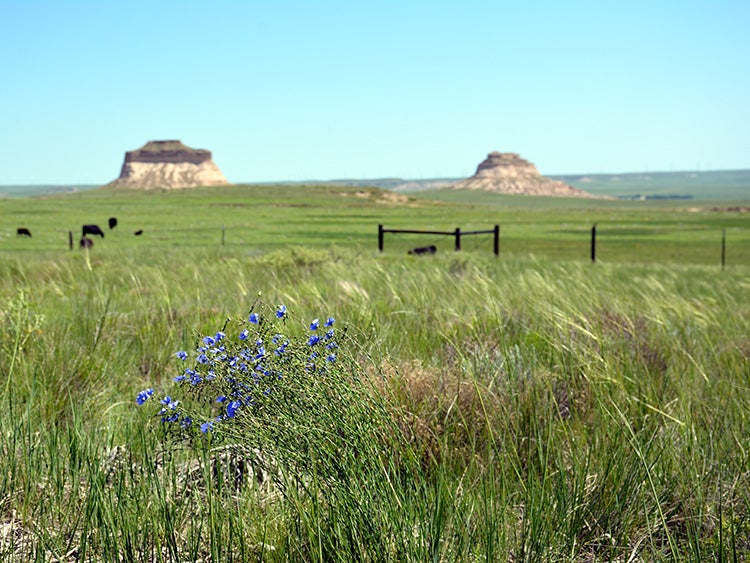 You'll find more than just grass, of course, at Pawnee National Grassland. Along these plains, sandstone buttes jut up from the ground, denting the vast horizon. The most notable formation is known as the eponymous Pawnee Buttes, standing at 300 feet tall.
Late spring and early summer brings a bounty of wildflowers to the grassland. Over 150 varieties of flowers, like prairie violets, prickly pear cactus, and marigolds bloom from April to July, some even lingering into August.
One of the most notable reasons to visit Pawnee National Grassland, however, is for the wildlife. The grassland is teeming with life like mule deer, foxes, and especially birds. You'll find native birds, migratory ones stopping in on their way to their next destination, birds of prey, and the Colorado state bird, the Lark Bunting.
To catch all the scenery and history, drive the 68-mile Pawnee Pioneer Trails Scenic and Historic Byway to wind through landscapes quintessential to the Pawnee Grassland, from wide open fields to rocky buttes. Along the way visitors will also find overlooks and attractions that display the history of the area. Start in Ault, Colorado and drive the byway east through Crow Valley Recreation Area, Pawnee Buttes, and Pawnee National Grassland, and end in either Fort Morgan or Sterling.
Hikes, Bird Watching and More Activities
You'll find plenty of hiking opportunities within Pawnee National Grassland. For some of the best views on the grassland, hike the 1.5-mile trail to view the Pawnee Buttes. This mellow, mostly flat trail leads to the first of the two buttes. The second butte is on private land, though hikers are allowed to walk up to it.
Dive deeper into the history of the Pawnee National Grassland area by visiting the Lee and Dorothy Rhodes Farm Implement Museum in Crow Valley Recreation Area. Here you'll discover what life was like for the early pioneers in the Pawnee Grassland. From battling arid conditions on the fringe of the Dust Bowl to innovative farming techniques and equipment, you'll be saturated in the history of the area.
Bird watching is perhaps the choice activity for many at Pawnee National Grassland. This area is known for its abundance of birds and the opportunity for visitors to view them in their natural habitat. Bring your binoculars and bird books to take yourself on a self-guided birding tour of the grassland. Keep your eyes peeled for Lark Buntings, Swainson's Hawks, Western Meadowlark, Burrowing Owls, and many other feathered friends.
Step up the speed and head to the Main Draw OHV area in Pawnee National Grassland to take your dirt bike for a cruise. This is the only area in the park where this is allowed, but you'll have the opportunity to play along the sandstone ripples with the scenery of the wide open grasslands surrounding you.
If you're an equestrian, Pawnee National Grassland is also a fantastic place for horseback riding.
When to Plan Your Visit
Wildflower blooms peak along the grassland in May and June, though you're likely to spot them in April and July as well. If it's the dots of colorful wildflowers in the grass that you're looking to see, plan your trip for early summer. This time of year is also ideal for hiking and camping temperatures: warm spring weather without the summer heat.
Birding season coincides with wildflower season at Pawnee National Grassland, with May and June being the best months to see the largest variety of species flocking to the plains. Early mornings and evenings are the best times to pull out the binoculars and head out for a walk to see bird activity.
Whether you're hiking, birding, or hanging at camp, wearing ample sun protection is always a good idea. You won't find a lot of shade out in the plains to take shelter from the sun and heat.
Spring and fall are some of the best times to visit, as temperatures are ideal. Mid-summer temperatures can soar into the 100s in July and August, so if you plan to visit then, be prepared to face the heat and have plenty of water on hand. As well, afternoon thunderstorms can roll through all summer long, so be prepared to take shelter from rain and lightning if need be.
Respecting wildlife on the grassland is crucial to your visit to Pawnee. Remember to admire deer, foxes, and birds from a distance—better to see them in their natural state, anyway! And just as when you visit any public land or wild place, remember to practice LNT.
Camping in the Pawnee National Grasslands
Camping near Pawnee National Grassland offers wide open views, peaceful seclusion, and an opportunity to saturate yourself in the beauty and history of the place. You'll want to pitch your tent or park your trailer on your visit here.
Crow Valley campground sits on the edge of Pawnee National Grassland, in the heart of the eastern Colorado Plains. From here, you'll have easy access to all the activities on the grassland, and the campground is just a short distance from trailheads in the Crow Valley Recreation Area.
This campground offers 10 sites, half of which are reservable ahead of time. Each campsite has access to picnic tables, fire rings, and pit toilets. There's plenty of space for RVs and trailers at the campsites, but electrical hookups are not available.
Dispersed Camping
Primitive, dispersed camping is allowed within Pawnee National Grassland, so you're free to pitch your tent in the wide open spaces of the plains. If you plan to camp or have a fire outside of a designated campground, look first for an existing site or fire ring and camp there. It is especially important to take note of any fire bans that may be in effect in the heat of the summer, and to practice LNT wherever you choose to camp.
Though it is popular, one of the best places for dispersed camping on the grassland is near the Pawnee Buttes. Pitch your tent within the national grassland and watch the sun rise or set with the sandstone rock formations as your backdrop.
---
Related Articles:
Popular Articles: