You might not expect a place famously described as "grand, gloomy, and peculiar" to be a huge draw. But exploring and camping at Mammoth Cave draws millions of visitors to south central Kentucky every year. Mammoth Cave National Park is home to the world's longest known cave system, with 400 miles of chambers and passageways— and that's just what has been discovered by dedicated spelunkers so far. Above the underground labyrinth, this destination of a highlight of Kentucky camping.
How Mammoth Cave was Created
Three-hundred and fifty million years ago, during what geologists call the Mississippian period, Kentucky actually sat below the equator. Much of what is now wooded hill country was then covered by a tropical sea. Over the millennial, seafloor marine deposits and shells became the building blocks of this incredible natural wonder.
Euramerica supercontinent broke apart and North America drifted to its present location. Over time, the silty river deposits covering that ancient Mississippian limestone eventually became sandstone. And those ancient rivers continued to flow deep underground, carving out the passageways that became Mammoth Cave.
The History of Visitors to Mammoth Cave
Long before the arrival of Europeans, the Shawnee saw Mammoth Cave as a sacred site. They weren't camping in Mammoth Cave, however. Instead, they used it for funeral rites and as a kind of mausoleum for their mummified dead.
One of the first non-indigenous explorers was a slave named Stephen Bishop, who coined the "grand, gloomy, and peculiar" phrase. Throughout the 1840s and 50s, he was tasked by his owner with exploring Mammoth Cave and leading guided tours.
Bishop was the first to see some of the cave's most spectacular features. Including what lay beyond The Bottomless Pit, Mammoth Dome, and the Bridge of Sighs. Thanks to Bishop and his fellow slaves establishing routes through Mammoth Cave, millions of people have enjoyed this natural wonder.
Today Mammoth Cave is one of the most popular parks in the southeast. Every year it brings a whopping two million visitors to the Green River Valley. In addition to camping at Mammoth Cave and touring the underground caverns, there's also other outdoor activities.
Whether you like horse trails, river rafting, camping near wineries, golf, or, of course, spelunking, there's plenty to do. The park boasts 70 miles of backcountry trails for hiking, trail running, and mountain biking. In addition there's kayaking and canoeing opportunities galore.
Mammoth Cave Camping
Outdoor enthusiasts have several different options for Mammoth Cave camping. There are three developed campgrounds at Mammoth Cave, as well as primitive backcountry sites, along the Green and Nolin Rivers. There are also two styles of cottages and The Lodge at Mammoth Cave to round out your options.
There's a little something for everyone at this well-developed National Park. Whether you are camping in an RV, tent, or hammock, with your pet or horse, like roughing it in the backcountry, or prefer more indoorsy lodging.
South central Kentucky is mild and rainy in the spring, hot and sticky during the summer, idyllic in the fall, and chilly and drizzly in the winter. From November through March, expect highs in the low 60s to 40s, and lows in the 30s and 20s. April through May and October through November see highs in the 70s and lows in the upper 40s or 50s.
During the summer, the highs will reach near 90 and temperatures will drop to only the mid 60s at night. Rain is most common in the spring, though classic Southern thunder storms may roll in during the summer, too. You can always check the Mammoth Cave National Park Webcam to see what conditions are like before you head out.
Don't forget to book your official Mammoth Cave tour well in advance, too, as they can sell out, especially during the high season from late spring to early fall. Fortunately, you can make reservations online.
Set a calendar reminder to book your cave tour a week or two ahead of your trip, if possible, or at the very least a few days beforehand. If you don't get your first pick of time or date, just remember that there's a lot of fun things to do in addition to the cave tour during your Mammoth Cave camping trip.
If you're looking for developed Mammoth Cave camping, this is the spot for you. Located just 1/4 mile from the Visitor's Center, guests at Mammoth Cave Campground are conveniently located near on-duty park rangers, trails, tour departures, and the shower and bathroom facilities. In addition to 99 tent-only sites and 6 RV sites, there are also Woodland Cottages available Memorial Day to Labor Day, Historic Cottages, and the Mammoth Park Lodge. 53 of the sites are reservable and 52 of them are first-come, first-served.
The seven Woodland Cottages have running water, a mini fridge, coffee maker, and ceiling fans. Be forewarned though— you are camping in the South, and the cottages have no air conditioning. For that, you'll want to book the Historic Cottages, or one of the hotel-style rooms at the Lodge.
Despite how many visitors are camping at Mammoth Cave every year, though, the sites are spaced out enough that you won't feel too crowded even on busy weekends. You'll also be close to a lot of the activities that make Mammoth Cave such a draw, too including floating down the Green River, as well as nearby zip lines.
"One thing some may not know about this facility is that there is an actual dog kennel located on site (near the visitor's center). Why is this such an amazing amenity? Well because you can't take your pooch into the cave but you can still have them camping with you! " -The Dyrt camper Sarah C.
Located 6 miles from the Visitor's Center on the north side of the park, Maple Springs Group Campground is designed to accommodate up to 24 guests each, and serves as a horse camp, too. There are picket lines and tie offs provided for your four legged friends, as well as a small amphitheater and group fire pit for larger gatherings.
The 6 tent-only and 2 RV sites are reservable from March- November, with sites 1, 2, 3 and 4 at Maple Springs specifically designed to accommodate horses. Horse campers should leave the remaining sites open to non-equestrians, however.
Potable water is available seasonally at all of the Maple Springs campsite. There are pit toilets, too, but no shower. The park asks equestrian campers to dispose of horse manure by scattering it in the woods at least 200 feet behind the campsites, and to keep horses away from the water spigots for sanitary purposes.
Another feature that makes Maple Springs stand out is that it's accessible not just by road, but by the Green River Ferry, which crosses the river which bisects Mammoth Cave National Park. If you have a large RV or horse trailer over 16 feet with your vehicle, you'll need to drive around rather than taking the ferry.
"We stayed on the Maple Springs side of the Green River to be closer to the mountain bike trails and are glad we did. The trails were great for both of us and we could ride straight from the campground. The campground was quiet and we had it completely to ourselves one night. We enjoyed ourselves so much that we almost stayed an additional night!" -The Dyrt camper Bounding Around
For those that like to truly get away from it all, Houchin Ferry fits the bill. This isolated Mammoth Cave camping spot has 12 tent-only campsites with potable water— and not much else. More remote than Mammoth Cave campgrounds closer to the cavern and visitor's center, Houchin Ferry campground is a little bit more of a locals spot, though visitors are always welcome.
The campground is open all year long and sites are available on a first-come, first-served basis. Amenities are more primitive, with Porta Potties rather than vault toilets, though there is a picnic pavilion available.
As for the titular ferry, the Houchin Ferry is actually currently out of service. Instead, you can access this campground via Houchin Ferry Road within Mammoth Cave National Park, or via Highway 259 to 728 and Ollie Road north of the park. You can also easily reach First Creek and Temple Hill trailheads from the campground, too, though it's not exactly a hike-in destination. If you need supplies, there's a gas station and big box stores a short drive away in neighboring Brownsville, Kentucky.
"These sites were my favorite in the park! The drive to the campground was a bit out of the way, but scenic. The sites are near a river. Some of the sites appeared much larger than others, but overall it was a surprising natural respite from the rest of the busy park." -The Dyrt camper Sarah S.
There are 13 peaceful and scenic backcountry camping sites within the Green River area of the Park. A free permit is required for anyone camping Mammoth Cave National Park's backcountry, and can be obtained at the Visitor's Center ticket sales area. Bring your photo ID as well as your license plate number and the make and model of your car. Backcountry permits are not issued during the last 15-minutes before the Visitor's Center closes.
Once you've got the paperwork straight, however, you'll find plenty of room to pitch your tent, however, as well as enough trees for hammock camping if you prefer. Just make sure you bring either plenty of water, a means to safely filter natural sources, and plenty of insect repellant. Mammoth Cave camping might not be the most primitive, even at the backcountry sites, but it's always good to be prepared.
"Many people don't realize how extensive and unique the hiking areas are. Get a good map and pack your bag you can hike, bike or horseback to several secluded areas that offer a backcountry feel, good for practicing for longer duration hikes. Once you cross the Green River by ferry you are in a whole other world that is not crowded with tourists." -The Dyrt camper Shelly S.
Activities To Enjoy at Mammoth Cave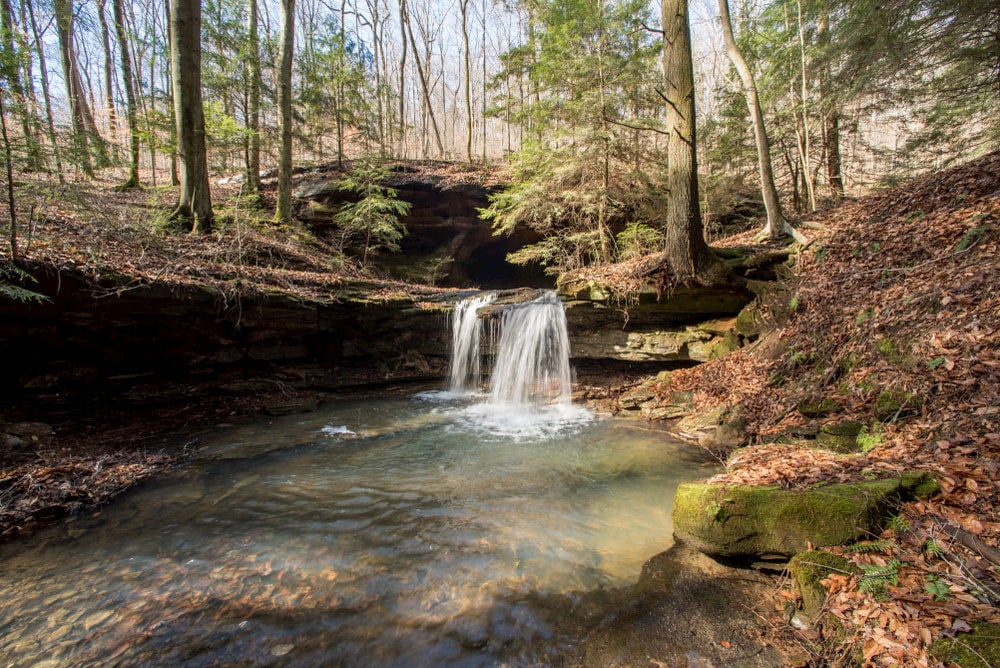 Camping near Mammoth Cave is just the tip of the proverbial iceberg. As much as there is to see underground, with several different tours available to different parts of the cave (some with an emphasis on its long history), there's just as much to see on the surface, too.
Rangers offer free programs regularly, including nature walks and birding excursions. Geocaching is another popular activity, thanks to the large acreage of the park and high regular visitorship, there's usually a few caches to choose from and regular turnover on the loot.
Water Sports
The same waterways that carved Mammoth Cave's limestone corridors to begin with a fun for present-day paddlers, with 25 miles of the Green River and six miles of the Nolin River open to canoes, kayaks, and inner tubes.
If you need to rent a watercraft, check out Cave Country Canoe, Green River Canoeing, Inc., or Mammoth Cave Canoe and Kayak, all of which service Mammoth Cave National Park and the surrounding area. Swimming is allowed, too, at your own risk. And many motorized watercraft, like jet skis, are banned, giving non-motorized traffic and swimmers the right of way.
Hiking Trails
There are also six major trailheads in Mammoth Cave National Park, including Maple Springs, Lincoln, Big Hollow, First Creek, Temple Hill and White Oak. Big Hollow Trail, Maple Springs Trail, and White Oak Trail are open to both hikers and mountain bikers, while the rest are for pedestrians only. In addition to the above mountain biking trails, street bicycles are permitted on all paved roads in the park. Mountain bikes are permitted on any unpaved administrative roads, widening your range even further.
That's just the backcountry portion of the park. There's a whole other system of Mammoth Cave hiking trails closer to the Visitor Center, including the Cedar Sink Trail, Sand Cave Trail, Sloan's Crossing Pond Walk, Turnhole Bend Nature Trail, and the Mammoth Cave Railroad Bike and Hike Trail. The Maple Springs Trail and its spurs are also open to horseback riders. As are sixty miles of trails north of the Green River, including the Lincoln trail.
What to Pack for Your Mammoth Cave Camping Trip
Battery charger or solar generator:
Most Mammoth Cave National Park campsites do not have electric hookups. Cellphone reception is spotty, too, though Bluegrass Cellular and Verizon customers fair best. Think of this as a great opportunity to unplug and soak in the present moment.
And if you need to get back in touch with the digital world, Brownsville, Kentucky isn't far away, and there are plenty of big box stores, bars, and restaurants where you can find a cellphone signal and a charge in a pinch. There's WiFi at the Visitor Center and lodges, too.
Fresh pair of clothes:
for the cave tour. Did you know that you should never wear clothing or shoes in one cave that have previously been in another? Even if you wash your clothing or footwear between caves, or your last visit to a cave was years and years ago, tiny spores of mold and fungus can survive even hot water and detergents.
Those spores can go on to harm delicate cave ecosystems and even spread white nose syndrome and other diseases between vulnerable bat colonies. So grab your old lawn mowing sneakers that were almost ready for retirement and a fresh set of clothes that have never seen a cave— and make sure none of your garments repeat if you do decide to try camping near caves in another location.
Speaking of shoes, it should go without saying, but think closed toed and extra traction. Caves can be slippery, damp, and certainly dim, even when they're as well-trafficked as Mammoth Cave.
Light layers:
Skip the cotton! Even in the summer, when temperatures hit their peak, the humidity and your own sweat can drench cotton clothes, leaving you cold and clammy later on. Instead, think sweat-wicking synthetic materials, rash guards, or clothes with built-in SPF protection.
Much of Mammoth Cave National Park is shaded by stands of oak and hickory, boxelders and sycamores, but it never hurts to keep the sun and heat at bay. Do bring a jacket, rain shell, or pull-over, however, as temperatures are always more mild in the cave itself, and temperatures can vary widely between day and night in all seasons.
Spare change:
Showers are available at The Caver's Camp Store near Mammoth Cave Campground. The showers are coin operated and provide the first 4.5 minutes of shower time for $1.50.
Extra shower time will cost you $0.25 for every 30 seconds. Soap and shampoo are not provided, so bring your own or buy some at the camp store. And don't forget your towel and shower shoes!
A portable fan:
Mammoth Cave camping can get hot and sticky in the south during the warmer months. Only a few of the cottages in Mammoth Cave National Park have air conditioning. Never fear, however. No matter what the weather is on the surface, inside the cave it's always a comfortable 54 degrees.
Filtered water:
There's no shortage of water if you're camping at Mammoth Cave. It's a well-appointed National Park, after all, bisected by a major river. That said, you'll want to stay plenty hydrated (especially in the high season). Some of the campsites (particularly in the backcountry) don't have spigots available.
---
Related Campgrounds:
---
Related Articles:
Popular Articles: