Drive from Grand Junction into Ouray, Colorado on a clear day and you'll be rewarded with the impressive sight of Mount Sneffles, which stands grandly at 14,150 feet. As you pass Uncompahgre National Forest and approach the stunning San Juan Mountain Range, it's a reminder that the journey really is part of the destination, especially when you're heading to Ouray, Colorado.
Because this southwest Colorado town doesn't have a ski resort, it is delightfully peaceful. Visitors take to the trails, rivers, and waterfalls of the surrounding Uncompahgre National Forest; when the day is done, they crowd the halls of the Ouray Brewery or Mr. Grumpy Pants Bar. There's a feeling here that everybody knows everybody and if you were to get stuck on a trail, someone would surely help you out.
With its historic buildings and 360-degree mountain views, there's a lot to love in Ouray, Colorado.
Climb, Hike, Camp, and More in Ouray, Colorado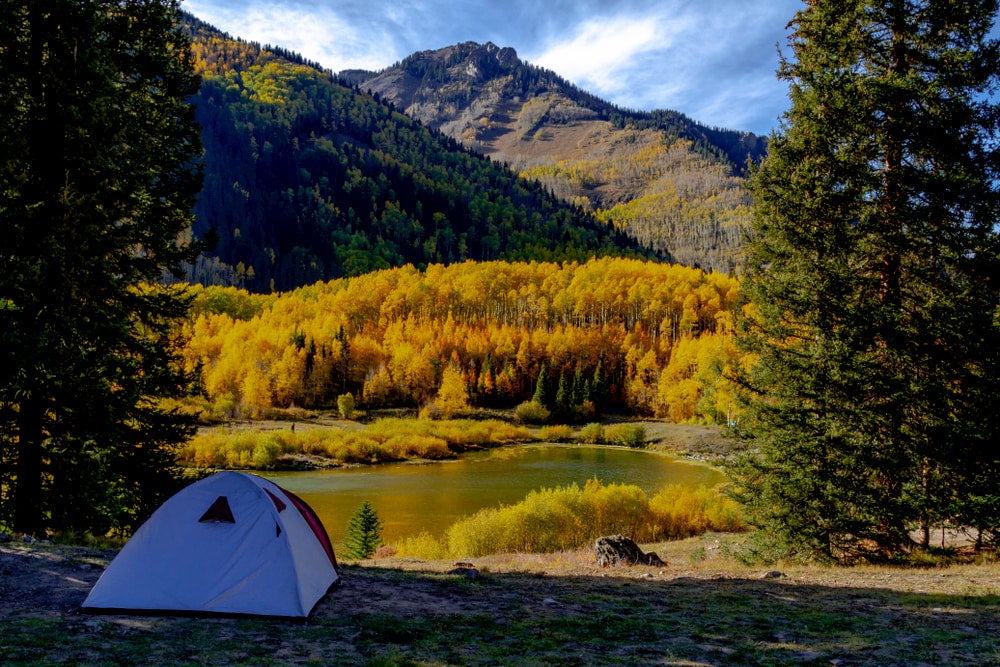 The outdoor community of Ouray, Colorado might best be known for the Ice Climbing Festival, held annually at the end of January. Box Canyon narrows to the Uncompahgre Gorge, a narrow slit just outside Ouray that is now the wintertime home of the Ouray Ice Park. The creation of the park changed the entire demographic and make-up of the town.
Twenty years ago, Ouray felt more like a ghost town than an outdoor lovers' mecca, a view shared by many locals. Angela Hawse, co-owner of Chicks Climbing and Skiing and resident of nearby Ridgway, told me about her move to Ouray, Colorado almost two decades ago. "You wouldn't even believe it's the same town," she said.
While some locals don't welcome the change, many agree it's been good for Ouray. Climbers from all across the world come to the Ice Park to practice on the man-made icicles, but there's plenty more to explore in and around the town.
Local Weather in Ouray, Colorado
Summertime in Ouray, Colorado is made up of temperatures in the high 70s, music festivals, and long days on the trail. Because of its high elevation, Ouray rarely sees scorching temps, though recently they've seen highs in the 90s. When that happens, head to higher, shaded elevations where you'll find cooler air.
As a mountain town, Ouray winters are cold and long. On average Ouray receives 52 days of snowfall, roughly 133" of snow in the municipality each year. These conditions are prime for creating and maintaining the Ice Park and getting outside for cross-country skiing, snowshoeing, or backcountry skiing.
Packing List for Campers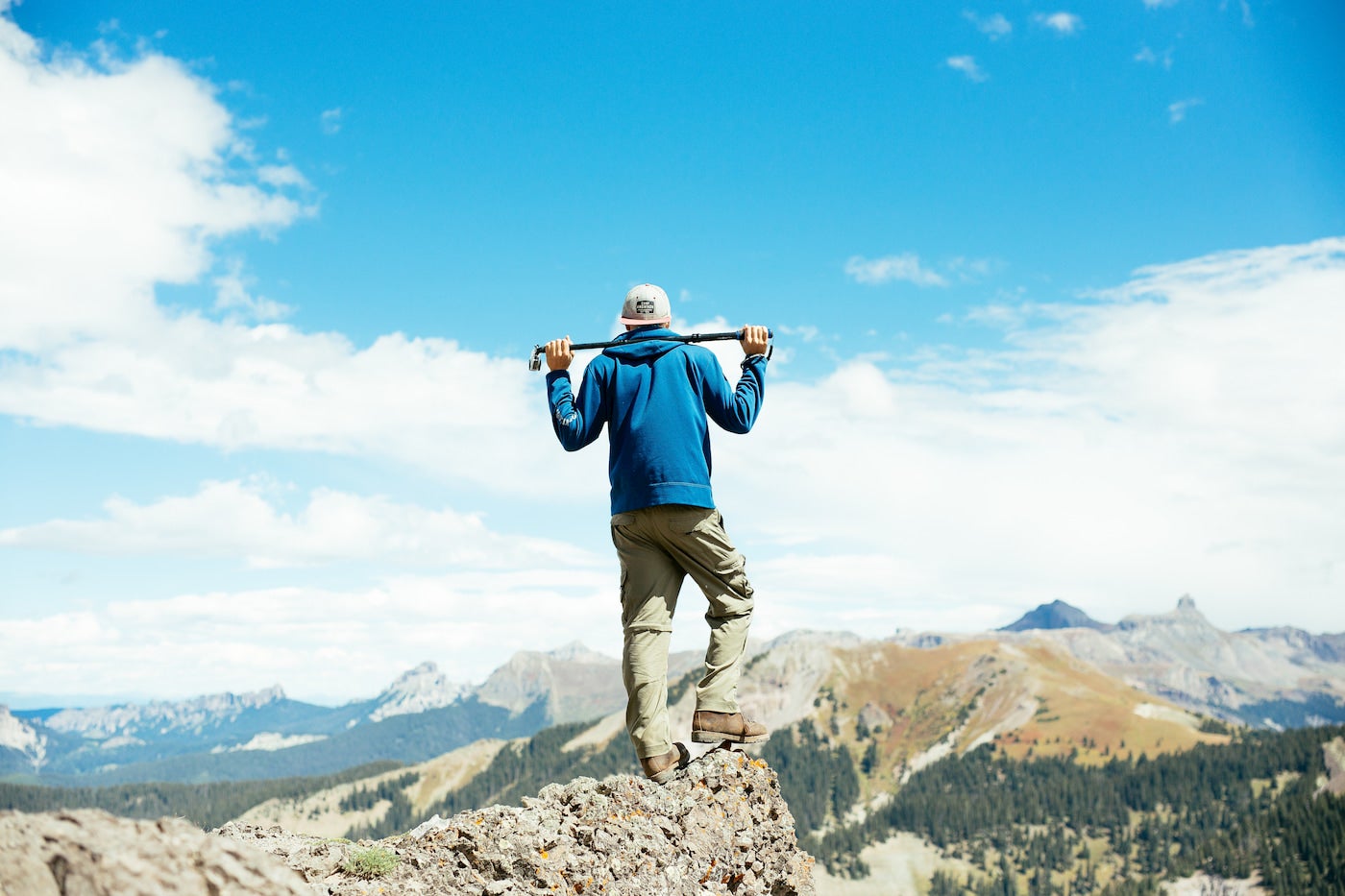 Ouray, Colorado favors the over-prepared. When the sun goes down, the temperature drops substantially, which means adding more layers to roast marshmallows around the campfire. Here's the quick and dirty about what to pack for a trip to go camping in Colorado:
Winter Packing List
Every successful winter day starts and ends with a good base layer or pair of long johns to keep moisture away from the body and regulate heat.
Winter boots are essential for a walk around town or a trek in the mountains. After a snowstorm, the town is blanketed in white and you'll need good tread to hit the brewery or go window shopping.
If you're spending the day in town, a puffy jacket can make all the difference. Walking around likely won't work up enough body heat to keep you warm without one.
For exploring the backcountry you'll want snow pants and a waterproof jacket, especially if the forecast calls for snow.
Speaking of snow, pack your winter activity gear like snowshoes, skis, crampons, ice axes, sleds, cross-country or nordic skis, snowboards, etc.
Summer Packing List
Warm gear is still the name of the game in summer months as high elevation temperatures can be substantially lower than those in the valley. Think sweatshirts, long sleeve shirts, and a midweight jacket. My go-to piece of gear on summer nights is hands-down my Patagonia Nano-Air Hoody.
Hiking boots or hiking sandals are a must for exploring the Uncompahgre National Forest and surrounding BLM and USFS land.
Looking to go rock climbing? Don't forget your harness, rope, chalk bag, shoes, and quickdraws to check out the quartzite formations.
If you're attempting longer trails or higher peaks, don't forget your trekking poles to maneuver steep, tricky terrain.
Hats and sunscreen will protect ears and neck from harmful high-elevation sun rays.
And of course, you'll need essential camping gear like a warm sleeping bag, camp chairs, tent with rainfly, camp kitchen setup, and bug spray.
Ouray, Colorado's Outdoor Gear Shops
Ouray has one main gear shop for all outdoor enthusiasts: Ouray Mountain Sports. They sell gear for trekking, skiing, climbing, backpacking, kayaking, and more. The folks who work here are extremely knowledgeable, ready with up-to-date information about local conditions, and to help outfit you based on your outdoor experience.
Ouray Mountain Sports
732 Main St., Ouray, CO 81427
970-325-4284
If you stop just outside of Ouray in Ridgeway, there's a fly shop called Rigs Adventure Co., which is the one stop shop for all things fly-fishing. They have information on local rivers, what type of fly to use, and even offer a spectrum of guiding services.
Rigs Adventure Co.
1075 Sherman, Suite 101, Ridgway, CO, 81432
970-626-4460
Adventure and Tourism Guiding Companies in Ouray, Colorado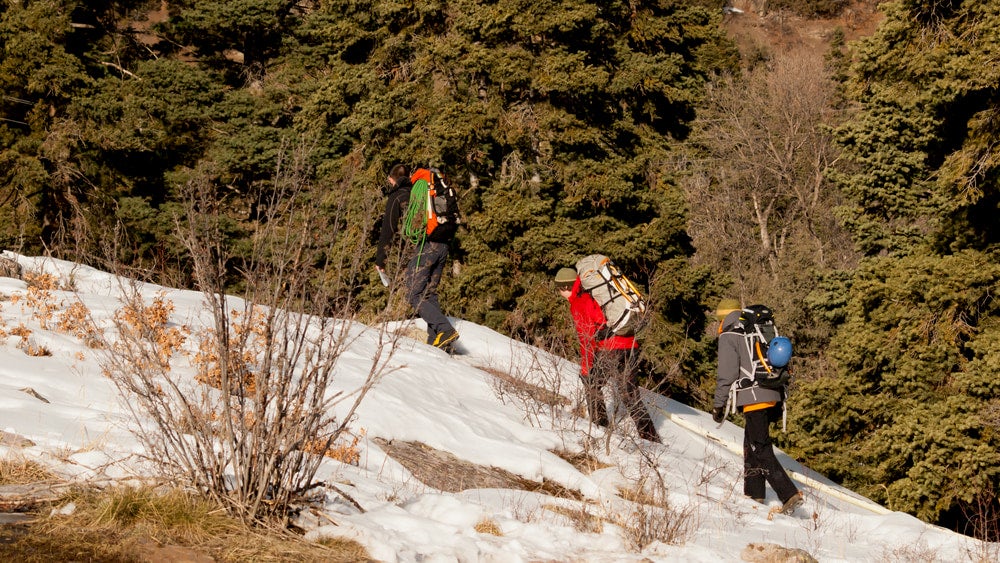 The motto of the San Juan Mountain Guides is "The Local Experts," which says a lot about the company and who they employ. There are various levels of mountain guiding certification, and every guide at San Juan is American Mountain Guide Association (AMGA) certified—the highest possible level of certification in the U.S. They offer a variety of entry-level to expert courses in ice climbing, rock climbing, alpine climbing, and backcountry skiing.
Chicks Climbing and Skiing has led the way in empowering women in mountain environments for over 20 years. Their company, started and headquartered in Ouray, guides all-female trips across the country and the world. Co-owned by four accomplished and inspiring women, Chicks guides are certified AMGA or IFMGA (International Federation of Mountain Guides Associations), or certified badass (read: Kitty Calhoun).
Peak Mountain Guides also lead trips the world over but retain their headquarters in Ouray Colorado, where they guide rock, ice, alpine, and ski trips for all ability levels. Like San Juan and Chicks, all guides at Peak hold AMGA or IFMGA certifications so you'll be under the watchful eye of some of the best guides in the business.
For the fishermen among us, RIGS Fly Fishing Guiding Service offers ½ day to 5-day trips to the Gunnison Gorge/Black Canyon, Pa-Co-Chu-Puk, and Cimarron River. They offer three types of trips: walk wading, floating, and certified Tenkara trips for fishermen (and women) both old and new to the sport.
Skyward Mountaineering focuses on established alpinists and mountaineers looking to expand their skill set to higher peaks and trickier terrain. Their clinics sound epic, like skiing couloirs in The Dolomites and spending a week on mixed rock and ice climbing.
There are also many guiding companies based outside of the area that guide trips in Ouray, like the American Alpine Institute and Mountain Madness.
Outdoor Activities In and Around Ouray, Colorado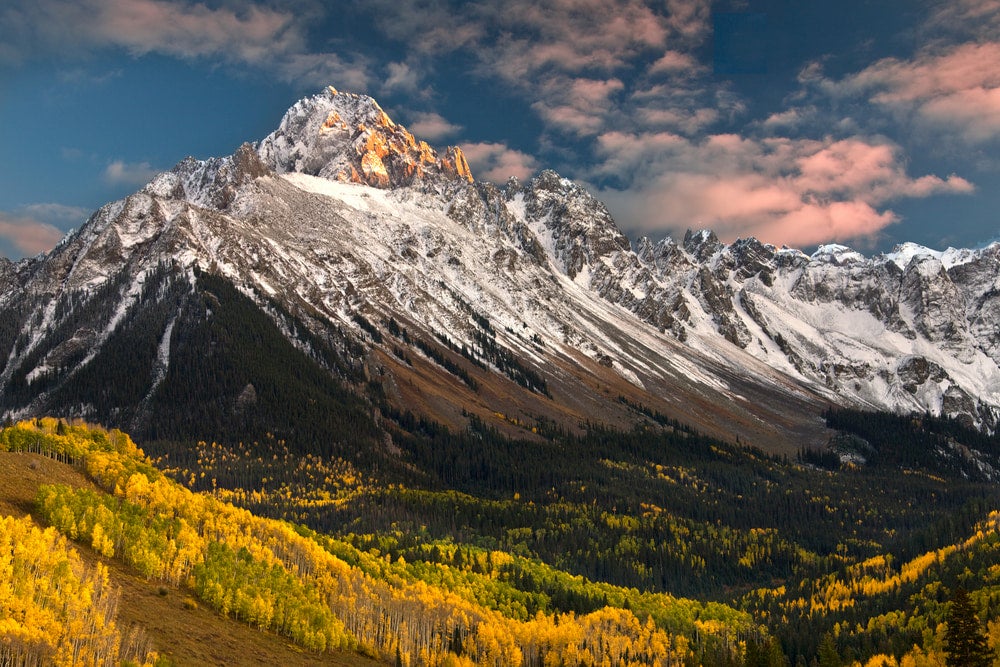 Even if you spent a year in Ouray, you wouldn't be able to tick off the vast and various outdoor activities in the area. Surrounded by the Uncompahgre Wilderness and the Grand Mesa-Uncompahgre-Gunnison National Forest, Ouray offers hiking, mountain biking, backcountry skiing, fly-fishing, boating, ORVing, ice climbing, mountaineering, and just about everything else you might want to do outside.
Hike the Perimeter Trail
Starting at the Ouray Visitors Center on the north side of town, hikers can circumnavigate the town on this 4.7 mile return trail. There are several points where you can jump on or off the trail, so it's easy to make a day of it.
Stop off at the Ouray Brewery, hike back up. Stop at the hot springs, hike back up. The trail is rated as moderate, and during the winter a pair of snowshoes or yaktrax will serve you well.
Hike Mt. Sneffles
Mt. Sneffles is the closest 14er in the area, and attracts many climbers to its often-snowy peak. While the trail clocks in at just 6.7 miles, you'll have to maneuver some class 3 scree, or an exposed ridge to the summit.
If it's recently snowed, the road becomes impassable, so even 4WD vehicles have to park alongside the road and hike to the trailhead. During the 3.4 mile hike, elevation climbs 3,261 feet from the trailhead: at between 12,000 and 14,000 feet this feels massive. Be prepared with food and water and always check the forecast ahead of time.
Ice Climbing in Box Canyon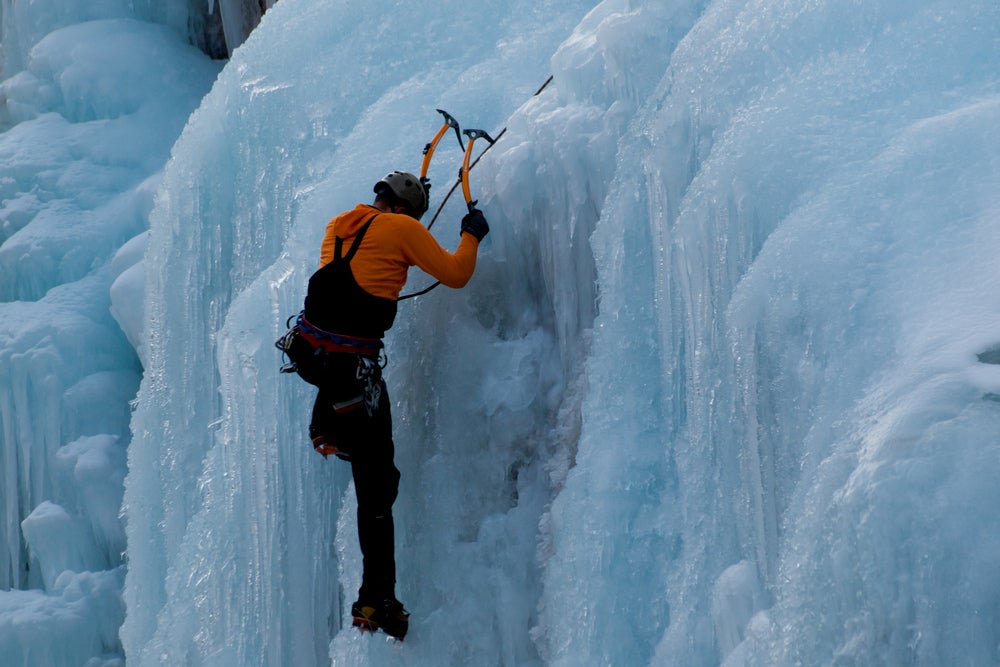 The Ice Park was established roughly 40 years ago after a local discovered a fully-formed frozen waterfall created by a leaky pipe. The rest, they say, is history.
Since then, the human-made ice climbing park has seen thousands of yearly visitors to the most concentrated collection of ice climbs in the country—you'll find over 200 established climbs within 15 minutes of the entrance. The park itself doesn't rent gear, but you can grab crampons, mountaineering boots, and ice tools from San Juan Mountain Guides, Peak Mountain Guides, and Ouray Mountain Sports.
Ski at Lee's Ski Hill
This might be the best hidden gem in Ouray. Lee's Ski Hill is free to use for skiers and riders of all abilities and swells with popularity after a major storm. The rope tow takes you up to enjoy 75 feet of vertical skiing.
Check it out after school hours from 3:30pm-5:30pm and on weekends and holidays from 12:00pm-5:00pm. Its close proximity to downtown (it basically is in town, at 3rd Avenue and 4th Street) makes it perfect for teaching the kiddos how to turn, or for enjoying a little bit of powder after work.
Tubing at Vinegar Hill
If you're not sold on Ouray yet, you will be now. Each year for the past century, from December to Mid-March, the city of Ouray has shut down a section of 5th Street to create a designated sledding area. With no vehicle traffic allowed, kids and adults alike can sled to their heart's delight, at any time, day or night. It's pure magic.
Soak in the Hot Springs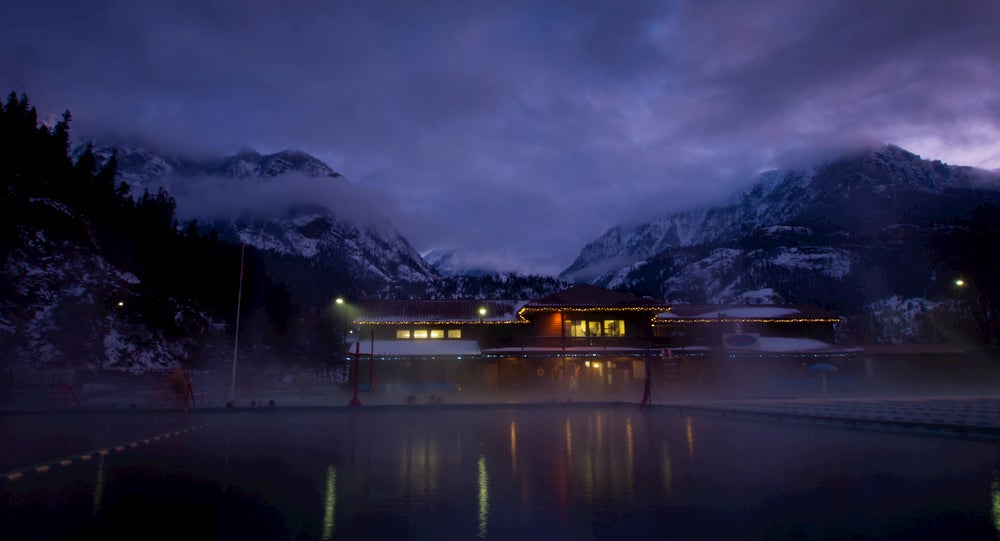 It's hard to beat a mineral soak after a day in the mountains, and Ouray delivers. Spend the day at the Ouray Hot Springs, the most visible and largest hot springs in Ouray. Near the visitor center, Ouray Hot Springs offers 750,000 gallons of sulfur-free soaking waters. For a more private experience, head to Twin Peaks Lodge & Hot Springs or Wiesbaden Hot Springs Spa & Lodgings.
Fly Fishing along the Uncompahgre River
After you've soaked in the hot springs, soak up stunning mountain scenery along the Uncompahgre River as you catch rainbows and cutthroat. The best area to fish is often the 1.5-mile stretch outside the Ridgway reservoir, but if you're interested in heading out to deeper waters, anglers can find Kokanee Salmon in the reservoir itself.
Campgrounds and Dispersed Camping Near Ouray, Colorado
Ouray RV Park and Cabins is the only RV Park open year-round in Ouray, which gives it an edge over other campgrounds in the area. Situated along the Uncompahgre River, Ouray RV Park offers 69 tent and electric sites. If you don't feel like pitching a tent, there are five basic cabins and three luxury cabins to rent for short- and long-term stays.
Amber and Jason Perkins bought the park in 2016 when they decided to shift their full-time nomadic RV lifestyle to a more permanent one. Converting the RV park from summer-only to year-round required minor and major adjustments, like heating the bathroom and acquiring the machinery to manage snow in winter months.
The sites here are spacious, and the food is delicious. If you have the chance, take a leisurely stroll along the river, then enjoy a long breakfast at the on-site Ouray Cafe.
If you want stunning bird's eye views, try the Amphitheatre Campground on the mountainside above Ouray. The sites are primitive but marked, and you'll need to plan far in advance for a site as they book quickly in the high season (June-September).
Sites are available for under-30' RVs and tents. From May 10-June 6 and September 10-30, all sites are on a first-come first-served basis, but as soon as June 7 hits you'll risk missing out if you don't have a reservation.
Amphitheatre also has immediate access to the Perimeter Trail so you can get into town without using major roads or jumping in the car. Sites go for $24/night.
If you've ever stayed at a KOA, you can expect similar amenities at the Ouray KOA, with the bonus of stunning scenery. The tent sites are on grass patches and the Uncompahgre River runs straight through the grounds.
Campers can pick up firewood and get basic necessities at the snack shop. If you're bringing your RV, the Ouray KOA can accommodate rigs up to 80' in length with a standard 50a connection. If you don't have your own place to stay, there are cabins and teepees to rent.
There's also a Creekside Cafe and Jeep rentals on-site if you're looking to do some off-roading in the nearby Uncompahgre National Forest.
At Angel Creek Campground you'll find solitude and primitive camping at the eight first-come, first-served campsites. Food must be stored in bear boxes or in vehicles due to bear activity in the area, and the forest service provides Porta Potties.
The views are incredible and well worth the $10/night camp fee. High clearance vehicles are recommended, but once you're there, the river flowing through the campground coupled with the views will make it hard to leave.
For the dyed-in-the-wool backcountry and primitive campers, there are a few sites off County Road 14. You won't find cell service, but you will get wildlife sightings, fishing along the Dexter Creek, and of course, stellar views.
Ouray is still less than 20 minutes away, giving you access to both the calm of the wilderness and mountain town amenities.
---
Related Articles:
---
Related Campgrounds:
Popular Articles: