At The Dyrt, we share camping tips from our community of campers and campgrounds. With so many campers staying home, we continue to share this info so you can plan future camping trips across the U.S.
---
This article about the Madison River is brought to you by Outdoor Element. If you're looking for the best carabiner for keys look no further than their Hero Clip and Firebiner.
---
The Madison River offers nothing short of fantastic fishing. When the Gibbon and Firehole rivers come together in Montana to create the headwaters of our fourth president's namesake, a unique ecological environment forges its way through Wyoming's Yellowstone National Park. Here, wild rainbow and large brown trout swim through the 70-degree waters, feasting on midges and mayflies.
While there are quite a few restrictions and rules to be aware of before wading into the warm waters, the payoffs are enormous–there's nothing quite like casting a line beneath the shadow of protected forests, geysers, and snow-capped peaks.
Why Camping and Fishing on the Madison River Should Be Your Next Getaway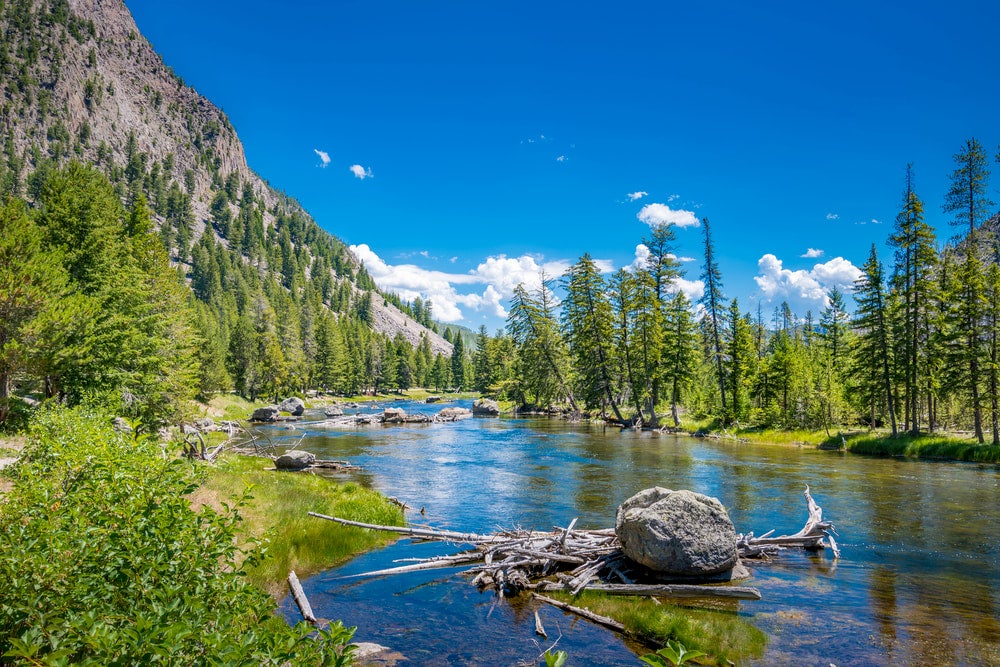 West Yellowstone's Madison River offers a multitude of fishing options. An angler could return time and again to cast a line in varying environments, ecosystems, and backdrops, catching wild rainbow, large brown trout, and cutthroat. Here's what you need to know to plan your next trip.
When to Fish Along the Madison River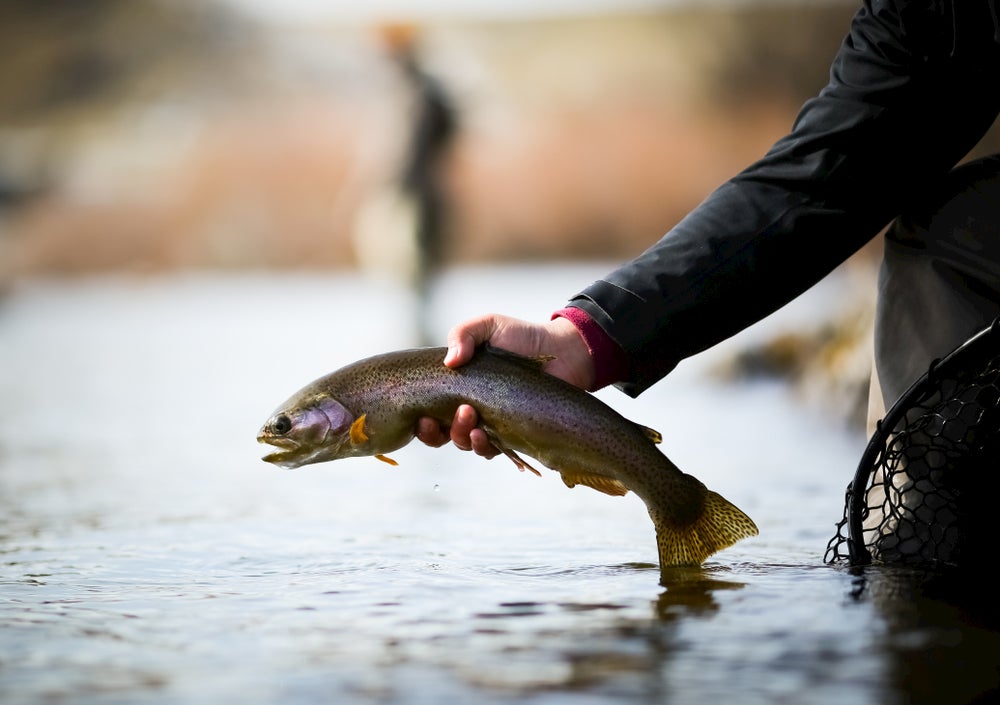 Angling is only allowed in the park from the Saturday of Memorial Day Weekend to the first weekend of November–and local anglers swear by fishing in October. In the early months, mountain run-off can cause raging waters, and since floating is prohibited, it makes wading nearly impossible.
In the heat of summer, fishing becomes more difficult as the thermal induction creates a warm environment. Once the external temperature of the water cools, the fish are more active and more likely to take the bait.
Permits Needed to Fish on the Madison River
Anyone over the age of 16 must obtain a fishing license before casting a line on the Madison River. Permits can be bought at area fly shops, visitors centers within the park, backcountry offices, and the Yellowstone General Stores and prices vary by length. A 3-day license costs $18, 7-days $25, and a season $40. State licenses are not required and not valid, so even if you are a Montana resident with a valid fishing license, you'll still need to purchase a special permit to fish the Madison.
Considerations for Fishing the Madison River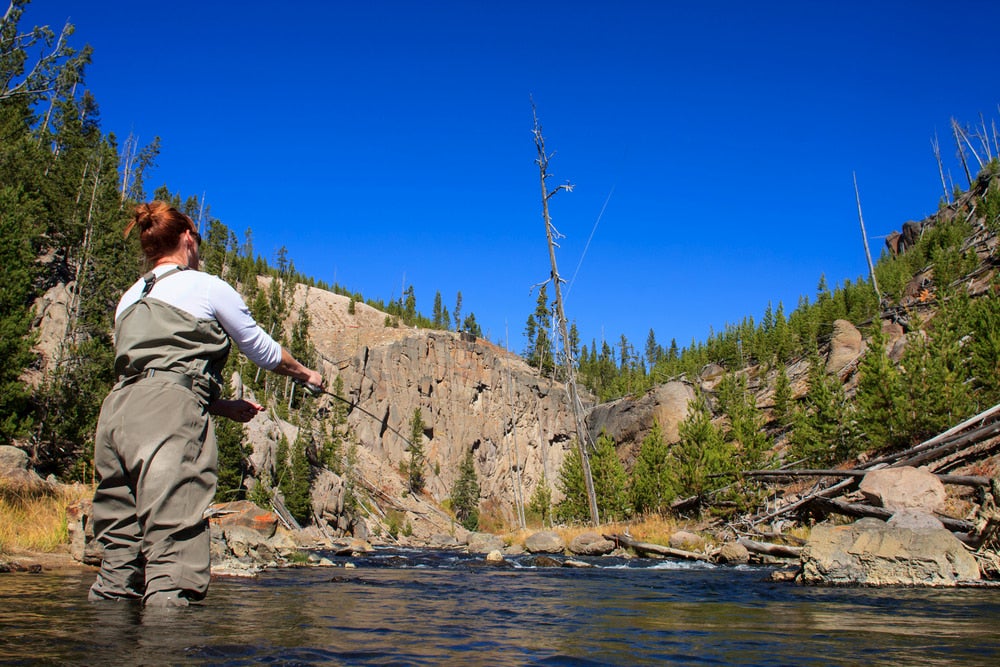 There are a whole host of possession limits along the Madison, including the parkwide release of native cutthroat trout, mountain whitefish, and Arctic grayling, as well as the all lake trout that were caught in Yellowstone Lake and all rainbow and brook trout, and cutthroat/rainbow hybrids from the Lamar River Drainage must be killed if caught–it's illegal to release any of these fish after they're on your line.
After you've caught, gutted, and cleaned your fish, dispose of all entrails in the waters where the fish was caught, unless you're within 100' of a boat ramp, dock, or backcountry campsite. Otherwise, you can dispose of entrails and waste in park garbage cans. More information can be found on the National Park Service website.
When anglers receive their permits, they're also handed a Volunteer Angler Report Card to help Park Rangers identify gaps or lapses in the river system and to contribute data to the fisheries database.
Where to Fish Along the Madison River in West Yellowstone
Along the 19 miles of the Madison River within the confines of Yellowstone National Park, there are multiple gravel pullouts with easy and immediate access to the Madison River. Anglers won't have to navigate long approaches or steep embankments. They'll only have to beware of other river users who are trying to cool off or warm up, depending on the season.
Anglers should beware of seasonal closures between Seven Mile Bridge and Nine Mile Hole to protect nesting Trumpeter Swans. It's also possible for the water here to deepen and become dangerous with high CFS levels.
Camping Near the Madison River in West Yellowstone
While you can't camp right on the river, there are a few options that will get you close enough to add convenience and feel like you're riverside.
Located north of the town of West Yellowstone, Baker's Hole Campground offers 73 campsites with 33 electrical hookups. The sites are shaded with deciduous trees, making the surrounding area fantastic during the fall. There are no reservations at Baker's Hole, so make sure you arrive early to snag a campsite.
"Beautiful! On the Madison river! Great space, quiet & fantastic location! West Yellowstone is only 5 minutes away. We traveled into YNP a few days & also up to Big Sky MT!" –The Dyrt camper Angela M.
Operated by the National Park Service, you won't be budget-camping at Madison–Yellowstone National Park, but you'll be right in on the action. The campground is situated along the Madison River and many Yellowstone attractions are within a thirty minute drive or less. As a reservation-required campground, you'll want to book months in advance to ensure a spot for your family or friends.
"We had a herd of buffalo walk through our campsite while we were here which we were told is not an uncommon occurrence. The nearby river is beautiful and brings various critters as well." –The Dyrt camper Kassidy D.
Due to its location, the Yellowstone Park / West Gate KOA requires a reservation and a bigger budget than campgrounds in less tourist-driven areas. Though, you'll get an awesome experience for the price. There are clean bathrooms, a well-stocked camp store, and quick access to the gates of Yellowstone and the Madison River.
"Great campground that is super close to Yellowstone. They have just about every amenity you could ask for. Pool was fun for the kids on days we didn't go to Yellowstone." –The Dyrt camper Jen M.
---
This article was brought to you by Outdoor Element. Their Firebiner and Hero Clip are the best carabiner for keys so you can stay organized on the river and back at camp.
---
Related Campgrounds:
Popular Articles: