Lake Sidney Lanier is only 45 minutes north of Atlanta, making Lake Lanier camping a popular summer pastime. The man-made reservoir formed in 1956 when the Buford Dam pooled the Chattahoochee River flow. Today it serves many important purposes as a hydroelectricity source, drinking source, and preservation habitat for downstream species.
Of its many critical roles, the 59-square-mile lake is most beloved as a fun getaway for cooling off and escaping the city. More than 11 million people visit Lake Lanier each year.
Campgrounds dot the Lake Lanier shoreline, some operated by the Army Corps of Engineers, some commercially owned by Lanier Islands, and others falling under county control.
Your Guide To Lake Lanier Camping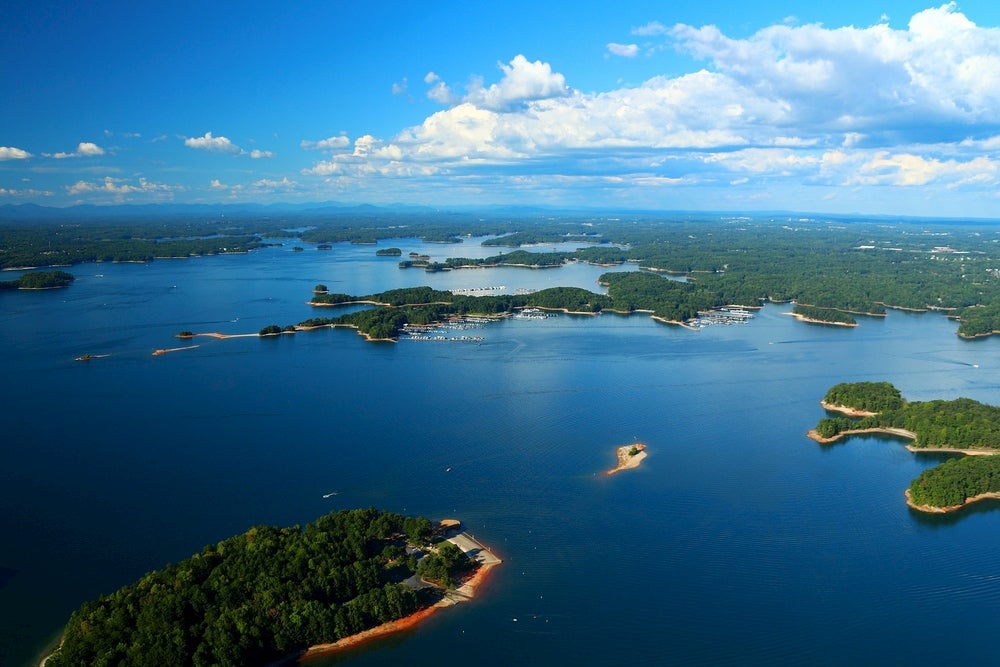 Lake Lanier camping may be most popular in the summer, but the waters are open year-round. Your Lake Lanier camping experience can vary wildly depending on the time of year and part of the lake you choose to visit.
Seasonal Lake Lanier Camping
Lake Lanier camping is busiest in the summer, when the lake hums with motor boats and splashing swimmers. It's an extremely popular destination during the sweltering Atlanta summers. But even in the winter, Lake Lanier beckons visitors with seven miles of winter wonderland lights, ice skating among drifting bubbles, and golden roasted marshmallows.
While Lake Lanier draws visitors all year, most wintertime lake goers stick to day trips. If you're truly looking for solitude during your Lake Lanier camping trip, and you can manage in the cold, consider a winter camping trip.

Choosing your Lake Lanier Shoreline
If your heart is set on a summertime camping trip, it's still possible to avoid the crowds—or at least not feel like you're fighting for elbow room in the water. Lake Lanier camping is always busiest at the south end of the lake. These campgrounds are closest to Atlanta and the easiest sites to reach generally fill up faster.
You'll be rewarded with fewer people and more lake if you take your time and drive further north. This side of the lake has plenty of natural scenery, from the foothills of the Blue Ridge Mountains to the calm lake waters, and is typically less crowded.
Where To Camp at Lake Lanier
Lake Lanier camping gives you a front row seat to beautiful sunrises over calm lake waters. Campsite rules, activities, and site upkeep will vary depending on the campground.
Shoal Creek takes campers right to the edge of Lake Lanier with their primitive campsites. The campground is owned by the Army Corps of Engineers, but is leased and maintained by Lanier Islands.
Each campsite has a table, fire ring, grill, and the electric sites are equipped with 50 amp. A boat ramp, camp store, and restrooms with showers are also on site. While the setting is peaceful, this campground can get pretty busy, resulting in some noise pollution.
"We enjoyed Shoal Creek. There were some things like people playing music late at night that were annoying, but the sites were spacious and the views were nice." —The Dyrt camper Jessica S.
War Hill Park is Lake Lanier camping on a smaller scale, with only 14 primitive sites available. But what it lacks in size it makes up for in grand scenery, like the incredible sunrises over the water viewed from the fishing pier. There are also four boat ramps on site. If you'd prefer to stay on land, the sandy shoreline is perfect for volleyball.
The park is managed by Dawson County Parks and Recreation. Each site has a fire pit, charcoal grill, and lantern hook. There are also restrooms and a playground nearby.
"Came up one weekend with a big group of friends and we spent the whole time fishing and playing volleyball. The courts, bathrooms, and picnic areas were very well maintained." —The Dyrt camper Nick P.
Bolding Mill sits on the northern end of the lake, at the foothills of the Blue Ridge Mountains. The beach at Bolding Mill features a concrete slope that eases swimmers into the lake, making this campsite especially popular as a family swimming hole.
Bolding Mill has 88 campsites, 10 of which are tent-only. The others feature electric and water hookups, but no sewer. There are on site boat ramps and a fishing pier, as well as basketball courts and picnic shelters.
"There are several spots to get down and into the lake for a swim. Very well maintained. Most sites are secluded from neighbor. Several pull thrus. Deer and egrets and bluebirds." — The Dyrt camper Nancy K.
True to its name, Shady Grove Campground stays cool thanks to the surrounding birch, oak, and dogwood trees. Catch views of the sunrise over Lake Lanier right from your tent or RV door. This is a perfect spot to relax by the lake, but be mindful that there's a fairly challenging drop off to the shore.
Shady Grove has 97 campsites, some of which accommodate tents or RVs with 30/50 amp electric hookups, and some of which are tent-only with no electric. This campground has a no alcohol policy, strictly enforced by the park rangers. A Lake Lanier camping trip to Shady Grove can only be experienced part of the year, reservations are accepted from mid-March to the beginning of November.
"Shady Grove is a wonderful gem of a campground. It is owned and run by Forsyth County and is beautifully maintained. Living in the North Atlanta area, this became one of our easy, go-to camp sites. Over the past couple of years, the county has been upgrading the sites and they have done a wonderful job." – The Dyrt camper Chris H.
Sawnee campground is one of the smaller camping options around Lake Lanier. The campground has 43 available sites, which have water and electric hookups for RVs, but none have sewer. Deeper in the forest there are 16 tent-only sites, 11 of which have electric hook ups.
As with most camping spots around Lake Lanier, bring your water recreation gear to Sawnee. Whether that's just a bathing suit for swimming or a speed boat, there's access to both a swimming beach and boat ramps at the site. Sawnee also has restrooms and a playground on the grounds.
"You are able to reserve your specific campsite ahead of time. Lots of great lake views. Enjoy watching the fireworks during the 4th of July." – The Dyrt camper Natalie A.
Bald Ridge Creek is Lake Lanier camping that settles the soul. The warm, calm lake waters are ideal for kayaks, canoes, and paddle boards. Whatever your vessel, Bald Ridge Creek has plenty of nooks and coves to explore.
Family campers should also check out the interactive Sawnee Mountain Preserve Visitor Center, which offers nature education and adventure programs. It is open from 8:30am to 5pm, Monday through Saturday.
Campers have 82 campsites to choose from, each with electric and water hookups but no sewer. Restrooms, laundry facilities, and a dump station are also on site.
"Our campsite was perfect. It was right on the lake with a beautiful view. It has a path that goes down to the lake. A lot of the sites are on the lake and most sites offer ample shade. The site was level and flat and had fine gravel to avoid muddy area if it rains. There is a playground if you have small children." — The Dyrt camper Maethea R.
Lake Lanier Packing List
Water/Beach Recreation
Motor boats/kayaks/canoes/jet skis/floats
Fishing rod
Volleyball
Life jackets
Bathing suits
Swim shoes
Towels
Gear
Waterproof tent
Lightweight gear for summer
Insulated coat for winter
Camelback water transport
Hiking boots
Sunglasses
General Camping
Sunscreen
Bug spray
Water
Grill food
Fire starter
Things to Do at Lake Lanier
No matter when you plan your Lake Lanier camping trip, there are plenty of lake activities to entertain the whole family. From horseback riding to zip lining, these activities offer a whole new perspective of Lake Lanier.
Horseback Riding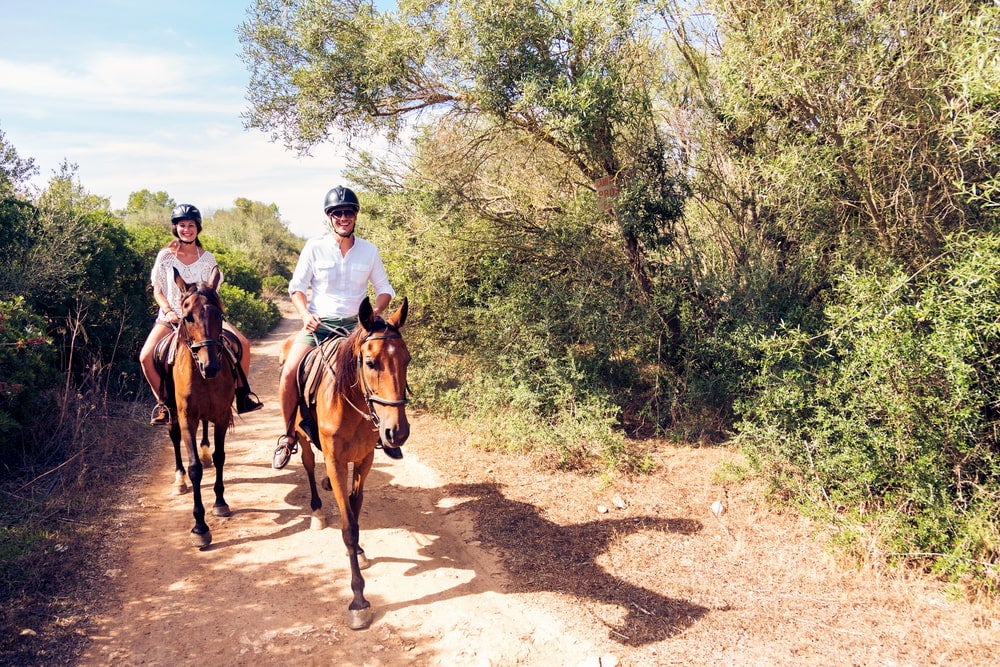 Take in the lake's serenity from the saddle of a trotting horse. There are multiple horse back riding programs, trails, and experiences offered around the lake. One such program is at Lake Lanier Stables, where children seven and older and 48 inches tall can ride along the trails.
The trails are open from 10am to 4pm November to March, and from 10am to 5pm April to October.
Children aged two and up who weigh less than 80 pounds can take a 30-minute pony ride, while couples can gallop away to a romantic, private picnic for two at the lakeside.
Horseback riding options
Lanier Islands Ride & Romance
Bearfoot Ranch
Rolling Hills Saddle Club
Fishing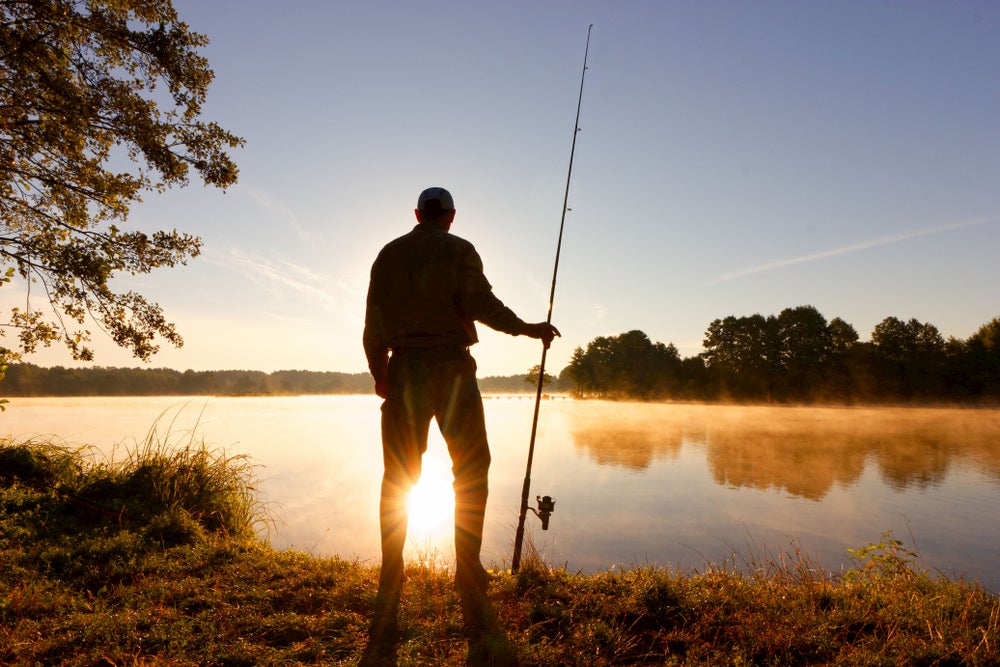 Don't forget your fishing rod when you're packing for your Lake Lanier camping trip—you could hook a big one.
If you're between the ages of 16 and 65 you'll need a Georgia fishing license before you cast. Call (800) 366–2661 or buy your license online at the Georgia Department of Natural Resources website.
The Georgia Game and Fish Commission has stocked Lake Lanier with:
Largemouth bass
Bluegill
Rainbow trout
Brown trout
Brook trout
Walleye
Striped bass
Crappie
Lake Lanier is also a natural fish habitat for:
Largemouth bass
Spotted bass
White bass
Crappie
Catfish
Panfish
Longnose gar
If you find yourself near the northeast shoreline, Laurel Park is an excellent stop for family activities. It has a one mile nature trail, picnic pavilions, and a massive boat ramp. The boat ramp is so accommodating that it's often used in fishing tournaments.
Don't leave the swim gear behind! There's a splash park where kids can play and cool down in the park. Restrooms and water sources are also on site.
Lanier World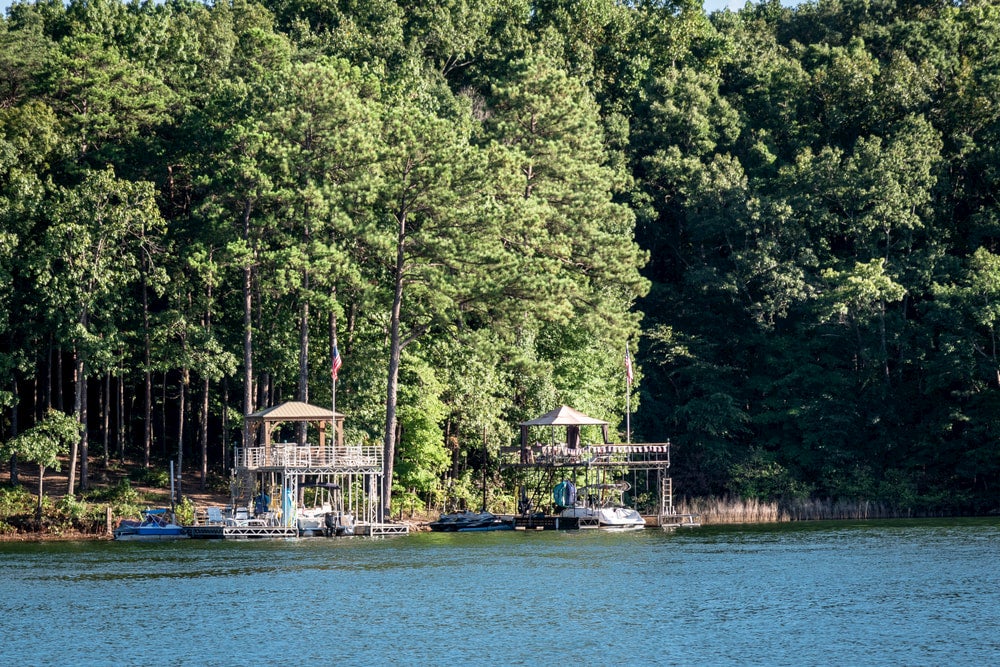 A Lake Lanier camping experience doesn't have to be all primitive. Lanier World is located on a series of islands in the middle the lake, and channels Jimmy Buffet with one island named Margaritaville. On Lanier Islands, you can enjoy the water recreation sports as you can anywhere else around the lake. This theme park also offers a snow tubing hill in mid-November as well as restaurants, a water park, and a lakeside beach.
In Spring 2019, Lanier Islands will debut an RV resort that intends to bridge the gap between outdoor adventure and the luxury of resort amenities.
Zip Lining
Lake Lanier Canopy Tours takes Lake Lanier campers off the ground and into the tree tops with their zip lining programs. You can soar above the forest every day of the year except Thanksgiving and Christmas. Try zipping at night by the light of the full moon or above the lake waters with seven different zip lining experiences to choose from.
Prices range from $40 to $100 per person. Reservations are highly recommended for all canopy tours, as walk-ins aren't guaranteed a spot.
Hiking
The U.S. Army Corps of Engineers maintains two trailheads at the south end of Lake Lanier near the Buford Dam.
Buford Dam Trail: This trail runs a short one mile, but takes you through Lower Pool Park and beneath the Buford Dam.
Laurel Ridge Trail: Hike beneath the Buford Dam on Laurel Ridge Trail. This path also extends into the Chestatee River and Buford Dam Park. The entire trail is 3.8 miles.
Don Carter State Park: Established in 2013, this park is a fairly new addition to the north side of Lake Lanier; with it came four extra miles of hiking trails to Lake Lanier.
Lanier Islands Hiking Trails: Lake Lanier Islands is more of a resort, but the $15 entrance fee will give you access to nine hiking trails throughout the Lanier Islands.
Boating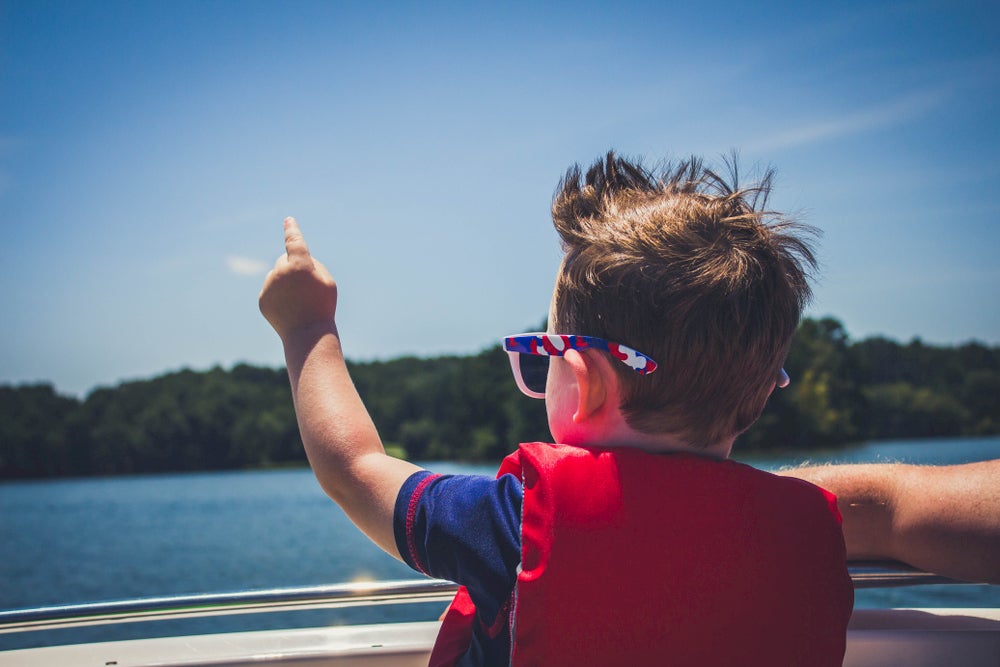 Lake Lanier camping wouldn't be complete without getting in the water.
Puttering about in a boat on open waters may be one of the best ways to laze away a Southern summer day. But if you're looking for less populated waters, travel to the quieter north end of the lake. The south end receives thousands of boating visitors in the summer due to its close proximity to Atlanta.
Everything from canoes to speed boats are permitted on the lake, and there are no speed limits. Free boat ramps and marinas surround the lake.
---
Related Campgrounds:
Popular Articles: