With its 40,000 miles of rivers and streams and five large and natural freshwater lakes (as well as many other smaller natural and manmade lakes), there's no shortage of places to go for a float in North Carolina. While day trips are a blast, why give up the boat when the sun goes down? Camping and kayaking in NC gives you the chance to expand your river trips and see the wild and scenic rivers of the Tarheel State.
7 Paddle-in Campgrounds You Can Reach When Kayaking in NC
There's so many good waterways to explore in North Carolina that deciding where to place your paddle can be a tough choice. These seven great paddle-in campgrounds, reviewed by real campers on The Dyrt, will give you a great excuse to plan a weekend, map out a route, and go kayaking in NC.
1. Paddle (and Camp Along) the French Broad River Paddle Trail
The French Broad Paddle Trail is a network of campgrounds along the French Broad River that can be pieced together to create epic paddle-in camping trips. The Paddle Trail campsites connect over 140 miles of river for canoeing and kayaking in NC. Beginning in Rosman, NC, paddlers can tackle flat and whitewater paddling all the way to Douglas, Tennessee. Primitive campsites are located strategically so that paddlers can reach their next camping destination in a single day. The longest paddling distance is 15 miles, from Rhodes Ranch campground to Buck Shoals campground.
For novice paddlers, the French Broad near Brevard, North Carolina is a great, flat section of the river and offers great Muskellunge fishing to boot. In Asheville, the areas between Bent Creek and Hominy Creek Park are also a good beginning float, though the area is slightly more challenging than the Brevard section of the river.
The best way to play your French Broad Paddle Trail trip is to purchase a map. There are a number of private campgrounds in the paddle trail system, some of which can be reserved online here.
Though this campground can also be reached by catching a ferry, the best—and most adventurous—way to reach Hammocks Beach State Park's campground on Bear Island is by canoe or kayak. There are 14 total campsites at Hammocks Beach State Park and three of them (spots 12, 13, and 14) can only be reached by boat. This tranquil, untouched island in the southern Outer Banks is a favorite place to go canoeing or kayaking in NC because of its isolation and natural beauty.
Campsites are open year-round but water and bathroom facilities are closed mid-November through mid-March. Fires are not permitted on the island and campers must remove all trash (leave no trace!) Camping permits must be obtained from the park office before beginning your trip. If you're leaving a vehicle in the mainland parking lot overnight make sure to register it with the park office or it might get towed.
"If you're looking for beautiful beach camping that isn't super crowded, then Bear Island is the place to be!" —The Dyrt camper Sarah C.
A rare and beautiful place, Merchants Millpond State Park campground isn't your typical lakeside camping experience. The main attraction at Merchants Millpond is a swampy pond surrounded by Cypress trees, beech groves, Spanish moss and impressive flora and fauna. Campers can canoe or kayak through the pond to three different paddle-in campgrounds distinguishable by their color-coded buoys.
Orange buoys lead paddlers to the family campground where 10 campsites are available. The yellow buoys lead to a group campground, which offers three paddle-in campsites. Both of these campsites have pit toilets but no other amenities and campers must carry in all supplies, food, and water and pack out their trash.
The third paddle-in campground is called Bennett's Creek and is located about 4.5 miles from the boat ramp. This campground has six campsites, three of which are located on high and dry ground while the other three are on platforms. Bennett's Creek offers no amenities, and supplies must be carried in and out. All campsites are open year-round and can be reserved up to 11 months in advance.
"The visitor's center was surprisingly modern. The check in process was seamless, the ranger gave us some great tips. Canoes are self service (you have to get them off the rack, get paddles and lifejackets yourself). Put in is easy, and they use a buoy system to help navigate to the canoe-in campsites." —The Dyrt camper Becky E.
The New River is a beautiful, boulder-filled river that winds through the mountains of North Carolina and is a favorite place for canoeing and kayaking in NC. New River State Park is a great basecamp for exploring all of the recreational opportunities that the wild river has to offer. The park has four paddle-in campgrounds with tables and grills, two of which can only be reached by boat.
The two campgrounds in the park that can be reached via walk-in or paddle-in are the Wagoner Access Area and the U.S. Highway 221 Access Area. The Wagoner Access Area offers 11 family campsites and one group campsite that can accommodate up to 35 campers, while the U.S. Highway 221 Access Area has 14 campsites with bathrooms, potable water, and hot showers.
The park's Alleghany Access Area and Riverbend Access Area are paddle-in camping only. The Alleghany Access Area has eight primitive campsites and one group campsite offering potable water and pit toilets, while the Riverbend Access Area has four paddle-in only sites, with a pit toilet but no drinking water. These campgrounds are available by reservation only.
"We camped at the Wagoner access with our dogs over the weekend. The campground is very beautiful. You have to walk in but the park provides little carts and wheelbarrows. The sites and the bathhouse are very well maintained." —The Dyrt camper Katrin M.
The Cape Fear River, which winds its way through Raven Rock State Park, is a popular destination for canoeing and kayaking in NC. Surrounded by dense forest and rhododendron thickets, the primitive campgrounds offer paddle-in campers both beauty and solitude.
There are six secluded and primitive campsites along the Cape Fear River Canoe Trail and five group campsites located along the Cape Fear River that can accommodate up to 26 people. Campsites have pit toilets but campers must haul in all food and supplies and pack out all trash. None of these campsites can be reached by car, so campers must either paddle-in or walk. Make a reservation before you start your paddling trip to ensure you'll have a place to set up camp.
"I've spent many nights camping at Raven Rock… The canoe campsite is for the person brave enough to challenge the mighty Cape Fear River. The trails are great for day hikes also. You can swim in the Fish Traps, which is a unique cluster of rocks on the river. This place is a must visit if you are ever kayaking in NC." —The Dyrt camper Cameron D.
If your idea of fun is spending a weekend paddling around a beautiful mountain lake (and who doesn't love that?) then head to Lake James State Park, one of the best places to go kayaking in NC. The 6,812-acre lake has 30 paddle-in campsites on the Long Arm Peninsula.
Each campsite has a fire pit and picnic table, but no running water, so make sure to bring your own. Vault toilets are available on-site, but if you want less rustic facilities it's a quick and easy paddle to the bathhouse. Don't have your own water vessel? The park offers a limited number of canoes and kayaks for rent, but be sure to call the park office for confirmation and availability. Reservations are required for the boat-in campsites and can be made online.
"We loaded down our kayaks and headed out: the boat-in campsites are about a mile and a half away. Not far at all but a good distance for beginners if you haven't done this sort of thing before. We had a great view with plenty of shade. Another plus is there was an outhouse that was immaculate. The cleanliness of the park was great and I would definitely recommend." —The Dyrt camper Kim N.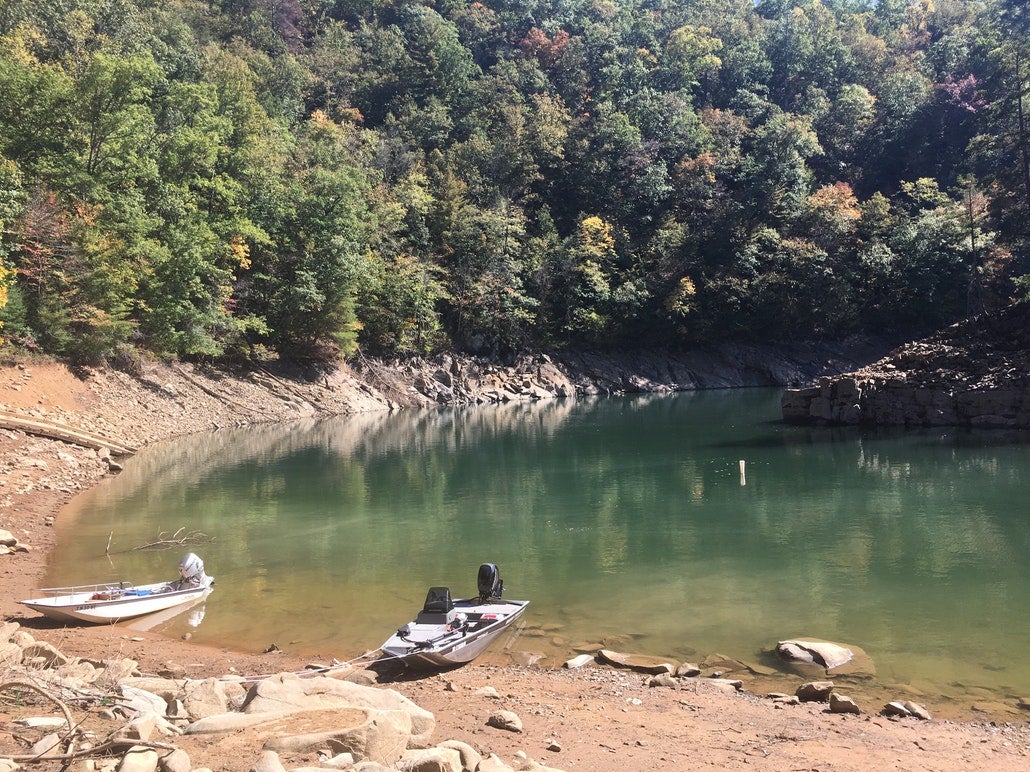 Fontana Lake is a beautiful lake destination ringed by mountains and miles of hiking trails and fishing streams, and sits between the southern border of Great Smoky Mountains National Park and the northern border of Nantahala National Forest.
Five campgrounds within the Great Smoky Mountain National park allow paddle-in campers to pitch a tent right on the north shore of Fontana Lake:
#87 Jerry Hollow
#78 Double Island
#73 Lone Pine
#72 Gunter Branch 
#66 Lower Noland Creek
The campsites are primitive with no toilets, drinking water or other amenities. Great Smoky Mountains National Park requires all campers to obtain a reservation and a permit before camping.
---
Related Campgrounds:
Popular Articles: