Hanging Rock State Park is an outdoorsy playground for a huge number of North Carolinians. Thanks to its location in Stokes County, the park is just a one-hour drive from the Piedmont Triad—three of North Carolina's major cities including Greensboro, Winston-Salem, and High Point. It's also just a quick two-hour drive from Charlotte.
Although the park is close to urban centers, Hanging Rock State Park offers campers a true escape. Locals and travelers alike love Hanging Rock State Park for the stunning scenery, plethora of outdoor activities and awesome recreational opportunities on the water. The park is attractive in the summer—with swimming beaches and shaded camping spots—but also offers beauty and solitude during slower winter months.
Why Adventurers Love North Carolina's Hanging Rock State Park
No matter what you love to do or when you want to do it, Hanging Rock State Park has an adventure for everyone.
Hanging Rock State Park's Long History
Long before Hanging Rock State Park became a park, the Saura Indians inhabited this stretch of land. the surrounding  were named for these early inhabitants. The surrounding ancient Sauratown Mountains—named for the area's early inhabitants—are the remnants of a once-towering range of peaks that, over millions of years, formed the smaller knobs and rock formations that define this region of North Carolina.
In 1936, the Stokes County Committee donated 3,096 acres of land to form Hanging Rock State Park. Additional land was added to the park in later years, bringing the total acreage now to more than 7,000.
Park facilities including a dam, a stone bathhouse, parking area, picnic shelters and hiking trails were constructed by the Civilian Conservation Corps in the 1930s. In 1991, the park's bathhouse joined the National Register of Historic Places.
Today, the park stands both as a testament to the past and place for modern visitors to get outdoors.
Activities Abound at Hanging Rock State Park
Hit the Trails
Hanging Rock State Park has over 20 miles of hiking trails leading to mountain views, waterfalls, rock outcrops, and even a cave. Hiking trails range from the wheelchair accessible and brief Rock Garden Trail to the strenuous 12-mile, out-and-back Ruben Mountain Trail.
Go Boating and Fishing
Anglers can cast their reel year-round into the Hanging Rock State Park lake. The lake holds a variety of bass, sunfish and catfish—however, fishing requires a North Carolina fishing license for people age 16 and over. Fishing is allowed from the shore of the lake or via the water. Private boats are not allowed on the lake, but rowboats and canoes can be rented during the spring, summer and fall.
Fishermen can also find smallmouth bass and sunfish on the Dan River, running through the heart of the park. Fishing is accessible in the river by boat or wading.
Access Climbing Walls
Experienced rock climbers can try their hand at Cook's Wall and Moore's Wall, a series of cliffs up to 400 feet high and extending almost two miles. Climbers must register before beginning a climb and are required to use proper equipment and safety techniques. The park does not maintain routes or anchors and all other areas of the park are closed to climbing.
Take a Dip in the Lake at Hanging Rock State Park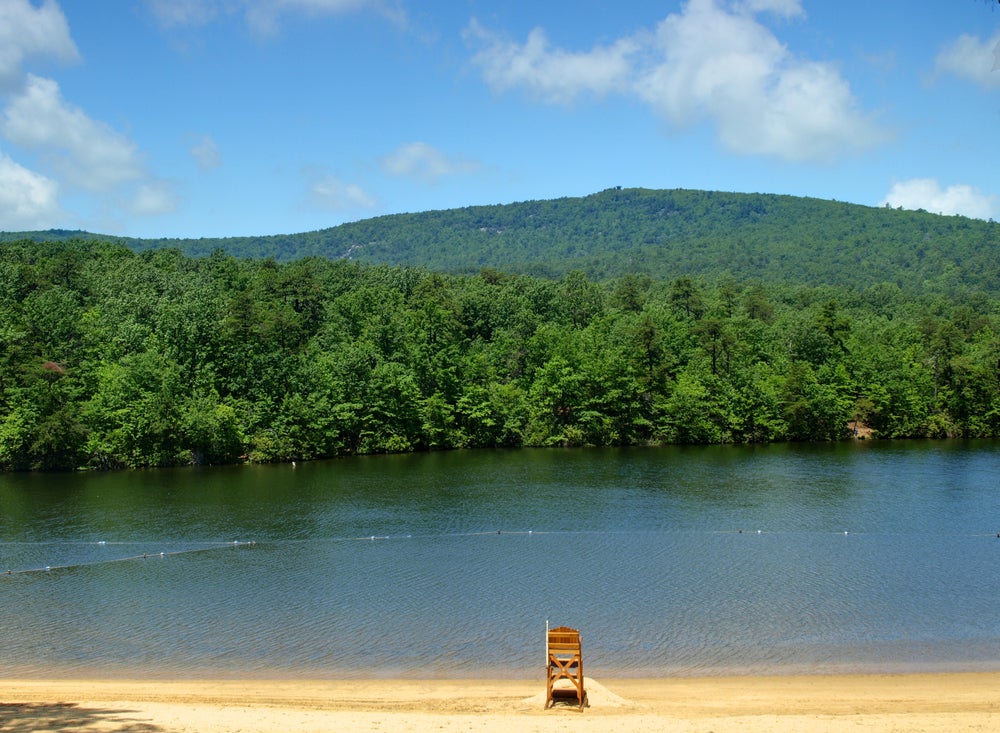 Swimming is available in the park lake during the summer months. The 12-acre lake has a sandy beach area and a grassy area nearby if you want to avoid the sand. All swimmers must pay a fee for beach access. For those looking to be be even more active in the water, paddle-boat and canoe rentals are also available in the summer months from the park.
Find River Tubing Nearby
While not available in the park, it's popular to go tubing down the Dan River, which runs through the park. Access to the Dan River for tubing is on the north side of the park. Bring your own equipment or take advantage of nearby outfitters who provide equipment and shuttling services.
Soak in the Best Views from the Seat of Your Bike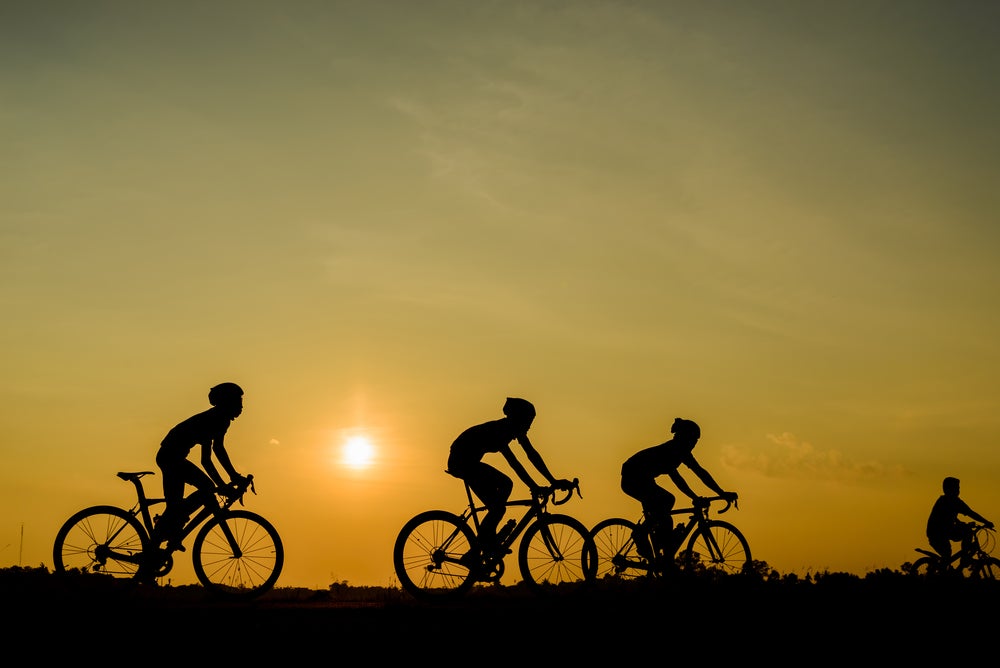 Hanging Rock State Park's single-track mountain biking trails are impressive to say the least, sending bikers zooming past rock ledges, across stream crossings, and to stunning viewpoints of the Sauratown Mountains. The park's trails number 8.4 miles for intermediate riders, but as of 2018, advanced- and beginner-level trails are in development with plans for construction soon.
Hikers can also use the park's mountain biking trails, but bikers have right-of-way. All mountain biking trails begin at the park's "farmhouse" at 2700 Moore's Springs Road, Westfield, NC, 27053.
Set up a Picnic
Pack a lunch and spend the day exploring Hanging Rock State Park. Two picnic areas offer 60 picnic sites and 15 grills. Drinking water and restrooms are nearby. Picnickers can also reserve shelters around the park. Shelters for group picnics are also available and can be reserved in advance. In addition to the picnic areas, the lake has a refreshment stand open during the summer months.
Go Further with Education and Events
Rangers at Hanging Rock State Park regularly hold educational and interpretive programs and an exhibit hall in the visitor's center offers interactive exhibits. The park has also developed educational materials for grades 5-8 related to North Carolina's competency-based curriculum in science, social studies, mathematics and language arts. The program introduces kids to basic geologic concepts and is accompanied by a free teacher's booklet and workshop.
Explore the Surrounding North Carolina Attractions
If your adventures take you outside of the park's boundaries, check out these fun things to do in Stokes County.
Activities For the Adventurer on the Move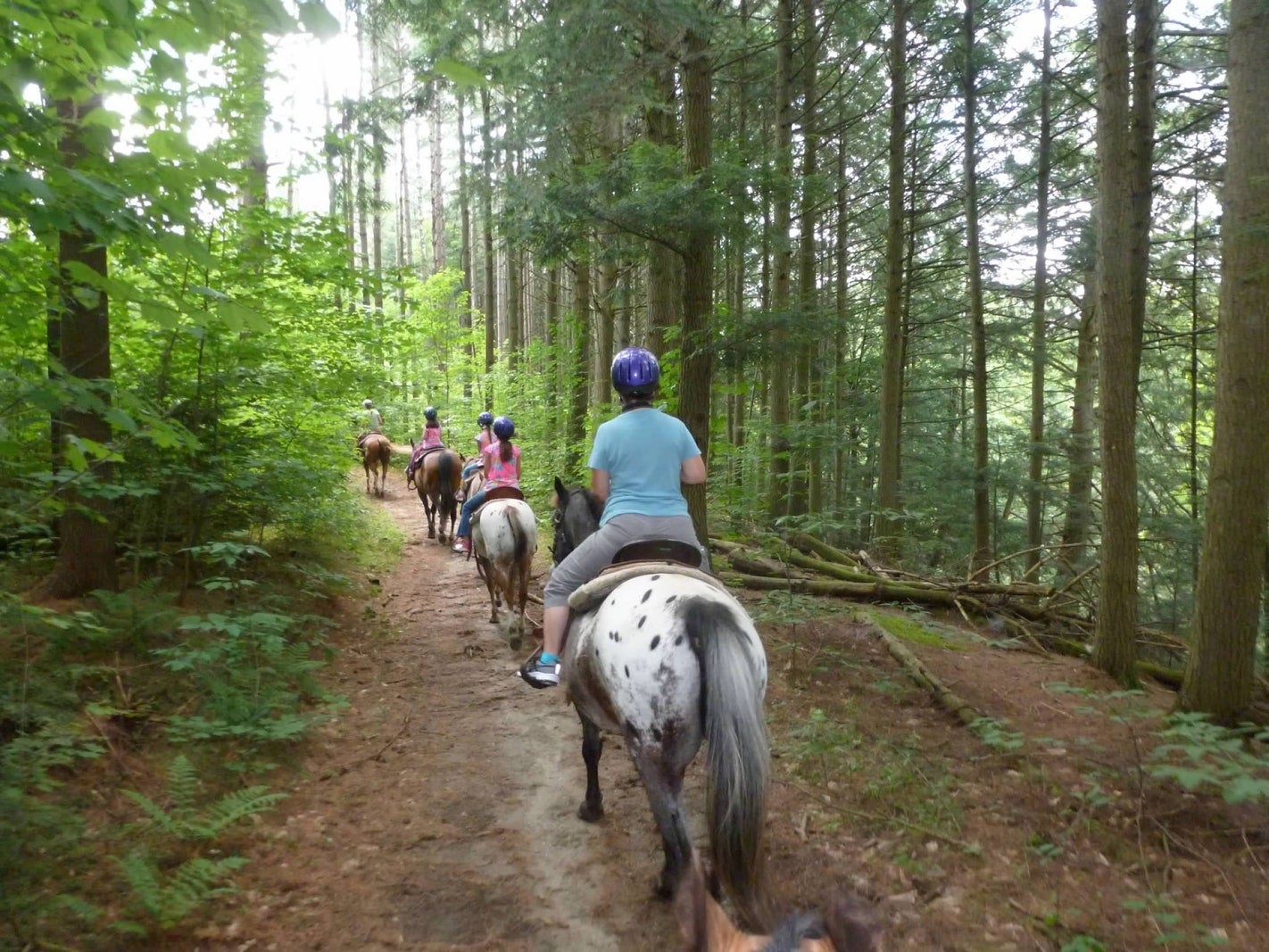 Besides the outdoor adventures available in Hanging Rock State Park, campers should venture outside of the park's borders to find even more outdoorsy fun.
There are a number of horse stables in the area offering horseback riding opportunities to visitors, including Cardinal Stables, Bregmans Stables, Tokota Stables, Sauratown Stables and Double T Farms.
Tubing the Dan River is a fun and affordable way to cool off on a hot summer day. Bring your own tubes or hire an outfitter to provide your group with tubes and transportation. Local outfitters include the General Dan Tubing Company, Hillside Dan River Tubing and the Dan River Company.
Adrenaline junkies will have a great time at the Carolina Ziplines, which provides high flying adventures 50 feet above the forest floor.
Racing enthusiasts should check out the 311 Speedway, known as the "Daytona of Dirt," which hosts special car racing events year-round.
Attractions For the History Buffs
Stokes County is home to a number of historical buildings including churches, a historical working farm, a stone house dating back to the 1700's, and the log cabins of the original Stokes County settler. The King Drug Company in nearby King, NC is a drug store and soda fountain that has been open since 1926. The general store in Danbury has been open since 1888.
Art and Events For the Creative Explorers
Stokes County has a cultural heritage rich in arts, music and antiques. Check out these music venues and shopping opportunities when you are in town.
The Danbury Songwriters summer concert series takes place every Thursday all summer long at the Arts Place of Stokes. If you're looking for shopping and a show, Priddy's General Store hosts live music every February, May, and October.
The Stokes Stomp Festival offers food vendors, arts and crafts vendors, live music and a children's area during the second full weekend in September.
Camp in Comfort at Hanging Rock State Park
The campground at Hanging Rock State Park offers 73 primitive tent, trailer and group campsites. Each campsite has a grill, picnic table and tent pad that can accommodate up to two tents. Some of the campsites can accommodate trailers but there are no hookups on site.
The two-loop campground is family friendly and a great place for kids to ride their bikes. The campground is a short walk to the lake, where families swim all summer long and many hiking trails start.
Drinking water and bathhouses with hot showers are available nearby. The bathhouses are open mid-March through the end of November. Pit toilets are available at all other times.
There are also 10 rentable vacation cabins that can accommodate up to six people. In the summer the rentals are available by the week. Otherwise, cabins care available per-night with a two night minimum stay.
The campground at Hanging Rock State Park is open year-round.
---
Related Campgrounds:
Popular Articles: